Meredith Duxbury on Her Viral Videos and Morphe Collab
Meredith Duxbury Tells the Story Behind That Viral Foundation Technique
As POPSUGAR editors, we independently select and write about stuff we love and think you'll like too. If you buy a product we have recommended, we may receive affiliate commission, which in turn supports our work.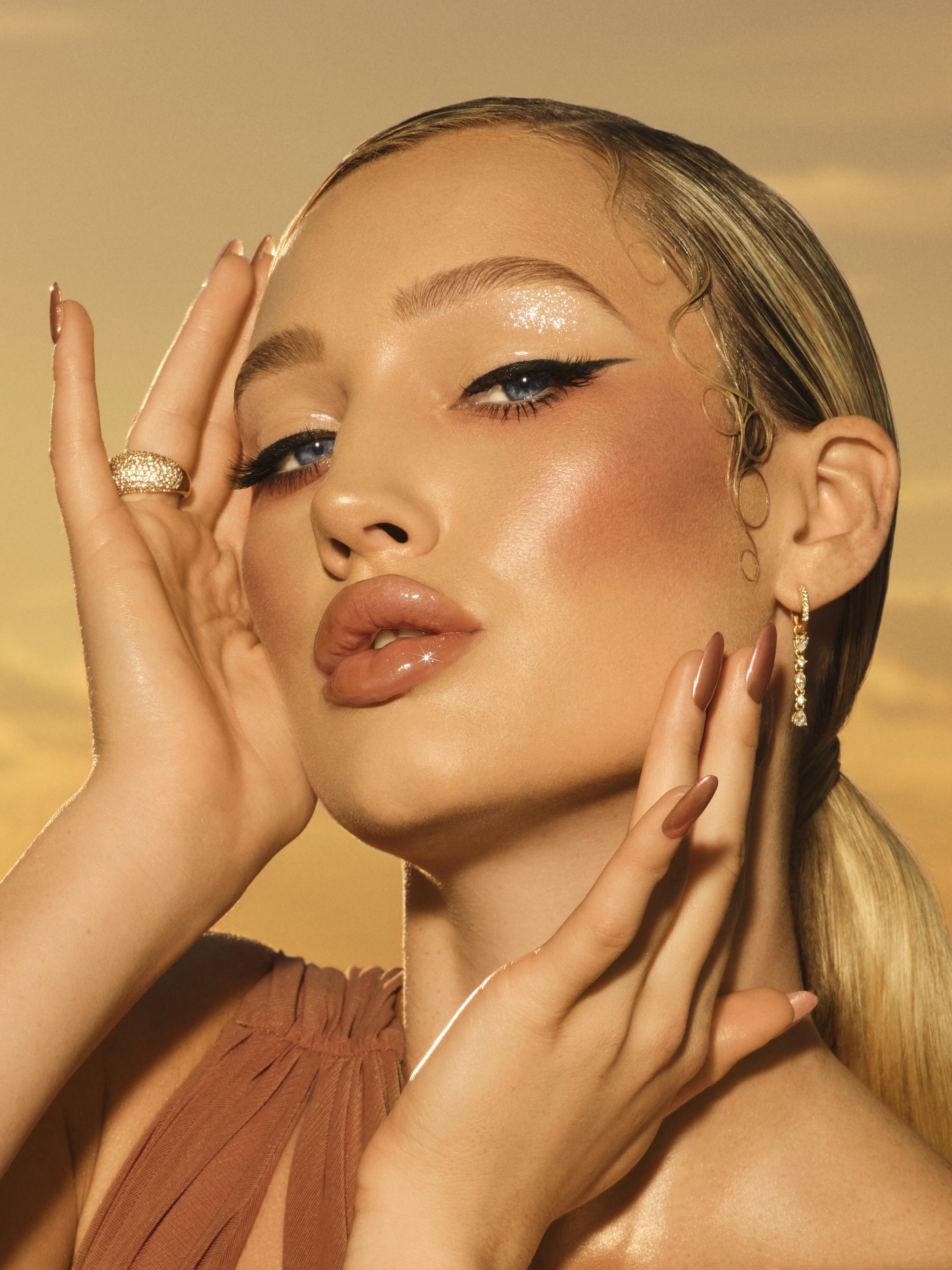 If you don't know Meredith Duxbury by name, you'd probably recognise her as the girl who uses a lot of foundation on TikTok. It might sound like a weird thing to associate someone with, but Duxbury isn't complaining. It's garnered her more than 18 million followers on TikTok, an E.l.f. lipstick campaign, ads on billboards and bus stations, and, most recently, a collaborative collection with Morphe.
The collection, which launched earlier this month, features a variety of products ranging from an eyeshadow palette to a brow wax — all of which Duxbury had creative freedom over.
The Story Behind Meredith Duxbury's Viral Foundation Method
What gets people talking, after all, is how Duxbury started gaining popularity on social media in the first place. Yes, we're referring to that viral foundation technique. For the unfamiliar, Duxbury skyrocketed to virality for using an excessive amount of base makeup before blending everything out.
However, the routine isn't just a gimmick for views and likes — Duxbury started using the method back when she was in college. "I was using a beauty sponge to apply my makeup, and every time I would go to wash the beauty sponge, there would be globs of foundation coming out of it," she says. Her foundation was expensive, and Duxbury felt like she needed to find a solution so she wasn't wasting so much product. "I remember I was in my bathroom, and I was thinking, 'What can I use that's not gonna absorb?,'" she says. "I just took my hands and did it."
Meredith Duxbury's Tips For Long-Lasting Makeup
When you're applying that much foundation, people want to know: how do you make it last? Duxbury's answer is the Laura Mercier Translucent Powder (£34). "I set my face with so much powder, I could jump in the ocean and come out, and it would still be on my face," she says. As for taking it all off, she says cleansing balm is the answer. "I tell everyone, even if you're just wearing a natural look, it's so nice to use on your skin. It melts the makeup so you're not having to scrub your face." Her favourite is the Glow Recipe Papaya Sorbet Melting Balm (£29). "Then I go in with the Tatcha The Deep Cleanse Gentle Exfoliating Cleanser (£41). It has little exfoliating beads in it, so it gets off any extra foundation that might be left on your skin," she says. Finally, she follows up with a moisturiser. Her favourite pick is the Tatcha Dewy Skin Cream (£65). "I just use those three products pretty much, and it takes my makeup off so well."
"If you love what you're doing, then you shouldn't let anybody get in your way."
How Meredith Duxbury Handles Hate Comments
Questions about her favourite products and skin-care routine aren't the only ones Duxbury gets asked. As anyone who has social media knows, it's not always sunshine and rainbows in the comments section. The question she pays the least attention to is anyone asking why she wears so much makeup. "I don't really respond, because I feel like a lot of those comments are hate comments," she says. When she does occasionally choose to answer, she gives them an honest answer. "I love doing the full glam because it feels like an art to me, and it's fun to play around."
Duxbury says she's at the point in her life where she doesn't let mean comments get to her. "I don't let trolls or negative comments affect me," she says. "If you love what you're doing, then you shouldn't let anybody get in your way." While it wasn't always that way, Duxbury's fan base helps keep her grounded. "When I first started TikTok, it was harder because I didn't expect to have so many people telling me their opinions, but now I don't pay attention to it because I have almost 19 million people who follow me because they love what I do," she adds.
Mean comments aside, Duxbury says everything going on in her life is "still a dream" to her. Whether it's getting the opportunity to meet celebrities like Alicia Keys and Selena Gomez, having her face plastered on a billboard in SoHo, or collaborating with makeup brands she's used for years, she always remains grateful. "I don't think I'm ever going to be like, 'OK, this is my life now.' I think I'm always gonna be pinching myself."
Where the Meredith Duxbury x Morphe Collection Is Available
Image Source: Morphe