Neck Washing: A Guide to the Neck Rejuvenation Treatment
A Complete Guide to Neck Washing, the Treatment Promising a Smoother, Firmer Neck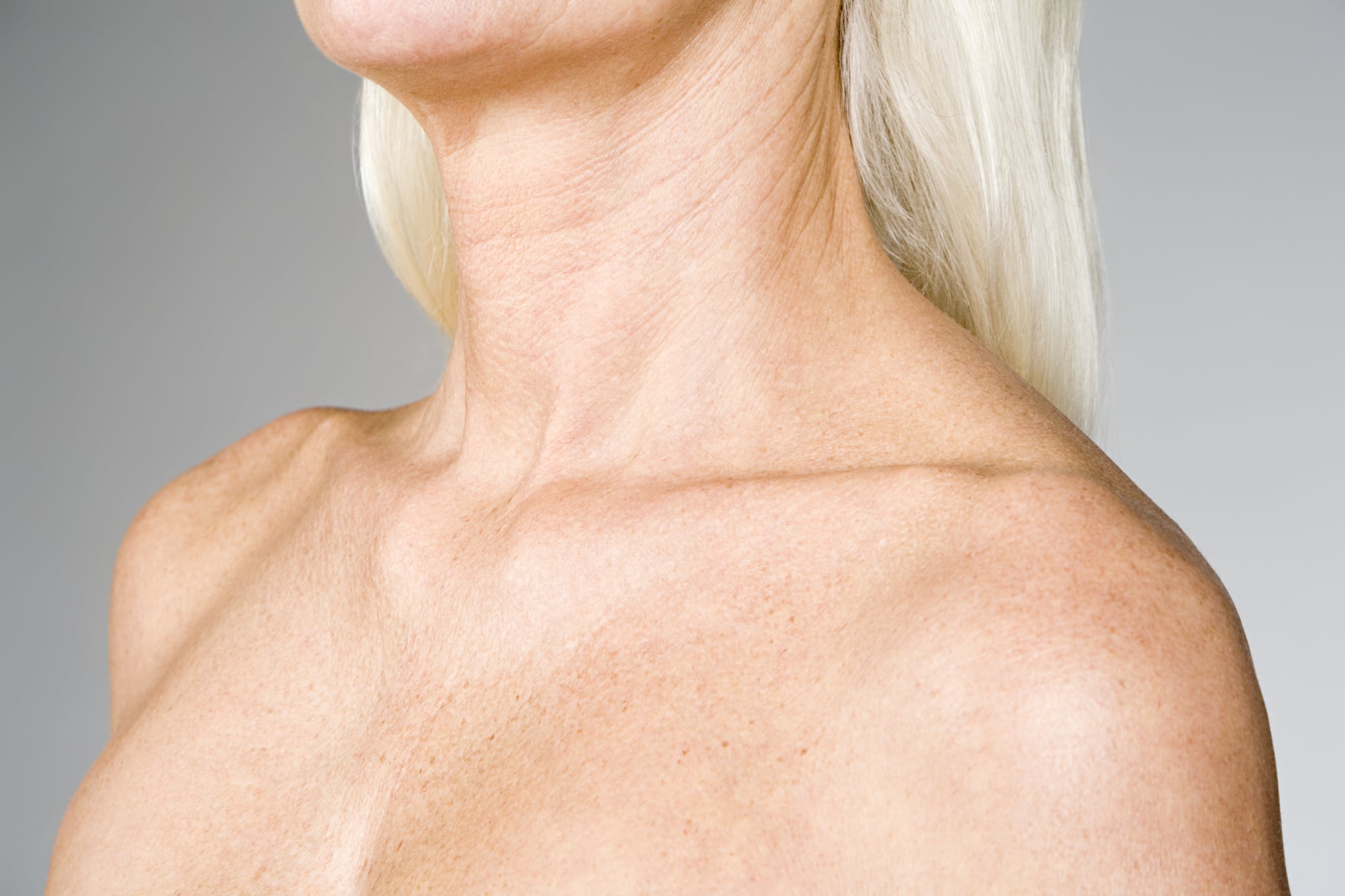 Thanks to Botox and fillers, medical facials, and all the at-home skin-tightening, spot-reducing gadgets and gizmos in between, our faces can now look younger than ever (if that's what you're after). The neck area, however, is a different story. "These days, signs of facial ageing can be reversed or never even appear," said Dr. Kate Goldie, an aesthetics expert who practices on Harley Street in London, as well as in Glasgow and Henley. "But as we have more success in the face, the disparity between the aesthetic age of the face and the neck widens. The face can look 30 but the neck will still look 50." Not really an ideal situation if you ask us.
"The neck is a challenging area to treat with nonsurgical procedures," Dr. Goldie added. Why so? It comes down to anatomy. The neck has thin skin, with a large muscle just underneath it called the platysma. "First approaches with injectables to help with the ageing neck were with Botulinum Toxin [also known by the brand name Botox] to even out the contractions of the platysma and to stop this muscle pulling down the lower face," said Dr. Goldie. "These have good results but don't solve the underlying problem: that older necks have loose, thin skin which doesn't bounce back."
But plastic surgeons and aesthetic doctors now have a treatment up their sleeve to address saggy, crepey skin they're calling "neck washing," which uses a diluted version of Radiesse — a calcium-based dermal filler traditionally injected into the face to plump it and add volume — plus a bespoke blend of Botox and hyaluronic acid injections depending on the patient.
Until recently, hyaluronic acid injections were being used to fill the lines and ridges on the neck (also known as "tech neck"), but this has only been partially successful since the fine, crepey skin is still visible. Crepey skin is due to loss of collagen and elastin (the building blocks of young, plump skin). But now, aesthetic practitioners like Dr. Goldie are using Radiesse to tackle the ageing signs below the chin. "Radiesse is a biostimulating dermal filler, developed in the US, which has been used for over ten years," Dr. Goldie explained. "Traditionally it has been used to create and replace volume in the face, but over the years physicians have innovated and changed the way they have used it."
When diluted, Radiesse is able to trigger your body to produce its own healthy collagen and elastin, as well as boosting blood supply and improving cell turnover. "We have used the Radiesse neck wash for our patients for some time now. The wash is where we hyperdilute, which means adding water to the product so we can spread the regenerative spheres across the neck more evenly," said Dr. Goldie. "Our research paper on the subject shows how we do this in other areas of the face and body too, including arms, tummy, [and] legs." In addition to Radiesse, Dr. Jani van Loghem, who is the medical director at Falck Clinic in Amsterdam in the Netherlands, sometimes follows up with hyaluronic acid injections to tackle deeper horizontal tech neck lines or Botox to relax the muscles.
Dr. Goldie and Dr. van Loghem are just two practitioners who offer neck washing in their clinics. We asked them to talk us through how the treatment works and answer some of our burning questions about it.
Is it always called neck washing?
"It can also be called neck rejuvenation or a nonsurgical neck lift," said Dr. van Loghem.
Who is neck washing best for?
"People, mostly 40 plus, who are bothered by collagen and elasticity loss of the neck skin," said Dr. van Loghem, which is doctor talk for those of us who are unhappy with loose, crepey skin from the jawline down.
Does neck washing treat horizontal lines and crepey skin?
"The basis of the treatment is to increase collagen production by the skin's own cells, which in itself will improve horizontal neck lines," said Dr. van Loghem. "Apart from that, the lines can be individually injected to smooth them out further." Ahead, Dr. van Loghem shared results of a neck wash treatment: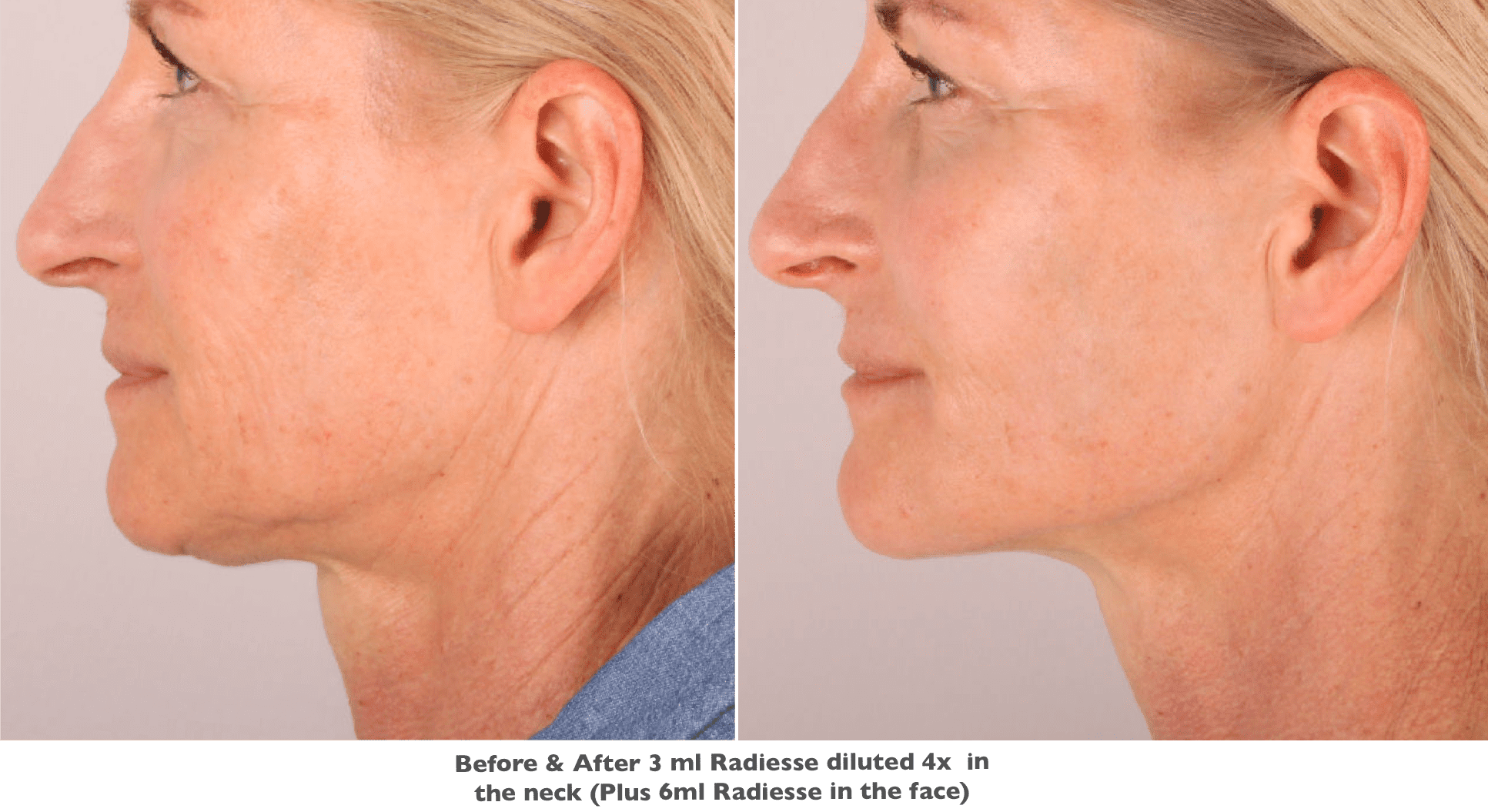 Image Source: Jani van Loghem at Falck Clinic Amsterdam
What does the neck wash treatment involve?
"The wash requires just a few injections with a cannula (a long, thin tube) designed for safe applications of Radiesse under the neck skin," explained Dr. Goldie. "It takes about 30 minutes to do and the results develop over the next three months and just get better and better. It may be necessary to retreat at about three months. Often, the jawline and lower face can be treated in addition."
Is the neck wash treatment painful?
"The needles sting a little, but after a few injections of local anaesthetic, there is hardly any discomfort," said Dr. van Loghem.
Is there any downtime with a neck wash?
"Bruises are common in this area and can last up to a week, and there is very mild swelling for a day or two," noted Dr van Loghem.
Are there any risks with neck washing?
"The treatment is low risk but not no risk," added Dr. Goldie. "Always go to an experienced practitioner; aesthetics is an art and at least 50 percent of the result is down to the hands [you're in]."
How long does it last?
"The Radiesse effect is most evidently visible after three to six months and remains nice for a least a year, usually longer," noted Dr. van Loghem. "In the neck wash treatment, the Radiesse is combined with hyaluronic acid and this effect lasts longer than the standard three to four months, probably because of the combination with Radiesse."
How do you know if the practitioner is reputable?
"Contact Merz Aesthetics, the pharmaceutical company that makes Radiesse. They may be able to advise," said Dr. van Loghem.
How much does neck washing cost?
It will vary between doctor's offices, but neck washing with Dr. Goldie in the UK costs £550.