NHS Morale Boost Interview With Caroline Barnes
The #NHSMoraleBoost Initiative Offers NHS Workers Free Virtual Consultations With Top Beauty Pros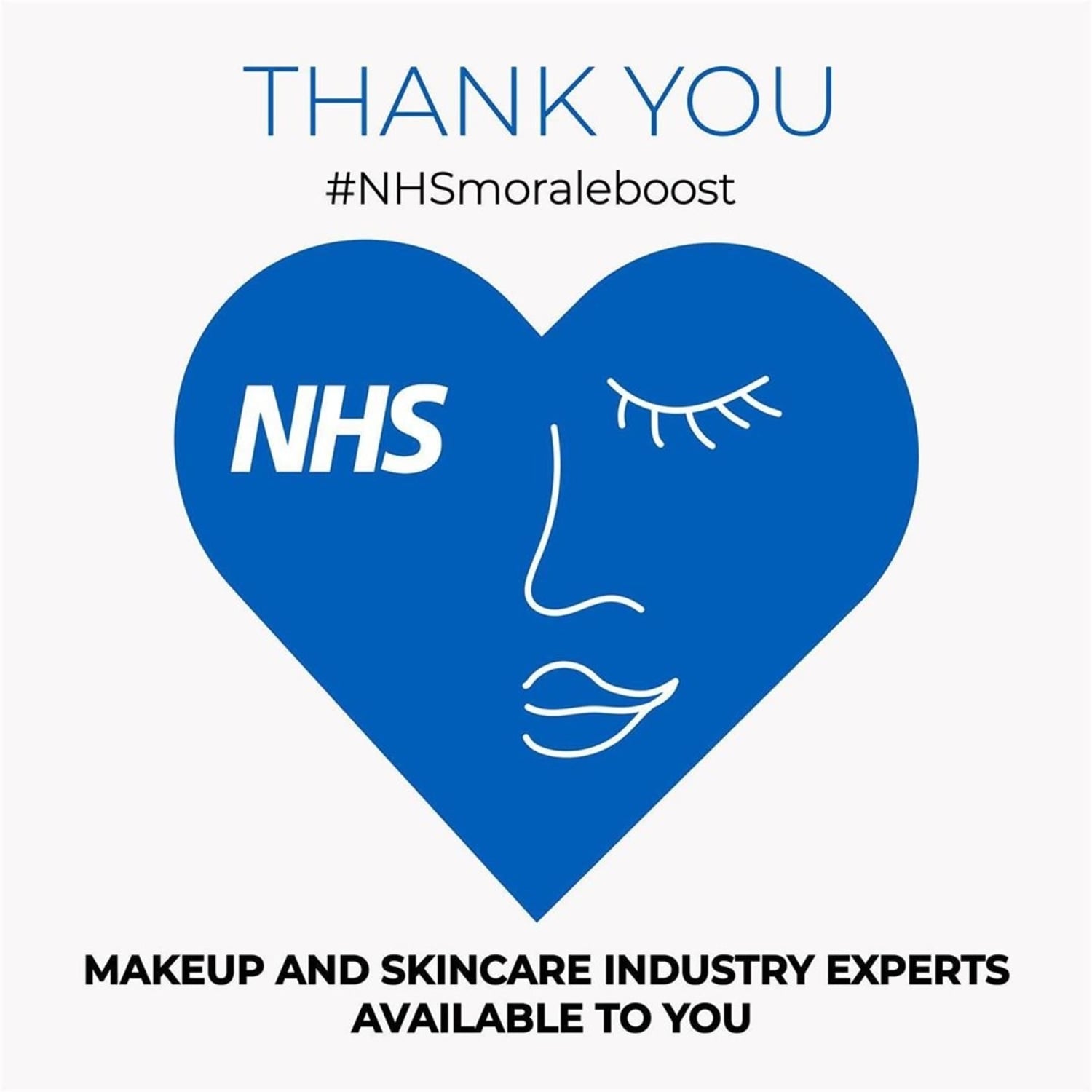 Image Source: Instagram user nhsmoraleboost
You may have noticed some of your favourite beauty experts sharing posts about a new initiative called #NHSMoraleBoost over the past week. The program, which is the brainchild of London-based makeup artist Caroline Barnes, is offering 1,000 virtual beauty consultations to NHS workers, giving them the opportunity to get their beauty questions answered by some of the industry's leading professionals for free. The aim is to not only provide these front-line workers with a small distraction from the herculean task they're performing right now but to also help raise their spirits and boost their morale.
"It all started with a comment that was left on my YouTube channel by a nurse that said, 'Oh, gosh, I would love to be able to ask you all the questions I have face to face,'" Barnes told POPSUGAR. "So I thought, 'Well, yeah, sure, I can organise that.' There's a huge appetite for learning about things like how to fill in your brows, what products to use for your skin type, what primer works best." To Barnes, it was clear that the demand for beauty consultations was there and that this is how she could put her skills to use during the pandemic. But in a time of social distancing and salon and spa closures, the question wasn't whether she should do beauty consultations but how.
"The most important thing of all of this is that it gives someone a bit of light relief and gives someone a bit of a boost."
"Obviously we can't do consultations face to face, and I didn't think a phone call was going to be enough — we have to see the person in order to study your skin tone, know what your eyebrow shape is, or understand the products you're using. I wanted it to be a little more personal." So Barnes decided she would do virtual beauty consultations for NHS workers via the app that, for many of us, has become our primary way of connecting with others during this pandemic: Zoom.
The idea to get other beauty pros involved occurred to Barnes whilst on a run a few days later. "I thought to myself, wouldn't it be brilliant if we could all do it because it would be a nice way to provide people with a bit of light relief and give front-line workers a boost?" Barnes then got to work immediately. She sent an email to her colleagues and put a call out on social media, asking beauty experts — be it makeup artists, aestheticians, influencers, or beauty editors — if they'd like to join. She got help from friends in public relations to handle the admin side of things, like setting up a Ticket Tailor for NHS staff to book appointments and creating Zoom links. Her neighbour — whom she chatted with safely and socially distanced over her fence — offered to help craft the logo that you see above. The last order of business was to come up with a name.
"I took a long time to think about the words," Barnes said. "I didn't want it to be misunderstood as frivolous by people who don't really understand the power of makeup and beauty. I wanted it to seem genuine and like it was coming from a good place." She eventually settled on NHS Morale Boost, a name that truly evokes her goal in launching this initiative. "We are all obviously in a global crisis and it needs to be dealt with gently, but if you're caring for people all day, there's nothing nicer than someone paying you a bit of attention or giving you some great advice."
By the time I spoke with Barnes — not even 24 hours after she announced the initiative — 100 beauty professionals had already enlisted to give 1,000 appointments, and 150 of the free appointments had been booked. And it's not surprising. The #NHSMoraleBoost roster is incredible, with some of the biggest names in British beauty offering up their expertise.
"Pretty much everybody that I've asked said yes, and then some," Barnes said, ticking off names like Debbie Thomas, Pamela Marshall, Alice Hart Davis, and Sarah Chapman, the latter of whom volunteered three aestheticians from her Chelsea-based clinic. In addition to Barnes, many of the country's top makeup artists have signed on to help, including Hannah Martin, Andrew Gallimore, Lucy Bridge, Bryony Blake, and Lisa Potter-Dixon, as well as legends like Mary Greenwell, Val Garland, and Lisa Eldridge.
"I feel emotional at the response I've received," Barnes said. "Obviously, a lot of these people are my competitors. We work together as an industry but not as a community — and there are a lot of beauty pros who are very individual with how they work — so it's lovely to see everyone pulling together."
The feelings are mutual amongst the many participating beauty experts. "So happy to be taking part in this initiative started by @carolinebarnesmakeup‼️" Garland wrote in an Instagram post.
"Caroline and I go way back to when I was a beauty assistant on photo shoots and she was the makeup artist. She's always been like a ray of sunshine so it doesn't surprise me that she'd come up with an initiative like this," said Cassie Steer, a freelance beauty editor living in London. "When she approached me to get involved I couldn't have been happier to help. In these uncertain times it's very easy to feel overwhelmed with feelings of helplessness, but as a beauty editor and fellow human, I've long recognised the power of beauty to help people to regain a semblance of 'self' (I saw this first hand when my mother was going through cancer treatment). The NHS has been there for me and my family through several life-or-death situations, and if I can help in even the smallest way possible to give our our heroic NHS workers a bit of a morale boost and offer a way for them to take some much needed time out for themselves, then my work is done."
There has been a lot of talk about beauty's role in our lives amidst a global pandemic. And while thinking about lipstick or worrying about your roots might seem flippant right now, we should recognise that people have long turned to makeup and other personal-care products to feel better or bring a sense of normalcy during times of crisis — a phenomenon referred to as the "lipstick effect." It happened in World War II, it happened during the 2008 recession, and it's happening to some degree during the coronavirus outbreak.
For Barnes, there's no question as to beauty's role during a crisis. "Beauty keeps you rooted. It pulls you together. It's like putting your uniform on for life," she explained. "If you don't look like how you normally look, or you don't feel comfortable in your own skin, then you feel a bit off kilter. But when you feel like yourself, you're strong and you can better deal with the monumental bombs that might be coming your way."
The #NHSMoraleBoost initiative kicks off on Monday, 27 April, and lasts through 6 May. NHS workers can sign up for a free virtual beauty consultation by clicking on this link and selecting their preferred date and time.