I Tried a TikTok-Viral Overnight Blowout: See Photos
This Overnight Style Gave Me the Blowout of My Dreams
As POPSUGAR editors, we independently select and write about stuff we love and think you'll like too. If you buy a product we have recommended, we may receive affiliate commission, which in turn supports our work.
A hack for an overnight blowout recently went viral on TikTok.
To test the trick, you need a set of curling rods, a curling iron, and two socks.
The end result leaves you with a bouncy look with tons of volume.
On a scale from one to Dolly Parton, I like my hair to be Dolly-level voluminous. However, getting hair that practically touches the ceiling isn't exactly easy. Typically, I have to use 10 different products to get the bounce I want, which ends up leaving my hair feeling crunchy and gross. However, I recently came across a viral TikTok video that showcased an easy hack for astounding levels of volume, and it was all achieved using just three items overnight. Forever a fan of sleeping while my hair literally does itself, I knew I needed to test it out ASAP.
In the video, created by TikTok user Yesenia Hipolito, Hipoloto showcases how she puts her hair up in an overnight style to achieve a faux blowout. From what I could see, Hipoloto had much thicker hair than me — and a lot more hair in general. My hair is both fine and thin, so initially, I was worried that the outcome wouldn't quite be the same. However, her results looked so good that I knew I wanted to try it regardless. To test it out for myself, I gathered curling rods, two socks, and a curling iron.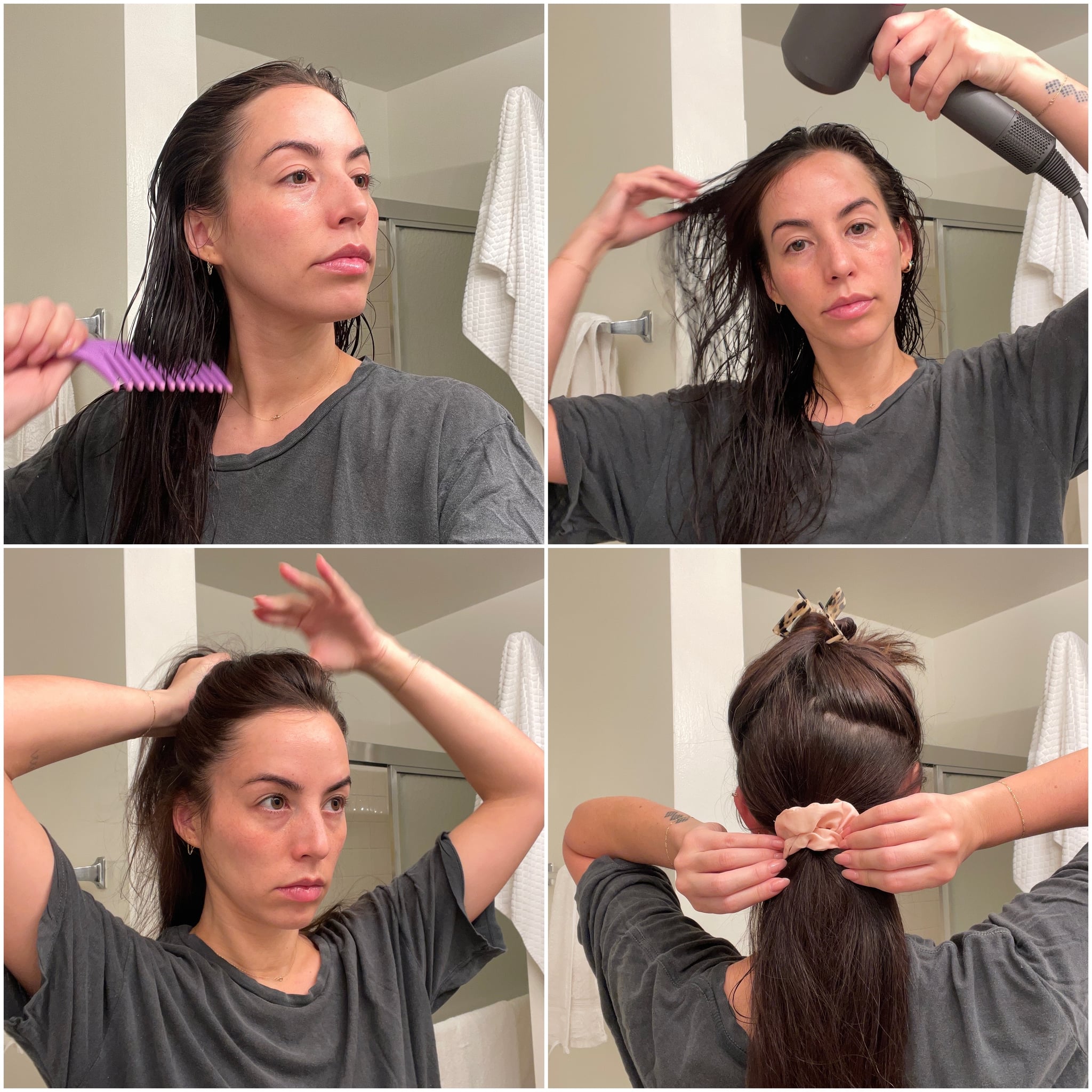 After washing my hair and rough drying it using a blow dryer, to prep, I started out by taking six of the Tiara Beauty Salon Heatless Flexible Hair Rollers ($17) and putting two of the medium sized rods in each sock. After setting those aside, I divided my hair into a top and bottom section as if I was going to put my hair in a half-up-half-down style. I secured the bottom half out of the way with a scrunchie, and then I flipped the top section forward, clipping it in place using a claw-clip. From there, I took a 1.5-inch curling iron (I like the T3 Singlepass Curl ($170)) and curled the top half of my hair toward my face. (The main goal is to get the hair hot enough that it will set, so using a flat iron would work as well.) Next, I grabbed one of my socks and wrapped my hair up in it, curling the same way I did with the iron. When I had the hair all the way wrapped, I curved each end of the sock curling rod contraption inward until the ends met. I then sprayed everything with hairspray.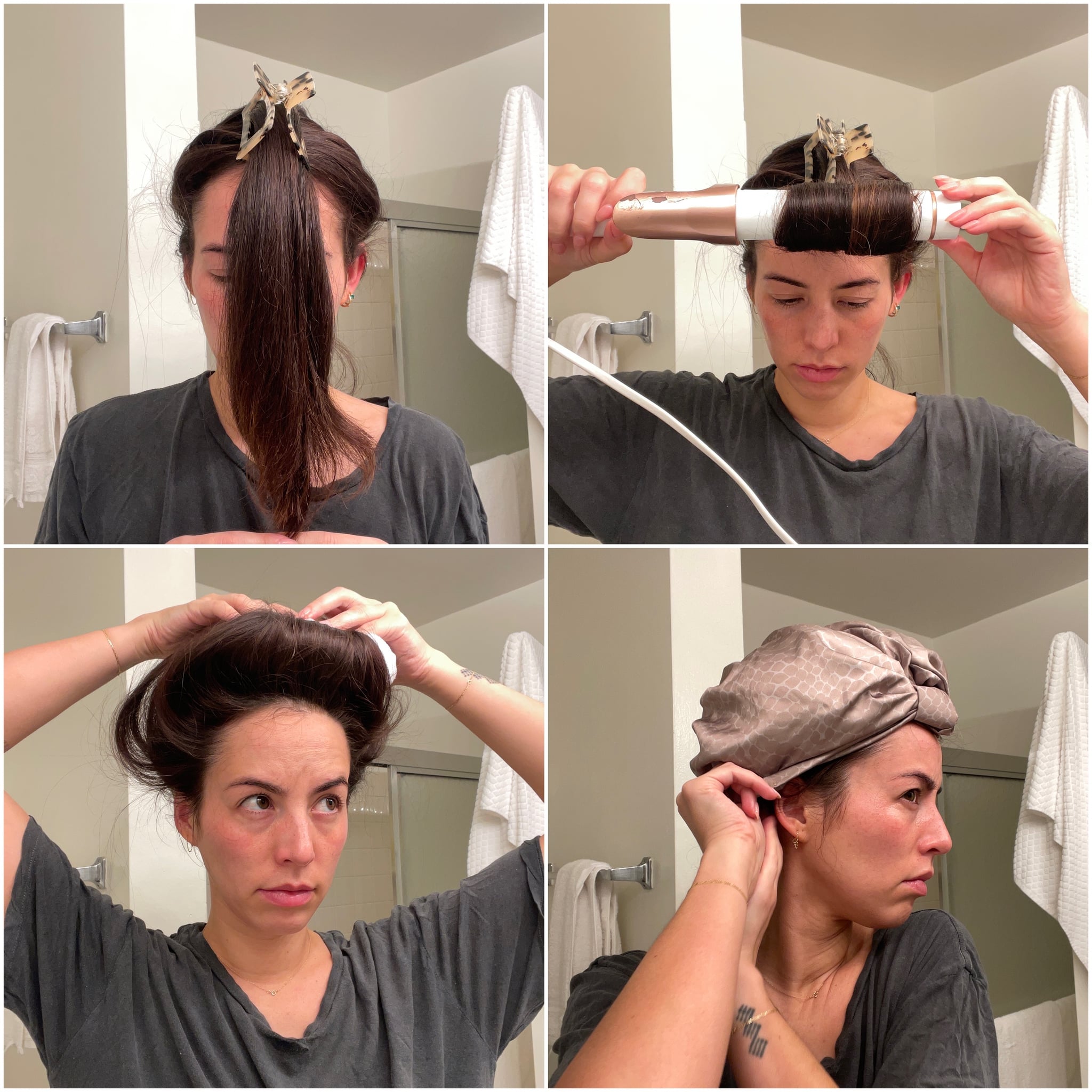 Next, I released the bottom half of my hair from the scrunchie and flipped my head over. I brushed out all of my hair to make sure there were no knots, and then I clipped it up and over the top of my head using the same claw-clip. I then repeated the same steps I did on the top half of my hair, curling everything toward my face and then wrapping it up in my sock and spraying it with hairspray. The rods weren't staying in place as well as I would have liked, so I did use a claw clip to keep everything secure. As an added step, once everything was locked in, I put my hair in the Grace Eleyae All Silk Turban ($77) which helps cut down on frizz and flyaways. Then, I headed off to bed.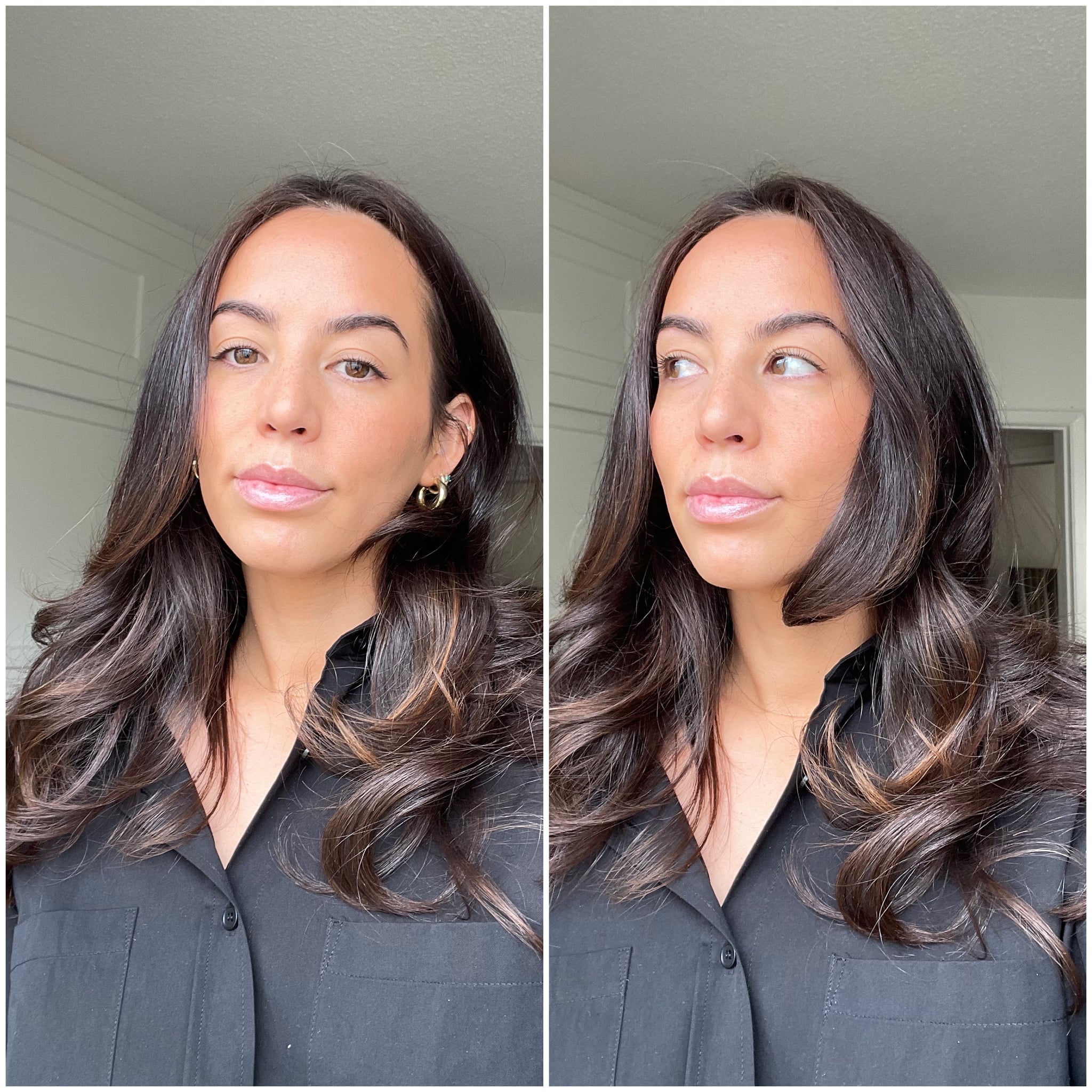 In the morning when I woke up and took everything down, I was shocked to see how amazing my hair had turned out. I had tons of volume and bounce, and my hair looked like it had been freshly blown out with my Dyson Airwrap or Shark FlexStyle. I needed to brush everything out to flatten it a bit because my hair was almost a little too springy. Regardless, the results were 10 times better than I could have imagined, and because I added the hairspray the night before, the style lasted me practically all day. While the curls did fall a bit as the hours went on, the volume never faltered. Also, because the style was situated at the top of my head, it was a lot more comfortable to sleep in than other overnight styles I've tested in the past. This is 100 perecent a hack I'll continue using.
Image Source: POPSUGAR Photography / Renee Rodriguez