Priscilla Movie Hair and Makeup Secrets
All the Hidden Hair and Makeup Details in "Priscilla" to Look Out For
As POPSUGAR editors, we independently select and write about stuff we love and think you'll like too. If you buy a product we have recommended, we may receive affiliate commission, which in turn supports our work.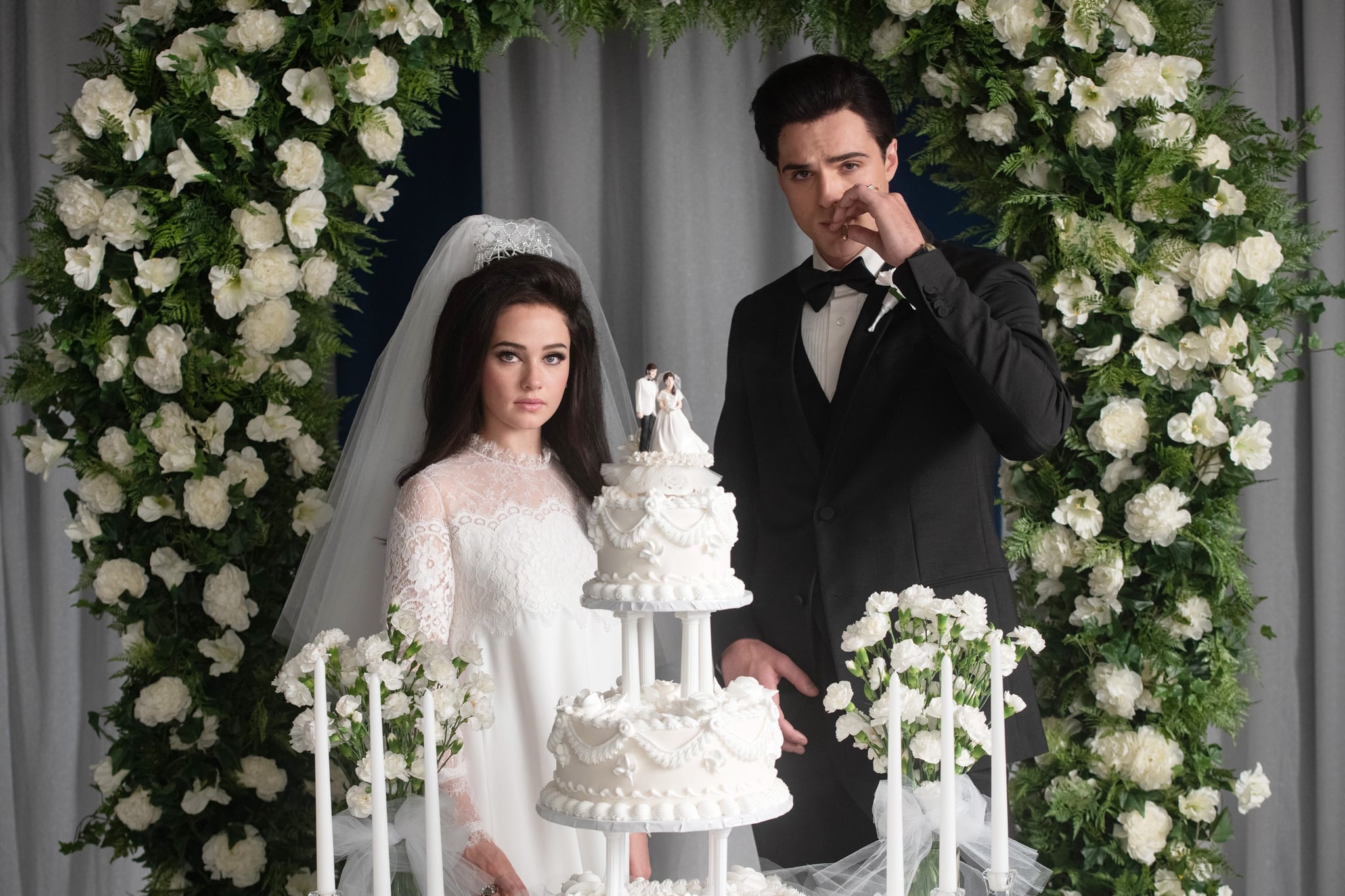 Image Source: Sabrina Lantos / © A24 / Courtesy Everett Collection
When you think of Priscilla Presley, you inevitably envision her iconic bouffant hairstyle and dramatic cat-eye makeup — styles that continue to influence beauty trends to this day. "Priscilla," A24's adaptation of her 1985 memoir "Elvis and Me," explores the couple's at-times tumultuous relationship through her eyes, as well as her many iconic hair and makeup moments.
Born Priscilla Ann Wagner, she met Elvis in 1959 when she was 14 and he was 24. Amid the King of Rock 'n' Roll's skyrocketing fame, Priscilla became a star in her own right as she transformed from a shy schoolgirl to a style icon. Along the way, she settled into a signature look characterized by sky-high dark hair hair and glamorous makeup. Cailee Spaeny, who plays the titular role in the film opposite Jacob Elordi as Elvis, is instantly recognisable as the character.
To do justice to Priscilla's look and the beauty trends of the 1960s, "Priscilla" hair department lead Cliona Furey and makeup department head Jo-Ann MacNeil referenced photos as well as Super 8 home videos from Graceland, the Memphis home Priscilla and Elvis shared. However, director Sofia Coppola's take on Priscilla's memoir also highlighted moments that weren't seen by the public.
"Our film was more about moments between Priscilla and Elvis that were private and not photographed by the press," Furey tells POPSUGAR. "I had to respect historical accuracy as well as take some creative licence to create looks that Priscilla might have liked and worked on Cailee."
Ahead, Furey and MacNeil share all the behind-the-scenes beauty details in "Priscilla," including the exact eyeliner Spaeny wore and why 10 different wigs were used on set.
How Priscilla's Beauty Look Reflects Her Emotional Journey
"Priscilla" chronicles her relationship with Elvis that takes place over the course of 13 years, posing an interesting challenge for the hair and makeup departments. "We filmed in 30 days, so had to work quickly," says Furey. "Shooting out of sequence meant Cailee was 14 years old in the morning and 27 years old and pregnant in the afternoon."
With the help of wigs, Furey was able to showcase Priscilla's emotional transformation through her hair. "Her hair transitions from a youthful natural ponytail to longer, bigger, richer colours and high glam, then returning back to more natural in 1972 when she leaves Elvis," she says. "The hair helped show the passage in time and Priscilla's life journey. "
Her makeup followed a similar arc. "We started Priscilla simple fresh-faced, almost a no-makeup look, until she meets Elvis," says MacNeil. "During the courting process, she starts to add a little makeup; mascara, lipstick, rouge."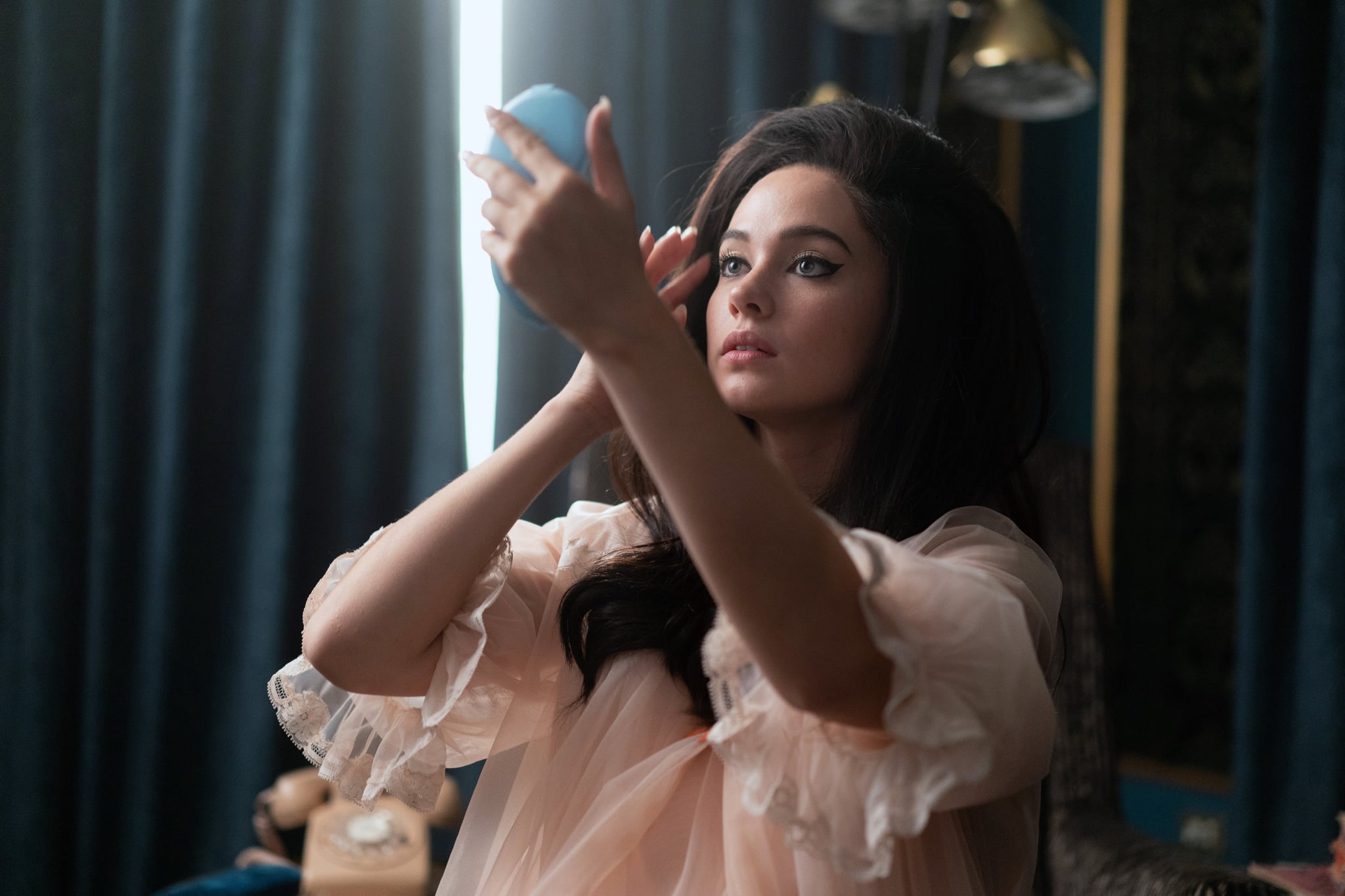 Image Source: Sabrina Lantos / © A24 / Courtesy Everett Collection
I had to respect historical accuracy as well as take some creative licence to create looks that Priscilla might have liked.
After moving to Graceland, Elvis gives Priscilla a makeover and requests that she start wearing more makeup, a pivotal moment that's featured in the film's trailer. "We carried this through the '60s," MacNeil says of Priscilla's ultra-glam makeup. She continues, "In the early '70s, as the relationship breaks down, so does her makeup. She stripped it back and became more natural-looking, finding her independence through her look."
Cultivating Priscilla's Iconic Cat Eye
Priscilla's eyeliner is almost like its own character in the film, and the real-life Priscilla undoubtedly influenced the still-ongoing cat-eye makeup trend. From her softer, schoolgirl days to dramatic inner corners, MacNeil wanted Priscilla's eyeliner to show a clear stylistic transition that reflected each phase of her life.
"Her eyeliner evolved as she did; she was the first girl in her Catholic school to have eyeliner," MacNeil says. "She eventually goes to a salon and gets her hair dyed, her eye makeup became more pronounced, and her brows became more arched."
In the late '60s, MacNeil says, Priscilla started expanding her cat eye into her inner corners. Finally, in the late '60s and early '70s, she found independence through a more natural look. MacNeil's go-to eyeliner on set? Tom Ford Eye Defining Pen in 01 Deeper ($62). "It's dual-ended, [so it's] perfect for getting into the inner corners and perfecting simple details, [and] it really wears well."
For Priscilla's fluttery lashes, MacNeil used Ardell strip lashes ($6), which she trimmed to fit Spaeny's eye shape.
Due to the time period, the filmmakers couldn't show Tom Ford products on camera, so for a scene where Spaeny is seen applying her makeup, MacNeil had to get creative. "Caile was very good at doing her own makeup in that scene and didn't need much help at all from me at all," she says. "We couldn't use the Tom Ford on camera, so we used a period correct applicator that she dipped offscreen into a wet liquid eyeliner pot."
Re-Creating Priscilla's Iconic Bouffant
Priscilla's voluminous bouffant hairstyle became part of her signature look, so it was important to re-create it for the film. Furey styled multiple wigs for Spaeny but noted that in the 1960s, the real Priscilla would have gone to the salon weekly to have her hair set. "To create the beehive the hair is first wet set in rollers," Furey says. "Once set and dry, [I used] a technique called back brushing and teasing, which was used in the 1960s, with some hair spray to set the shape."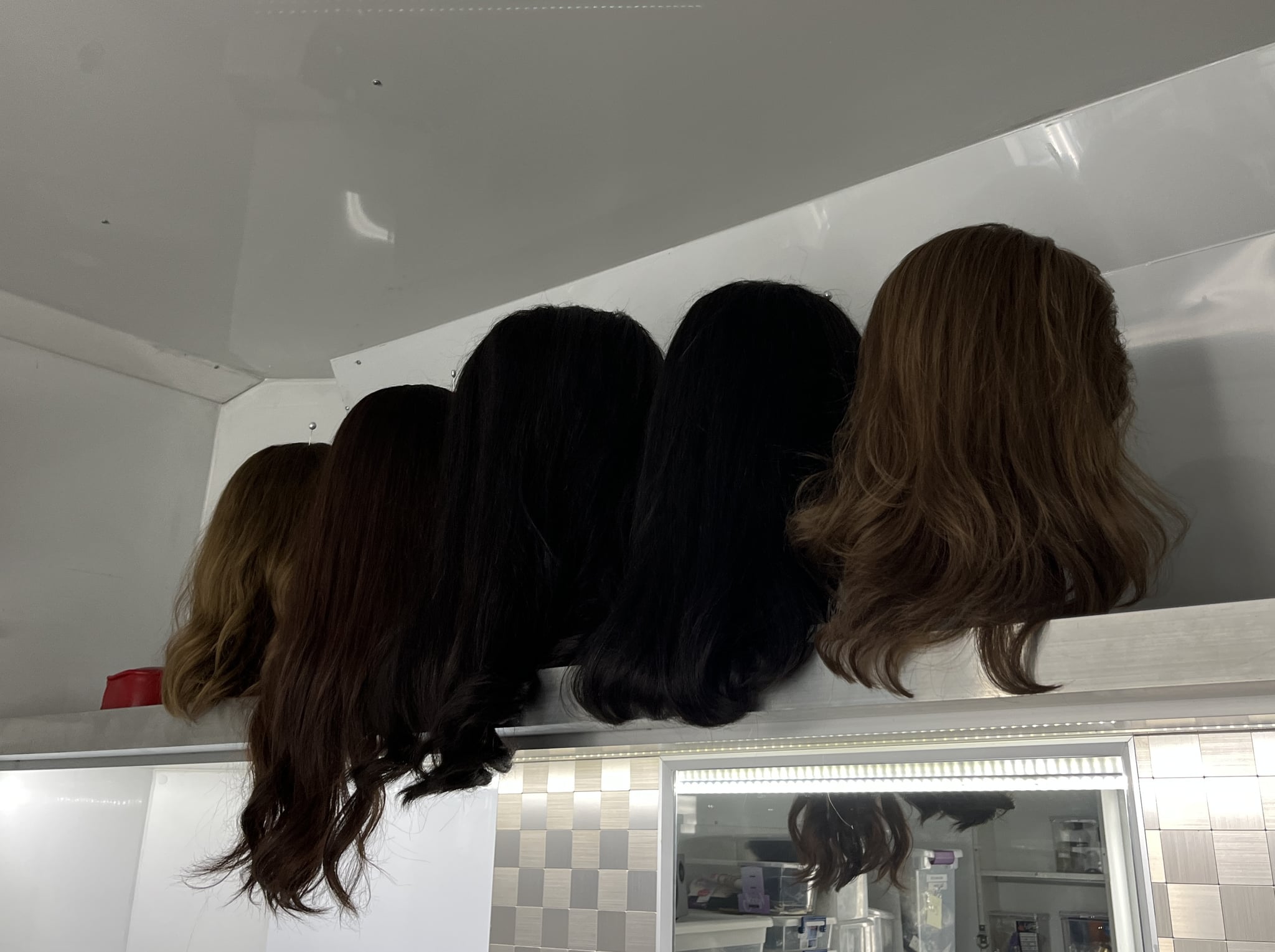 Image Source: Cliona Furey
For particularly sky-high hair moments (like when Priscilla leaves the hospital with baby Lisa Marie), Furey added a vintage hair topper piece to give extra volume and height.
Over the course of filming, Furey used 10 wigs in total to create Elvis and Priscilla's looks, five of which were for Spaedy (plus two extra that were used for prop photographs) to represent her 13-year journey. "Each one a different colour and length with additional pieces for various looks," she says. "For the early '60s school black updo with the long tail, [for example], I added a switch, which is a long tail of hair.
Because Furey didn't have to style Spaedy's own hair on set every day, her getting ready process was relatively quick. Altogether, the process took roughly 40 minutes.
As for Elvis, Furey used three wig pieces that were integrated into Elordi's own hair. "He starts with more of a dark brown colour for his 1959 Army look, which evolves to black hair and gets longer as we get to the 1970's coinciding with his sideburns getting bigger and bigger," she says.