Rom-Com Core Beauty Trend Returning From the 2000s
"Rom-Com Core" Beauty Will Make You Nostalgic For the 2000s
As POPSUGAR editors, we independently select and write about stuff we love and think you'll like too. If you buy a product we have recommended, we may receive affiliate commission, which in turn supports our work.
Image Source: Everett Collection and Photo Illustration: Aly Lim
Is it a coincidence that "rom-com core" is trending in beauty on the 20th anniversary of "How to Lose a Guy in 10 Days"? Hardly. If you, like a large majority of the world, feel a rush of emotions any time you watch your favourite romantic comedies from the early 2000s, that's probably why. Maybe it's the aforementioned movie featuring Kate Hudson and Matthew McConaughey, or "13 Going on 30" with Jennifer Garner, "Bring It On" with Gabriella Union, "27 Dresses" starring Katherine Heigl, or any other number of classics. So, it only makes sense that their influence has begun to seep into people's beauty routines once more.
From modernised pearlescent makeup by the way of "angel eyes" and frosted lipstick to spiky updos and body glitter and, of course, french manicures, the 2000s have a lot to offer in the beauty department.
In the last year, Pinterest reports the term "2000s girl" has increased by 235 percent in searches, further proving that more trends from the early aughts are on the horizon. (The fashion trend of the 2000s English Frazzled Woman took inspiration from rom-coms at the end of 2022). Ahead, hear from two makeup artists how to re-create the "rom-com core" makeup look in 2023.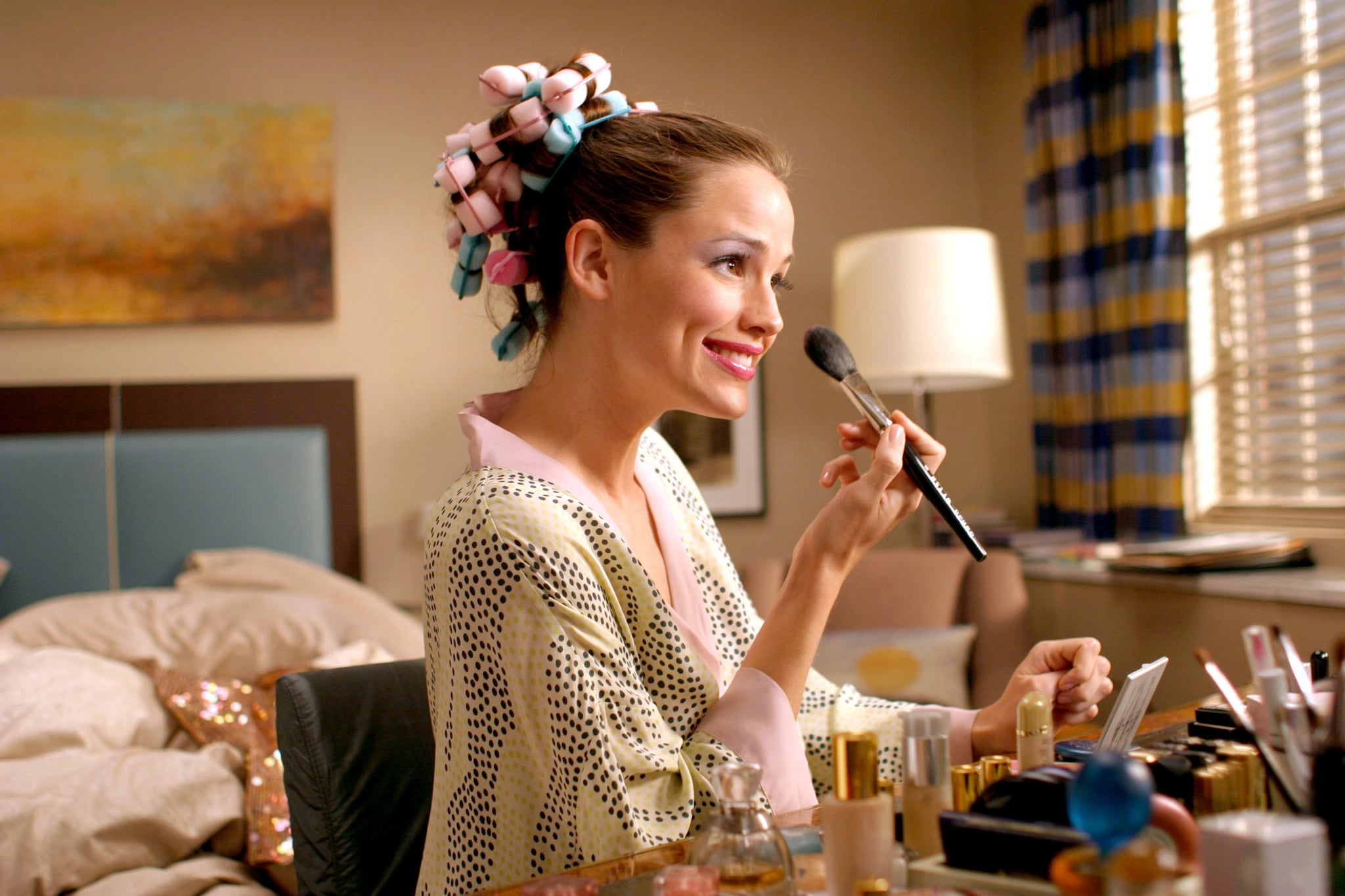 Image Source: Everett Collection
What Is 2000s Girl Makeup?
"The 2000s girl makeup look is based on pink blush, blue, purple, and pink eyeshadows, thin eyebrows, frosted lips, and contrasting lip liners," celebrity makeup artist Allison Kaye tells POPSUGAR. "There may also be a little bit of body glitter thrown in there." Who doesn't remember the roll-on body glitters from Claire's Accessories?
Jaime Perez, a national pro artist for Bobbi Brown Cosmetics, adds: "Skin looked natural with a soft glow. Overall, the look was more playful, colourful, shimmering, and pretty."
There are a few ways you can go about giving your makeup a 2000s makeover without looking like you're stuck in 2001 — or by tweezing off your eyebrows. "Slowly incorporate parts of this in your typical makeup look," says Kaye. "For example, do your makeup as normal but add in the frosted lip. This way we can bring back things from the 2000s but still keep our 2023 styles."
How to Modernise the "Romcom Core" Makeup Trend"
A bronzed glow was a mainstay of 2000s makeup, but instead of using an orange-y hue three shades too dark for your skin tone, opt for something like the L'Oréal Paris Infallible 24H Fresh Wear Soft Matte Bronzer (£13), which comes in eight blendable shades, so you can find your perfect match.
As we mentioned, pink and rose-toned blush is an absolute must. We love the Too Faced Cloud Crush Blurring Blush (£28). Perez recommends applying it on the apples of your cheeks. "With your fingers or a brush, blend that colour up on the cheekbones toward the hairline covering the whole cheek." This gives the skin an all-over flushed look.
For the eyes, you can wear frosted eyeshadow or just use eyeliner to add some definition. Tightlined upper and lower lashes was a go-to in the early 2000s. "This look will definitely come back, but also with brown eyeliner too." We like the Charlotte Tilbury Rock 'N' Kohl Eyeliner Pencil (£22).
Pink, glossy lips are the cherry on top of the cake that is 2000s makeup trends. "Hot-pink lipstick was popular in the rom-coms — I mostly see this coming back now as brighter pink lip glosses or lip oils," says Kaye.
Start by outlining your mouth with your favourite lip liner, then apply a pink or neutral lipstick before going over it with a gloss. "Lips will look plump, luscious, and pretty," says Perez. "A gloss that wears amazing on everyone and will give that shiny luscious lip is Bobbi Brown Crushed Oil Infused Gloss in Bare Sparkle (£23)."
When getting ready, don't be afraid to channel your inner Jenna Rink and crank up Whitney Houston's "I Wanna Dance With Somebody" and have a solo party. Full movie makeup montage not required.