I Tried TikTok's Shark FlexStyle Velro Roller Hack: Photos
Attention Dyson Airwrap and Shark FlexStyle Fans: Try This TikTok Hack ASAP
As POPSUGAR editors, we independently select and write about stuff we love and think you'll like too. If you buy a product we have recommended, we may receive affiliate commission, which in turn supports our work.
A hack for easily achieving a bouncy blowout with velcro rollers is going viral on TikTok.
To test the trick, you need a set of velcro rollers and a Dyson Airwrap or Shark FlexStyle.
One editor tried the hack and is sharing her results.
I consider myself somewhat of an authority on TikTok hacks (especially when it comes to beauty) because I've pretty much tried them all. Some are hits and some are misses, but there has never been a bigger winner than the trick I learned recently. Everyone on the platform (well, anyone who owns a Dyson Airwrap or a Shark FlexStyle, at least) has been showing off a new hack that looked too good to be true – until I tried it for myself.
While the hack is difficult to explain without seeing it yourself, users on the platform found out that if they put their velcro rollers on their Airwrap or FlexStyle curling barrels, they could use the tool to heat their hair and wrap it at the same time. Talk about a genius move.
I've been a longtime fan of the Dyson Airwrap ($600), but I recently got the Shark FlexStyle ($300), and I've been having a blast playing with all of the attachments. I have thin, fine hair, and lately, it hasn't been holding styles or curls. I recently moved cities, and I'm not sure if it's due to the different water or the stress of moving in general, but my hair has been limp and lifeless for the last few weeks. I've considered using my tried and true velcro rollers to help keep styles in place all night, but the process takes time I don't usually have.
Typically when using velcro rollers, I first heat one-inch sections of my hair either with a blowdryer and round brush, or a blowdryer brush. From there, while my hair is still hot, I wrap it in the roller and pin it in place with a duck clip. Afterward, I let it sit for 15 minutes until everything has cooled. Thinking this hack could shave off a large chunk of time in my getting ready process, I figured it couldn't hurt to try.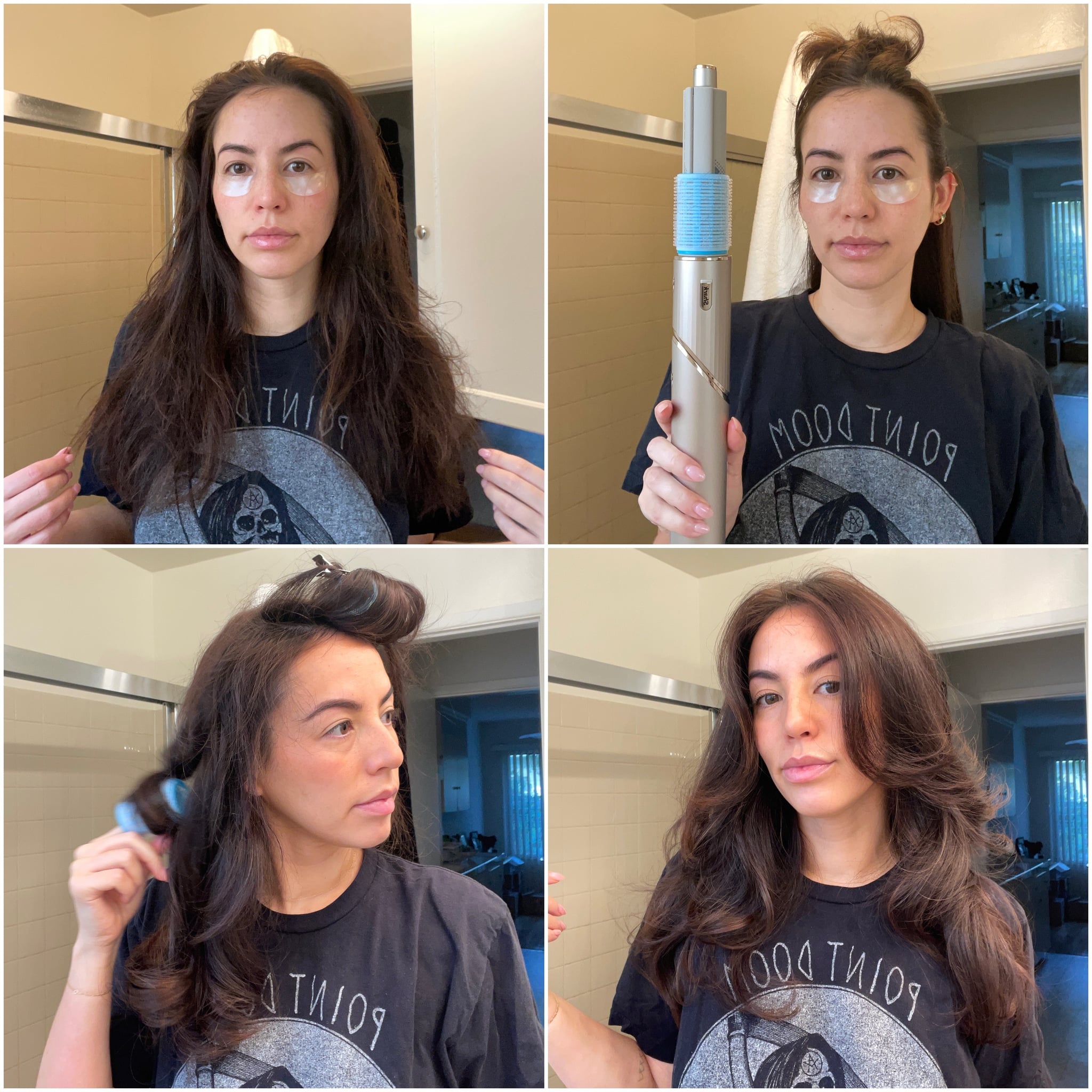 To test it out, I gathered my Shark FlexStyle, a set of Amazon Velcro Rollers ($18), and a few duck clips. From there I divided my hair into two sections, securing the top half-up with a claw-clip and starting on the bottom half. I took my FlexStyle, clipped on the barrel attachment, and then slid a velcro roller over the barrel. I wrapped the end of my hair around the velcro once, and then I turned on the power.
The air from the FlexStyle spun the velcro roller in a circle as I moved it from my ends to the roots and completely wrapped my hair around it. Then, I switched off the power, attached my hair to the velcro roller with a duck clip, and moved on to the next section. I repeated this until all of my hair was secured in velcro rollers.
Next, I let the rollers sit for 30 minutes while I finished my makeup. When I took everything down, I was excited to see that the end result was exactly what I would have gotten if I had put my hair up in rollers the way I normally do: soft, bouncy waves that had a lot of life to them. While the overall look was a little messier than usual, the time I saved doing it this way was completely worth it.
Although I was initially worried that this hack wouldn't work, considering the tool itself is a barrier between the heat and my hair, the air coming from the FlexStyle was actually very hot and flowed through the velcro rollers easily. I found that it heated my hair up even more so than my typical velcro routine, and wrapped it at the same time, which in my opinion makes it a game changer.
All in all, this TikTok hack has been one of the most magical I've tested to date, and I'm going to continue using it (and talking about it to anyone who will listen) for a very, very long time.
Image Source: POPSUGAR Photography / Renee Rodriguez