Black Women Reporting Hidden Relaxers in Non-Black Salons
The Shady Practice Black Women Are Reporting From Non-Black Salons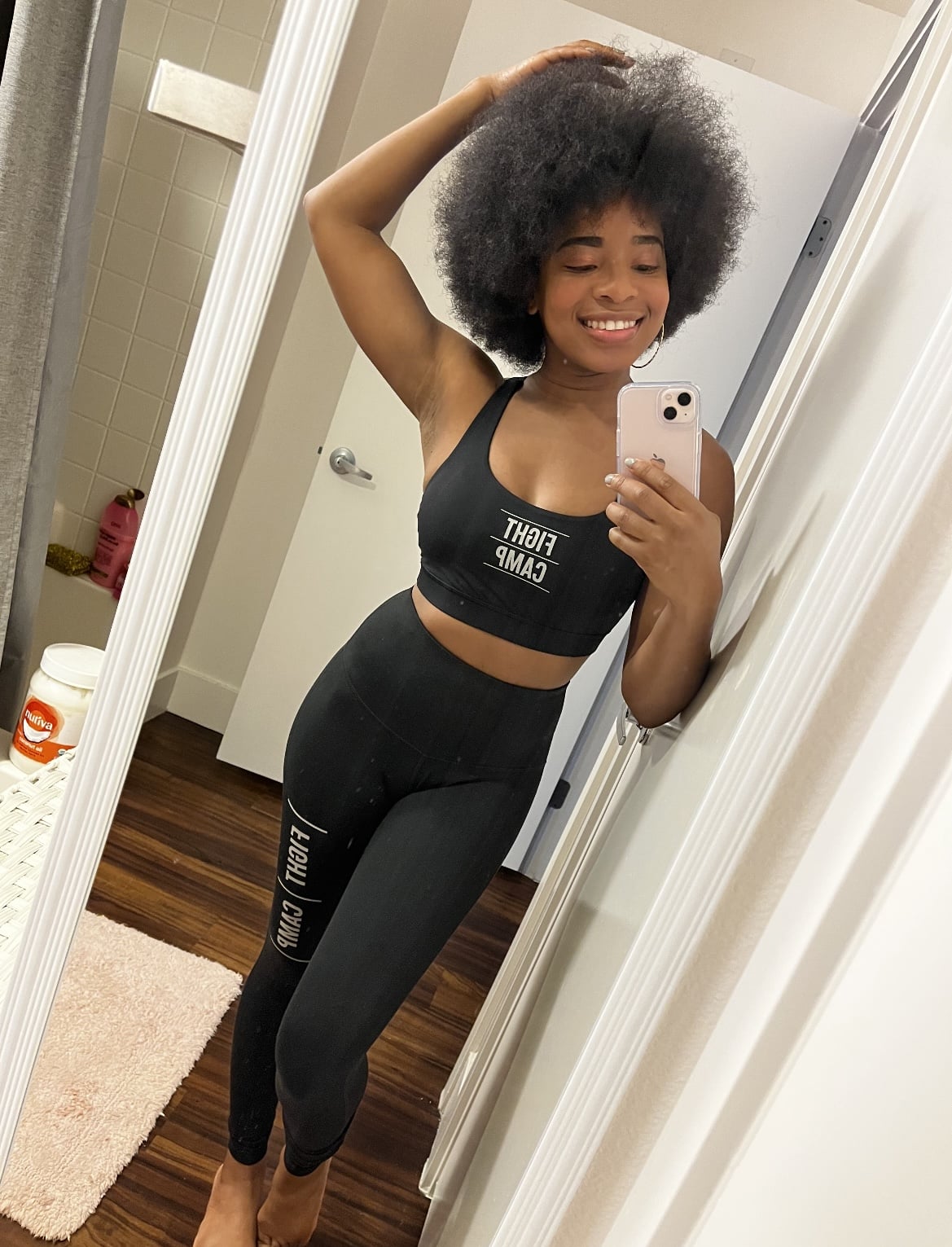 For nearly three years now, Raquel Harris, fighter and owner of The Champion Experience, has been getting her hair done by Ashley Jordan, a New York City-based natural hairstylist specialising in silk press and colour. She goes in for trims and a wash and set every six to eight weeks for straight and bouncy hair. In between, as a full-time athlete, she keeps her hair in protective styles or a natural Afro hairstyle, "because it doesn't change when I'm sweaty," Harris says.
Then, in July of last year, she needed a quick wash and set before a protective styling appointment, but Jordan was unavailable. Following a brief search online, Harris booked a last-minute appointment at an unfamiliar Dominican salon nearby. Initially, she had no reason for concern and was thrilled with her sleek results — "It was better than my silk presses," Harris remembers, adding, "My hair was so flat and shiny" — but that quickly changed. After a few weeks with straight hair, when she was ready to swap back to a natural hairstyle, Harris realised her hair was not reverting back to her natural 4C curls after washing it.
"Typically, after removing protective styles or getting rid of my silk presses, I'll steam my hair and it will fluff right back into an Afro," she says. Unfortunately, that didn't work. "It was still stiff straight."
Curious to find out why her texture had changed, Harris began researching and found several reviews from previous customers claiming the salon sneaks chemical relaxers into the conditioner when styling Black hair. What's worse, after posting her experience online, she quickly discovered she was far from the only person who's fallen victim to the shady practice after visiting a non-Black salon. And the damage, she would later learn, was only just beginning.
The Hair Damage Black Women Are Reporting
After her second attempt to get back to natural didn't work, Harris decided to get braids so she could still work out. Unfortunately, immediately after installation, her scalp became inflamed and irritated, and she was forced to remove the braids within two days. She soon started experiencing chunks of hair falling out.
"I was shocked at how many girls reached out to me sharing their stories of the same horror."
This is when she stumbled upon a review from a former client at the salon that read, "Don't go here. They snuck a relaxer in my hair and my hair started falling out." People were describing the same side effects she was experiencing: inflamed scalp, severe hair loss, altered texture. Outraged, she posted to her Instagram Stories with the caption, "After receiving a wash & set in July, my hair will not return to its natural state. Not going to name the salon that violated my hair, but after talking to other females who had the same experience, it's enough reason to believe non-Black hair salons are mixing relaxers with their conditioners. Apparently, hairdressers do not want to deal with black hair or 4B/4C hair texture. Now I have to go bald."
Responses from other women flooded in. "I was shocked at how many girls reached out to me sharing their stories of the same horror," Harris says. (It's worth noting that many of these experiences were at different non-Black salons.) "[People were] hitting me up saying, 'Oh yeah, this happens because they don't want to deal with Black hair.'"
Shocked at the response, Harris reached out to Jordan for a professional opinion and to see what could be done. Unfortunately, Jordan says this is something she's seen happen to at least four of her Black clients who had visited a non-Black salon.
"I could see the difference immediately," she says. "[Raquel's] natural texture is 4C, which is a pretty tight, coarse curl, and when she came in, her hair looked like it had been stretched with a blow dryer — giving it an elongated shape." As a result, it felt rough, damaged, and altered. "A lot of the time, if chemicals go on your hair, it can be completely compromised. You can't revive it — you have to wait for the hair to grow out, which is why it is extremely frustrating if this happens." Cheria Farquharson, a natural hairstylist and beauty expert, agrees: "A relaxer breaks the hair bonds down, so it can leave the hair dry and brittle, causing it to break, resulting in the loss of the natural curl pattern."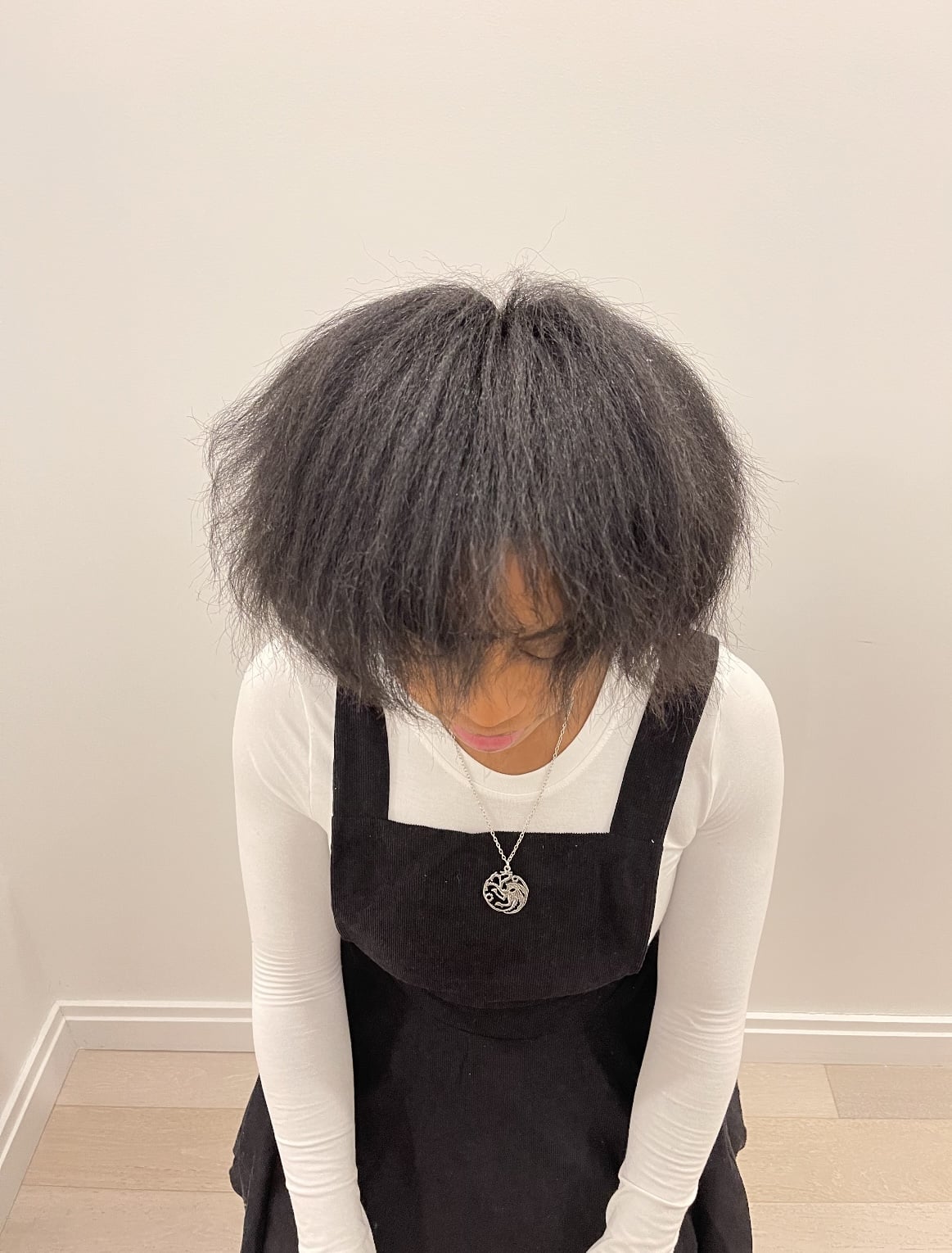 Why Would Salons Sneak Relaxer Into Treatments?
It's hard to pinpoint exactly why Harris's stylist went this route that July day, without consent, but Jordan has a theory, and it has to do with time. "Some salons take a quantity over quality approach," she says. "They are thinking: 'Pack them in, get them out, this is the service we offer,' versus the ethical side and what is healthy for the individual's hair. Conducive to their pricing, they might not want to spend the extra time [on Black hair] or maybe they're not aware of the lasting effects of using a relaxer, especially if no one's coming back to confront them or putting their foot down."
In fact, lower prices and the quick nature of some salons may be what's initially appealing to clients. The latter is definitely the case with Harris, who was looking for a nearby option ahead of a braiding appointment. "'Oh, I couldn't get to my regular stylist, so I ran to the salon across the street,'" Jordan recalls some of her clients saying. The trouble with the in-and-out approach, however, is that the quality can suffer.
"When they sneak chemicals in your hair, they're not following the full process, and that could be damaging for your hair," Jordan says. "When you have women coming in with different textures, including 4C, or if your hair is super thick or long, their main goal is how can I get this hair straight. Which, yes, is what the client wants, but they are more concerned in getting it done quickly as opposed to concentrating the heat to make sure the hair is straight from a natural standpoint, sans damage."
Jordan suspects the relaxer was mixed in during the conditioner stage, because blending it into shampoo would immediately burn and have a very strong ammonia smell, thus alerting the client that something was going on. But since Harris didn't feel any irritation during the appointment, she's inclined to think the relaxer was either not applied throughout the hair or was only applied as a conditioning agent.
"If [the relaxer] is being applied through the midlengths to the ends and the stylist lets it sit for a while, that's not something you're going to necessarily feel immediately on the scalp," Jordan says, adding that the midlengths to ends are the most difficult part to get straight. As a result, natural hair can experience severe hair loss, density thinning, texture alterations, minimal curl definition, dryness, and so much more.
How to Spot the Red Flags
Jordan urges all clients to research and vet the stylist, whether it's for a quick treatment or a full-day protective-style service. That's the most important first step when making a hair appointment. Unfortunately, there are thousands of non-Black salons filled with stylists who either don't have the skill set or education to style textured hair, are interested in a more "manageable" and less time-consuming route, or are invested in filling as many chairs as they possibly can.
Google the salon's reviews beforehand and keep your eyes open to anything out of the ordinary, double check the credentials of the stylist, and make sure whoever is touching your hair at any point of the service is fully capable of working with your exact texture. Then, when you get there, "stay vigilant and intentional about the products being used on your hair," Jordan says. "You have the right to see the product [they are using] and to know the name. Make sure everyone is licenced in that state, and be sure you can research them before your service even starts."
What to Do If This Happens to You
If you suspect your stylist may have mixed relaxer into your conditioner during a salon appointment, take photos of the ensuing damage. Pictures of every stage will not only show you if the damage is progressing, allowing you to redirect matters to a professional who understands and treats natural hair, but can also act as evidence if you decide to take legal action. Sadly, failure to do so could cause long-lasting damage. "Now, seven months later, my hair is still falling out, but thankfully with Ashley's help, it's not as bad as before," Harris says.
Harris and Jordan are hopeful that with increased awareness of this unethical practice and more advocates for textured education training, there will be fewer instances of damaged natural hair.