Style Edit Root Touch Up Powder Review With Photos
This Root Touch-Up Powder Is My Secret to Covering Grays
As POPSUGAR editors, we independently select and write about stuff we love and think you'll like too. If you buy a product we have recommended, we may receive affiliate commission, which in turn supports our work.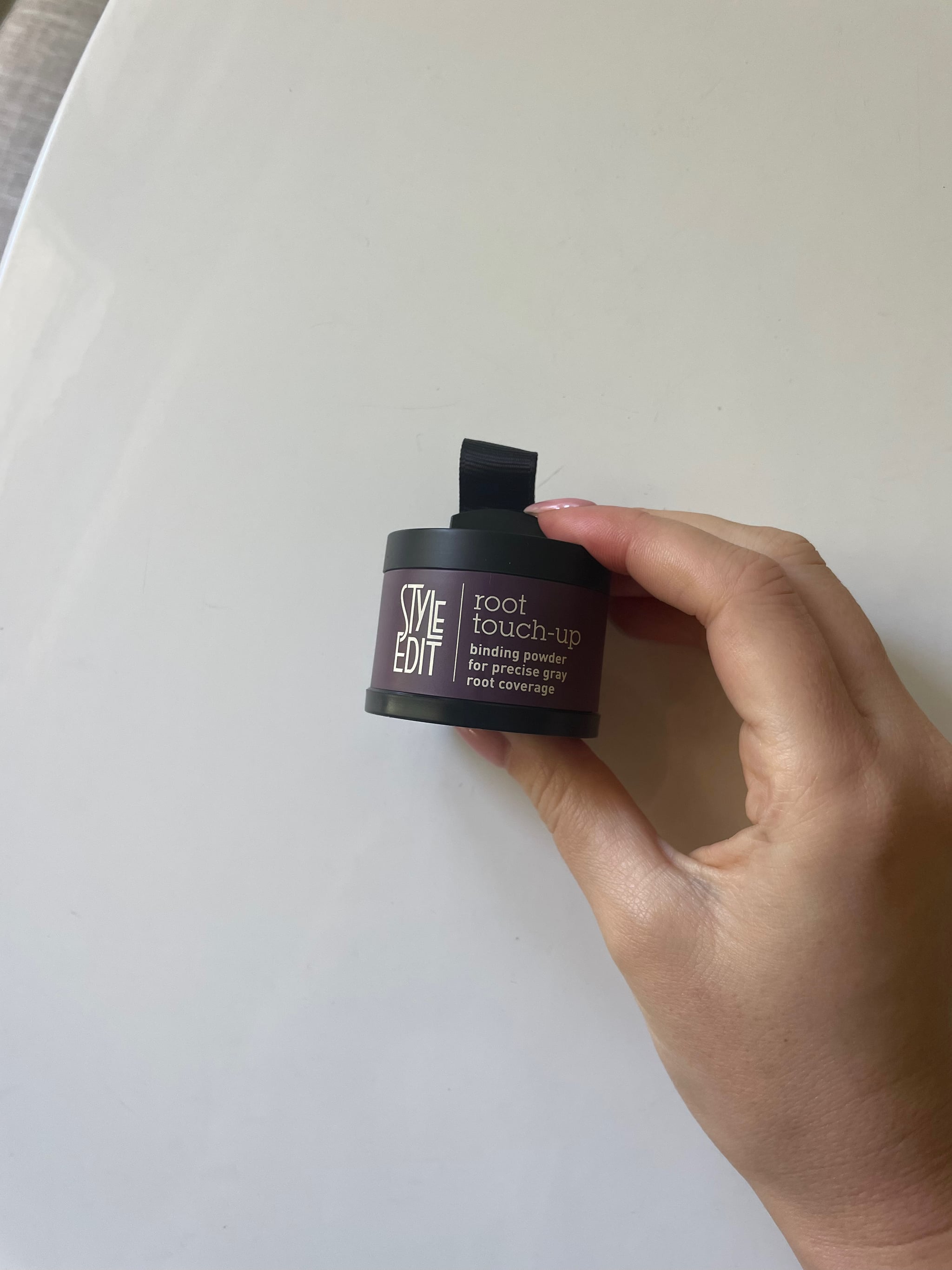 The Style Edit Root Touch-Up Powder promises to cover grey hairs and add volume.
The product has more than 2,000 five-star reviews on Amazon.
One editor tested the root powder and is sharing her results.
I'm 32 and I have a lot of grey hair. It's only gotten worse as I've gotten older, and although most people say it isn't noticeable, it's something that bothers me almost every time I look in the mirror. I don't colour my hair very often, save for the occasional gloss, but I've taken to getting demi-permanent colour on my roots in an effort to cover up the grey. I was at a loss for what to do in between appointments until I was introduced to the Style Edit Root Touch-Up Powder ($36).
The product has over 2,000 five-star reviews on Amazon, and when I saw some customers' before and after photos, I was sold. I decided to take it for a spin and realised it did more than just cover up my greys. Keep reading for my full review.
About the Style Edit Root Touch-Up Powder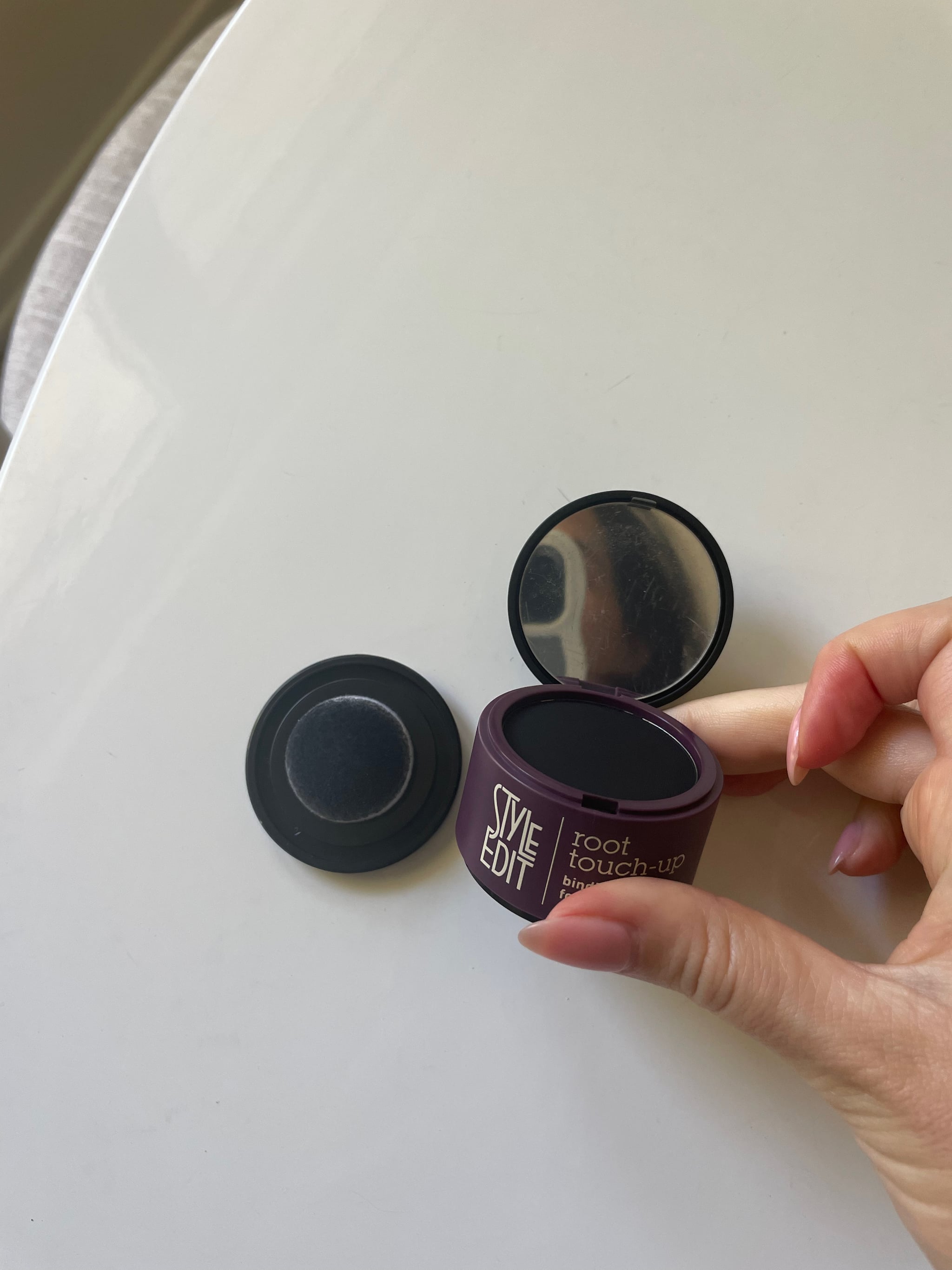 The Style Edit Root Touch-Up Powder is available in 10 shades: black; dark, medium, and light brown; dark, medium, and light blonde; and dark, medium, and light red.
The formula is made with "colour-adaptive pigments" to adjust to your base and binding agents to add volume.
It promises to disguise thinning hair as well as conceal grey or dark roots.
The product features a dome-like sponge applicator to make it easy to dab on.
The pigment is temporary and washes out with shampoo.
It is suitable for all hair types and texture and safe for colour-treated hair.
How to Use the Style Edit Root Touch-Up Powder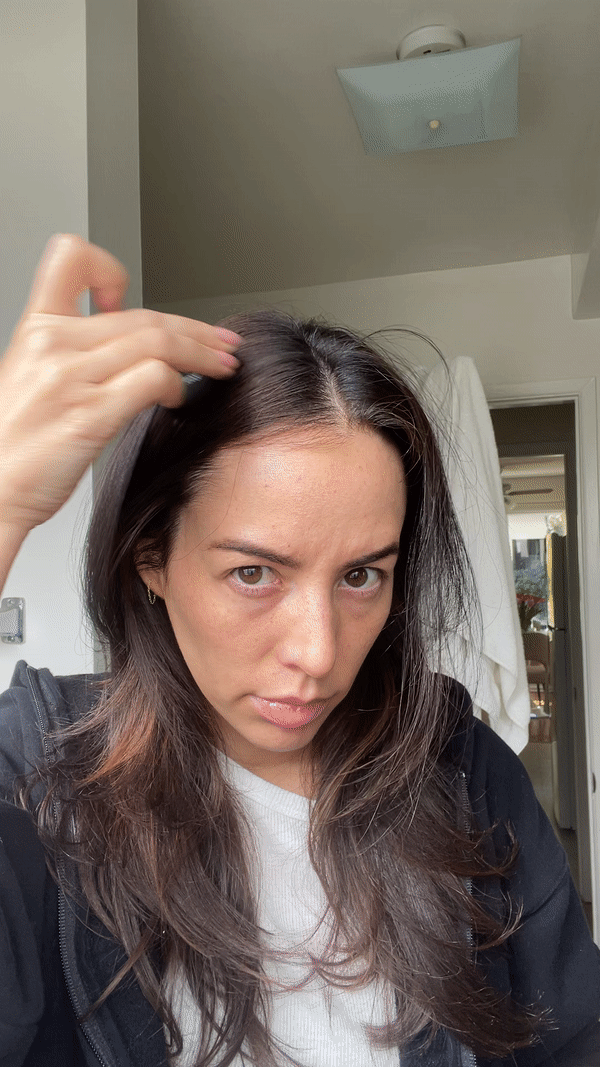 As someone who was totally new to using any type of root coverage product, I have to admit this one was extremely user-friendly. The powder comes housed in a tiny tub-like compact (complete with a mirror), and the application sponge sits in a hidden area underneath the powder, so all you have to do is pull it out. From there, the brand recommends applying the product to clean, dry hair.
I've applied it on dirty hair, but I wouldn't attempt using it when hair is wet. I typically pop it open, remove the application sponge from the hidden compartment in the bottom, tap the sponge into the powder, slowly apply it to the areas of my hair where I need coverage, then let it sit for five minutes before touching it or brushing through with a paddle brush.
If the way I parted my hair that day happens to put my grey roots on full display, I apply it to either side of my part and any hairs that need a little extra colour. I also love applying it to my temples and the areas of hair near my face that are thinning. It's also perfect for whenever I wear my hair in a ponytail — I always find that the hair near my temples looks sparse when pulled back, and this gives everything a more full look.
What I Like About the Style Edit Root Touch-Up Powder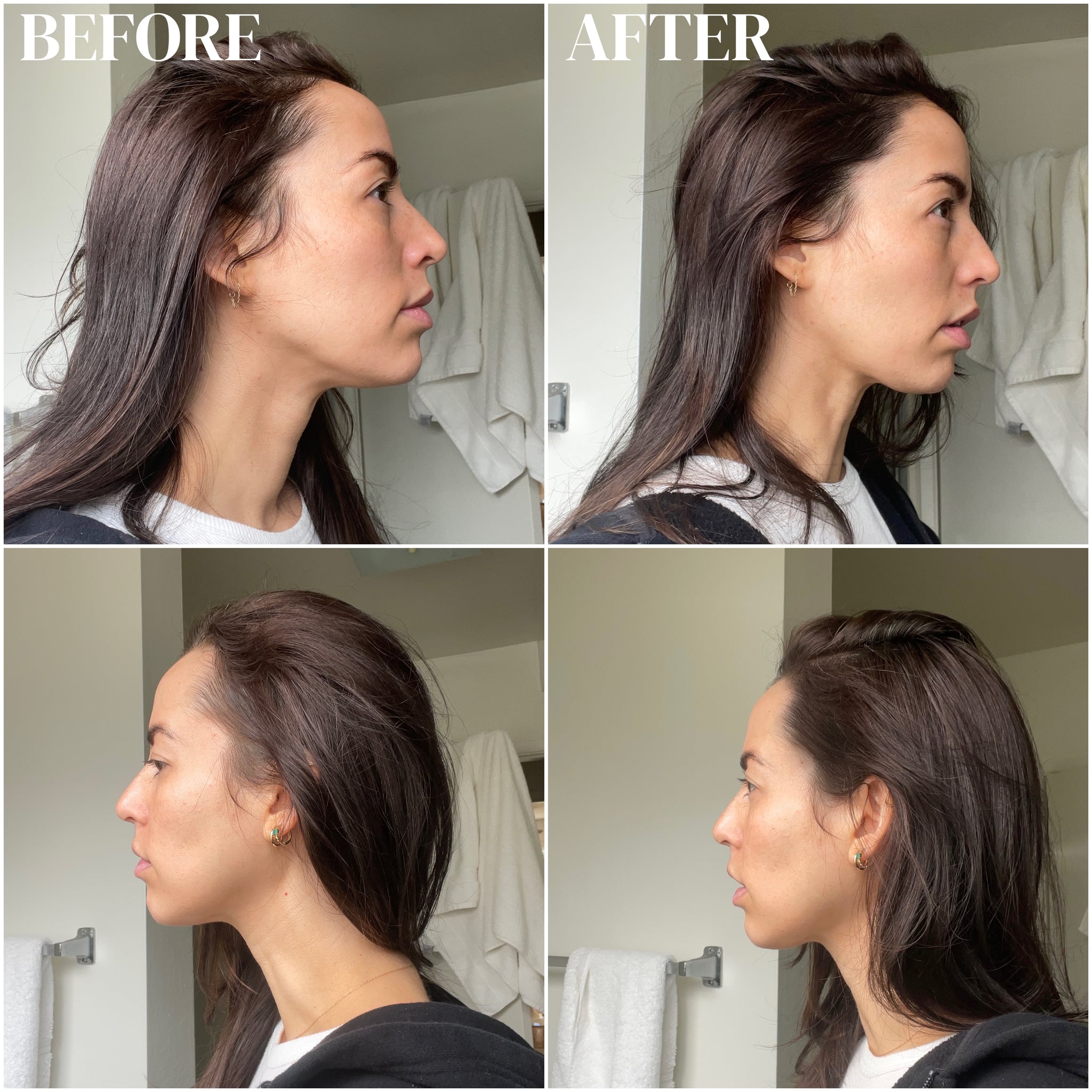 I've seen influencers use similar root cover-up products and they always slightly interested me, but I didn't realise how much I would like using one until I tried it for myself. Although I originally intended to use the product to cover up grey hair at the roots, I've found that it has many uses.
I've been feeling self-conscious about my hair thinning out over the years, and this product has made me comfortable wearing a tight ponytail because I can easily fake fuller hair with just a few dabs of powder. I've also found that whenever I apply it to my roots my hair looks more voluminous, and I've taken to adding a bit of the powder around my hairline for nights out just to give my look a little extra something.
I also like that it doesn't transfer onto my skin after application or leave behind a gross, chalky residue. I can feel free to run my hands through my hair and touch it as much as I want without worrying that my fingers will come away stained with product. Once I apply it, it's there for good, or at least until it's time for me to wash it out with shampoo.
What to Consider Before Trying the Style Edit Root Touch-Up Powder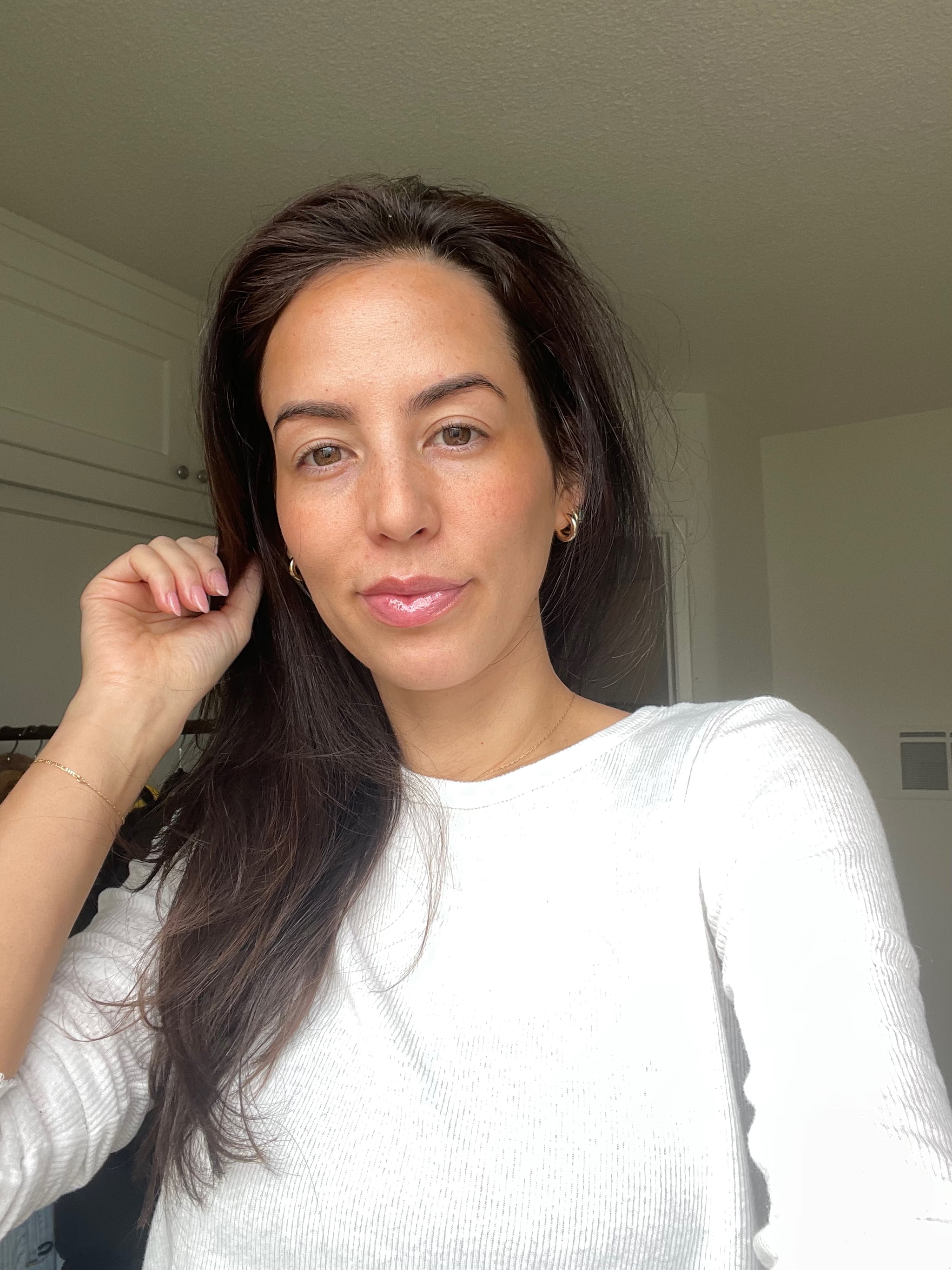 While I love this product for easy, quick touch-ups, if you're looking for something with more coverage, the brand offers a root concealer ($30), which offers more coverage via an aerosol spray.
One thing to note before purchasing this product is that it does contain talc. Although I personally don't have issues with talc in my cosmetic products, and dermatologists have commented that it's generally safe in makeup, it is something to keep in mind if you're wary of the ingredient.
Where Is the Style Edit Root Touch-Up Powder Available?
The Style Edit Root Touch-Up Powder is currently available on Amazon.com, Walmart.com, and the Style Edit website.
Rating:
Image Source: POPSUGAR Photography / Renee Rodriguez