Salons Are Charging Fees For Thick Hair
"Thick-Hair Fees" Are a Discriminatory Practice That Salons Need to Stop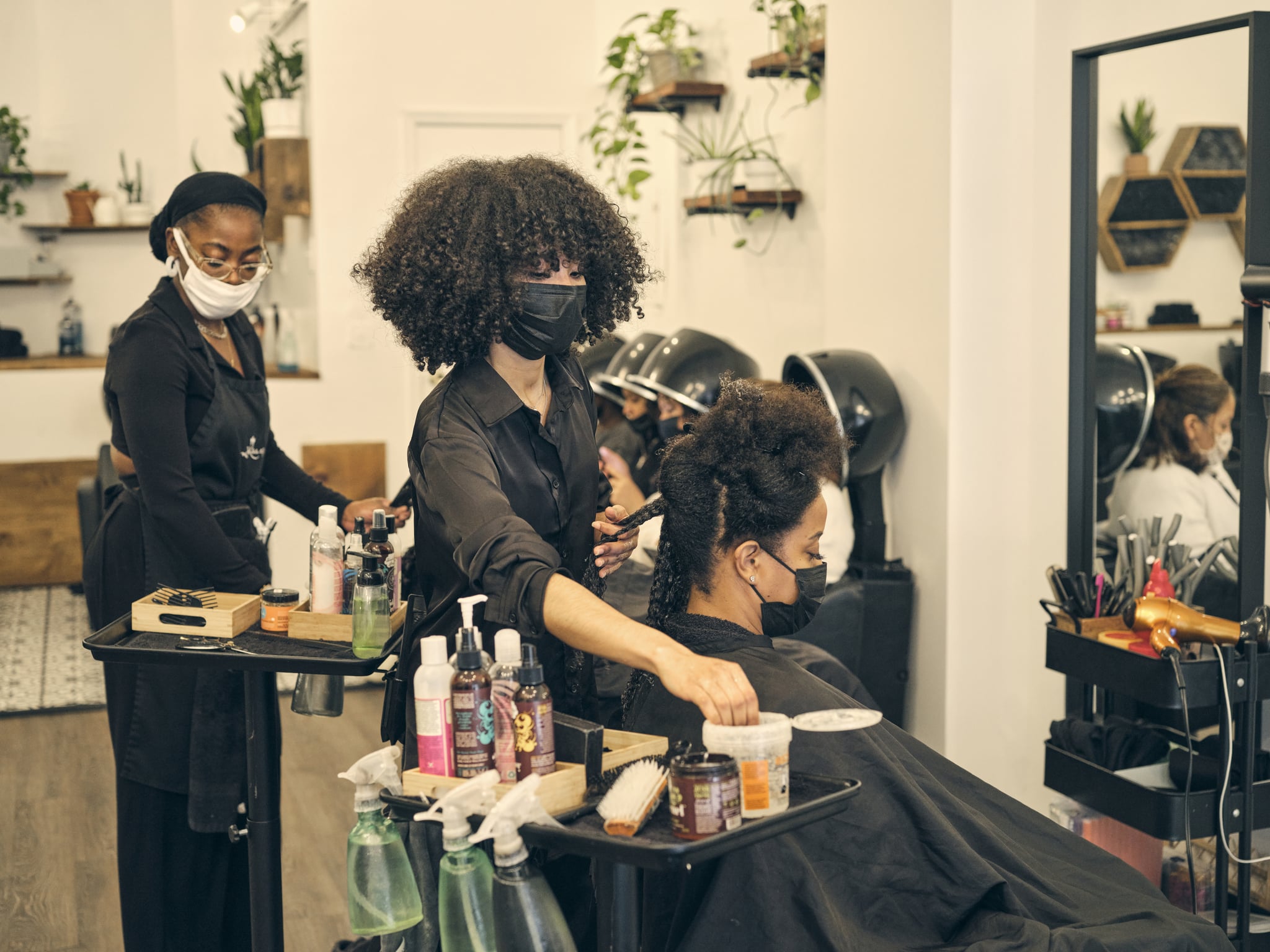 Image Source: Getty / The Washington Post / Contributor
Black women have experienced their share of grievances with hairstylists. From difficulty booking appointments to getting relaxers snuck into their conditioning treatments, there has been a continuous erosion of trust between client and stylist for years. Still, there's another head-scratching phenomenon getting called out on social media: "thick-hair fees."
For people with kinky, curly, coily, or otherwise thicker hair, paying upward of $50 or more on top of the regular service price is becoming increasingly common at salons, and consumers have started to voice their displeasure at what it is: discrimination. Jonet Williamson, a makeup artist based in New York City, has noticed these additional costs listed on stylists' websites, which has made her avoid booking with them altogether.
"I personally think it's unfair to charge an extra fee for the density of my hair," Williamson tells POPSUGAR. "My hair type is thick, curly, shoulder length, and a mix of 4a and 4b curl patterns. Seeing this fee on a hairstylist's booking page makes me feel as though my hair is an inconvenience."
More troubling, quite a few of the salons and stylists charging extra are Black and Black owned. This is extra worrisome, as the community already has a complicated relationship with the hair-care industry; many people avoid white-owned salons out of fear they cannot work with their hair types to begin with. If they cannot go to the people who look like them without having to pay extra for their natural hair, then where are they supposed to go?
"Imagine me as a makeup artist charging an extra fee for clients with acne or dry skin," Williamson says. "That sounds so insane."
On the other hand, some hairstylists say they can understand why the fee exists. Editorial hairstylist Martika Cogdell has encountered the practice at work, noting that salons charging extra do so according to length and density as opposed to one set price. "Denser hair textures can take a little more time to manage and may even require more product at times," she says.
"How someone's hair grows out of their head is completely out of their control. If they have thicker hair, all it takes is a little extra patience on the stylist's part to style."
However, Cogdell adds that the atmosphere you create for your client should come first, and that includes taking their feelings into consideration. "I personally don't charge these fees because I never want my clients to feel as if they're being penalized for their hair texture or as if they're burdening me. How someone's hair grows out of their head is something that is completely out of their control. If they have thicker hair, all it takes is knowledge and a little extra patience on the stylist's part to style."
As someone with more dense hair, Williamson says the way people approach styling can have a deeply emotional impact. "When you go to the hair salon, you expect to feel relaxed, pampered, and cared for," she says. "This whole practice must stop, because there are no discounts for having 'easy hair.'"
For stylists who may find they take a longer time on people with thicker, denser hair textures, Cogdell has a few tips. "Create systems while working to eliminate any feelings of overwhelm that a stylist may feel when servicing clients with lots of hair," she says. "From using the proper products to detangle the hair in a timely fashion to sectioning the hair to ensure a great blowout, there are definitely ways to be more efficient when it comes to working with thick hair."
Most importantly, invest in high-quality hair tools. "I can't stress enough how important it is to use the proper products," Cogdell says. "About 90 percent of my clients are natural, so I invest in quality blow dryers, flat irons, and curling irons to help me maneuver through the styling process much easier and a lot quicker." This single step can allow you to cut down on styling time, ensuring a better experience both for customers and stylists.
Cogdell also says that if you do charge a fee for having thick hair, be tactful. "Keep your clients' feelings in mind at all times," she says. "Be compassionate with your delivery if you do choose to charge the fee, and always listen to their concerns to ensure a smooth experience. You should never want anyone leaving your chair feeling insecure about or ostracized for their hair texture."
The way a hairstylist chooses to run their business is their choice, but the relationship between beauty professional and their clients should be symbiotic. Additionally, the group of people most likely to be affected by this charge is Black people with kinky and coily hair textures, making this practice inherently racist. There's no way around that fact.
Should a stylist feel the need to charge a fee for working with thicker hair textures, incorporate the charge into the price of the service for everyone or hire an assistant to help during the styling process. Anything is better than making someone feel horrible about the way their hair grows out of their head — then making them pay for it.