Upneeq Eye Drops Review With Photos
These Eye Drops Gave Me a Lid Lift in Minutes
As POPSUGAR editors, we independently select and write about stuff we love and think you'll like too. If you buy a product we have recommended, we may receive affiliate commission, which in turn supports our work.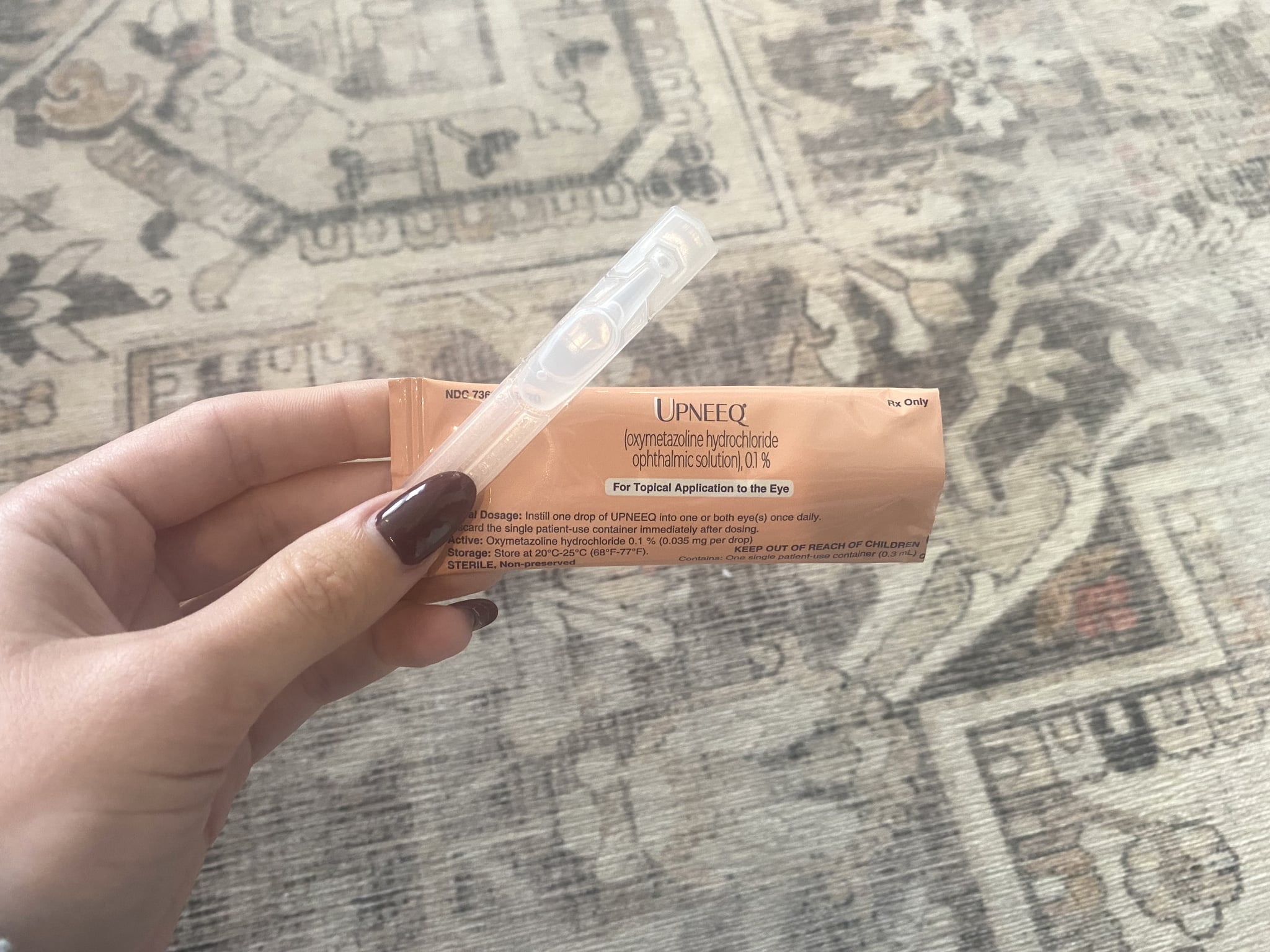 I have hooded eyes, and while I'd consider myself to be confident in my appearance, that's one body part I wish I could change. My options for eye makeup tend to be limiting, as lots of looks end up being hidden behind my eyelids. Plus, while I'm all for cosmetic procedures and surgeries, I don't think I'd ever go under the knife for my eyes, which is why I was instantly intrigued when I heard about the treatment Upneeq.
Upneeq ($199, by prescription only) is an FDA-approved prescription eye drop meant to treat ptosis, also known as low-lying or drooping lids, with just a few droplets. I've heard people claim it was like a nonsurgical eyelid lift, which sounded like it was made for me. So I decided to try it, and after answering a few questions online and speaking with a doctor, my prescription arrived in the mail just a few days later.
If you're curious to see my results, keep reading to learn all about my experience and see my before-and-after photos.
About Upneeq Eye Drops
The exact ingredients in Upneeq are oxymetazoline (which is what treats ptosis or drooping) and hydrochloride (to treat redness).
The brand says results can be seen in just five minutes after application and can last for six to eight hours.
Prescriptions account for a 30-day supply with 30 vials.
What I Like About Upneeq Eye Drops
Upneeq is a great alternative for those who don't want to get surgery for their drooping eyelids, and while mine aren't too noticeable, I love the subtle lift Upneeq gave me. My eyes looked a tad bit bigger, and after taking before-and-after photos, I realised the difference was small but mighty. If you pay attention to the areas above the crease in my eyes, they look more lifted and plump.
I also appreciate the packageing — each vial is single-use, reducing the risk of contamination, and makes for easy use and cleanup. If you're familiar with using eye drops, this will be a total breeze for you.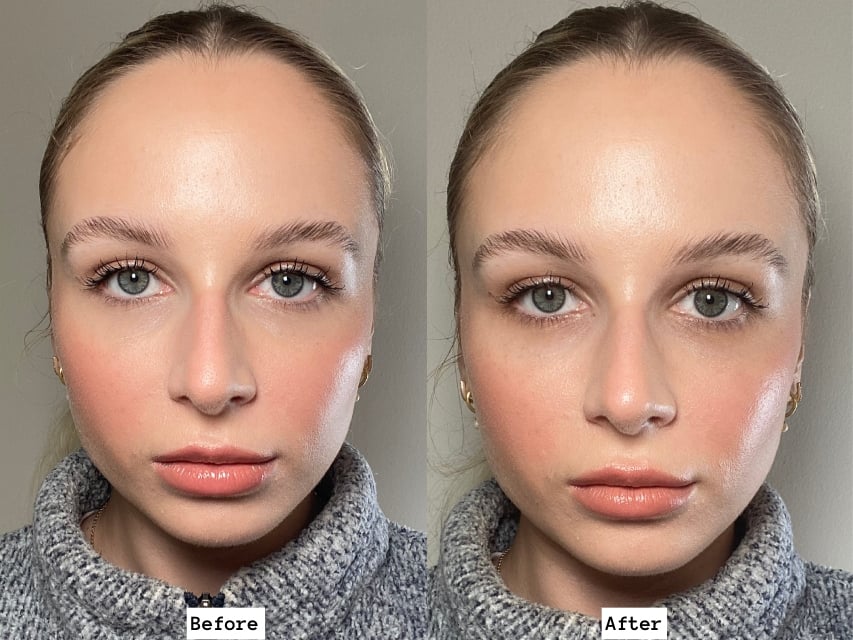 How to Use Upneeq Eye Drops
Surprisingly, using Upneeq isn't quite as simple as placing a drop in each eye; in fact, there are specific instructions I had to follow to ensure I saw the full effects. The drops come in 30 individual vials, and after washing my hands, opening up the sachet, and twisting off the top, all I did was place a drop of the product into each of my eyes. But it didn't stop there.
After that, and in following the directions, I placed pressure on the inner corner of my eyes (while closed) to keep the product in the area for about two minutes. Then, I blinked repeatedly until it felt like there was nothing in my eyes. It wasn't exactly like other drops I've used, but it was still super simple and user friendly.
What to Consider Before Trying Upneeq
The only major downside when it comes to Upneeq is that results only last for a few hours at a time, and even then, they may not be too noticeable unless you have a more serious case of ptosis. However, if you go into it with the mindset that subtlety is a good thing, I highly recommend this product. If you want a short-term solution before a big event or meeting to treat your drooping eyelids, Upneeq gets the job done.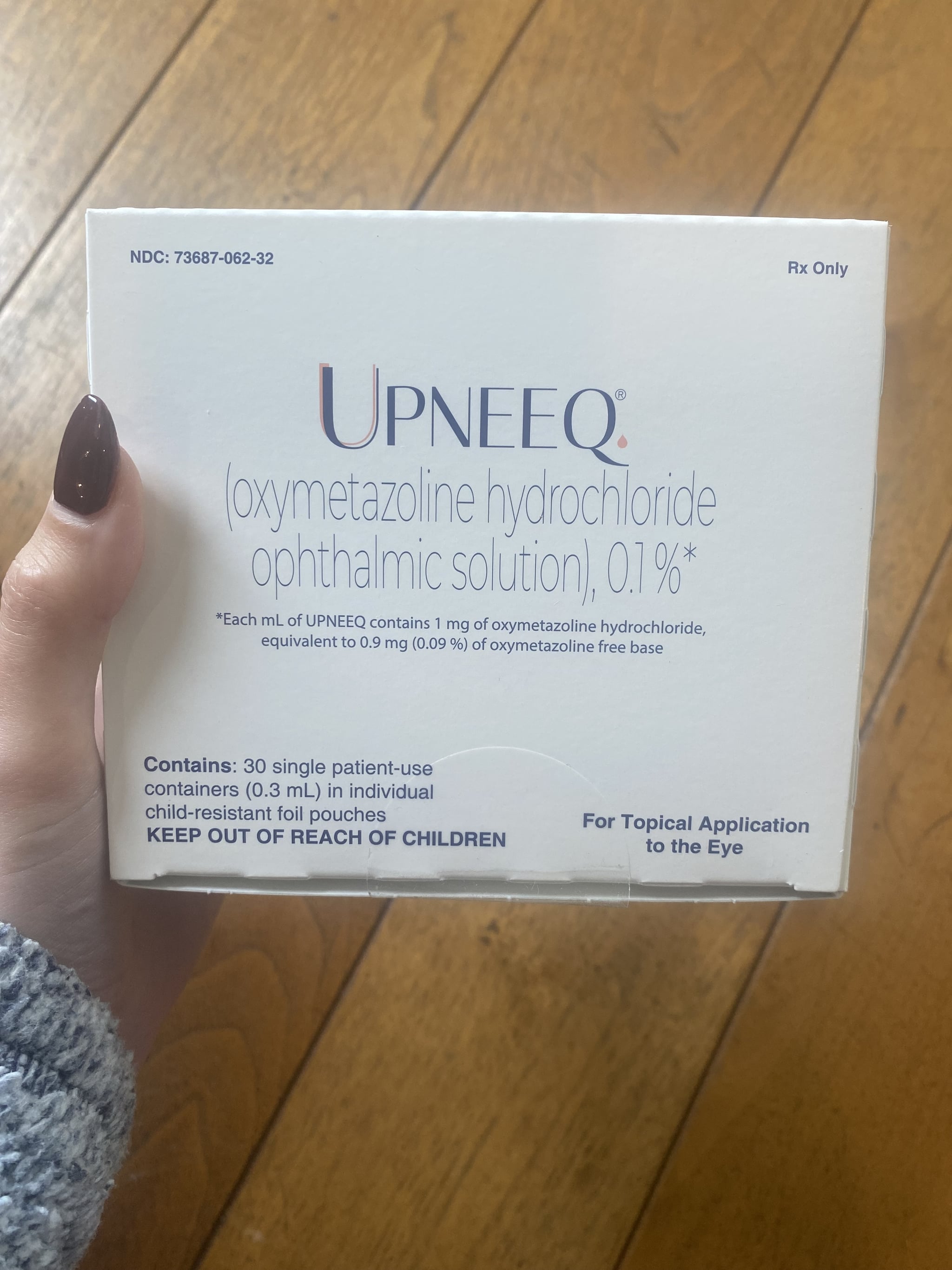 Is Upneeq Worth the Splurge?
While I don't plan on using Upneeq every day, I love the idea of using it for nights out with friends, fun events, or even just taking pictures where I want to look more alert. Upneeq isn't a long-term solution, but if you're looking for a quick, easy, and temporary way to make your eyelids appear lifted, it could be worth the splurge for you.
When you break down the price, and if you buy a month's supply, it costs less than $7 a day. And while my personal results weren't anything too noticeable, I did appreciate the subtle lift it provided me.
Rating
Image Source: Taylor Augustin