Is It Safe to Get a Tattoo Amid Coronavirus?
A Tattoo Artist Explains How Your Appointments Will Change Amid Coronavirus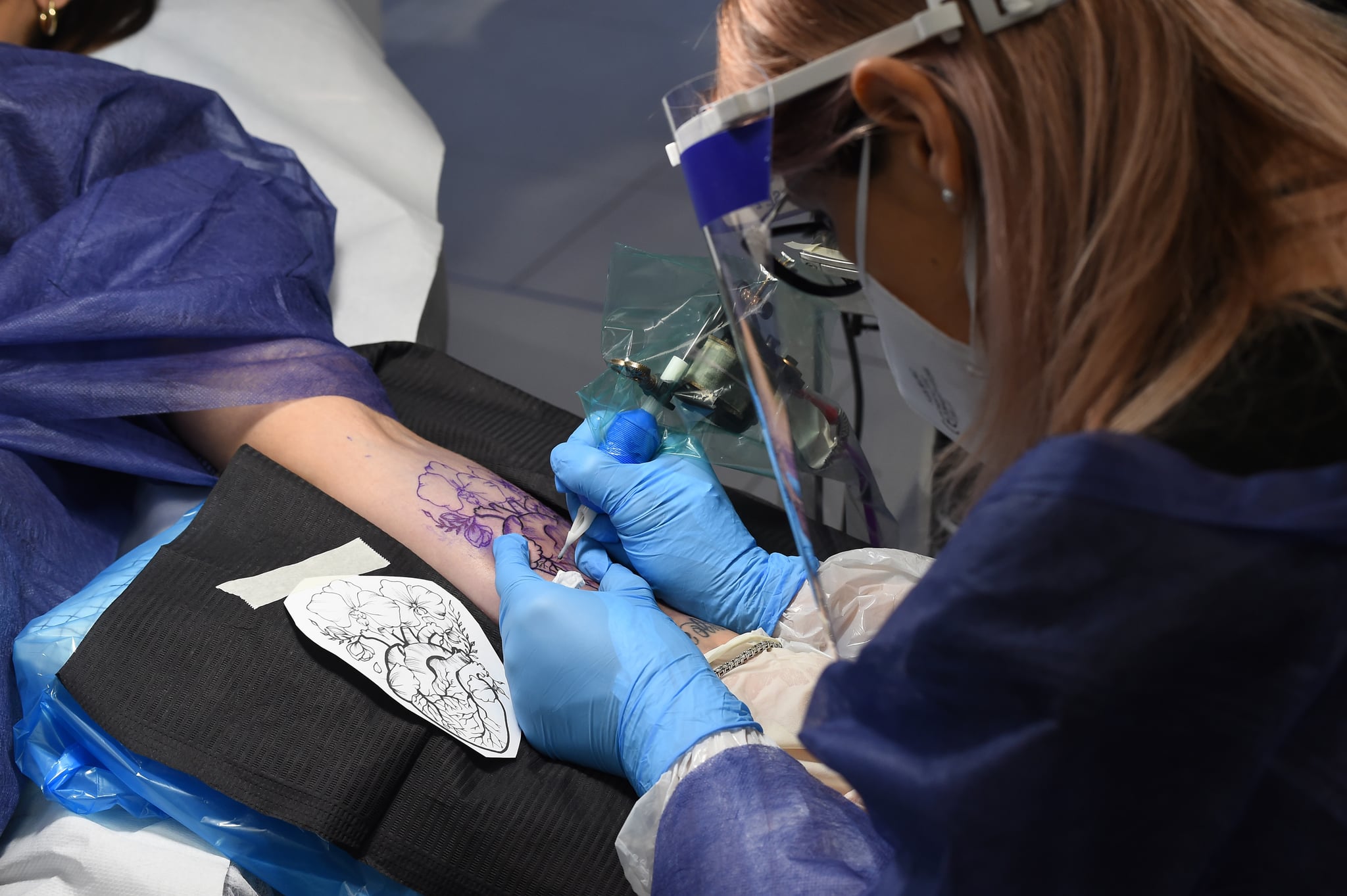 Image Source: Getty
In an effort to stop the spread of the coronavirus, tattoo shops across the UK shut their doors in late March. Now, in July, the government has finally given tattoo parlours the green light to reopen, reversing their original 9th June decision to keep them — and beauty salons, spas, and piercing parlours — closed until further notice. Starting Monday 13 July, tattoo studios may reopen, provided they have the correct hygiene measures in place. During his televised speech, Dowden did note that "some restrictions" would be in place with regards to tattoo parlours; these restrictions essentially includes any facial treatments, which means tattoos around the facial area will not yet be allowed.
For a better idea of what your next tattoo and piercing appointment might look like and whether it's safe, we asked Richard Barclay, owner and tattooist at Crimson Tear Tattoos in North London, to see how his shop is preparing for and navigating their new "normal" when it comes to the world of tattooing.
Although the industry "hasn't been provided with any guidelines on how to now interact with customers whilst tattooing or piercing them," said Barclay, the industry already operates to incredibly high safety standards and will continue to do so once lockdown restrictions start to ease.
In short: once tattoo studios reopen, yes, it will be safe to get one — provided you visit a reputable studio and follow their studio guidelines.
New Health and Safety Measures
Barclay stressed that reputable tattoo and piercing studios already adhere to strict health and safety guidelines due to the nature of the business. However, he did note that on top of this, his studio will be implementing further measures to ensure optimum safety for customers.
Sanitising station: "We will be implementing and actively encouraging customers to use the sanitising station in the studio," said Barclay.
Personal protective equipment: Staff at the Crimson Tear Tattoo and Piercing Studio have worn PPE, including masks and gloves, prior to COVID-19. However, it will now be mandatory for customers to also wear this protection to ensure the safety of artists and other customers in the studio.
Only direct contact with chosen tattoo artist: "As our artists have direct contact with our clients, we will ensure that only artist will have contact with one customer at any one time," he said. In addition, social distancing will be maintained as much as possible between client and artist where possible.
Avoiding face-to-face contact: "We will also avoid working directly face to face with customers, positioning ourselves according to the area being tattooed", said Barclay.
Sanitised consistently: It may seem like a no-brainer, but it's an incredibly important note. Tattoo studios will be sanitised consistently throughout the day to make sure equipment, countertops, and seating areas are clean.
Strictly no home visits: Barclay insists that until it is safe to do so (and the government eases lockdown restrictions) tattoo artists should not be offering at-home appointments, and customers should not be booking them. He explained that not only is it against lockdown rules but it is also is a huge health and safety risk; one that isn't licensed or insured if incidents (especially related to COVID-19) occur.
Refreshments: Due to the nature of a piercing and tattoo studio, Barclay stressed that staying hydrated and fuelled is crucial, so refreshments will be offered to clients and will be prepared maintaining the utmost hygiene.
New Logistics and Booking Processes
Securing a tattoo appointment with your favourite artist could already prove difficult pre-coronavirus. Unfortunately, unless they work in a private space or a shop with few artists, appointments may become even more scarce since many people are eager to get back in the chair. There will also be a limited number of artists and customers in the studio at any one time, meaning your chosen artist may not be working as many days as previously. But of course, we all know the wait will be well worth it.
To guarantee social distancing is managed, Barclay's studio will ask customers to arrive to their appointment on time to "avoid any early-bird overcrowding and limiting contact with as many people as possible", and you'll be asked to attend your appointment alone. The booking process will change, too. "Until the UK is cleared of COVID-19, we will be working on an appointment-only basis and won't be taking walk-ins," he said. In addition to this, "we will carry out all preliminary tattoo consultations via phone or email, rather than face to face, until further notice", Barclay explained.
How Tattoo Appointments Might Change
What will tattoo appointments really look like moving forward? Pretty different. While you might normally sit in a waiting area, browse portfolios, sign routine consent forms, and perhaps socialise with artists and guests, that will no longer be the case. Crimson Tear Tattoo Studio encourages customers to view portfolios on their social media prior to booking and avoid relaxing in the waiting areas. When it comes to tattoo placement, you may not be able to get all parts of your body tattooed, either. "Limitations of certain body parts should be considered if a safe and practical position cannot assist with the successful application of the tattoo or piercing", explained Barclay.
So, while the experience of getting a tattoo may look a little different for the foreseeable future, it enables everyone to add to their tattoos (or get their first one!) safety while supporting their favourite studio. And speaking of, Barclay emphasises the importance of supporting the business. If you aren't quite ready to take the plunge with a new addition, he suggests prebooking in advance (when the parlour opens their systems back up), promoting your favourite artist or studio's work and social media pages, and purchasing merchandise where available.
POPSUGAR aims to give you the most accurate and up-to-date information about the coronavirus, but details and recommendations about this pandemic may have changed since publication. For the latest information on COVID-19, please check out resources from the WHO and the NHS.