Coronavirus: When Will Tattoo Studios Reopen in 2021?
Tattoo Parlours in England Can Reopen on 12 April 2021 — Here's What You Need to Know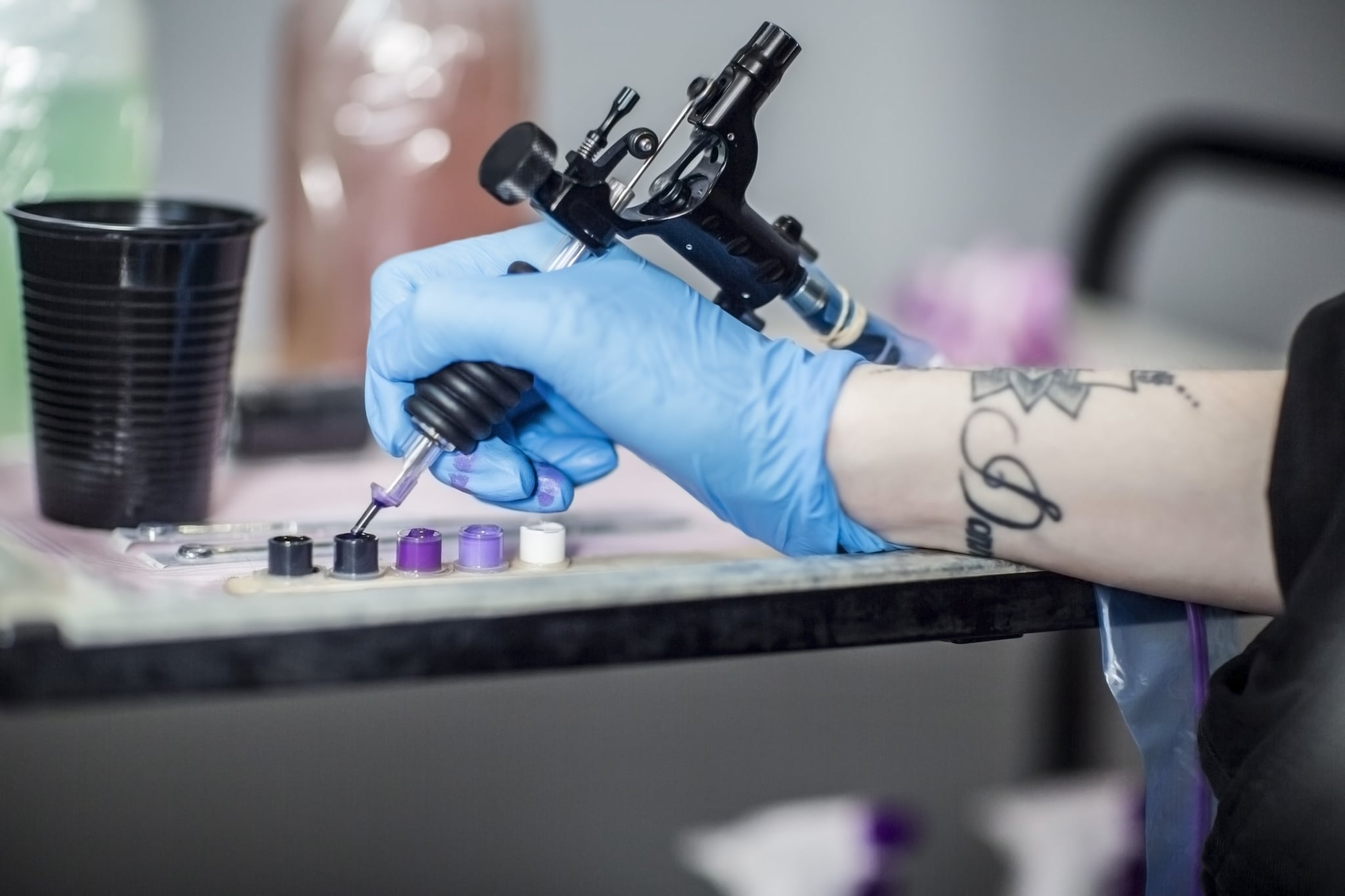 Update (22 Feb., 2021): Tattoo parlours have been given the green light to reopen on 12 April 2021 in England, according to the government's roadmap to ease lockdown restrictions, which prime minister Boris Johnson presented to the House of Commons today. The news comes as great relief after tattoo parlous were forced to close their doors yet again when the UK went back into a nationwide lockdown on 5 Jan. 2021 due to the increase in coronavirus cases.
Whilst Johnson didn't explicitly mention tattoo parlours in his speech, and the full details of the roadmap haven't been uploaded to gov.uk yet, tattoo parlous have consistently been grouped in the personal care sector along with hair, nail, and beauty salons during the pandemic, all of which are allowed to open on 12 April.
For tattoo parlours to open on 12 April, however, Johnson stressed that England's four criteria must be met before the country can move through each phase of the lockdown. These include, the vaccine deployment programme continues successfully, data shows the vaccines are sufficiently effective in reducing hospitalisation and deaths in people who are vaccinated, infection rates do not risk a surge in hospitalisations putting an unsustainable pressure on the NHS, and the risk assessment is not changed by the new variants of concern.
Update (14 August, 2020): After five months of not being able to do business due to the coronavirus pandemic, close contact services in England can finally reopen as of Saturday 15 August, which includes tattoo studios. The announcement comes two weeks after the government U-turned on the decision to allow close contact services to resume, a mere 24 hours before they were due to reopen for business. Having said that, unfortunately those in local lockdowns (such as the greater Manchester area) will not be permitted to resume business until lockdowns are lifted in the area. As for other parts of the UK, Scotland's close contact services were allowed to resume from 22 July, Wales have allowed close contact services to reopen but are "strong advising" against performing treatments on the face, and in Northern Ireland, all beauty and close contact services have been open for some time.
As a reminder, the British Association of Beauty Therapy & Cosmetology (BABTAC) has released the following personal protection guidelines, which also applies to any close contact service, such as getting at tattoo:
A visor and face mask must be worn at all times by the person conducting the treatment
The client must also wear a face mask
The client's mask can be removed momentarily, only when the therapist is working in that area
If the treatment doesn't include areas covered by the mask, i.e. to the eyes, then the mask must be worn by the customer at all times
Original Post (9 June 2020): The novel coronavirus (COVID-19) pandemic is nowhere near over, but there are plans to begin officially reopening their economies after weeks of lockdown and stay-at-home orders. A handful of nonessential retailers and businesses operating outdoor markets and car showrooms are serving customers again.
The beauty industry is another story, though. Many services the beauty industry provides fall under the "personal care" category, which is addressed in the third phase of the government's Plan to Rebuild. This includes hair and nail salons and piercing and tattoo studios, which have been given the provisional date of 4 July to begin reopening in England — provided the government is confident that the infection rate of the coronavirus has decreased sufficiently.
Additionally, tattoo parlours, in particular, may require more time and restrictions until returning to business as normal. This is because tattooing requires more personal contact with customers for longer periods of time, which is especially true for customers receiving larger designs, some of which can take days to complete.
When the time comes that tattoo studios are able to reopen, things will look a little different postpandemic. As with other beauty services, tattoo studios will be operating with heightened health and safety regulations and with stricter policies.
Personal protective equipment (PPE) will be a requirement for both staff and clients, including face coverings and gloves. It is likely you'll be asked to take a number of hygiene steps upon entering the studio (including hand sanitising), and you might also be asked to visit the studio alone and on time to ensure there's enough room in the studio to maintain social-distancing rules.
Tattooing stations will be spaced two metres apart and may also be divided with protective screens. It is encouraged from beauty industry professionals that walk-in appointments are put on hold and operating on an appointment-only basis to ensure acknowledgment of parlour policies and that social distancing can be maintained.
Read this to find out more information on what one UK-based tattoo artist is doing to ensure his studio is safe when they are allowed to reopen.
POPSUGAR aims to give you the most accurate and up-to-date information about the coronavirus, but details and recommendations about this pandemic may have changed since publication. For the latest information on COVID-19, please check out resources from the WHO and the NHS.
Image Source: Getty / Westend61