What Is Hair Oiling? How to Do the Treatment At Home
The Ancient History of Hair Oiling
As POPSUGAR editors, we independently select and write about stuff we love and think you'll like too. If you buy a product we have recommended, we may receive affiliate commission, which in turn supports our work.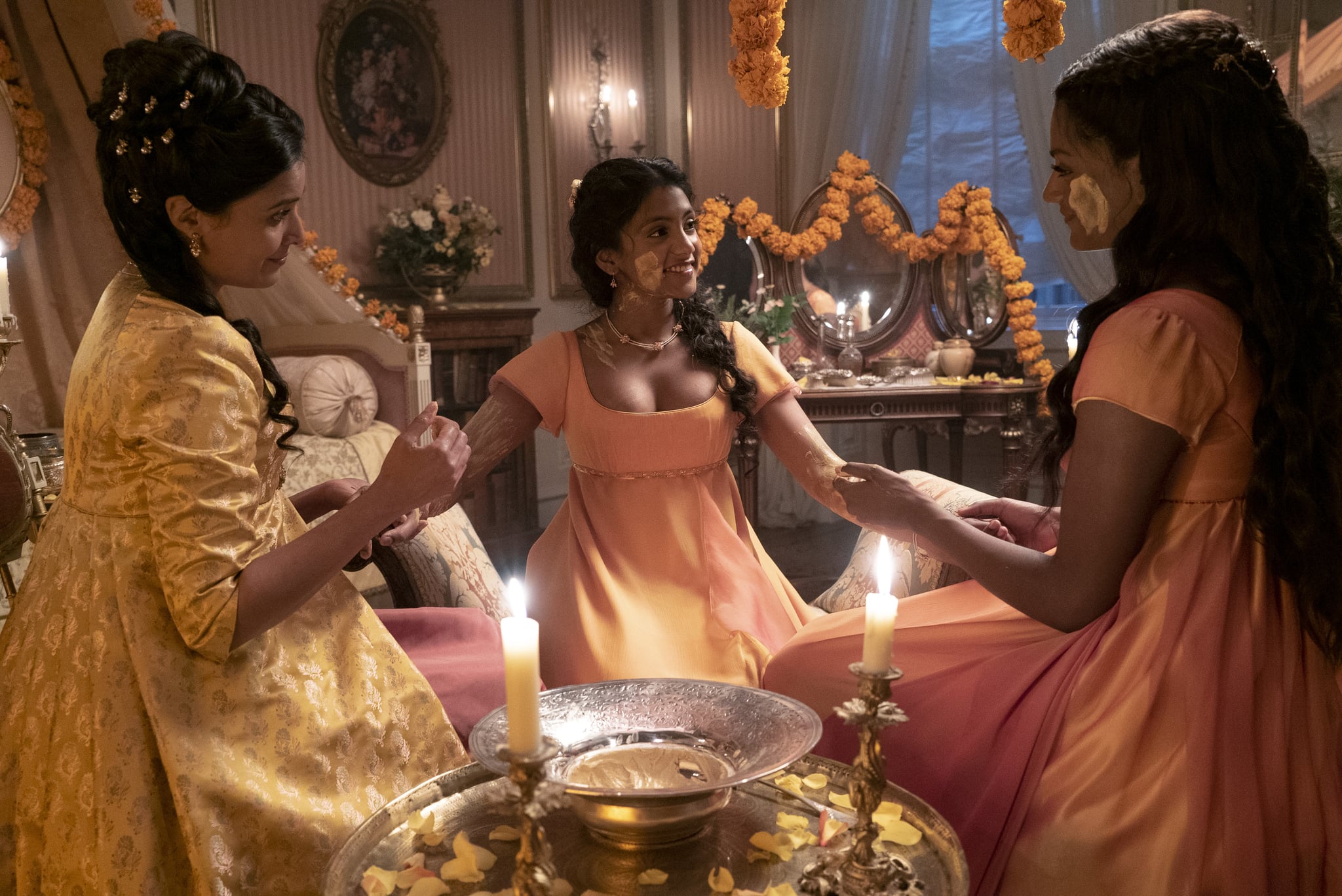 Hair oiling is an ancient Ayurvedic practice that involves massageing oil on the hair and scalp.
It has a long list of benefits, including hydration, softening, and strengthening.
Learn more about hair oiling and how to do it at home from three experts.
Hair oiling is starting to hit the mainstream consciousness. Maybe you've seen the treatment on TikTok (rebranded under the name "hair slugging") or you caught the special ritual between sisters Kate and Edwina Sharma on season two of Netflix's "Bridgerton," but the practice of hair oiling actually dates back thousands of years and is a staple in South Asian cultures.
For the unfamiliar, hair oiling is an ancient Ayurvedic ritual that involves pouring oil onto the hair and scalp, massageing it in, and leaving it on for a few hours or overnight before rinsing it out. The benefits are plentiful, from strengthening the hair to adding shine and softness.
Although the practice has a rich history, it's still widely done today — and thanks to social media and mainstream media depictions of the treatment, it's seeing a spike in interest recently. You can even find specially made products for hair oiling in many of your favourite beauty retailers, like Sephora and Ulta Beauty.
Ahead, learn more about the ritual of hair oiling, where it comes from, and how to incorporate it into your routine from three beauty experts.
What Is Hair Oiling?
Hair oiling is an ancient Ayurvedic practice. But what is Ayurvedic medicine? "It is a natural medicinal system that originated in India over 3,000 years ago, which encourages natural therapies to balance the mind, body, and soul," Rochelle Currie, founder of Nila Botanics, tells POPSUGAR. Currie comes from generations of Ayurvedic doctors and grew up learning about the many practices and traditions of the system before getting a diploma in Ayurveda herself.
The word Ayurveda is derived from Sanskrit words "ayur," meaning life, and "veda," meaning science or knowledge, making it translate to "knowledge of life." "The tradition of taking care of your hair, with daily oiling stems from the Sanskrit word "sneha," which means to oil and to love," says Nikita Mehta, cofounder of Fable & Mane. "We combine it with the ritual of "abhyanga," which means to self-massage as an act of self-love."
Massage therapy is a big part of Ayurvedam and is incorporated into hair oiling with a scalp massage. "Most Indian households experience oil with a head massage by a family member to grow hair and relax the mind," says Akash Mehta, cofounder of Fable & Mane. "Hair oiling is usually performed before bedtime and makes room for stories and fables to be shared."
What Oils Are Used For Hair Oiling?
Traditionally, people have used homemade concoctions to perform the Ayurvedic hair oiling practice that have been passed down for generations. While the specific blend varies, some typical ingredients include a variety of natural, plant-based oils, such as coconut, gooseberry, grapeseed, olive, and castor oils.
What Are the Benefits of Hair Oiling?
Hair oiling comes with a myriad of benefits. It strengthens hair and leaves it feeling soft and lustrous. It can also help hydrate both the scalp and ends of hair, reducing dandruff and softening dry, split ends. This helps promote shine as well.
"Hair oiling makes hair stronger from the roots," says Nikita. "It's great for anyone who struggles with hair loss and breakage, it strengthens and protects hair follicles and strands, conditions the scalp skin, and cultivates healthy hair growth."
But the benefits go beyond surface level. Hair oiling, when coupled with a head massage, is said to help with relaxation and well-being. "[It] is encouraged as a daily practice as it promotes blood circulation, relieves stress in the mind, and provides nourishment to a vital part of the body," says Currie.
How to Hair Oil at Home
If you want to try hair oiling at home for the first time, Akash recommends making a ritual of it — settle into a comfortable position, light a candle, put on some music, and really allow yourself to relax.
Step 1: Part your hair in the centre and apply a few drops of oil to your hands and rub them together before working it into your scalp. "Focus first on your crown chakra, an energetic point on the top of our head that when touched helps release stress," says Akash.
Step 2: Then, move to the right and left sides of your head, working the oil into your hair in circular motions. You don't want to massage too aggressively as it can cause hair to become tangled.
"If there are parts where you are noticing a lot of hair loss or have dryness, place a little bit of oil in that section and massage in a circular motion," says Currie. "Then, put some oil in your hands and comb your hands through your hair to moisturise the ends."
Step 3: After you've completed the back of your head, move to the front by placing your fingertips along your hairline and your thumbs on your temples for a relaxing, blood circulation-promoting massage.
Step 4: Once you're finished applying oil to your entire head, use a comb to gently brush through your ends and style hair in a low bun or loose braid. It's recommended to leave the oil in for eight to 12 hours, or overnight, before washing it out. However, if you like to wash your hair at night, do this first thing in the morning. "If you are sleeping with the oil in your hair, use an older pillowcase or towel over your pillow to ensure the oil doesn't stain your bedding," says Currie. "It's unlikely, but always better to be safe."
If you're looking for a hair oil to try, check out the Nila Botanics Bloom Hair Vitality Oil, the Fable & Mane HoliRoots Pre-wash Hair Treatment Oil, or the Squigs Beauty Gooseberry Delight Hair Oil.