Yara Shahidi Braided Side Ponytail at the 2020 Golden Globes
Yara Shahidi Found a Genius New Way to Try the Bob Haircut Trend at the Golden Globes
Beauty editors always look forward to when Yara Shahidi steps out on a red carpet, and at the 2020 Golden Globes, the Grown-ish star didn't disappoint with her glowy, golden makeup and blunt-and-braided side ponytail. Luckily, her hairstylist, Rio Sreedharan (who is based in London and travelled to Los Angeles for the occasion), shared how the epic asymmetrical ponytail came to be. "Between the both of us, we decided that, since she always has a curly fringe or something in her face for red carpet, we decided to go for a really clean ponytail look," Sreedharan told POPSUGAR.
"I asked Yara if she wanted her hair up or down," Sreedharan told POPSUGAR. "She said up, so I started looking for ponytail references," said Sreedharan. He quickly came across Beyoncé's 2015 Met Gala hairstyle — which was a high ponytail that fell in big ringlets to one side — and knew he wanted to use that as inspiration for the shape and placement of Shahidi's Golden Globes hairstyle. But he didn't stop there. Sreedharan also scrolled through images of African braided hairstyles as well as photos of short, blunt bobs — showing Shadhidi what he found at every turn. "I've been obsessed with really, really short bobs that hit at the cheekbones, so I thought, You know what, let me do a braided look to add extra detail to the ponytail, but make it really blunt, creating a direct line at her cheekbones. So basically, I incorporated all of the three looks that I found into one style and this is what we ended up with."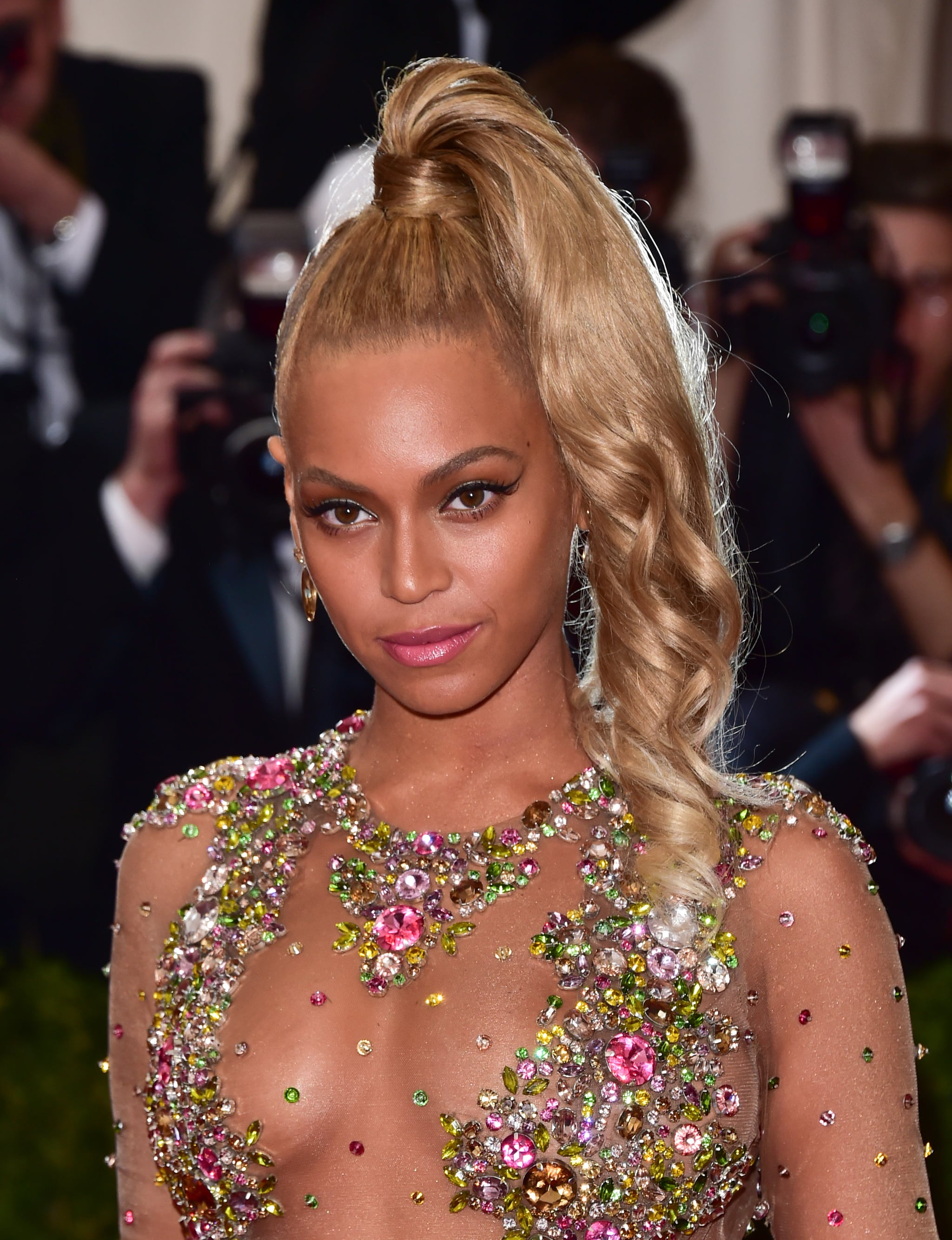 Image Source: Getty Images
To create the look, Sreedharan started by pulling Shahidi's hair up into a high ponytail. "I made sure all of her hair — all the baby hairs and everything — were snatched really, really tight and really sleek on the top of her head, but [securing it] a little bit off centre so that the ends would fall to the side." Then he used X-Pression hair extensions and braided them into Shahidis' own hair to make the plaits thicker. "I also brought the length down so it was all one length and really blunt, creating a nice shape."
With such a statement hairstyle and brightly-hued dress, Shahidi kept her makeup minimal but intensely glowy (in a good way). The star's go-to makeup artist, Emily Cheng, defined her lids with sharp black wings, covered her lids in a subtle gold shadow — which complemented the yellow dress without looking too intense — added a tinge of rosy blush to her cheeks, and coated her lips in a high-shine gloss.
Keep reading to see Shahidi's gorgeous 2020 Golden Globes hair and makeup look — as well as behind-the-scenes snaps of the getting ready process that she shared on her Instagram stories, which included sweet shoutouts to her glam team.