Seth Meyers's Best Jokes at the 2018 Golden Globes
The 7 Best Jokes From Seth Meyers's Opening Monologue at the 2018 Golden Globes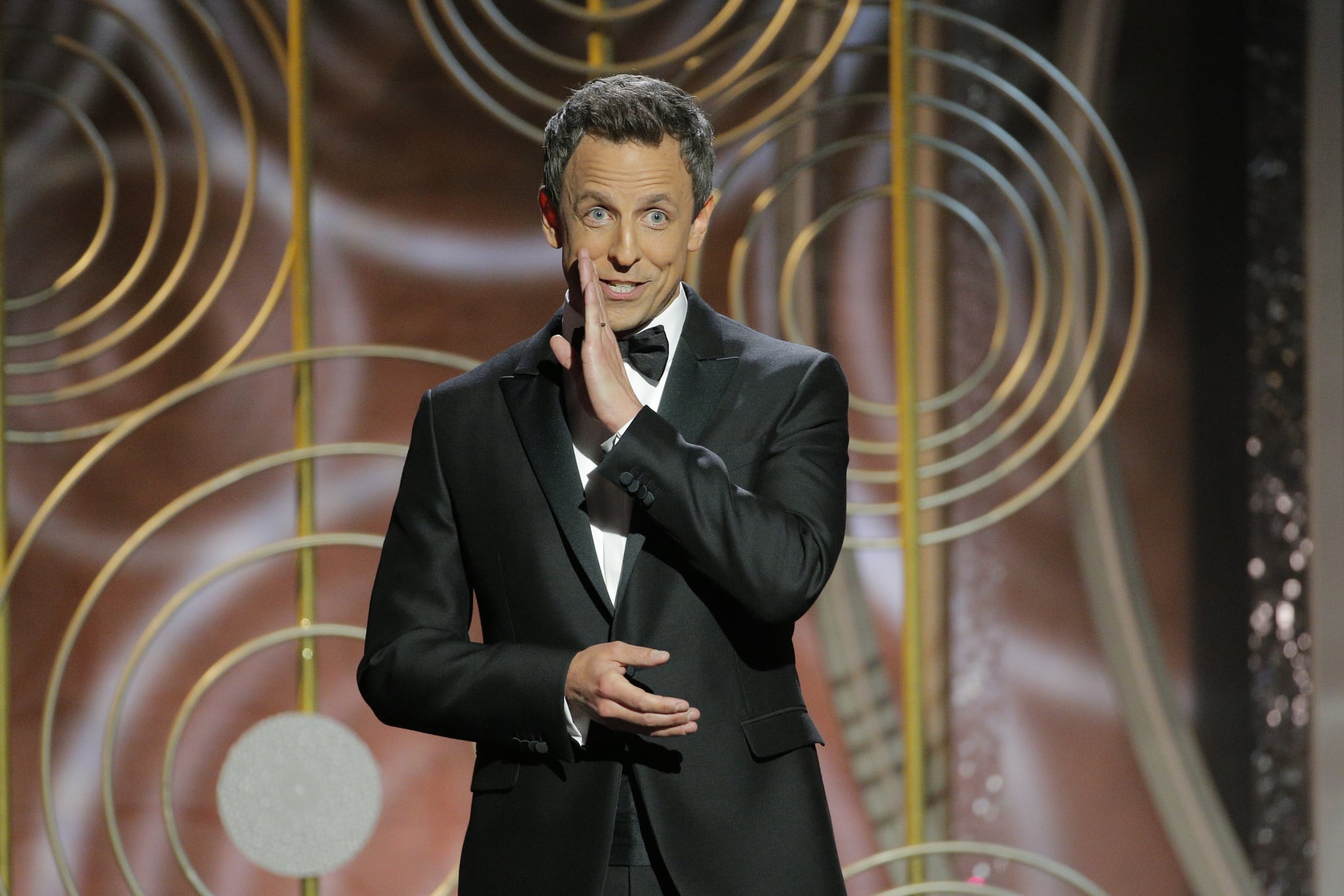 Seth Meyers took the stage at Sunday's Golden Globe Awards against a backdrop of social change and protest — and all things considered, he knocked it out of the park.
While not every joke landed, his opening monologue skillfully touched on the #MeToo and #TimesUp movements, Harvey Weinstein, President Donald Trump's first year in office, and the evolving landscape of Hollywood. Meyers also acknowledged the fact that he was the first celebrity to take the stage at an award ceremony since allegations started trickling in three months ago, and it's worth noting that he did so in a way that only he could. Below, check out seven of the best moments from Meyers's 2018 opening monologue.
"Welcome, ladies and remaining gentlemen." — Tackling the myriad firings, suspensions, and retirements that have come as a result of the #MeToo movement.
"Marijuana is finally allowed and sexual harassment finally isn't!" — Noting the sea of changes in policy in Hollywood and elsewhere.
"Remember when Seth Rogen was the guy making trouble with North Korea? Simpler times." — On Trump's ongoing feud with North Korean leader Kim Jong-un.
"Don't worry; he'll be back in 20 years when he becomes the first person to be booed during the In Memoriam." — On how Hollywood will handle Harvey Weinstein going forward.
"We're here tonight because of the Hollywood Foreign Press association — a string of three words that could not have been better designed to infuriate our president: Hollywood Foreign Press. The only thing worse would be 'Hilary Mexico Salad Association.'" — Again pointing out the current tumultuous presidency.
"When I first heard there would be a movie where a woman falls in love with a disgusting sea monster, I thought, 'Oh, man, not another Woody Allen movie . . .'" — Joking about The Shape of Water's nomination.
"Oprah Winfrey is receiving the Cecil B. DeMille award tonight. What a tremendous honour for Cecil B. DeMille." — On Oprah receiving the legendary award.