What Is a Town Crier?
FYI, the Town Crier Is Not Actually Affiliated With the Royal Family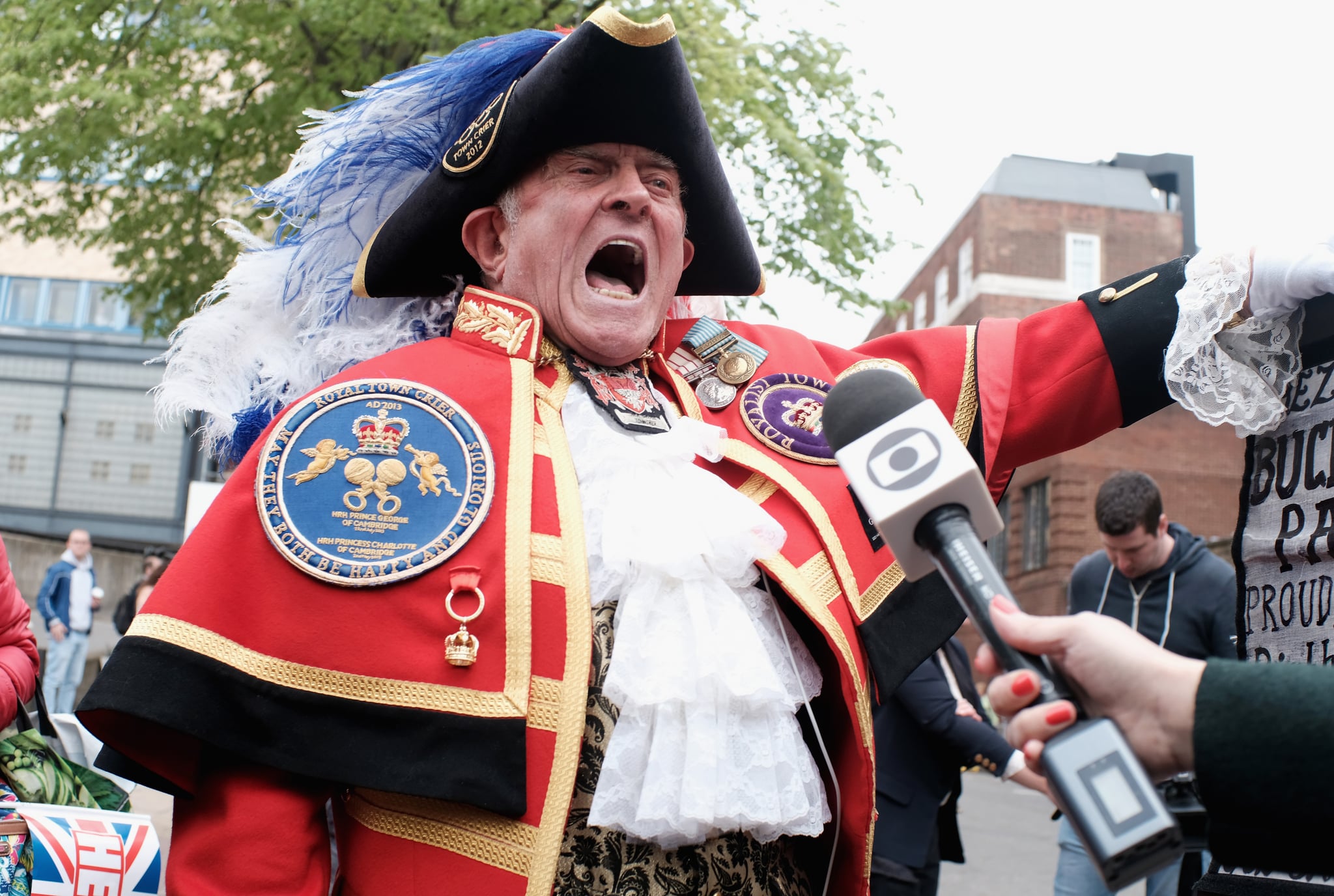 Hear ye, hear ye, the royal baby is finally here!
On Monday, Kensington Palace announced both on Twitter and by putting up the official framed announcement at Buckingham Palace that the royal baby had finally arrived. The Duke and Duchess of Cambridge welcomed their third child, a baby boy, and these official announcements weren't the only way people learned about the birth . . . the town crier was there to ring his bell and raise his voice.
While you might know a little bit about town criers, they are somewhat foreign to many people, so we thought we'd explain their purpose and if they are at all relevant today. It's true that with the invention of social media, the point of a town crier is moot, yet they still exist, and there are more than you'd think.
According to The Sun, the town crier dates back to times when literacy wasn't widespread and has somehow lasted through modern times. They were originally commissioned to communicate and announce significant events to the townspeople such as new laws, births, deaths, etc. They were also known for walking the town at night to make sure everything was OK.
During medieval England, the town criers would get the crowd's attention by yelling, "Oyez, oyez, oyez," which means "hear ye, hear ye," and then he'd ring a bell, pull out a scroll, and give everyone the news. Today, there are still 200 official town criers in the UK, according to The Guardian, but they aren't necessarily needed.
When it came to the announcement of the third royal baby, there was in fact a town crier, but he is a self-described "independent town crier" who is not affiliated with the British royal family in any way.
This man is Tony Appleton, and he is 81 years old and a major fan of English traditions and the British royal family, which we can appreciate. Appleton was the unofficial town crier at both of Prince William's children's births thus far, so it makes sense that he'd show up for the newest addition to the royal family . . . even if he is technically an uninvited guest on the steps of St. Mary's Hospital.
Appleton might not be an official town crier to the royal family, but he is the official town crier to the town of Romford and has been for 14 years. When he does arrive at royal family events, he dons the garb and gets really into his announcements so he looks the part, and we're fans of this interesting unofficial tradition.
Over the years, he has rung his bell at more than just the royal baby births; he's also been seen at corporate events all over the world and is a freelance town crier for hire. It's bizarre, yes, but who are we to mess with tradition — even traditions of uninvited town criers honouring real town criers from year before him.