Britney Spears Addresses Las Vegas Assault Reports
Britney Spears Addresses Alleged Las Vegas Assault: "Traumatic Experiences Are Not New to Me"
Image Source: Getty / Steve Granitz / Melanie Fidler
Britney Spears is speaking out about an assault that she allegedly endured in Las Vegas. On 6 July, TMZ reported that Spears had been slapped in the face by NBA star Victor Wembanyama's security guard after she approached the athlete at Catch restaurant in the ARIA Hotel. In a statement shared with POPSUGAR, the Las Vegas Metropolitan Police Department confirmed that "at approximately 11 p.m., LVMPD officers responded to a property in the 3700 block of Las Vegas Boulevard regarding a battery investigation," adding that "the incident has been documented on a police report and no arrest or citations have been issued."
Spears also addressed the incident in a statement shared on social media on 6 July. "Traumatic experiences are not new to me and I have had my fair share of them. I was not prepared for what happened to me last night," she wrote. "I recognised an athlete in my hotel lobby as I was heading to dinner. I later went to a restaurant at a different hotel and saw him again. I decided to approach him and congratulate him on his success. It was really loud, so I tapped him on the shoulder to get his attention. I am aware of the players statement where he mentions 'I grabbed him from behind' but I simply tapped him on the shoulder. His security then back handed me in the face without looking back, in front of a crowd. Nearly knocking me down and causing my glasses off my face. I get swarmed by people all the time. In fact, that night. I was swarmed by a group of at least 20 fans. My security team didn't hit any of them."
She went on to reflect further on what happened. "This story is super embarrassing to share with the world but its out there already. However, I think it's important to share this story and to urge people in the public eye to set an example and treat all people with respect," she continued. "Physical violence is happening too much in this world. Often behind closed doors. I stand with all the victims and my heart goes out to all of you!!! I have yet to get a public apology from the player, his security or their organisation. I hope they will . . . I also don't appreciate nor do I think this is a laughing matter. Watching the player smile and laugh was cruel and demoralizing with the situation that took place. I am 5'3 and he's 7'4 . . . I cherish the tremendous amounts of love and support I am receiving at the moment. Thank you to the Las Vegas PD and the detectives for their support."
https://www.instagram.com/p/CuX1auVvXYU/?hl=en
Spears's husband, Sam Asghari, also spoke out on his Instagram Story that same day. "I am opposed to violence in any form, especially without justification in the defence of yourself or someone else who is unable to defend themselves," he wrote. "Self-defence can be unavoidable, but the defence of any woman, especially my wife, is not debatable. I consider my reaction subdued considering what occurred, and I hope the man in question learns a lesson and changes his disregard for women. Thank you for the support."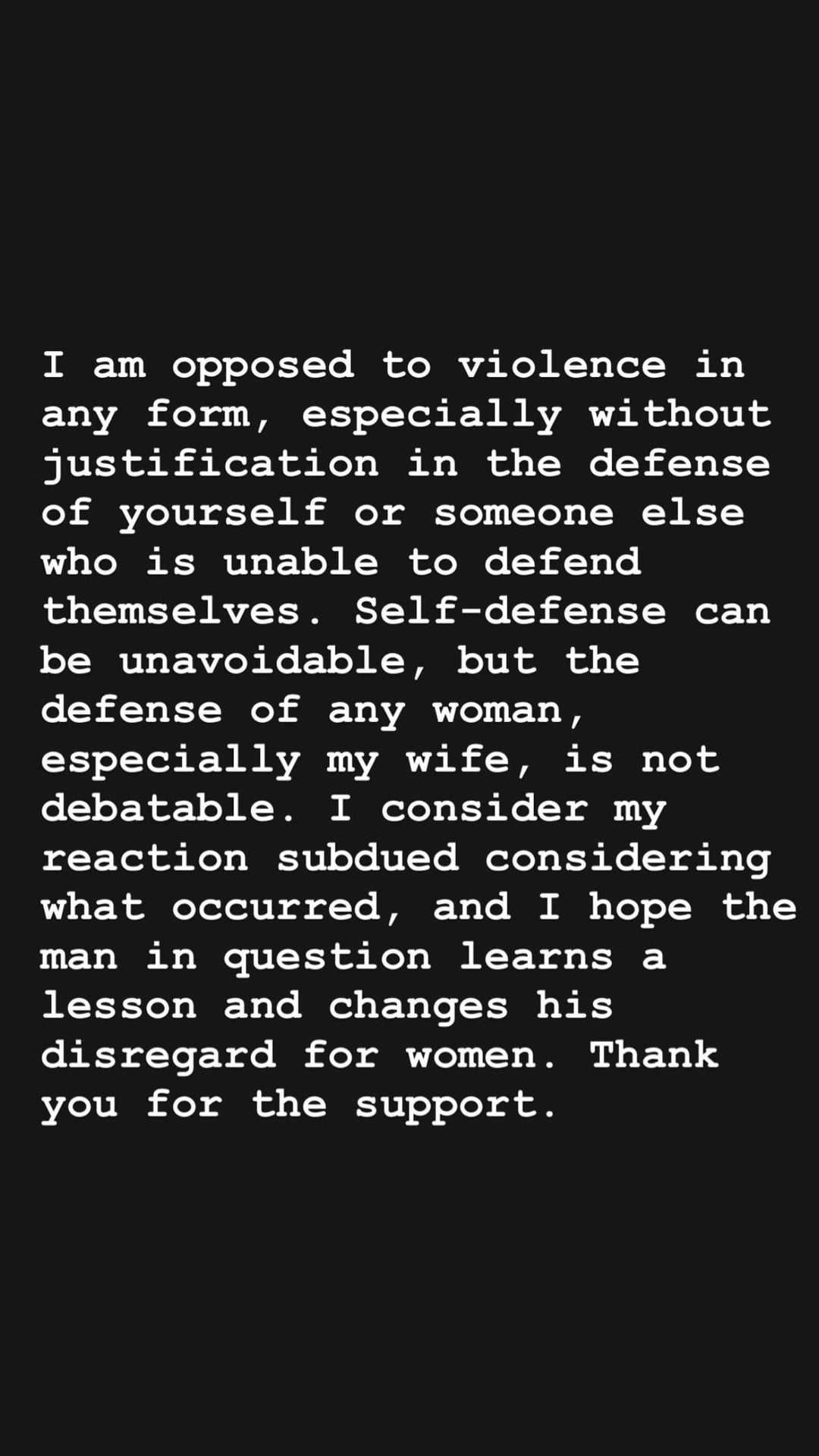 Image Source: Instagram user samasghari
Wembanyama addressed the incident as well, though his version of events was slightly different from Spears's. "I didn't see what happened, because I was walking straight and we were told, 'Don't stop,'" Wembanyama told KENS 5. "But that person grabbed me from behind — not on my shoulder, she grabbed me from behind — and so I just know the security pushed her away. I don't know with how much force, though. But security pushed her away. I didn't stop to look so I kept walking and enjoyed a nice dinner."
He added that he wasn't aware that the person was Spears until "a couple hours later" and said he never saw her face. "At first I was like, 'No, you're joking,'" he said. "But, yeah, it turns out it was Britney Spears."
POPSUGAR has reached out to Spears's lawyer and did not immediately receive a response. Wembanyama could not immediately be reached for comment.