Love Island's Ekin-Su Breaks Silence After Davide Split
"Love Island"'s Ekin-Su Breaks Silence Following Split from Davide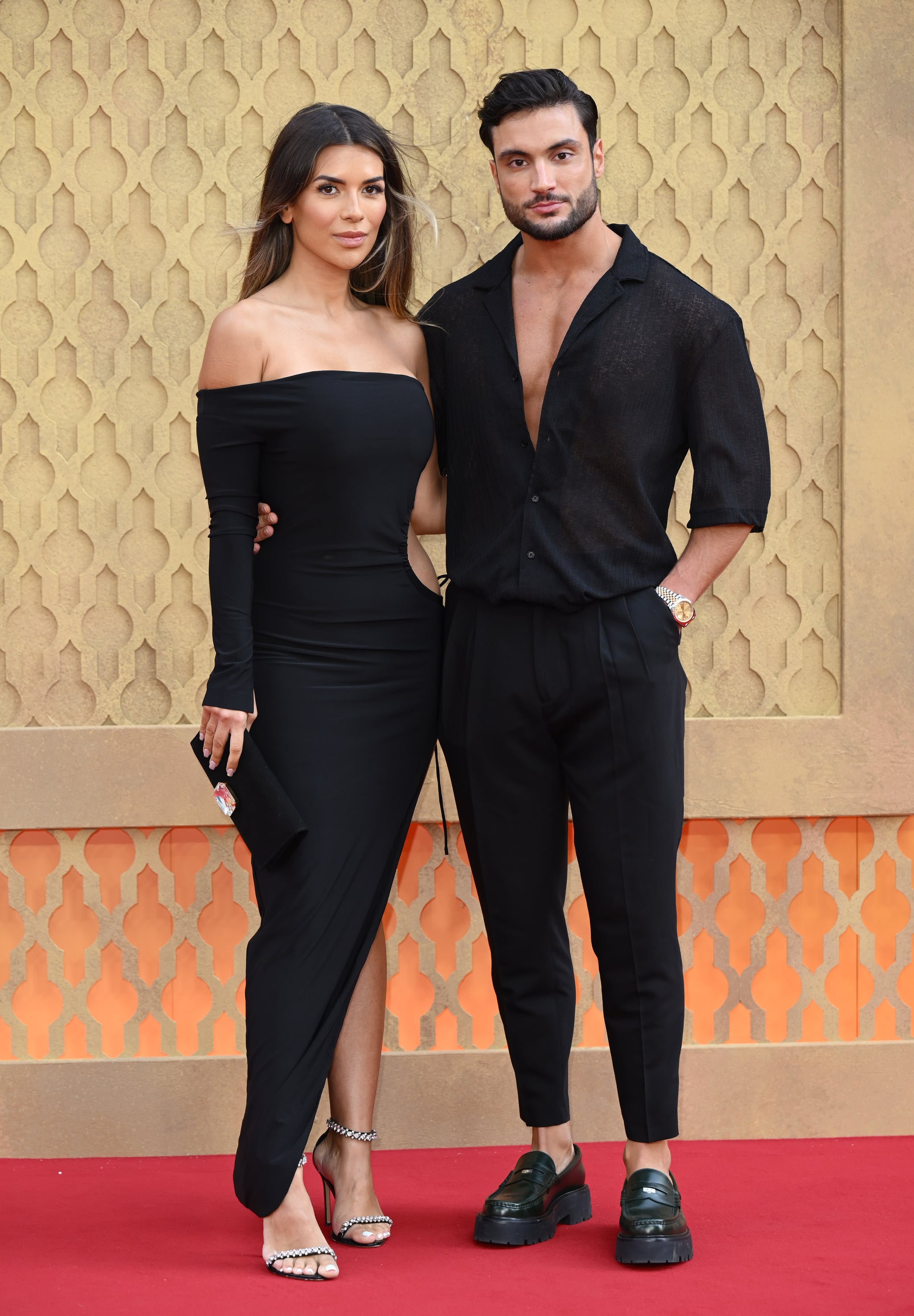 It's been a sad time for "Love Island" fans, as Davide Sanclimenti confirmed on 29 June that he and Ekin-Su Cülcüloglu have split. But after radio silence from Ekin-Su, the influencer has has finally broken her silence following Davide's revelation on social media.
Taking to her Instagram story on 10 July, the influencer acknowledged her social media break before thanking her fans for their support. "I thought it was time to come back online to thank you so much for all of your messages over the past 2-weeks," she began. "It has shown me what a kind, supportive, strong community I have behind me. I took some much needed time away with my family which has been really special but now it's time to realign & get back to work," she added, referring her recent holiday in Bodrum, Turkey. "I have such an exciting year ahead & I want to fully focus on that. I really appreciate your ongoing support. Thank you for cheering me on. Ekin x".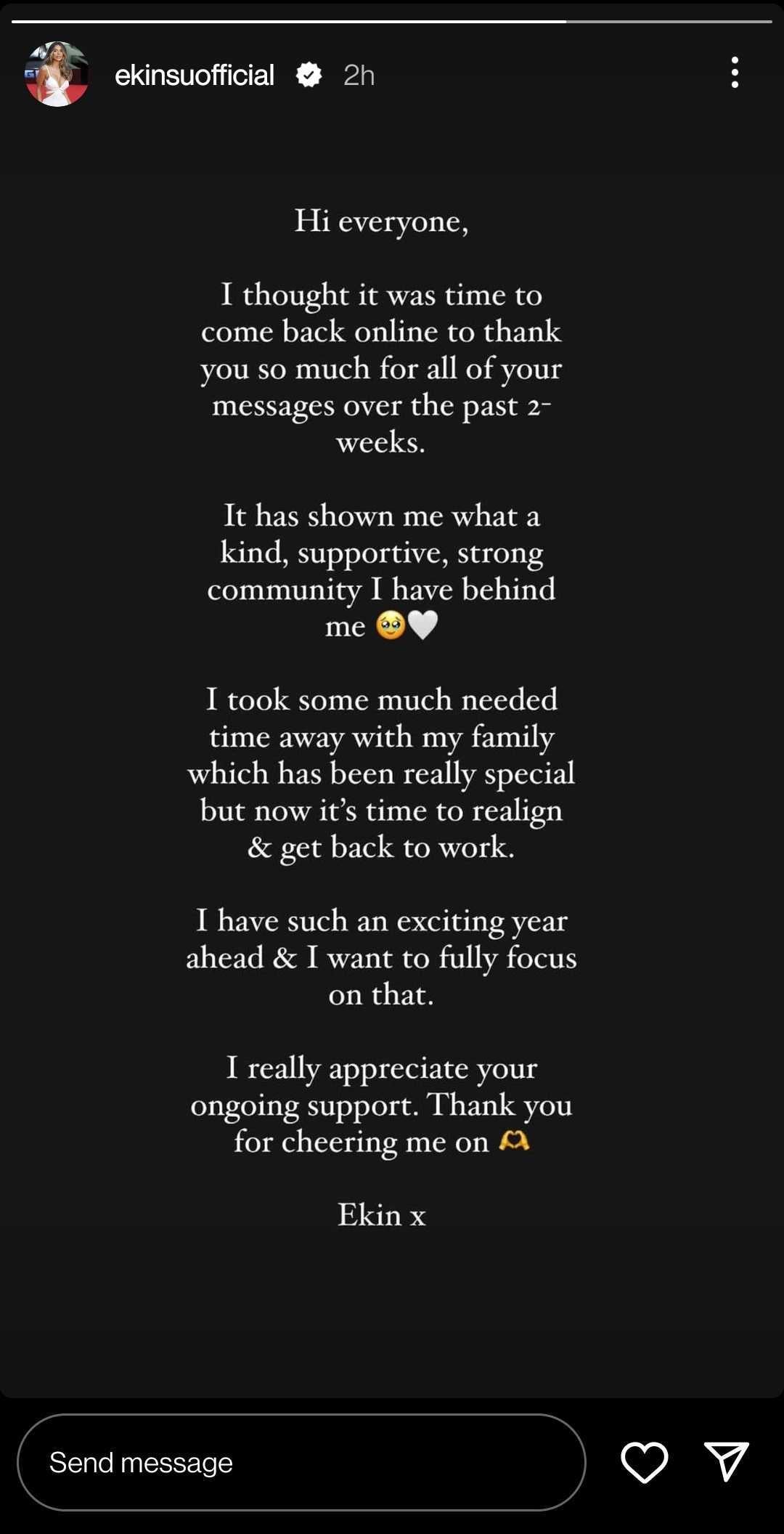 Image Source: @ekinsuofficial/Instagram
Previously, her ex revealed that their relationship has come to an end 11 months after winning the dating series. "@ekinsuofficial & I are no longer together," the BoohooMAN ambassador's statement began on his Instagram story. "I am grateful for the memories and opportunities we shared together and I wish her nothing but the best," he said. "I would like for everybody to respect this decision during this difficult time, I will continue to support Ekin in anyway possible."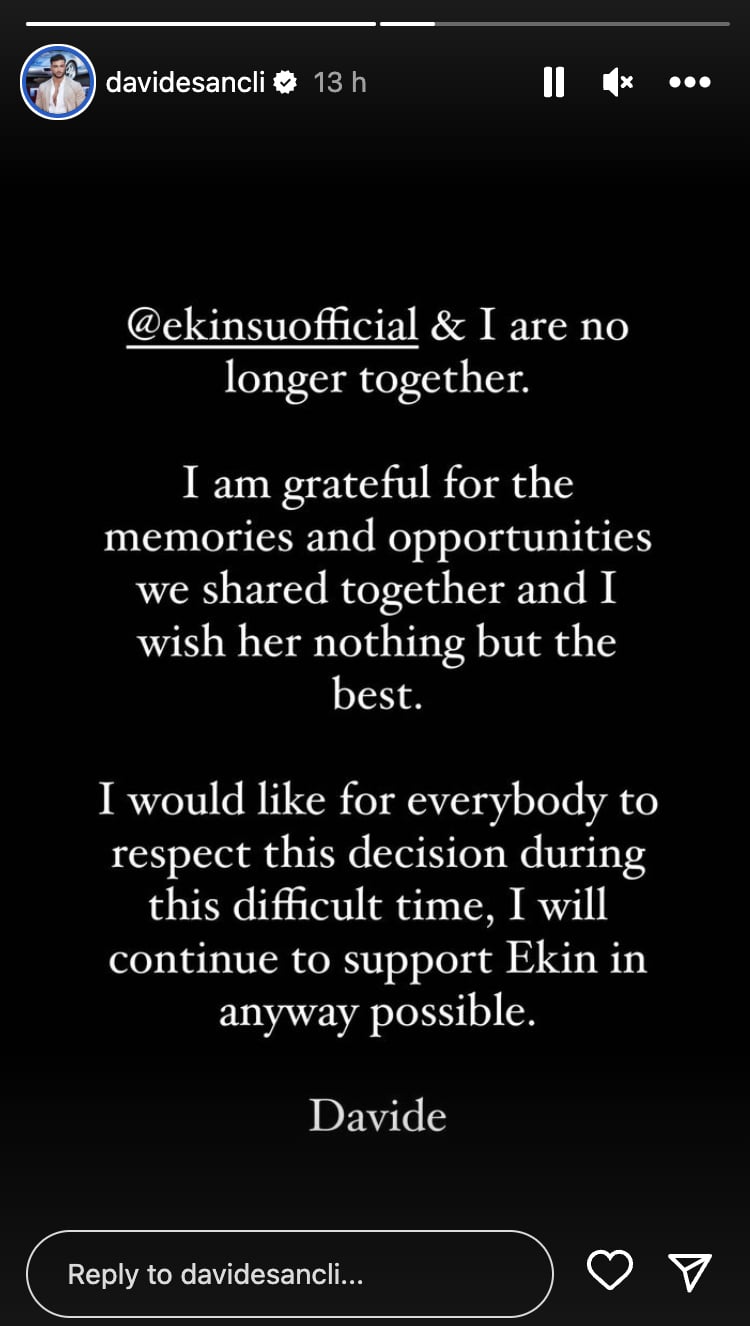 Image Source: Instagram user @davidesancli
Following his initial statement, Davide was forced to clear up rumours that they had broken up solely so he could go back into the "Love Island" villa, which actually turned out to be a work trip in Ibiza. "I genuinely don't understand how some people can twist my old pics from Ibiza...Creating the narrative that I could be going back to Love Island, when in reality this was a work trip arranged with BoohooMAN arranged months ago."
He continued, adding: "Sadly, there's been a stream of toxic criticism circulating around me, and it's disheartening. The constant creation of fake narratives on a person who was nothing but a genuine, caring and loving boyfriend for her and all he wanted was to enjoy and nurture the beautiful relationship they had. And instead we had to deal with ridiculous and fake stories."
Just days prior to announcing that they broke up, Ekin-Su posted a doting red carpet carousel on her own Instagram account just two days ago with her former flame at the "Indiana Jones And The Dial Of Destiny" launch, writing: "Indiana Jones 🤠 premier with my man". Representatives of Ekin-Su did not immediately respond to POPSUGAR's request for comment.
The pair seemingly had a tumultuous relationship in the villa, but were nonetheless crowned the winners of "Love Island" 2022. Then, in August 2022, Ekin-Su revealed the couple had plans to move in together that September.
Speaking to POPSUGAR about their relationship in October 2022, Ekin-Su revealed: "It's the little things, like when I'm asleep, he tucks me in bed or just makes sure I have my paracetamol there for me," she said. "It's so sweet of him. And I wish people could see more of that but I'm the one living it, and a relationship should be private I think." The pair also appeared in their own ITV series, "Ekin-Su and Davide: Homecomings", where they both visited their home countries of Italy and Turkey, as well as meeting each other's families.
While we had high hopes for the couple and were hoping they might follow the likes of Molly-Mae Hague and Tommy Fury in successful "Love Island" relationships, but it was not meant to be. Somehow, we think both Davide and Ekin-Su will continue to thrive now they're single, and we are sending them all the best.