John Boyega, Teyonah Parris on Filming Movie With Jamie Foxx
John Boyega, Teyonah Parris Say "We Were Unable to Contain Ourselves" Working With Jamie Foxx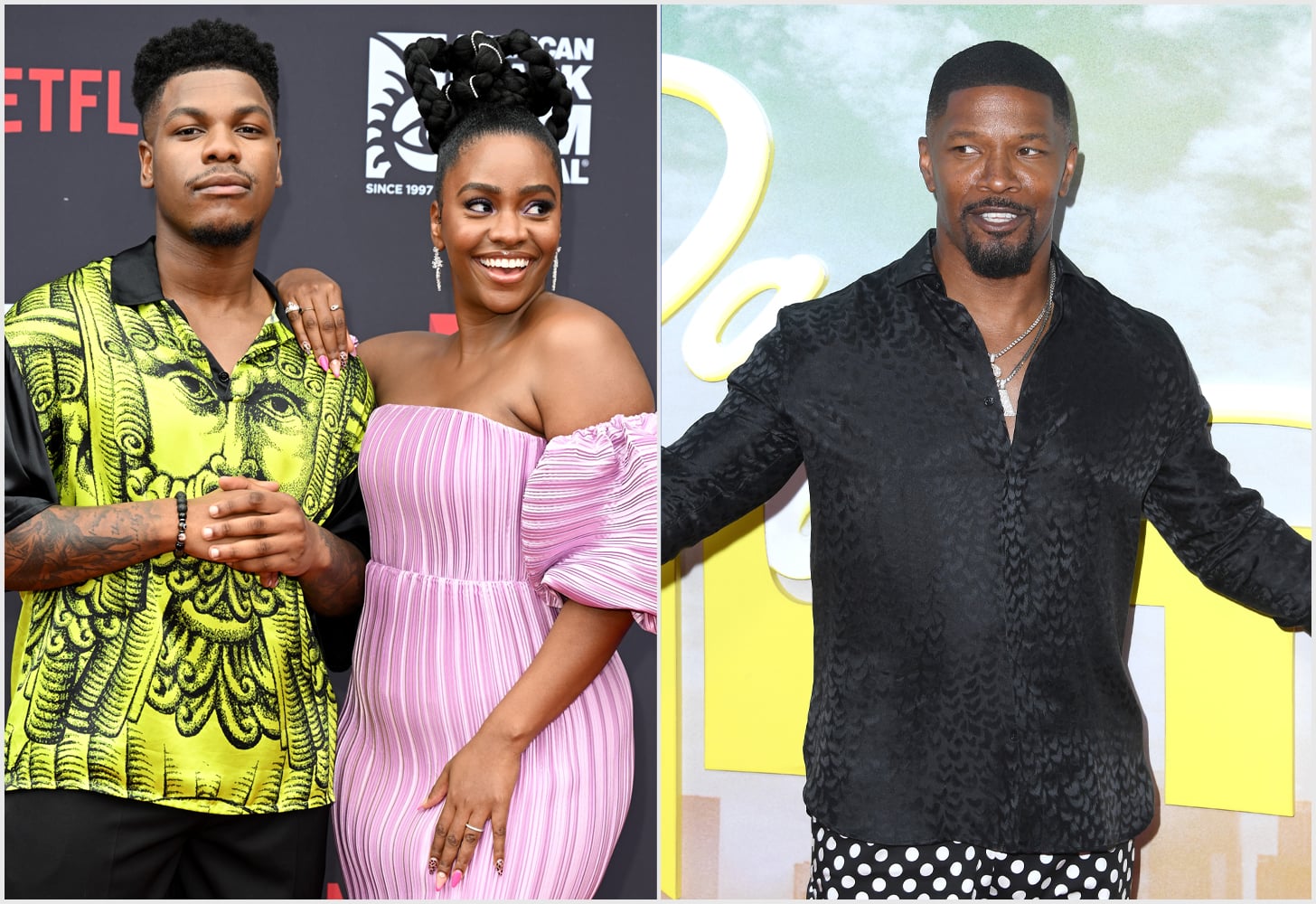 Image Source: Getty / Jason Koerner / Steve Granitz
Any movie starring Jamie Foxx is bound to be an enjoyable experience for fans, but the same can be said for the stars who get the honour to work with the talented veteran. In Netflix's "They Cloned Tyrone," John Boyega and Teyonah Parris star alongside Foxx in their blaxploitation-influenced, government conspiracy sci-fi comedy that's as hilarious as it is mind-blowing.
"It reminded me of being on a film set for the first time and what that felt like."
Some early viewers of the movie got a first look at the trio's undeniable chemistry during its premiere at the 2023 American Black Film Festival (ABFF) on 14 June, including POPSUGAR. Boyega and Parris attended the annual film event with director Juel Taylor and the movie's producers. Foxx was absent following his undisclosed "medical complication" that was reported in April, however, the cast and crew still acknowledged him before presenting their film.
According to Boyega and Parris, they say they had no time to prepare the movie magic the three actors translated onscreen. "We didn't get to rehearse, all three of us together before the camera started rolling," Parris says while chatting with POPSUGAR the day after "They Cloned Tyrone"'s premiere. "So you're kind of like, 'Hope it works out.'"
Needless to say, it definitely did, per the ABFF audience's laughs and applause throughout the movie's screening. Boyega adds that it was just as fun for him to share the big screen with his costars, too.
"It was a vibe. It reminded me of being on a film set for the first time and what that felt like," he shares. "It was just a fresh, new feeling. I think even after filming, I stayed in Atlanta for four or five months after, where I'm like, 'Yeah, I'm just going to chill.' You know what I mean? It just feels like home."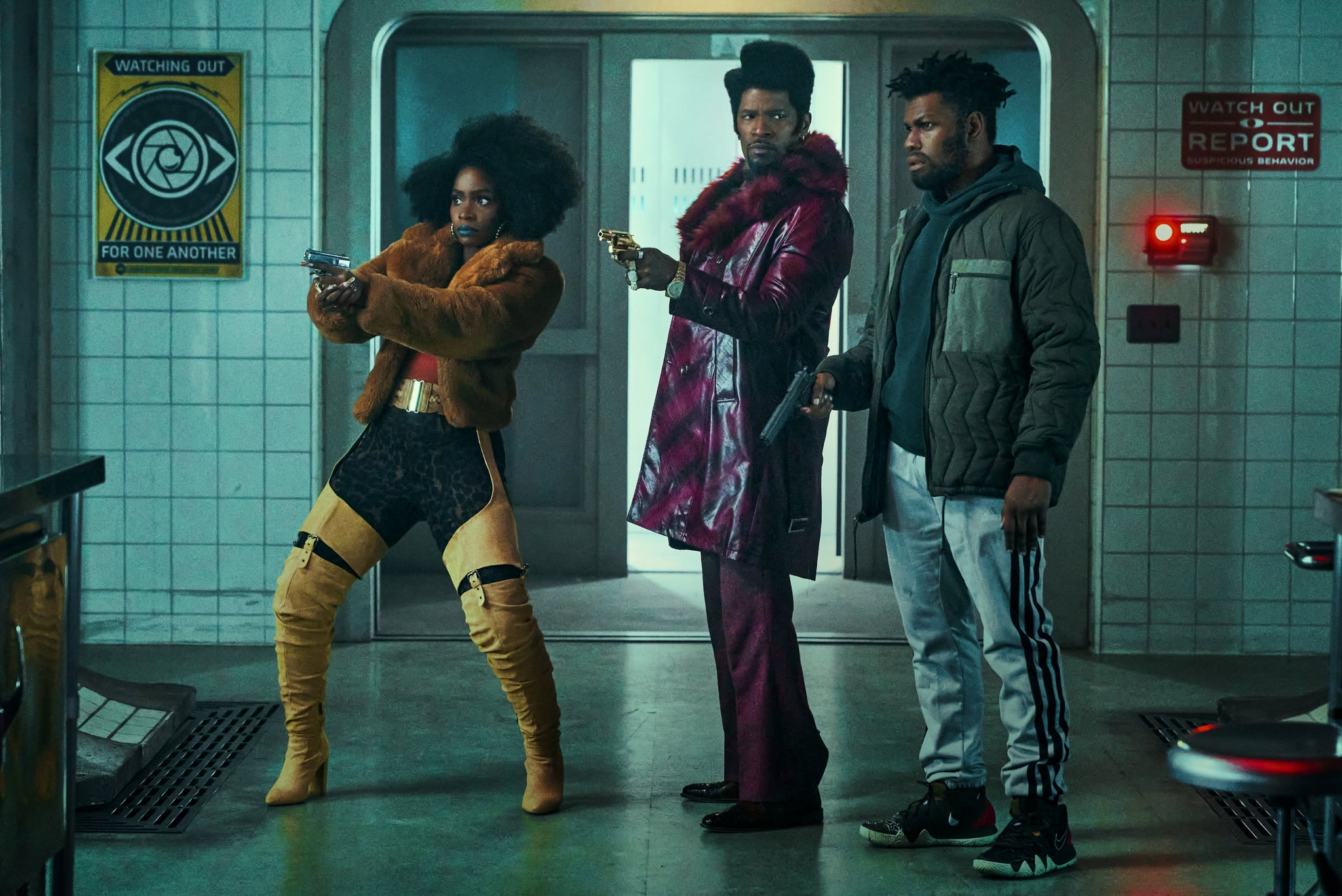 Image Source: Netflix
Foxx had a lot to do with making Boyega and Parris feel at ease on the set of "They Cloned Tyrone" with his many improved lines and fun-loving energy. Parris confirms, though, that as "the artist he is, [Foxx] always did what was on the page." But even Boyega says Foxx's wild banter during filming were funny enough that he had to catch some on film. "I have a behind-the-scenes video of one of the scenes, and he said something like, 'I'm light-skinned.' And I'm like, 'Wait, what? That's not in the film.'" But as with any comedy with Foxx, Boyega says that "different, new, fresh energy" is required.
"It was hard not to laugh," the Star Wars actor adds. "That was a struggle." Parris adds of Foxx, "His improvs, I would start laughing. I'm like, 'Where did you-.' We were unable to contain ourselves."
"That's just a testament to, again, the type of open, generous artist he is."
Parris, who stars in "They Cloned Tyrone" as Yo-Yo, says she had a blast having her "firecracker" character go up against Foxx's pimp persona, Slick Charles. But in real life, the "WandaVision" star admits she struggled to keep up with rapid-fire Foxx's comedy. At one point, she says she even asked the actor-comedian for help coming up with clever retorts.
"He was just so generous," Parris says. "Yo-Yo is a character who can stand toe-to-toe with Slick Charles. Teyonah up against Jamie Foxx, I held my own, but there were some times when his comebacks were so fire that I was like, 'Jamie, I need you to give me some jokes to come back at Slick Charles because there's no way Yo-Yo would let this rock.' So the generous artist he is, he gave me jokes to crack on him so that my character could keep up."
She continues, "That's just a testament to, again, the type of open, generous artist he is. He's like, 'Yeah, okay, cool. Here you go.' Bop, bop, bop. Roasting himself. That was fun."
Another fun moment for Parris? Riffing with Foxx during their lift performance of Mary J. Blige's 1994 hit song "I'm Goin' Down," which they remixed with lyrics like, "I'm going down / to the underground / hope n*ggas don't drown / and get f*cked up right now" (see in the trailer ahead).
"That was in the script," Parris confirms, though she says her part of the scene was ad-libbed. "In the cut, you can see there's a pause where I'm like, 'Should I do it?' And then when I made it rhyme, I was like, 'I did it!' inside. I can see it. I don't know if others can see it, me processing like, 'Okay, I'm going to jump in.' But when I was able to make it rhyme, I was like, 'Oh, I kept up! I kept up with Jamie Foxx.'"
Boyega says the comical scene was just as funny to film, adding that he wanted to laugh "so badly." And for Parris, it was the "perfect reaction." But the rest of the world will have to wait to see it in action when "They Cloned Tyrone" finally hits Netflix on 21 July.