LeBron and Savannah James at 2023 ESPYs
LeBron James Addresses Retirement Speculation as Family Presents Him With ESPY Award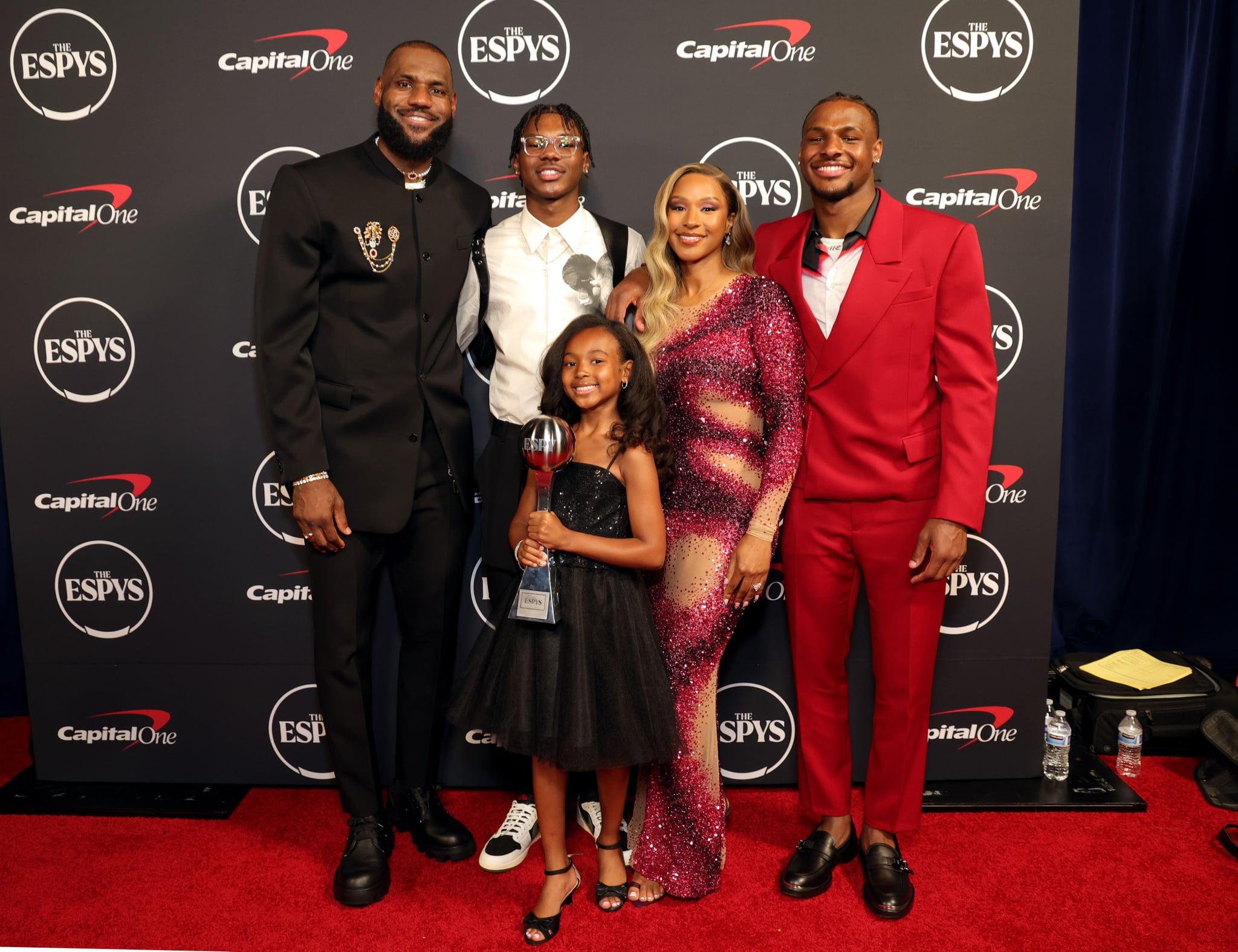 LeBron James's entire family dazzled together at the 2023 ESPYs. The basketball star's wife, Savannah James, and three kids — LeBron "Bronny" James Jr. (18), Bryce Maximus James (16), and Zhuri Nova James (8) — all stepped out for a glamorous night at the annual sports award show in Los Angeles on July 12 to present their patriarch with an award for becoming the NBA's all-time scoring leader this year.
Savannah, who has been married to LeBron since 2013, doesn't often speak on LeBron publicly, but she said the ESPYs were an exception while presenting her husband with his award. "As the ESPYs honour LeBron for breaking the NBA's all-time scoring record, I wanted to tell you what I think. I think LeBron James is the baddest moth—" she began before Zhuri stopped her, jokingly, from swearing on TV.
"I think LeBron James is the baddest to ever step foot on a basketball court," she continued. "Nobody works harder. Nobody cares more. And nobody has done more for the game of basketball than LeBron James. Yes, he's a great father and husband. His work in our community and willingness to fight injustice is immeasurable. But that's not what tonight is about. Tonight is about LeBron James, the legend, the king, and yes, the GOAT."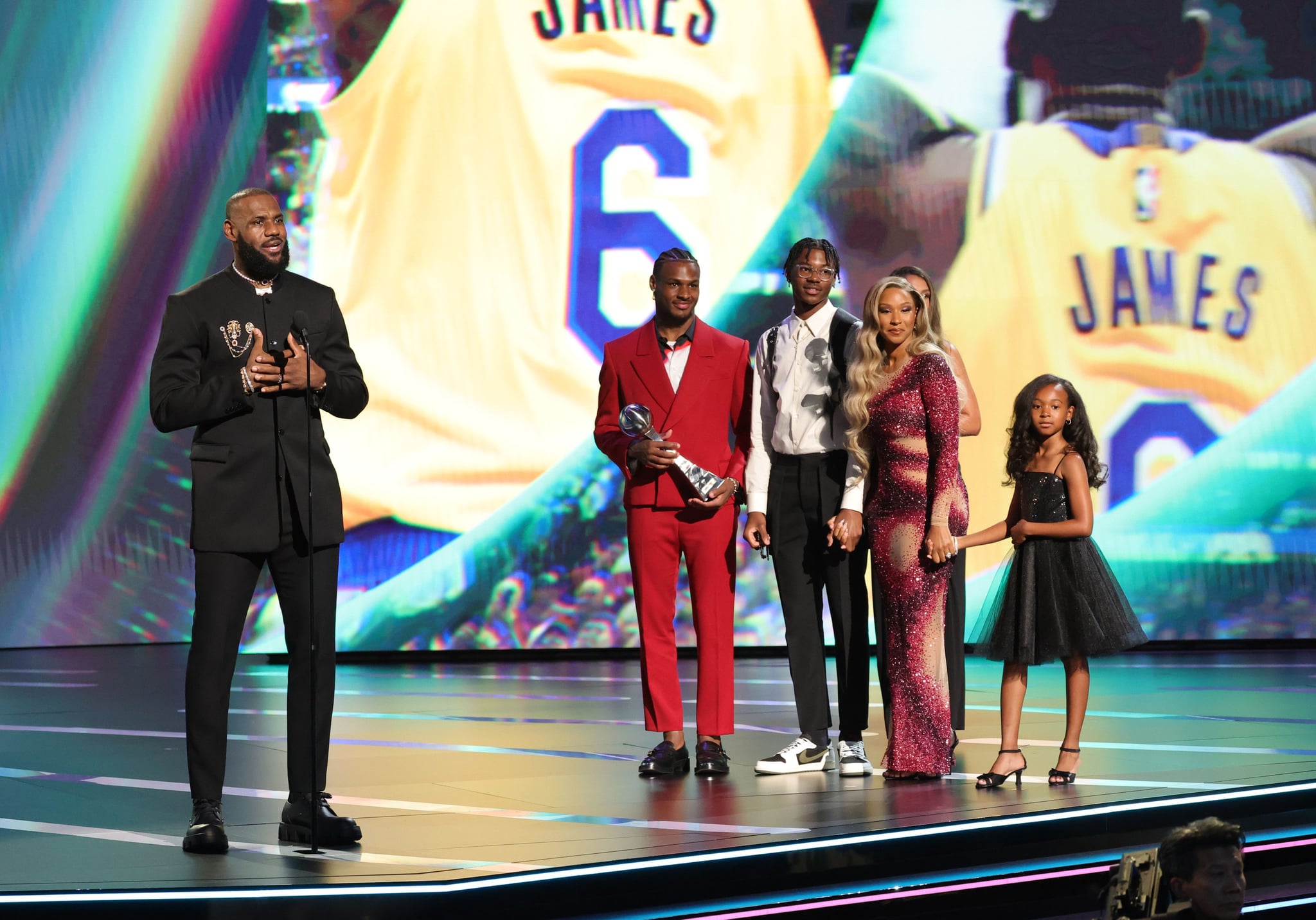 "The day I can't give everything on the floor is the day I'll be done."
After kissing and thanking his "amazing and beautiful wife" for all she does for their family, LeBron addressed the audience in attendance and everyone watching at home. "I love this game. I love the game of basketball," he said, continuing, "In my 20 years playing this game and in all the years before, I've never ever cheated a game, and I would never take it for granted," he said. "Any time I step foot on the floor — either coaching my boys or playing — I'm gonna give it everything. I do it for myself, for some of my teammates . . . all the greats that came before me, and most importantly, I do it for the fans. The lovers of the game. You can love me, and I know some of you hate me as well, but the one thing you will always do is respect me and appreciate the way I approach the game and what I've given to this game."
LeBron then addressed the rumblings from fans and sports critics that he's considering retiring. "When the season ended, I said I wasn't sure if I was gonna keep playing," he said. "I'm here now speaking for myself. In that moment, I'm asking myself if I can still play without cheating the game. Can I give everything to the game still? Truth is, I've been asking myself this at the end of the season for a couple of years now . . . The day I can't give everything on the floor is the day I'll be done." After a long pause, he added, "Lucky for you guys, that day is not today," confirming he will go on to play another basketball season.
LeBron and Savannah's decades-long romance tells a pretty sweet story about the high school sweethearts. The couple and their three kids continuously support one another through all aspects of their lives. Whether Savannah is cheering on her NBA star husband from the sidelines with their children, or the latter is praising his wife online, the two always show up for each other.
In a May profile with The Cut, Savannah shared that she never anticipated her husband would become one of the biggest basketball stars ever. "Everything was definitely in the moment," she explained. "We were two kids who started dating, as any two high-school kids would. Believe it or not, I didn't know that he was going to be what he is today."
For LeBron's part, he told The Hollywood Reporter in 2018, "Savannah was with me shooting in the gym when I [had] absolutely nothing." He continued, "She was down when I was at my high school, no cameras, no lights. And she was there with me. You wouldn't be talking to me right now if it weren't for her." In September 2022, the married couple celebrated their ninth wedding anniversary.