Michelle Yeoh Speaks Out After Her Oscars Win
Michelle Yeoh Reflects on Representation After Her Oscars Win: "We Deserve to Be Heard"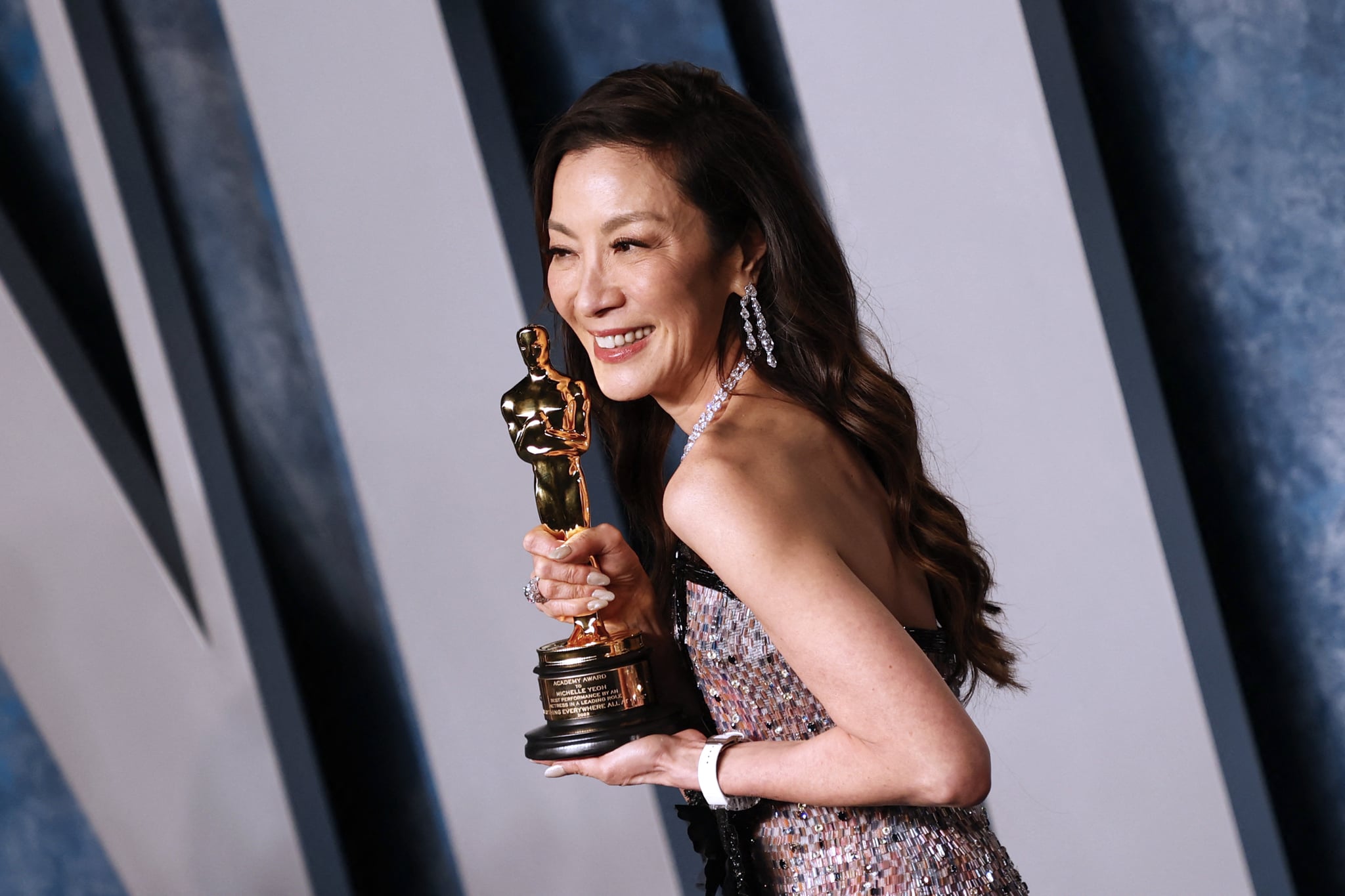 Michelle Yeoh is using her star power to impart some wisdom on the world. Yeoh took home the award for best actress for her performance in "Everything Everywhere All At Once" at the Oscars on March 12, and backstage after the show, she spoke about the importance of self-confidence and her faith in the inevitability of change.
When asked about taking up space in Hollywood as a person of colour, Yeoh had some clear advice. "You should never be afraid," she said, per Buzzfeed. "If this is your passion, if this is your love, you have to stand up for yourself, and for what you believe, and for what you want to do. I'm still here today. Finally, after 40 years, I get this! It just goes to show we will win the battle. And that's what we're doing. So don't give up."
She also spoke on the representation "Everything Everywhere All At Once"'s win has provided. "This is actually a historical moment, so I really have to thank the Academy for acknowledging and embracing diversity and true representation," she said, per Deadline. "We need this because there are so many who have felt unseen and unheard, not just in the Asian community — this is for the Asian community — but for anybody who's identified as a minority. We deserve to be heard, we deserve to be seen, we deserve to have opportunities so we can have a seat at the table."
Yeoh stars as a laundromat owner named Evelyn Wang tasked with saving the multiverse in "Everything Everywhere All At Once," which had an extremely triumphant night at the Oscars. Yeoh's costars Ke Huy Quan and Jamie Lee Curtis won best supporting actor and best supporting actress respectively, and the film's writer-director duo Daniel Kwan and Daniel Scheinert won best director and best original screenplay. Paul Rogers also took home the award for best editing, and the night ended with the movie winning best picture.
In the wake of her win, Yeoh has also used her influence to spread another critical message. On March 13, the day after the Oscars, an op-ed Yeoh penned about the importance of women's leadership in global disaster recovery efforts was published in The New York Times. Titled "The Crisis That Changed My Life 8 Years Ago Keeps Happening," the op-ed details the earthquake Yeoh experienced while in Nepal in 2015, which led her to join disaster relief efforts and to become a goodwill ambassador for the United Nations Development Program.
Noting that 90 percent of Syria's population was already living in poverty before February's devastating earthquake, which left millions of children in dire need of support across Syria and Turkey, she highlighted the risks women face in disasters and the lack of power and influence they too often have in recovery efforts. "Crises aren't just moments of catastrophe: They expose deep existing inequalities," she wrote. "Those living in poverty, especially women and girls, bear the brunt." Noting that 2.7 billion people across the world live without access to the Internet — the majority of them women — she emphasised the importance of connecting women and girls to technology, education, and leadership opportunities.
She ended the piece by reflecting on her win. "I'm 60 years old, and I just won my first Oscar," she concluded. "I know something about perseverance, and I am all too aware of what society expects of women. I'm also well aware that my experience can't compare at all with that of the women heroes I met who are on the front lines of crises. But if I can do one thing with this moment of my professional joy, it would be to point the spotlight on those who all too often go unacknowledged, the women who are rebuilding their communities, taking care of children and older people and putting food on the table. Let's make sure they are not missing from the room when decisions are being made that affect them the most."