Queen Latifah Talks Hip-Hop's 50th Anniversary
Queen Latifah Credits Her Mom For Hip-Hop Success: "I Would Not Be Where I Am Today"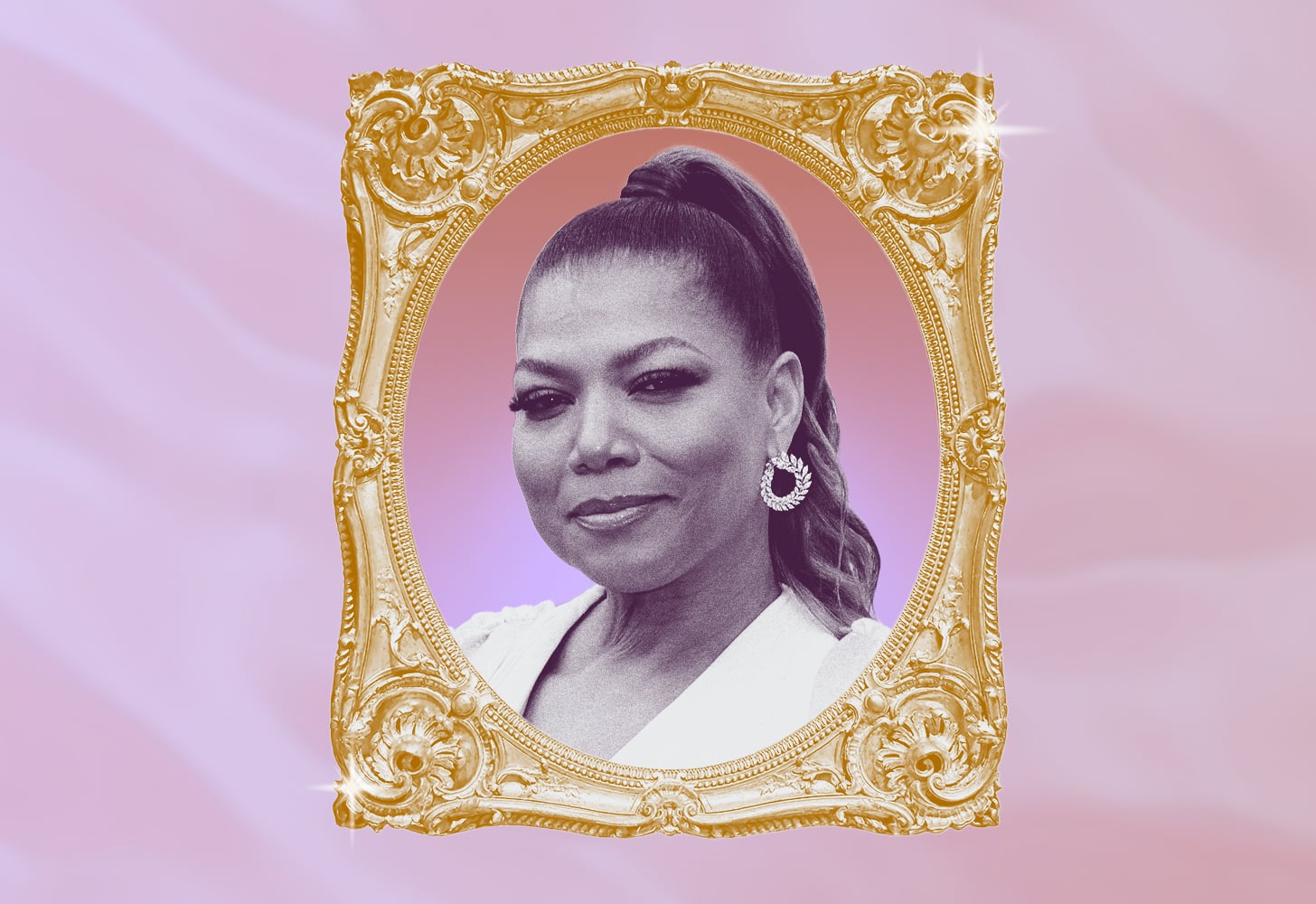 Queen Latifah gives hip-hop "a whole lot of credit" for where her legacy stands. Looking back on her emergence in the 1980s — when she introduced her vibrant Afrocentric style and women empowerment anthems to the world — the rap icon tells POPSUGAR she's grateful the then-budding culture embraced her authenticity. It was "a really cool time in hip-hop," Latifah says, when she and her peers "were able to make music about anything we wanted" and when "being unique and different was actually celebrated."
"We went for it as much as so-called hippies did in the '60s," Latifah recalls of her peer group's trailblazing efforts in hip-hop. "By doing that, it gave us the courageousness to try things, get out there, try to sell it, and go for it." And go for it she did.
"I'm just happy that I had that kind of mom who loved hip-hop."
Latifah, a proud New Jersey native born Dana Elaine Owens, is a worldwide phenomenon today. The courageousness she speaks of from the early days of her rap career has extended to every facet of her decades-long impact on pop culture — from representing a generation of strong Black leads in her classic '90s sitcom, "Living Single," and dozens of blockbuster films (one of which scored her a 2003 Oscar nomination) to being a changemaker across entertainment, beauty, and more. Latifah has done it all and then some. But even with a celebrated career some folks can only dream of, she warns that it wasn't always without hardships, especially when she was an up-and-coming hip-hop artist.
"We had to go through a lot of challenges," she remembers of her beginnings in music, which included figuring out "which shows" and "which promoters were good ones." But the music legend says she and her fellow emcees had some "great mentors showing us what to do as kids out there," too — KRS-One, Public Enemy, and Heavy D to name a few. These were open-minded people, she says, "who didn't look at us like, 'OK, what are these kids doing? This is not going to make it.'" Latifah notes: "[They] actually supported us and tried to foster some community and share some wisdom with us, so we took it and ran with it."
Because of that foundation, Latifah and those from her hip-hop generation were able to "step into fashion, Hollywood, and other forms of music and really take it and make it global," she says. And just look at where it's landed the culture today: so embedded in the fabric of the mainstream that it's grown to be more than just boom-bap raps, B-boys, B-girls, and turntables. Today, hip-hop is a movement and a lifestyle that's had an undeniable impact on the globe in its 50 years of existence. Whether Latifah and her peers realised it or not, they made brilliant strides in hip-hop that have allowed it to thrive this long — and there's still so much more to look forward to.
On this anniversary, Latifah struggles to single out one aspect of the last 50 years that's especially worth celebrating. "I don't know if I can say that there's one thing," she admits. However, one person who immediately comes to mind when she thinks of hip-hop is her late mother, Rita Owens, who died on March 21, 2018, after a long battle with a heart condition. Reflecting on hip-hop's milestone year, Latifah shares, "It makes me think about my mom and how much I love my mother, and I miss [her] and I'm so thankful for her." Because, according to the hip-hop legend, if it weren't for her mother, "I would not be where I am today."
All thanks should go to Owens for birthing the iconic queen of hip-hop. But she's also the one who hired Latifah's DJ, Mark the 45 King, who then became her first producer. And because of that introduction, Latifah met her whole Flavour Unit crew (which is now also the name of her entertainment company), eventually leading them all to record deals. But that's not all the rap star's mom did for her career.
Latifah reveals that when she was 17, her mother would accompany her to shows "because I was too young to be out there by myself." She recalls, "Everybody knew who [she] was" — including iconic acts and friends like A Tribe Called Quest, MC Lyte, and Monie Love. "They used to call her Umi. . . . She loved this thing called hip-hop."
Latifah adds, "None of us would be here without those who did support us and believed that [hip-hop] was not just a fad and told us to go for it. I'm just happy that I had that kind of mom who loved hip-hop."
And for that sentiment, we'll always say, all hail the Queen.
Image Source: Getty / Tomekbudujedomek Everett Collection Inc / Alamy Stock Photo Photo Illustration by Becky Jiras