Ryan Reynolds Apologises to Blake Lively For Photo Crop
Ryan Reynolds Apologises After Cropping Out a Very Important Part of Blake Lively's Outfit
The cheeky social media antics between Ryan Reynolds and Blake Lively continue. On 5 Dec., Reynolds shared an Instagram photo of him and his wife beside Mr. and Mrs. Claus, but Lively thought something very important was missing from her husband's post.
"We met Jessica Claus and her husband on the Polar Express. She was everything I'd always dreamed since I was a kid. She smelled like cinnamon buns and sangria. 🎄," Reynolds wrote. "My. Shoes 🙄," Lively commented on the photo, referring to the fact that her gold, sparkly trainers had been cropped out of the photo.
Reynolds followed up with an edited photo and made sure to leave his wife's shoes in the frame. "I cropped my wife's shoes out in the photo I posted," he wrote. "It's inexcusable and I'm sorry to anyone I've hurt with this callous lack of fortitude. Heading to the hospital to have my brain weighed." Lively reshared his post, adding a very important tag for @louboutinworld.
The parents of three are known for their witty banter on social media, and it's clear that humour is a big part of their relationship. On 23 Nov., Lively commented on a video of her husband rehearsing choreography for his upcoming movie "Spirited," writing "Can you get pregnant while pregnant??" Reynolds and Lively are expecting their fourth child.
See Reynolds's Instagram apology below.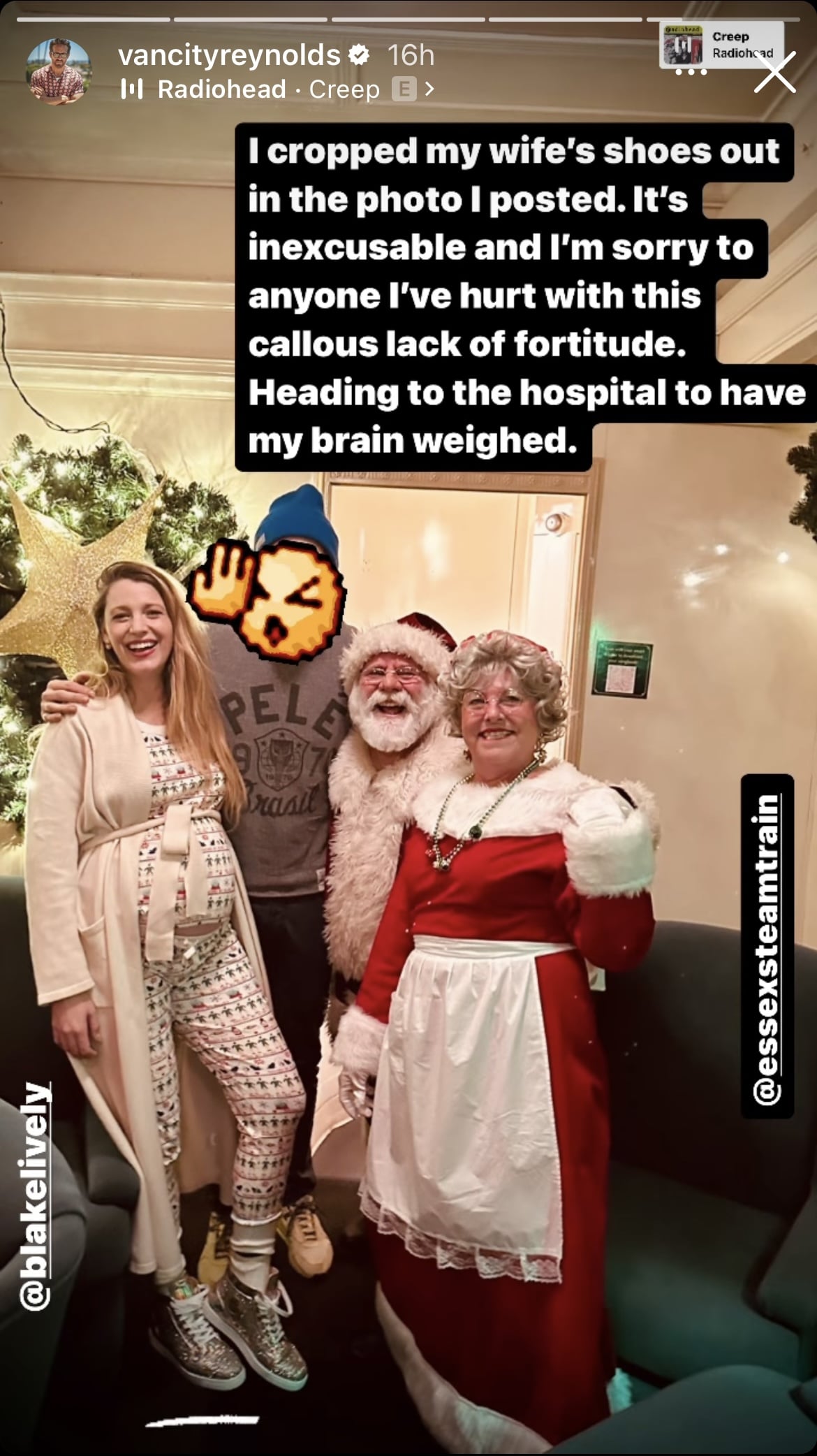 Image Source: Instagram user vancityreynolds