David Beckham Explains Offside Rule to Ryan Reynolds
Ryan Reynolds Jokes About "Humiliating" Moment David Beckham Schooled Him on Offside Rule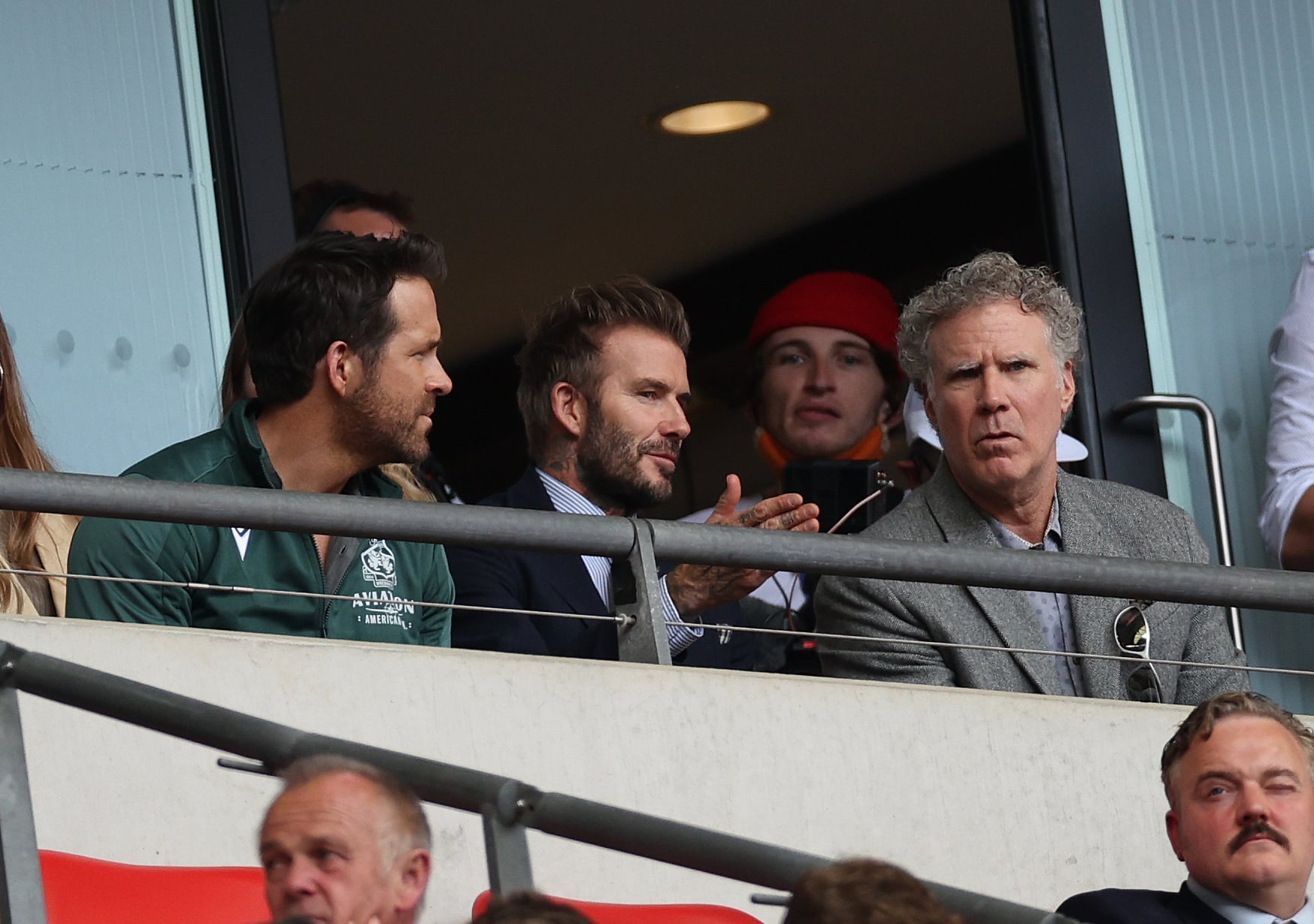 Ryan Reynolds has confessed about the "humiliating" moment he was exposed for not understanding football's offside rule, despite him having bought Welsh football club, Wrexham FC. Appearing on "Jimmy Kimmel Live" on 9 Aug. with guest host, and his new footballing business partner Rob McElhenney, Reynolds said: "How humiliating . . . in fairness, nobody understands the offside rule."
The "Deadpool" actor, who famously bought Wrexham Football Club in February 2021 with McElhenney, was shown punching the air and celebrating a goal during a Wrexham v Bromley game at Wembley Stadium back in May . . . that didn't count! The entire box missed the referee's raised flag ruling the goal disallowed. "Someone needs to explain the offside rule to the A-listers," joked the BT Sports commentator as the moment was brutally replayed a second time.
The Canadian-American actor and producer was quickly schooled by ex-England Footballer David Beckham, who was also at the game. Reynolds joked that Beckham is the only person who understands the rule "quite well". Beckham was pictured sitting between Reynolds and actor Will Ferrell in the crowd, seemingly explaining what was happening on the pitch. On the talk show, McElhenney explained: "We were cheering, and we looked over at Beckham, and he was just shaking his head like this." Social media users found it hilarious that Reynolds owns a football club without knowing all the rules. In true Reynolds style, the actor has seen the funny side of the cringeworthy moment.
Also at the match was Reynolds's wife, "Gossip Girl" actor Blake Lively, who he shares three children with. While Lively might have shown support for her man's wild business decision now, she wasn't too impressed when he first told her about the risky move. "I remember after you'd reached out about this absolutely insane idea, I remember seeing Blake and saying, 'I have bad news, and I have really bad news'", he detailed on the show. "The bad news is I slipped into someone's DMs again; the really bad news is that I might have bought half of a fifth tier national football league in Wales". Reynolds joked that her reaction was "not good, Rob. No, not great" and that the couple are "still working through that one". Despite her initial hesitation, Lively has been seen cheering on the team multiple times. Their supportive relationship continues!
Even though Reynolds wasn't "a huge fan" of football in the past, the star has been converted by his commitment to Wrexham FC. "Now I understand, particularly soccer or as we call it football because it's in Wales, I understand the absolutely gorgeous disaster, slow-motion train wreck that is the sport of football. I am obsessed now", he says. And we are just as obsessed with Reynolds's British obsession. After the Lionesses historic Euro win, could we interest him in a women's team next?
Catch new documentary "Welcome to Wrexham" about Ryan Reynolds's football journey on Disney+ on 25 Aug.