Endeavour Series 6 Details
13 Things We Know (and Think We Know) About Endeavour Series 6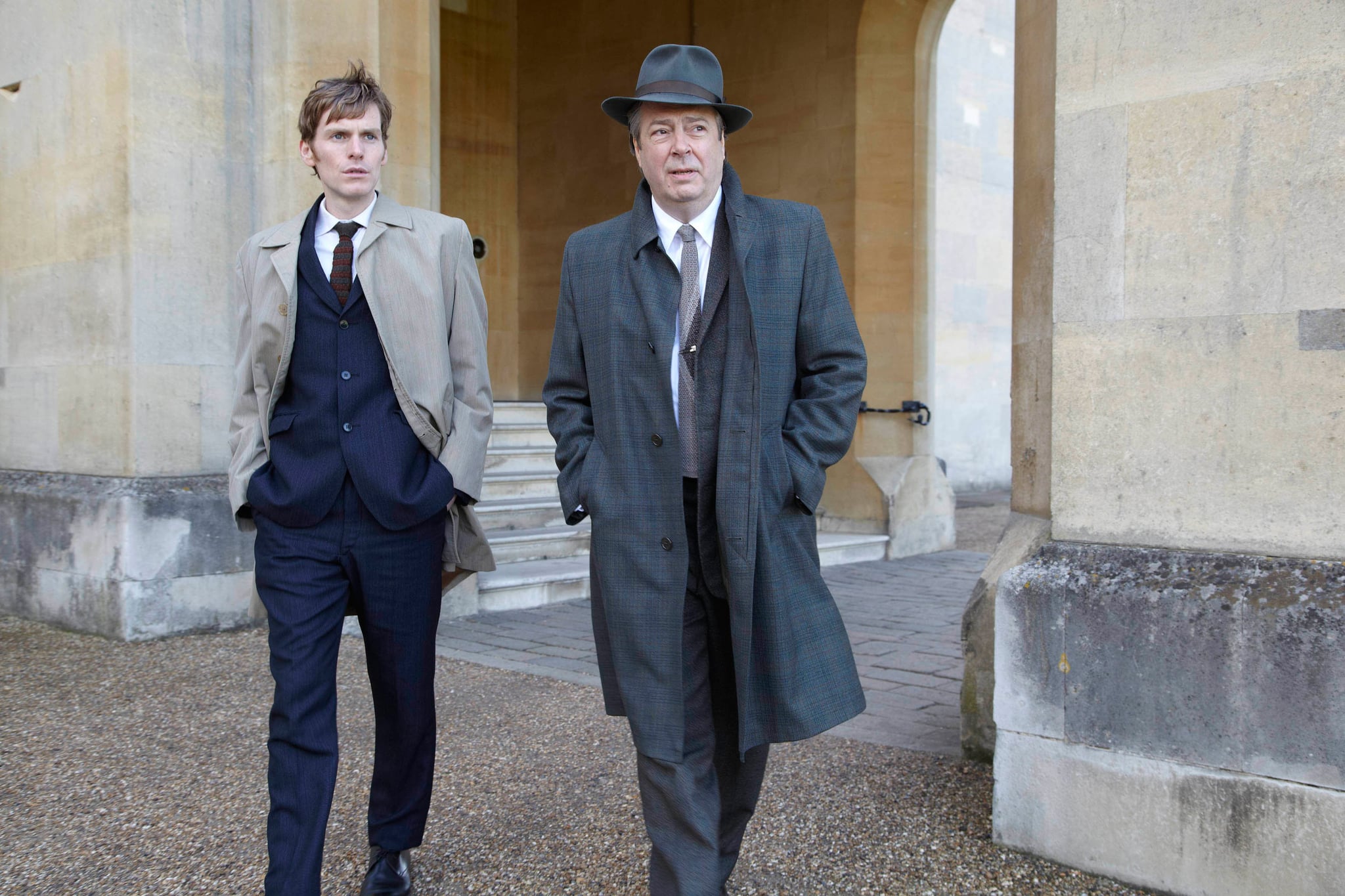 As a former Downton Abbey addict who needed something to fill the period escapism void, Endeavour has become that new addiction I now look forward to year after year. In series five, we thankfully had six episodes for the first time, rather than the usual four, but the end still came too quickly, and we're now left waiting for what will feel like an eternity before we get the next Endeavour fix. The good news is ITV has commissioned a sixth series. The bad news is we have to wait almost a year. To get us through the withdrawals, we can rewatch the latest episodes over and over (as I've been doing like an idiot savant), and focus on what we can look forward to for Endeavour in 2019!


Roger Allam and Shaun Evans Will Be Back
Let's face it. The show wouldn't be the success it is if it weren't for these two actors paired as DCI Fred Thursday (Roger Allam) and DS Endeavour Morse (Shaun Evans), and both will be back, as will writer Russell Lewis. The unspoken love the two have for one another as mentor and protege is apparent in their perfect chemistry. Endeavour wouldn't be Endeavour without Thursday. I always want more or longer scenes with the pair. Even Thursday has that sentiment with Morse in this series. When Morse thinks it's time to go, Thursday wants to linger longer on the park bench. Though Series 5 had the looming arc that Oxford City police would fold into the larger Thames Valley Constabulary, combined with the fact that Thursday would retire, we now know that he still has to work after writing a fateful check to his unsophisticated and clueless brother Charlie (Phil Daniels) who tried to pay off loan sharks.
Morse Will Report to a New Police Station, But Thursday's Fate Is Up in the Air
As the pair said their goodbyes in what was their trusty place of work for years in the last Morse-Thursday scene in the final episode of series five, "Icarus," we know Thursday has not received his new assignment, while Morse knows where he'll report on Monday. In real life, Thames Valley Police was established in 1968, and Mammoth Screens had to leave their production facility in Beaconsfield, so this was also an opportunity to create a new set in a new location, so it's a good bet that's where Morse will be. Fans of John Thaw's Inspector Morse will recall he later worked at Thames Valley. Hopefully, Thursday will join Morse at Thames Valley so they can continue their partnership of being "meat and two veg coppers" (perhaps the best line of series five). But will Thursday's name on Charlie's check, given to what might be a criminal element, come back to haunt him? Surely writer Russell Lewis will address that, since he had Thursday bring that point up to Charlie when he was shouting at him.
There Should Be New Characters
While the only confirmation was that Allam and Evans will be back, the fact is, there will be a new police HQ which combines county and city. It's inevitable new characters will be introduced. In past years, Thursday has often referred to "county" as being incompetent, so it'll be interesting to see how they deal with new people at the station.
Our Favourite Characters Will Probably Return
I'm so invested in the show, I often wish Lewis would go deeper with the main characters so that we can see more of their lives, rather than just seeing them solving a crime with the guest actors. Although Morse starts a new chapter of his life at a new station, we can probably count on some of these colourful characters we've come love to once again join him on screen, such as Oxford Mail Editor Dorothea Frazil (Abigail Thaw, John Thaw's daughter). I always hope she gets more scenes, either by herself or with Morse (or even a spin-off, which this character is worthy of). Frazil is ahead of her time, an independent woman of a certain age at a time when it wasn't de rigueur. But, in many ways, she's also a female reflection of Morse — a proponent for justice, serious about work, and also, it seems, unlucky in love.
Dr. Max DeBryn (James Bradshaw), who you can always count on to bring levity in a dark scene with his witty, understated one-liners, will probably join Morse, because they'll need a capable pathologist at the new Thames Valley station. We should also see more of DS Jim Strange (Sean Rigby), since he and Morse share a flat.
It May Not Be the Yellow House, But Hopefully There'll Be More Strange-Morse Domestic Scenes
Both Morse and Strange tell others they're living together for a year to save money up to be able to buy houses. Morse tells Joan that their home life is "hardly the yellow house" (referring to Van Gogh and Gaugin's turbulent time living together). Depending on when Lewis starts series six, hopefully we'll get more and longer scenes of domestic life with the two. We already saw their interaction at the kitchen table, with Morse drinking coffee while doing his crossword puzzles, Strange as the chef of the house, taking care of Morse in that way, as well as cleaning his trombone. More of these day-in-the-life scenes with the two at the flat would be lovely to see.
We Will (Once Again) Be Dragged Through the Morse-Joan Thursday Storyline
Right after the final scene of the final episode of series five, when Morse asked Joan Thursday (Sara Vickers) for the coffee that he said no to earlier in the series, viewers went to Morse superfan sites to discuss. Many hope series six will see the end of this particular storyline. We could've easily been left with the prior scene of Morse walking out of the empty, old police station. Instead, Lewis chose to call back the Joan issue, to the chagrin of many viewers who wanted the "will-it, won't-it" to end and for Morse to move on. Morse is too urbane to be with someone who doesn't bring something unique to the table.
Morse's Love Life, or Lack Thereof, Will Probably Continue to Be a Thread
Compared to last year's dearth, Morse has had a lot of romantic action in this series, with Strange even noting in "Colours," "Leave some for the rest of us," referring to his female guest, Joan's cousin Carol Thursday (Emma Rigby), as well as the "Frenchie piece" he dated, Claudine. We know the Joan issue will be addressed, and even though Inspector Morse fans know the character won't end up with anyone, we can hope Morse has a bit of light and love while he's still young. I always hope Lewis will bring back Monica Hicks (Shvome Marks), a fan favourite, so that there can at least be a conversation of closure.
Trewlove and Fancy Are Gone, For Now
When Dakota Blue Richards told Mammoth she wanted to leave for series five, Lewis wrote her an arc that would include a new character DC George Fancy (Louis Peek), who would eventually die — something many superfans saw coming when he was first introduced. At the end of series five, with everyone headed for different assignments, Trewlove left for Scotland Yard, but the door is always open for her to return. As for Fancy, while he can't physically come back, he will be very much there in spirit. We know the arc of series six will include the main characters of Thursday, Morse, and Strange, making it their mission to find out who killed Fancy as they promised Bright in the closing moments of the final episode.
We'll Find Out What Happens to Winifred Thursday
Thursday's wife Win leaves him in "Icarus" after he tells her they lost their life savings when he lent it to his brother without consulting her, so we know this issue will be addressed in series six. But will she return or not? Win was pushy throughout this series with regards to Thursday's retirement, so she most likely won't be happy in when he has to continue working.
Endeavour Will Continue to Become More "Morse"
Like in series five, the classical music Morse loves was still present and continued to put us out of step with the fast-changing 1960s, although not enough for some superfans' tastes. We witnessed Morse continuing to drink, and when Strange cooked breakfast and dinner, we never saw him eat, nor does he eat when Thursday has his lunch sandwiches. Morse also grew more cantankerous this time around, especially when having to mentor Fancy, as compared to the more fresh-faced person he showed us to be in series one. Although some other characters were also crankier in series five (probably due to the impending changes at Cowley that loomed), Morse's grumpiness seemed a bit forced and hastened for the character, but understandable due to what he's been through over the years.
Six Episodes Aren't a Guarantee
Many of us jonesing for the new series will agree that four episodes never seems to be enough. They come each year like little gems, so precious because they are so few. So the announcement of six episodes for series five was indeed a wonderful surprise. But don't get too used to it. It's not confirmed that we'll get six episodes in the new series. Evans has said that six is a lot to ask of the crew, and it took its toll on them. We hope the crew will change their minds when the warm weather rolls around and it's time to film in Oxford again. But perhaps we should just be grateful it was renewed at all. Four episodes are still better than the none!
The Series Will Still Be Set Around Oxford, but Thursday's Sandwiches Will Continue to Wane
One of the beauties of this entire Morse universe is the backdrop around Oxford. The city is within the Thames Valley Constabulary territory, so we can still look forward to scenes in familiar places. While some might consider Oxford a character in itself, for me, a regular that I've come to look forward to is Morse's references to Thursday's day-of-the-week sandwiches. There were only three sandwich references in series five, and two mentioned just one type, "luncheon meat," which means it's Tuesday. I understand the guessing game was more fun in early years, and the relationship between Morse and Thursday has grown, so it's harder to squeeze in these references, but still, an Endeavour series without any mention of sandwiches won't feel like Endeavour to me.
It Will Be 1969, and There Should Be More Pop Culture References
In series five, we were often reminded by various characters of the quick passage of time, and that Morse should make the most of time, especially with the death of Fancy. Each series does seem to fly by too fast for fans, and pretty soon we'll be leaving the resplendent yet chaotic 1960s to move into "tomorrow's world," as Bright and Thursday kept referring to it. I wish we could stay in the 1960s just a little while longer. As "Muse" ended with Morse and Thursday walking back to their Jaguar, the radio news of the assassination of Martin Luther King played in the background. While these characters never discuss actual historic events, as the characters do in shows like Mad Men, Lewis does remind us what time period we're in. Yet he also has a penchant for inserting references that seem remarkably relevant today, like "Make Britain Greater," and "Buy British, Get Boris," showing us that although this is a period piece, life then wasn't all that different. Perhaps that's why this show, and the characters, are so relatable?