Gugu Mbatha-Raw A Wrinkle in Time Interview 2018
Gugu Mbatha-Raw Is Seeking Complexity, and A Wrinkle in Time Is No Exception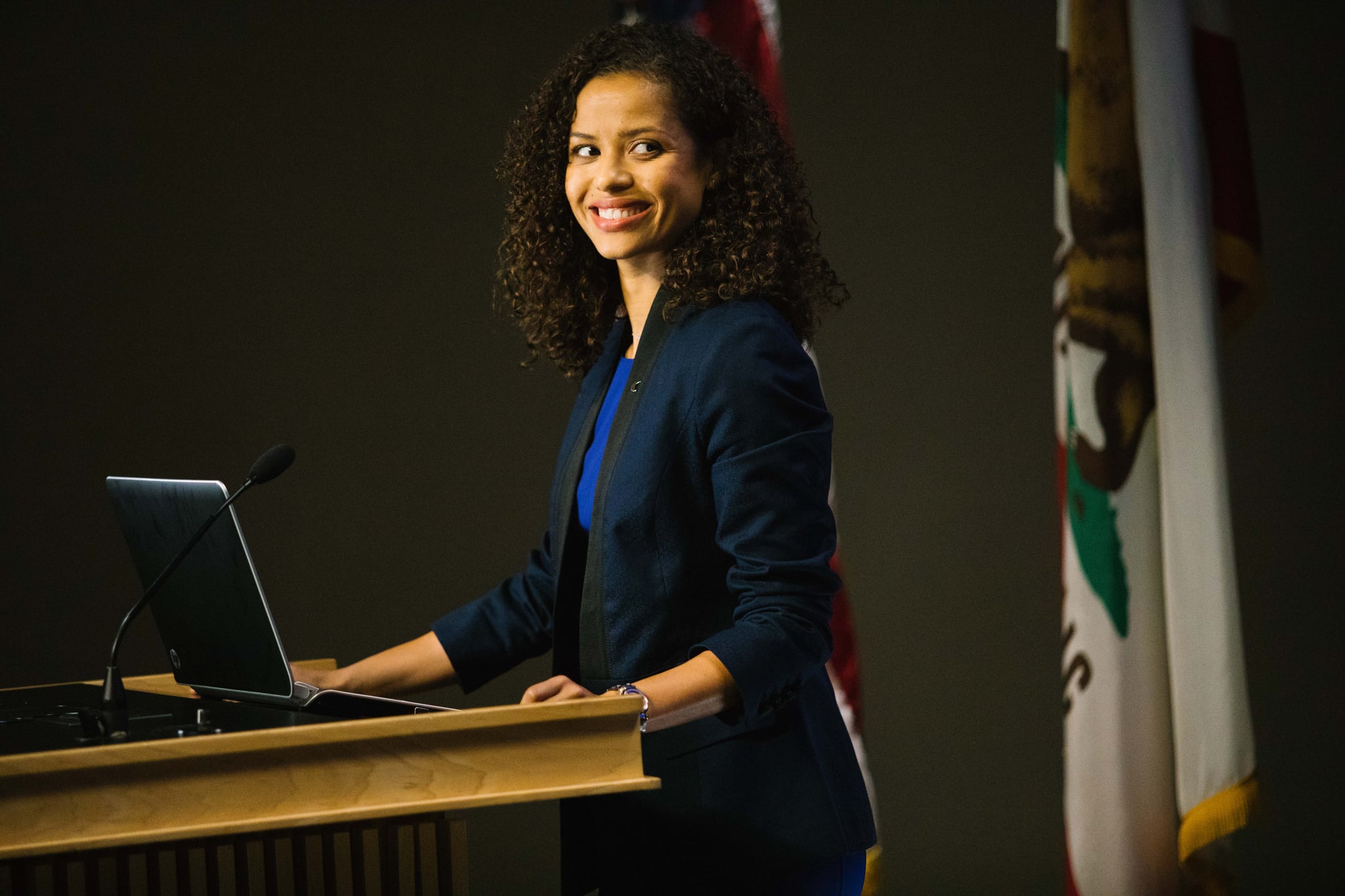 If you don't know who Gugu Mbatha-Raw is by now, you have some serious explaining to do. The actress has more than a decade of credits including Belle, Doctor Who, and Beauty and the Beast. Even in the past few years alone, Mbatha-Raw has rapidly become more and more well-known. This is due in large part to a very special Black Mirror episode called "San Junipero" that got a lot of attention for its delightful interracial lesbian romance and mould-breaking happy ending. Correction: a very special Emmy-winning episode of Black Mirror.
While Mbatha-Raw had a pretty impressive résumé before Black Mirror, the show marked a real turning point for her. That specific role turned her into somewhat of a Netflix darling. We're only a few months into 2018, after all, and she's been a part of had two new releases from the streaming giant. She appeared in the cast of The Cloverfield Paradox, which Netflix dropped out of nowhere after the Super Bowl, and she's also in the new tearjerker Irreplaceable You with regulation hottie Michiel Huisman.
Now we have her next big project: A Wrinkle a Time. Mbatha-Raw plays Kate Murry, the brilliant scientist who is raising our young hero, Meg. With this role, it's hard not to notice a pattern in Mbatha-Raw's work: she often seems to inhabit these women with astonishing depth and authenticity. Kelly in "San Junipero," Hamilton in The Cloverfield Paradox, Abbie in Irreplaceable You, even going back to Dido in Belle — these are women who are multifaceted and intersectional in their own unique and brilliant ways. Ahead of A Wrinkle in Time's release, we sat down with Mbatha-Raw to talk about all these things — her career, the power of her roles, and even a new Janelle Monáe music video inspired by Black Mirror.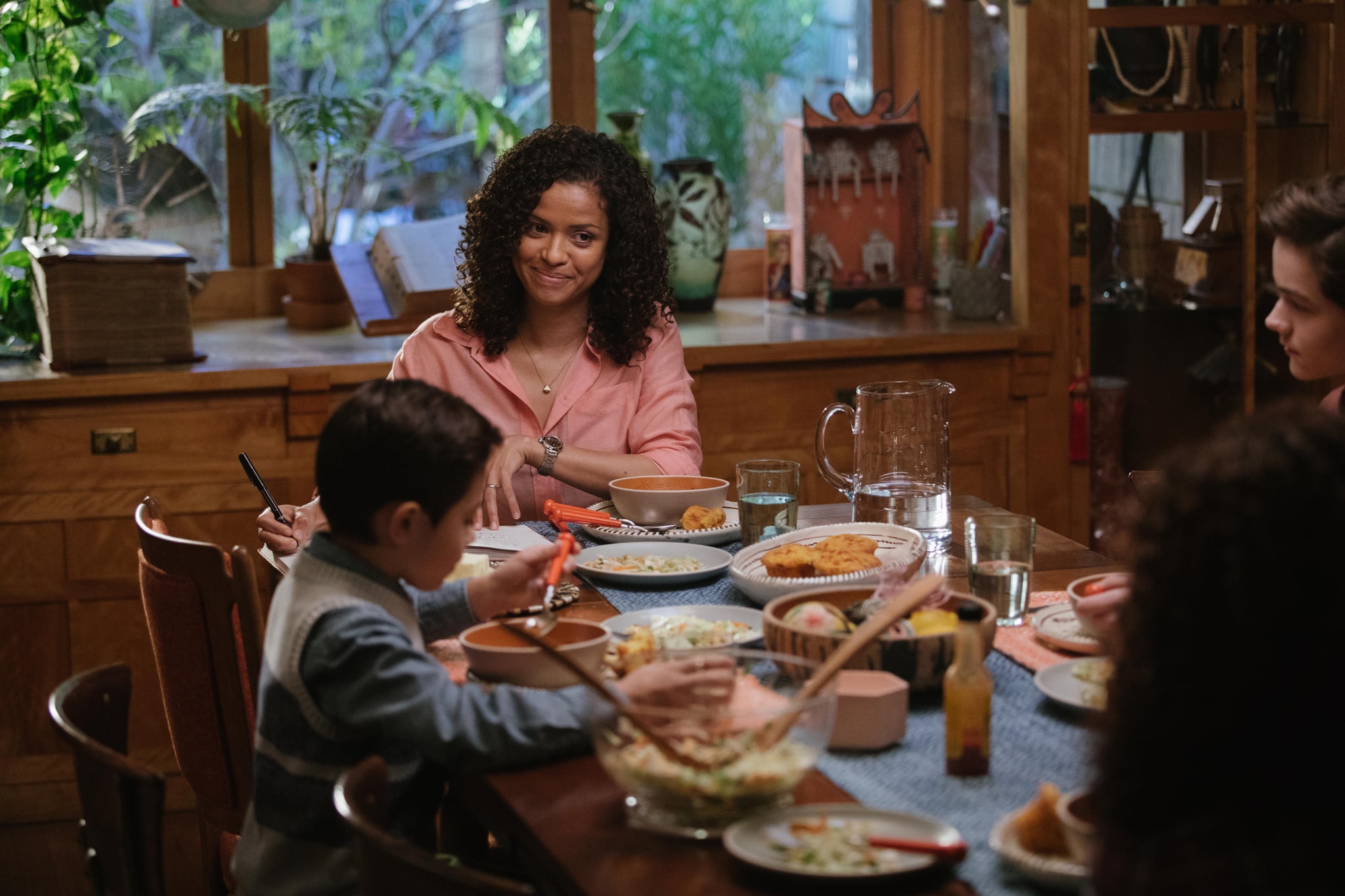 POPSUGAR: This film struck me as such an important moment in a lot of ways. What was it like to see this come to life and to be a part of this?
Gugu Mbatha-Raw: I think it's culturally significant that little girls will just be looking at Storm as . . . symbolically, subconsciously, an emblem of what is their potential to achieve. So, yeah, it's totally not wasted on me that this is happening now. Ava [DuVernay] is directing it. This cast celebrates the world that we live in . . . I think for me what really resonates is not just the power of women, but that who you are is enough.
PS: Did you find it challenging to communicate the depth of your character, Kate, in such small moments? What was your approach for that?
GMR: I suppose I sort of felt like my job was to provide the grounding sense of reality in this fantastical world. Even though she is a doctor and a scientist, most of the scenes are in the home, in the mother role. But yeah, for me, it was sort of keeping it real and creating that family dynamic and understanding, this sort of strong, warm, intellectual sort of sanctuary that they were all from and why they would want to come back to it.
PS: What was it like working with the film's director, Ava DuVernay?
GMR: Ava is a force of nature. I mean, she is passionate and smart . . . I remember she always said, "You can't keep knocking on doors in this industry; you have to build your own house." She lives by that, and she's making it happen. And I think that's incredibly inspiring.
PS: I've noticed a trend with a lot of your characters: to me, they seem to be very multifaceted and intersectional, especially, I think, when it comes to Black Mirror. It was so powerful to see a woman of colour who's queer just owning herself on screen.
GMR: Oh, bless you! Thanks.
PS: I mean, do you find yourself seeking out roles like this? Or is this just how it's all been playing out?
GMR: Well, that idea of being intersectional, I think it's in my DNA . . . I think I always seek out complexity in my work. And to me, that's the stuff that's interesting. I think if anything is just too sort of well-trodden a path or two-dimensional, I'm just not interested. It doesn't capture my imagination. And I think we work so hard in this job. It's long hours, even though it looks fabulous and fun. It's a commitment.
PS: And speaking of Black Mirror, I want to take about "Make Me Feel" by Janelle Monáe.
GMR: Oh my God! My friend said, "Have you seen the Janelle Monáe's 'San Junipero' references in her video?" I have to tell you when I saw Janelle a couple of years ago when "San Junipero" had come out, and we were talking about it. And we were both friends with Prince. And actually, the first time I met Janelle was with Prince. It was shortly after he passed away, and he was such a huge inspiration for me for that character of Kelly in the '80s, and just the wardrobe.
I was telling her about it while we were shooting it, and I was like, "I can't wait for Prince to see this." And then he passed before it came out and I said to Janelle — this was after Hidden Figures — She was like, "Oh, my God. I've been watching 'San Junipero' on repeat." I said, "Oh, I wish Prince had seen it." And she said, "Don't worry. He's seen it." And she said it in that deep voice of hers. She was like, "He's seen it." It was like that "Heaven Is a Place on Earth" kind of moment.
PS: That is so incredible. I mean, Janelle Monáe, "San Junipero," all of these things are speaking to this new kind of feminine liberation. Even A Wrinkle in Time is filled with incredible women, with a young woman at the centre, and it's directed by a woman. Do you feel like there's a sort of momentum happening?
GMR: Well, for me, I'm just excited. There's a girls' club now as well as a boys' club. And that's cool. I think there's a sense of unity. I think it's been a tough journey for everyone to get there, and we've had to sort of uncover a lot of things in dark places. But I think it's ultimately giving people a sense of courage and a sense of not feeling alone. And as I say, I just think the sense of community among women is blossoming, and I'm very thrilled about that.