Which Star Wars Movies Has Darth Maul Been in?
Can't Get Over That Solo Cameo? Watch These Star Wars Movies Next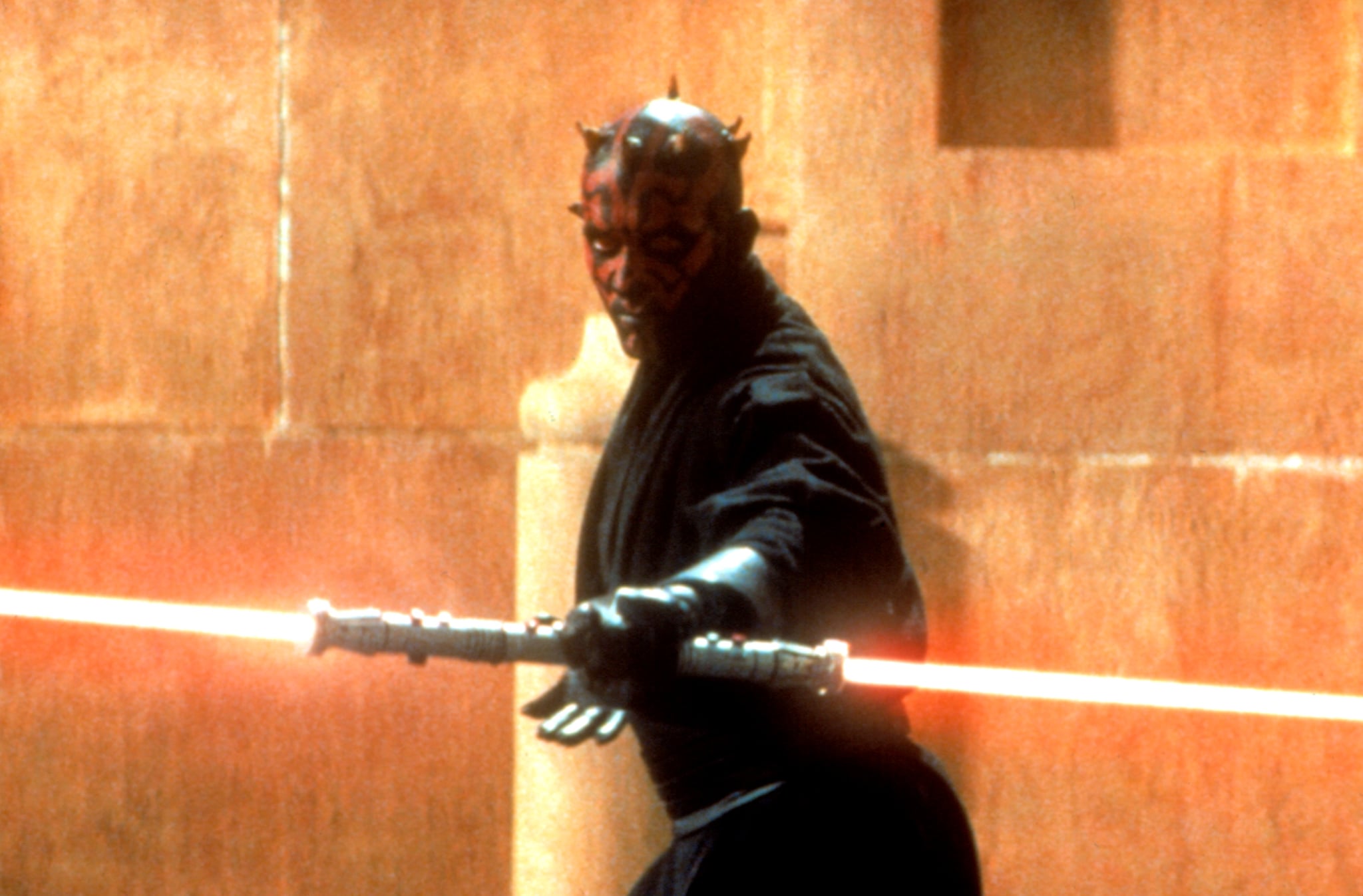 Warning: Stop here if you're avoiding Solo: A Star Wars Story spoilers!
It's pretty easy to see the appeal of Solo: A Star Wars Story to big fans of the franchise. Revisiting beloved characters like Han and Chewbacca sounds like a great time, right? If you've seen all of the films, then you were in for a bonus treat when an unexpected cameo appeared onscreen. But if you're not familiar with Darth Maul or just need a refresher, here are all the films he's appeared in thus far.
Star Wars: Episode I — The Phantom Menace
The Phantom Menace is Darth Maul's first film appearance. In the context of the movie, it's a particularly big deal because the Jedi are under the impression that the evil Sith have been extinct for the past millennium. Not so! Maul is the apprentice of Darth Sidious, a Sith Lord posing as a senator from the planet Naboo. As part of his nefarious plan to become Galactic Emperor, Sidious orders Maul to capture Naboo's queen, Padmé Amidala. He's instead thwarted by Qui-Gon Jinn.
Later, they have another lightsaber battle, with Qui-Gon assisted by his apprentice, Obi-Wan Kenobi. Maul tragically kills Qui-Gon, and Obi-Wan responds with revenge. To put it bluntly, he slices Maul in half and the pieces fall down a reactor shaft. That seems like it should've been the last we see of the villain, but Star Wars always has a twist up its sleeve.
Solo: A Star Wars Story
Darth Maul also makes a quick, shocking appearance in the Han Solo spinoff. Qi'ra, Han's childhood love interest, becomes a lieutenant for the crime organisation the Crimson Dawn. When she and Han reunite, they get sent to steal a rare substance called coaxium for Dryden Vos, the presumed crime head. Things don't go quite as planned when Han wants to hand over the coaxium to Rebel marauders. This ultimately results in a showdown between Han and Vos, and Qi'ra kills her boss.
Han believes that they'll finally be together, but she instead holo-calls a mysterious figure and says that Vos was killed by another integral part of the heist, Tobias Beckett. That mysterious figure removes his hood and — surprise! — it's Darth Maul. He's even higher up the Crimson Dawn chain and tells Qi'ra that they'll be working closer together from then on.
In addition to these movies, Maul also appears in the animated series Star Wars: The Clone Wars and Star Wars Rebels, both of which are considered canon in the Star Wars universe. The Clone Wars in particular explains how he's still alive to even appear in Solo. While they're not required viewing if you're more of a casual fan, they're worth watching if you want to be thorough. After all, Darth Maul may just pop up again in the future.