House of the Dragon: The Cast React to Aemma's Death
The "House of the Dragon" Cast on How Aemma's Pregnancy and Labour Define the Rest of the Series
As POPSUGAR editors, we independently select and write about stuff we love and think you'll like too. If you buy a product we have recommended, we may receive affiliate commission, which in turn supports our work.
Watch out! This post contains spoilers.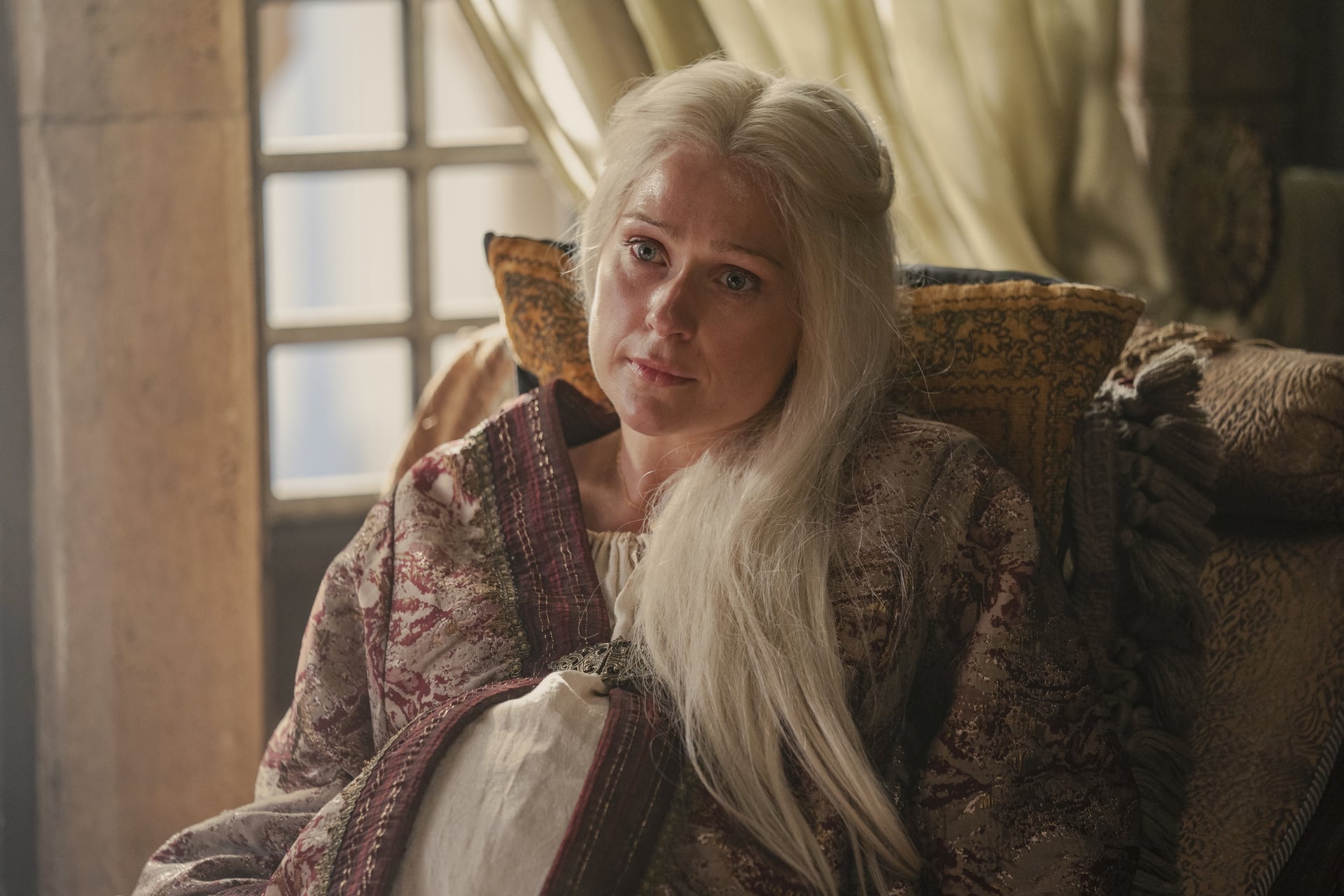 The first episode of "House of the Dragon" features the brutal death of Queen Aemma Targaryen (Sian Brooke) during childbirth. The queen, we learn, has tried unsuccessfully for years to give birth to a son, and her only surviving living child is Princess Rhaenyra (Milly Alcock). This time, her husband, King Viserys (Paddy Considine), is convinced she will give birth to a healthy baby boy who will finally secure the line of succession, but the child, Baelon, dies soon after his mother. The cast and showrunners of "House of the Dragon" spoke to POPSUGAR about filming the gruesome scene and the implications Aemma's death has on the rest of the series.
Co-showrunner Miguel Sapochnik admits that the scene and how vividly they should show Aemma's death was a "subject of much debate" and that they cut numerous different versions of it. "It seemed important to highlight something that was the kind of the most traumatic event . . . it's what breaks that family apart."
"And more importantly than anything, Viserys doesn't give his wife, Aemma, a choice, and that's something that seems really important," he explains. Still, he understands why people might feel uncomfortable with how much is shown on screen. "We did make a point of showing it to as many women as possible and asked the very question, 'Was this too violent for you?'" he says. "And unanimously, the response was no. Often the response was, 'No, if anything, it needs to be more.'"
"It's raising a point that . . . hits a real trigger for women, which is this idea of choice and that she doesn't get to choose," Sapochnik says. "She's effectively murdered by her husband. And that is a good indication of the state of play in this world that we're inhabiting."
"Her mother loses control. She loses bodily autonomy. And I think Rhaenyra is sure as hell not [going] to let that happen to her."
Sapochnik says when they were editing the episode, editor Tim Porter had the idea of paralleling the tournament fight and the birth scene. "It seemed like this is an appropriate time to draw that parallel visually between the two, the male and the female struggle. One's fighting on the battlefield, the other's fighting for survival, sometimes from the person closest to her," he explains.
Considine thinks Viserys is doing the best he can with all the pressures he's facing. "It's almost a given that he must produce a male heir, but it puts his wife at risk. She has miscarriage after miscarriage and then the final one results in her death and the baby's death," he explains. "And that's something that really profoundly affects him throughout his whole story. There are regrets about decisions, there are regrets about serving the realm and being a king."
Considine says actually shooting the scene was "tough" and "very emotional." "In fact, it was a lot more brutal and a lot more emotional than it ends up in the final episode," he shares. He wondered if it was too much to show, because "Viserys is utterly devastated." "There's a double tragedy: there's the death of Aemma and then there's the death of his son, of Baelon," he says. "That hangs over this show for a very, very long time."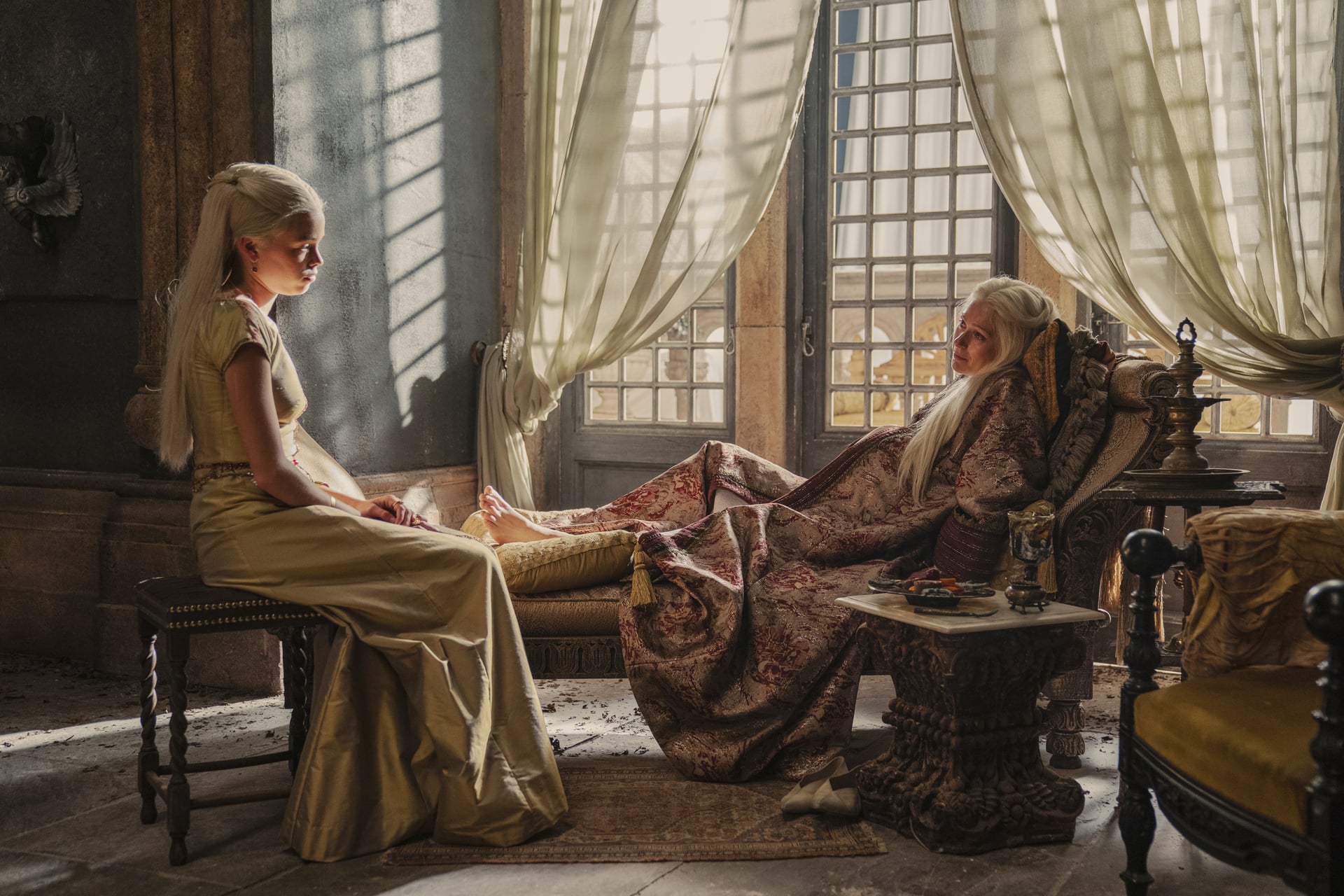 Alcock says the moment actually brings Rhaenyra and her best friend Lady Alicent Hightower (Emily Carey) even closer, since Alicent's mother is also dead. "Rhaenyra very much leans on Alicent," she says, which makes it even harder when their friendship starts to dissolve. "It shatters Rhaenyra."
Earlier in the episode, Alicent and Rhaenyra visit the very-pregnant Aemma, and Carey says it's "important" for Alicent to see the queen like that. "Alicent understands certain implications of what her father is pushing her towards," they say, alluding to how her father wants her to grow closer to the now-widowed king. "And I think that picture of Aemma in the back of her mind keeps coming up for her."
Alicent, she explains, also ends up reliving her own mother's death through Rhaenyra and Viserys's pain. She's deeply moved seeing Visery's grief up close. "She's watching this man change in front of her as well and show and share some emotions that men don't show in that world. And he chooses to share a lot of that with Alicent," Carey explains.
Olivia Cooke, who plays the older version of Alicent, says Aemma's death impacts Alicent and Rhaenyra for the rest of their lives. "I think her death is a huge reminder of . . . our mortality, our roles within the kingdom, and also our place in Visery's heart. I feel like both of us do come second to Aemma," she says.
Emma D'Arcy, who plays the older Rhaenyra, agrees. "For Rhaenyra, that traumatic event is also something that defines a journey about what type of woman she wants to be," they explain. "She perceives what happens to her mother to be a form of abuse. . . . Her mother loses control. She loses bodily autonomy. And I think Rhaenyra is sure as hell not [going] to let that happen to her."
Sapochnik says there are more birth scenes coming in season one, but each one will be different. "We gave themes to the births, and that theme for that birth was torture," he says. "Then there's a birth where the theme is the agony and the ecstasy. There's a birth where the theme is impasse, and there's a birth where the theme is a battle. So we are trying to look at them in different ways."
Sign up for HBO Max now to watch "House of the Dragon."