How Does Oliver Queen Die in Arrow Season 8?
Oliver Queen Is Destined to Die in Arrow Season 8 — Now, the Only Question Is, How?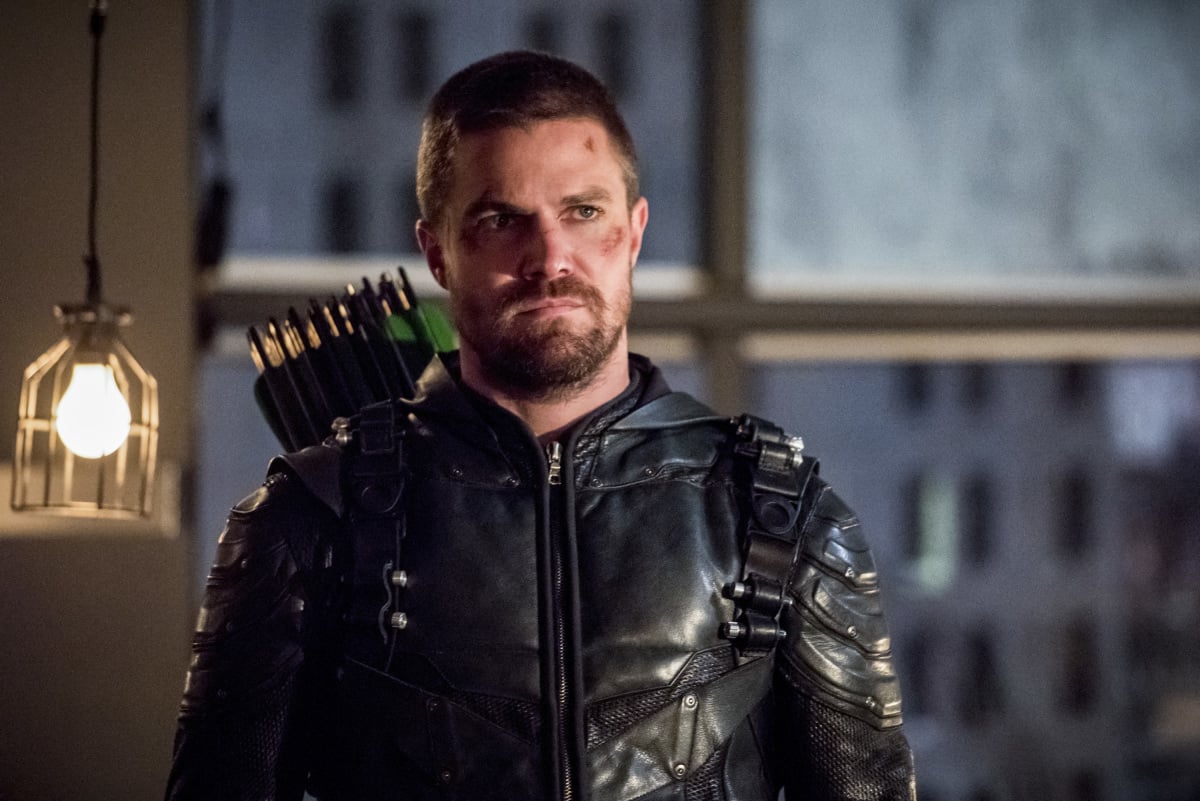 We have a lot to look forward to in Arrow's eighth and final season. Familiar faces will return — Thea Queen (Willa Holland), Moira Queen (Susanna Thompson), and Malcolm Merlyn (John Barrowman) are among those set to make a comeback — as our crime-fighting squad gears up for the Crisis on Infinite Earths crossover with Supergirl, The Flash, DC's Legends of Tomorrow, and Batwoman. Because the season seven finale already affirmed the death of Oliver Queen (Stephen Amell), we already have our tissue boxes ready for the emotional scene, but how will the crusader meet his end?
During the Elseworlds crossover with The Flash and Supergirl, Oliver made a deal with The Monitor to save Barry and Kara. Although the terms of their agreement went unknown throughout most of Arrow's seventh chapter, the finale revealed that Oliver would die during the upcoming Crisis events. Unfortunately, that would leave Felicity (Emily Bett Rickards) — who went into hiding to protect her and Oliver's family from Ninth Circle agents — alone to raise their children, William and Mia.
In a flash-forward, Felicity is joined by adult William and Mia as they visit Oliver's grave. She prepares to leave the safehouse and says an emotional goodbye to her children, hinting that she won't be returning. After she leaves, she meets up with The Monitor who tells her, "Where I'm taking you, there is no return." Adamant about journeying to a place unbeknownst to viewers, she replies, "I have waited a very long time to see him. I'm ready."
Not only does this mark Rickards' final scene in the series since she officially left the show, but it also suggests that Oliver might not be gone for good. One theory is that he sacrificed himself to save his world during Crisis on Infinite Earths and got stuck in an alternate universe. Perhaps that's where Felicity is headed after she spent the past two decades protecting William and Mia until they were strong enough to fend for themselves. We already know that the Arrowverse dabbles into the multiverse, so it wouldn't be too far fetched to assume Oliver is alive within the space-time continuum, waiting to reunite with his wife.
Still, this seems a tad bit too obvious. In the latest trailer for Arrow's concluding season, Oliver says, "My sacrifice, my death will protect the people I love." What if the sacrifice is to fake his own death and willing live the rest of his life on a different Earth, away from his children? In this case, he's indeed offering himself for the safety of his loved ones by presuming himself dead to everyone. Another possibility? Everything we've seen on the show thus far will completely change, and we'll be thrown for a loop. After all, time isn't fixed in the Arrowverse.
It's hard to say would be the best ending. From the very beginning, it seemed as though Oliver was meant to go out as a sacrifice. That's always been his MO. Not to mention, he's escaped death so many times before — why not have it finally catch up to him after a seven-year chase? Still, watching him constantly fight for the people he cares about only makes us want to see him have some sort of happy ending, even if it means reconnecting with Felicity in who-knows-where. We'll just have to see how things unfold when Arrow's last season premieres on Oct. 15!