Lady Leshurr on Sports Direct Campaign and Dancing on Ice
Lady Leshurr Says Dancing on Ice Saved Her Mental Health in Lockdown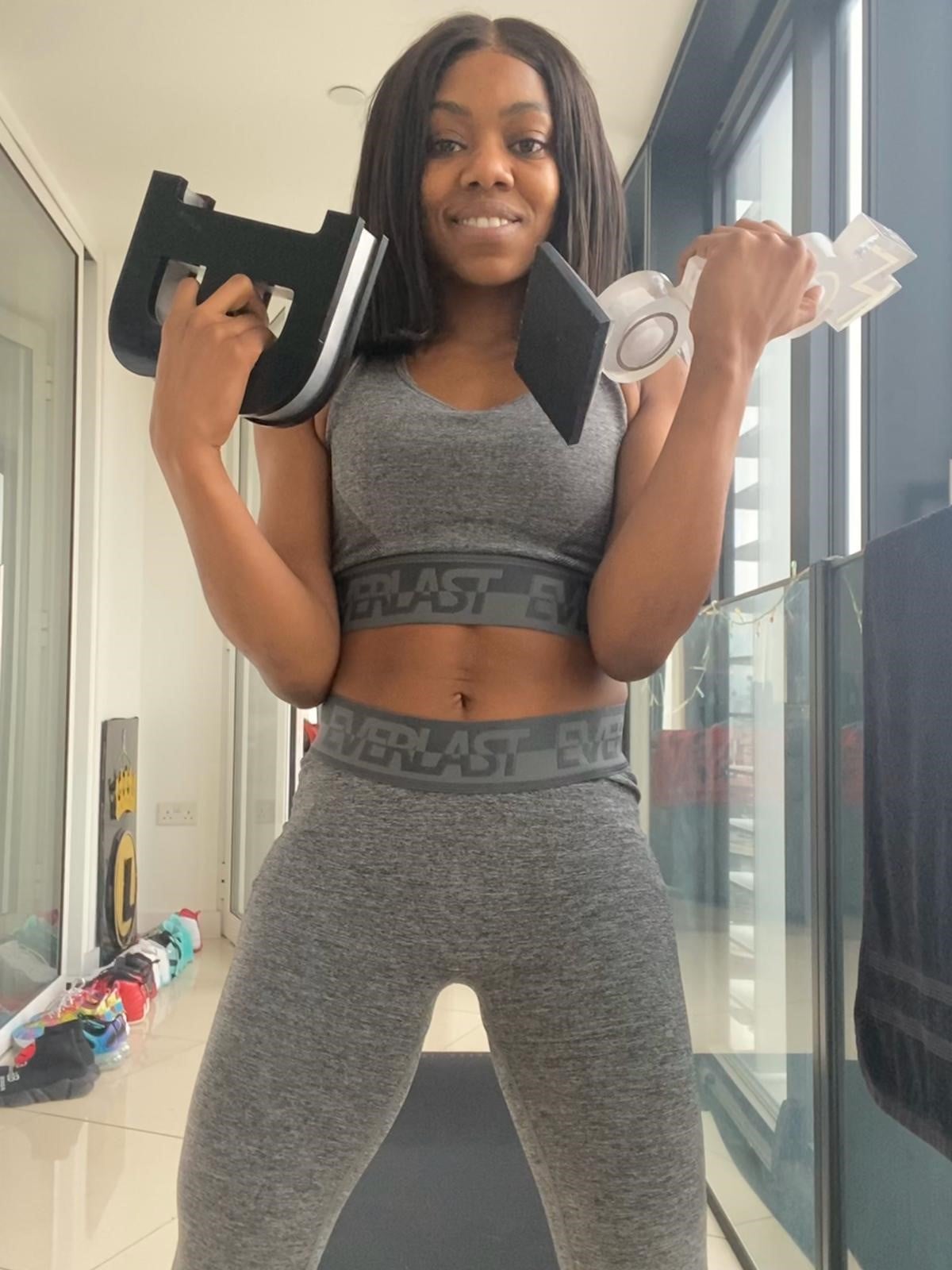 The United Kingdom population's mental health has been at an all-time low this lockdown, and research commissioned by Sports Direct shows that women have been particularly affected. Its survey shows that 87 percent of young people between 18 and 24 years old feel that their mental health has deteriorated, with 67 percent of those being women. In response, Sports Direct has launched its #LiftWeightDonate campaign, which aims to encourage people to share what's weighing on their mind and come together to help raise awareness about the mental health issues young people are facing.
Participants are challenged to post a video of them doing weighted reps alongside sharing with their followers what's been weighing them down, before donating £1 for every rep to mental health awareness charity Sporting Minds UK. We spoke to one of the faces behind the campaign, Dancing on Ice star Lady Leshurr, about how to keep your mental health in check during lockdown.
POPSUGAR: You're working with Sports Direct on a new campaign for mental health. What was it that drew you to that subject?
Lady Leshurr: Mental health has always been one of the biggest things for me, and it's had the biggest impact in my life. I've always used my social media to express how I've felt and I think it's always good to have that outlet, because some people don't have anyone to speak to. I'm always trying to get involved with mental health campaigns and talking on seminars about mental health, because it's been a part of my career for the whole of my career. It's so good to speak about it and make people think that it's OK to talk about because it's always had that stigma. Working with Sports Direct has been the perfect way to raise that awareness, especially with lockdown and the gyms being closed.
PS: It's no secret that lockdown has taken its toll on all of us. What has helped you, and what is helping you get through it?
LL: Believe it or not, it's actually Dancing on Ice. It's crazy because I would never have expected myself to be on a show like that and I just didn't think it would make me as happy as I am. It literally is just something that I can look forward to. Unfortunately, not everyone can be as active as I've been or be out of the house as much, but I feel that this is my escape now and I don't know what I'd be doing without it. It's released a lot of my stress and any worries that I have throughout the week, it's just really good to know I have that to look forward to. The exercise is great as well.
PS: It must be! How have exercise and sport been helping you? Are there any exercises or ways to work out that you've introduced into your routine during lockdown?
LL: I'm not going to lie, I'm usually a very lazy person. I only exercise when I know I have to, because a lot of the time I get my exercise on the stage. I'm always performing and that's how I keep in shape. It's just crazy that that's not there now, so I know that to keep on top of my game, I have to stay in shape. Dancing on Ice is an amazing opportunity to exercise in a way that doesn't feel daunting because exercise sometimes can make you question, "When am I going to see results?" With skating I can see the results and I'm trying to learn a new skill.
PS: Totally. How did you get involved with Dancing on Ice?
LL: They reached out, so we had the Zoom meeting and they liked my personality, I guess! I wanted to be a part of it. I've always been a musician, but I've also always wanted to do TV presenting and hosting. I thought, "Let me try to do something that's going to challenge me," and it actually came at a great time because I was grieving. I felt like I needed to do something to distract my mind from what I was going through. I felt like it might be a good way to regain my confidence and my faith.
PS: Aside from skating, have you taken up any new hobbies during lockdown?
LL: I was learning about skin care. I actually wanted to make my own skin care! But this is what happens in lockdown, you go down a little YouTube rabbit hole and you start thinking that you can do everything. I learnt how to engineer, which was one of the best things for me, because I recorded my EP myself and I proved to musicians that you can actually do everything from inside. I shot all the videos myself too.
PS: Finally, do you have any advice to people who are struggling to get through lockdown at the moment or struggling with their mental health?
LL: Try to learn something new. A new skill will always help to reinvigorate yourself because you'll have a passion for something else. You just have to have an outlet, whether it's painting or talking to a friend or a family member, you need to get it out. You can't lock everything that you're feeling inside, because you're going to break down. They do say that breakdowns are breakthroughs sometimes, and I've been through that multiple times in my life and I've become a better person as a result. God always gives us challenges that we can cope with and we become a better version of ourselves as a result. I'd just say, just try to do new things and always try to express — in whatever way you can — how you feel.