Is Lessons in Chemistry Based on a True Story?
"Lessons in Chemistry" Is a Fictional Take on a Real Era in Science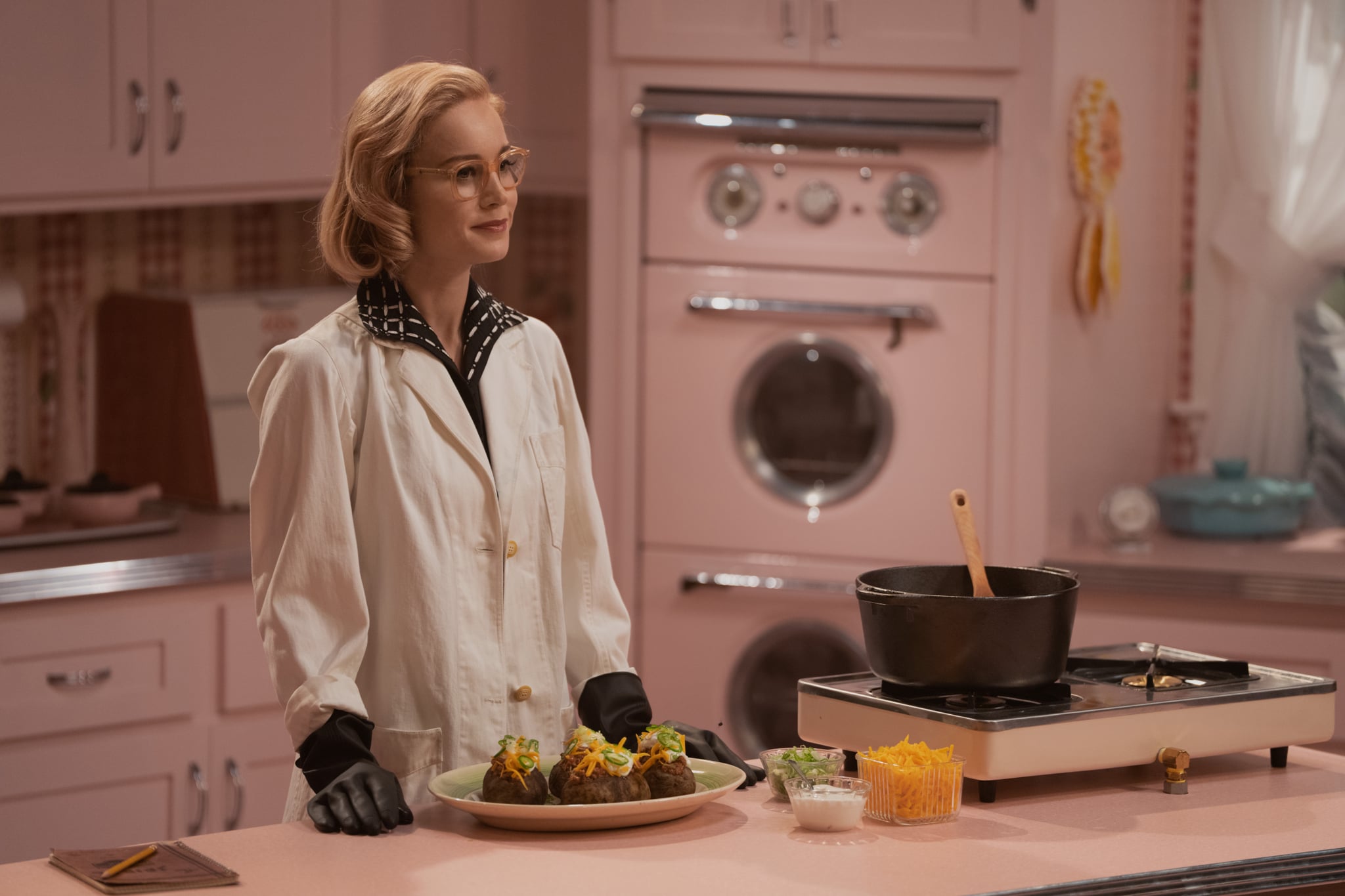 One of the most anticipated TV shows this Autumn is Apple TV+'s "Lessons in Chemistry." Based on the bestselling novel by Bonnie Garmus, the series stars Brie Larson, Lewis Pullman, and Aja Naomi King in a story of a midcentury American woman who struggles to gain a foothold in a scientific world that refuses to respect her. With perfectly retro sets and costumes evoking the 1950s, it feels like the kind of show that could be based on real life — but it actually isn't.
Is "Lessons in Chemistry" Based on a True Story?
If you've been flipping through "nostalgia" TV channels or frantically googling in hopes of finding out more about the real Elizabeth Zott, you'll be disappointed. Elizabeth, Calvin, Harriet, and the rest of your favourite characters are all fictional creations, courtesy of the creative mind of author Garmus. They do, however, have a little bit of real life in them, according to Garmus — she told CBS News that her own life, and her mother's life, inspired certain aspects of the book and of Elizabeth in particular.
"It's in honour of my mother, for sure," she said. "My mother would tell you she would not like the swearing. But she would really approve of the message of women being more of who they really are." She also revealed that the characters' rowing hobby was inspired by her own experience as a rower. "Well, I had to put something in the book I actually knew about!"
Garmus also talked about drawing inspiration from real-life scientists, as well as from the general perceptions of women in the 1950s and 1960s — that is, the expectation that they would give up careers to become wives and mothers. Once again, she thought about her mother, who was a nurse before becoming a mother.
"I hadn't really appreciated how many limits had been imposed on that generation until I started doing the research," Garmus told The New York Times, "Giving up your career, and then being called average all the time." In the same interview, she insisted that the characters and the situations in the book were not based on any particular real-life figures but that the book instead is "a love letter to scientists and the scientific brain."
True Stories Like "Lessons in Chemistry"
While "Lessons in Chemistry" itself isn't based on a true story, there are plenty of historical figures and events that have similar themes. Elizabeth's fictional cooking show, "Supper at Six", evokes the popularity of how-to cooking TV shows like Julia Child's "The French Chef". Although Child's cheery public persona was quite different from the brisk, sharp Elizabeth, there's certainly some parallels there. Where the fictional Elizabeth teaches viewers the connection between science and food, Child brought "elite" French cooking into everyday life; both focus on demystifying something in the kitchen that seems intimidating at first.
Elizabeth's fight to have her voice heard in an era of stereotyping and discrimination also calls to mind stories like the "human calculators" at NASA in "Hidden Figures". These women, like Elizabeth, faced discrimination due to their gender, but unlike Elizabeth (a white woman), they also faced frustrating or even dangerous racism. Several of them, such as Katherine Johnson, Dorothy Vaughan, and Mary Jackson, went on to have remarkable careers and break the barriers that no one thought could be broken. If "Lessons in Chemistry" inspires more people to seek out the real stories of women who fought to be heard — and won — that's definitely cause for celebration, too.