Phil Dunster on Roy and Jamie's Friendship
"Ted Lasso"'s Phil Dunster Says "Vulnerability" Is at the Heart of Jamie and Roy's Bond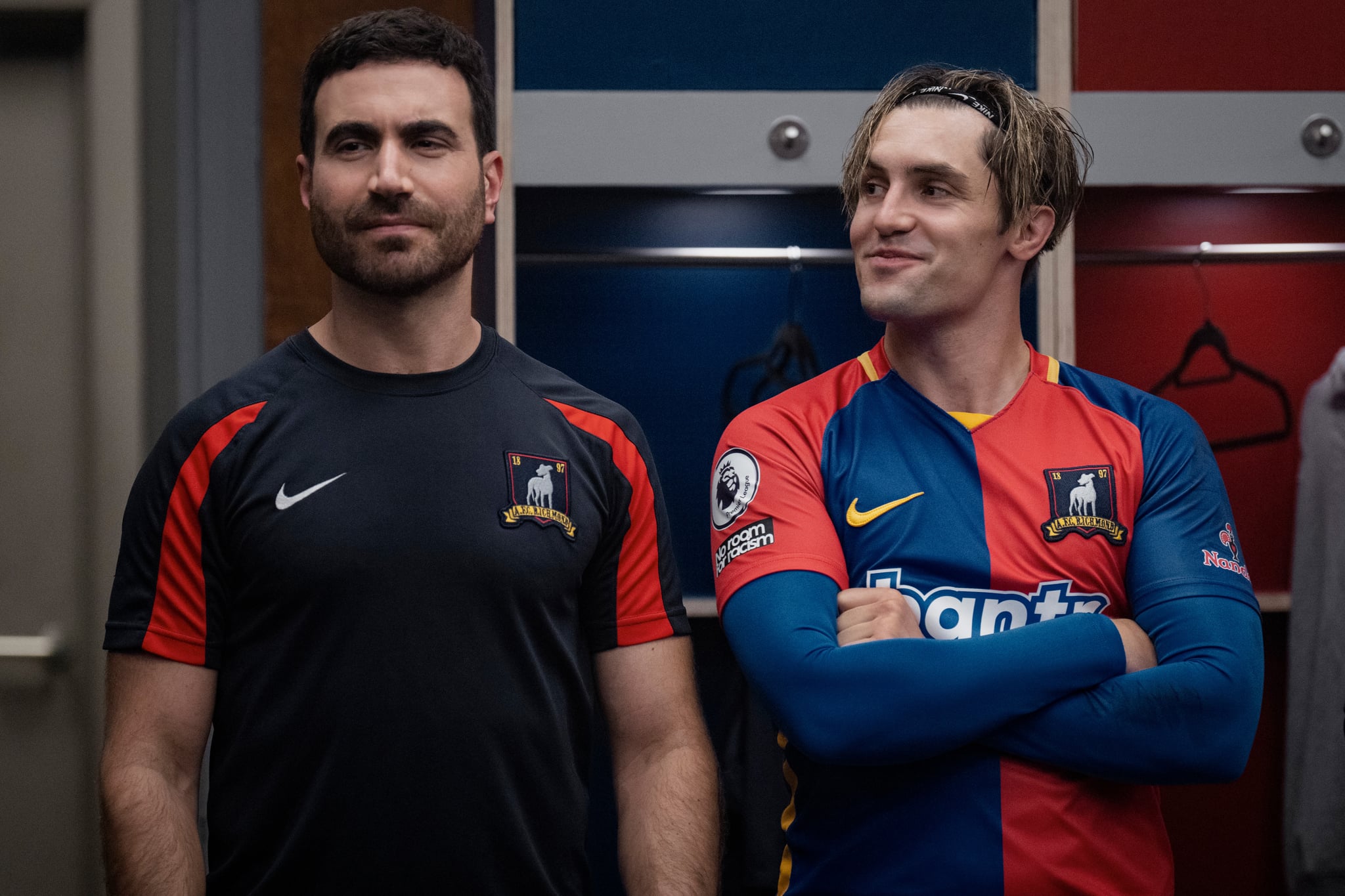 "Ted Lasso"'s third season has brought with it one majorly enjoyable friendship: the one between player Jamie Tartt (Phil Dunster) and coach Roy Kent (Brett Goldstein). In the first season, the pair — both players for AFC Richmond then — were often at each other's throats. In season two, they came back together on the team and begin to build a new paradigm. And in season three, Jamie asks Roy to help him train, and by episode 10 — released on 17 May — Roy's niece tells them they're basically "best friends."
"I think it's about both of them trying to come to terms with a need for vulnerability," Dunster tells POPSUGAR about what's at the core of the duo's bond. "They both know that if they're to progress, if they're to become better versions of themselves, the person they need to do that with most is themselves," he says. The person on the show who's most similar to Roy is Jamie, and the person who's most similar to Jamie is Roy, so opening up to each other is like facing themselves.
"It's like the boss level of vulnerability for them," Dunster adds, comparing it to a video game. "Jamie's done it with Keeley, he's done it with Ted, and now it's time to try and do it with Roy."
When Dunster signed on to "Ted Lasso" season one, which aired in 2020, he didn't know where Jaime's arc would take him. Instead, he says, creator Jason Sudeikis (who also plays Ted) focussed on Jamie's past. "It was more important for Jason, I think, to explain where Jamie had come from to inform what he was doing right now," Dunster explains. "That was the most helpful thing for me, knowing the reason he is the way he is. His actions don't exist within a vacuum."
And while Dunster nails Jaime's more vulnerable, emotional moments, he also brings a lot of comedy to the character, thanks
in part to Jamie's over-the-top accent (which is not his natural one). His favourite word he gets to say as Jaime? "It's got to be poopy," he says. "That was literally born out of me standing next to Brett and trying to make him laugh as much as possible. It's just me being an idiot, really."
One thing that does help him "inhabit the different world" Jamie lives in — one of very rich football players — is Jamie's colourful, often strange, wardrobe. Dunster credits costume designer Jacky Levy for pulling tons of options that nail the "quite specific, quite gaudy style" that footballers in the UK gravitate toward. "We both know if [an outfit] feels like something he'd wear," Dunster says of Jamie's one-of-a-kind style.
"Ted Lasso" season three releases new episodes Wednesday on Apple TV+.