Ted Lasso: Do Roy and Keeley Reunite in the Finale?
"Ted Lasso" Director Reveals Who Keeley Really Should Have Ended Up With
Watch out! This post contains spoilers.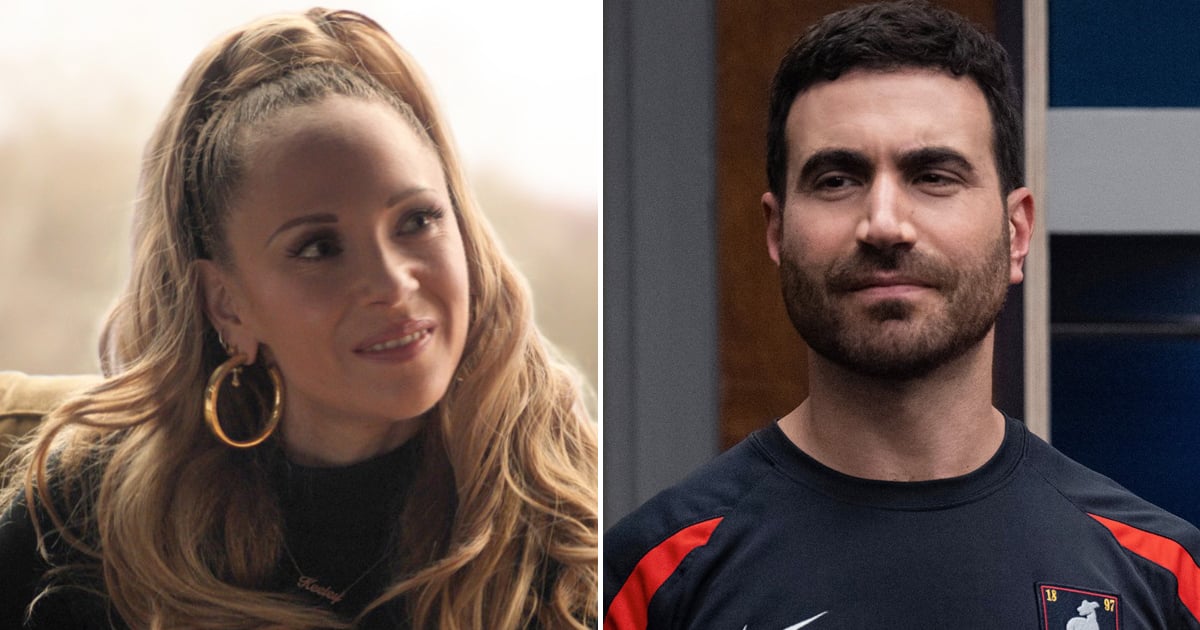 Image Source: Everett Collection
As AFC Richmond bid adieu to Coach Lasso and Coach Beard in the "Ted Lasso" series finale, fans at home were forced to say goodbye to one of the series's most beloved relationships. After weeks of waiting on the edge of our seats to cheer for the inevitable rekindling of Roy Kent and Keeley Jones, our dreams came true — or so we thought.
When Do Roy and Keeley Break Up on "Ted Lasso"?
Like all good things, Keeley and Roy's love story took time to blossom. In season one, Keeley was still deeply entangled with her then-partner, Jamie Tartt. As Keeley's relationship with Jamie started to sour, fans noticed subtle glances and pointed "hellos" between Keeley and Roy that hinted at the desire for something more than friendship.
"I definitely know they would have a spectacular future together."
Leading up to their romance, even the cast got in on the speculation. "You know, it's one of those "Sliding Doors" situations. It's not one way or the other way, or any which way," Juno Temple, who plays Keeley, told POPSUGAR in 2021. "I definitely know they would have a spectacular future together. I believe they'd be great parents, and they'd be great growing old together, and maybe that will be their journey . . . but I don't know!"
Fans didn't see the pair acknowledge their feelings for each other, however, until episode seven, when they shared a sweet kiss in the hallway of their hotel.
Once they became official, Roy and Keeley's romance quickly turned into a fan-favourite plotline. Some of their most powerful moments as a couple shone through when they worked together to take care of Roy's niece, Phoebe, and when they supported each other through personal struggles, like Roy's knee injury and subsequent career hiccup. Whether fans were ready for it or not, all good things come to an end.
In Roy and Keeley's case, their breakup came as a shock to many viewers, who turned to social media to scream-whistle like Roy Kent into the void as soon as it happened. "the more i think about it the more i realise there was absolutely no reason to break up roy and keeley this season," one Twitter user wrote.
Despite fan pleas, the writers kept the pair apart, even writing in Jack, a new love interest for Keeley who ultimately ended up ghosting her after a misunderstanding involving work.
Do Roy and Keeley Get Back Together on "Ted Lasso"?
In episode 10 of season three, Roy finally made the move fans had been waiting for. During a school drop-off, he ran into Phoebe's teacher, Ms. Bowen, who flirted with him in season two. Their encounter made Roy realise why he broke up with Keeley in the first place: unresolved personal issues that he projected onto Keeley.
Finally admitting this to himself, he decided to write an apology letter to Keeley, who intercepted him as he was delivering it and made him read it aloud. After a soft "thanks" from Keeley, the camera cut to a different scene. However, later in the episode, the camera showed Roy emerging from Keeley's back room wearing nothing but her pink robe, implying the two slept together.
"keeley was at her lowest point in this episode and then roy showed up and read his letter . . . 'You're keeley f*cking jones'," one fan wrote on Twitter. "she will always be amazing and she really needed to hear that and especially from the love of her life. he loves her no matter what!"
Some fans, though, found the reunion less than satisfying. Roy demonstrated growth in realising he was letting his emotions interfere with properly expressing himself to Keeley, but it did little to prove he wouldn't repeat these patterns moving forward. Additionally, with Keeley still upset after her breakup with Jack, it would have been too soon for her to reenter a serious relationship without processing her feelings.
During the remainder of the season, Roy made regular attempts to confess his feelings to her. Keeley, though, remained hesitant and did her best to keep a polite distance from Roy when she returned to AFC Richmond. Though Roy seemed determined to continue pursuing Keeley, things took a turn during the finale.
After Jamie asked Keeley to come to Brazil with him on a press trip, Roy became jealous, immediately clocking Jamie's feelings for Keeley. Hoping to have her for himself, Roy invited Jamie out for a drink after work and pointed out that he slept with Keeley a month earlier and planned to get back together with her soon. While Roy asked Jamie to back off, Jamie refused, citing the fact that Roy and Keeley were not in an official relationship and his feelings for her were strong. The pair ended up getting into a fistfight and ultimately headed to Keeley's house, asking her to resolve the issue of their love triangle. Affronted, Keeley gave a sarcastic response before kicking both men out for treating her like an object to be won.
Angry at themselves, the men parted ways but remained friends. After consulting the Diamond Dogs, Roy decided he needed to continue working on himself and began going to therapy with Dr. Sharon. Just before the show cut to the credits, we saw Jamie, Keeley, and Roy enjoying each other's company at a get-together with friends, proving that the trio are still on good terms.
On 20 Aug., Declan Lowney, who directed several season-three episodes, finally gave some perspective on the intent behind the friends' love triangle. "Even the way we shot that scene [when Roy and Jamie confront Keeley], where she's in the middle and they're on either side, we never gave anybody more weight than anybody else," he told Awards Daily of the scene's setup. "They're always on either side of her with the camera behind her, and when the camera's looking at Keeley, you've got the two of them in the middle. We had to remain impartial."
While the crew did their best to remain unbiased during the filming process, Lowney shared his personal take on the love triangle: he's team Keeley all the way. "I'm not sure she should end up with either of them, particularly because they've decided that she can pick between them," he said. "In other words, they weren't giving her the choice to pick someone else. I hope they all stay pretty good friends, but maybe Keeley will meet somebody else. One of them is going to be disappointed if she ends up with the other."
As with any relationship — including the romance between Rebecca and the Dutch stranger — Roy and Keeley's future remains uncertain. While we may never get the answers we were hoping for, it's safe to say that the "Ted Lasso" crew is still together, and they're doing just fine.