The True Story Behind The Good Nurse
The Unsettling True Story Behind Netflix's New True Crime, "The Good Nurse"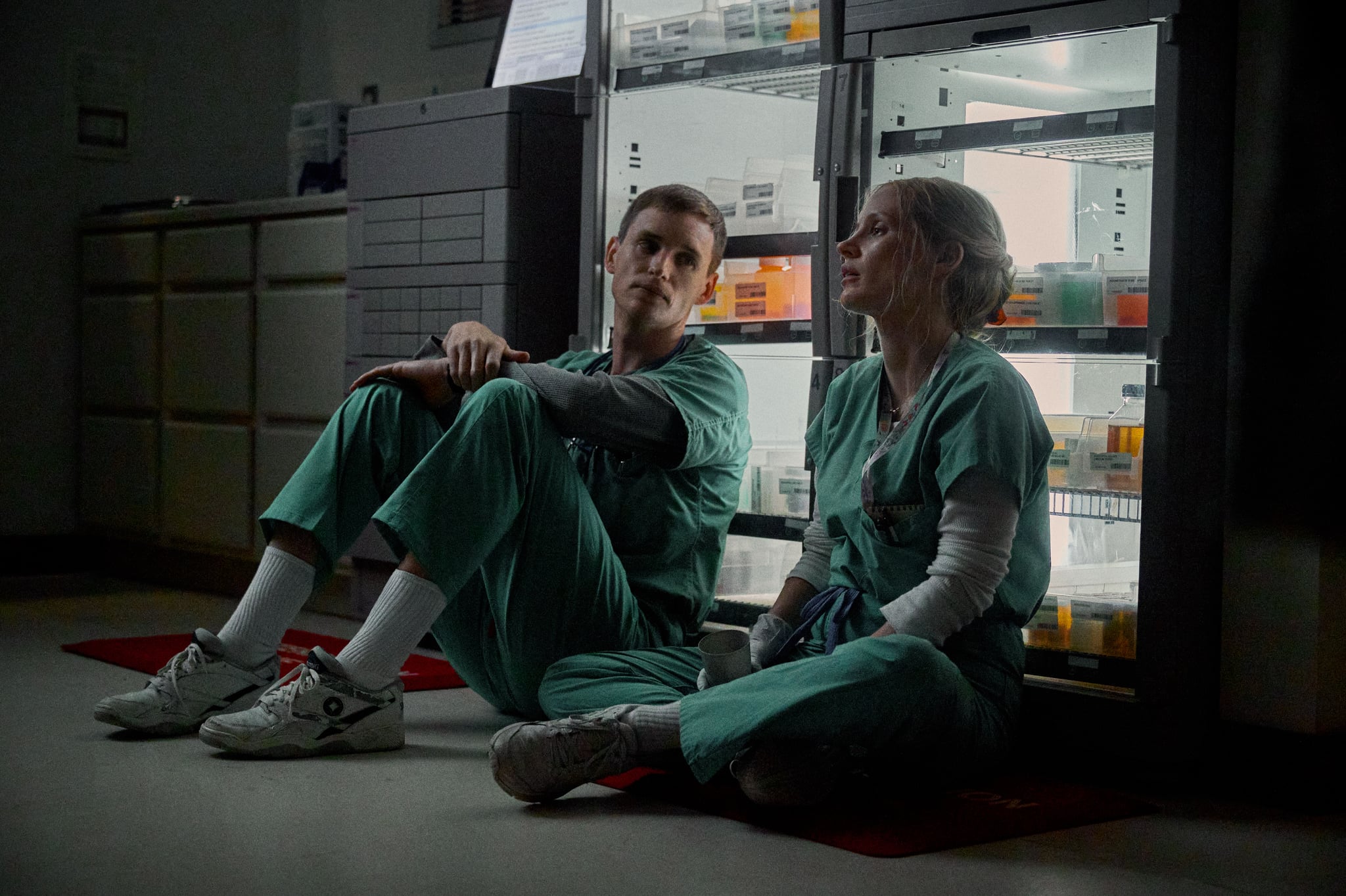 Image Source: Netflix
Netflix is no stranger to tackling the true crime genre. Over the years, the streaming giant has released a handful of bone-chilling titles that centre around mind-boggling true crime stories, ranging from dramatised, acclaimed series like "Mindhunter," to docuseries like "Unsolved Mysteries" and "The Tinder Swindler."
The platform is now bringing the unbelievable true story of serial killer Charles Cullen to the big screen in "The Good Nurse," which is based on Charles Graeber's 2013 book of the same name. The original film, which stars Academy Award winners Eddie Redmayne and Jessica Chastain, centres around Cullen's 16-year killing spree as a nurse throughout several New Jersey and Pennsylvania hospitals and, more specifically, the heroic nurse who stopped him.
"The Good Nurse" is set to hit Netflix sometime in the autumn, but until then, read on to learn more about the baffling crimes of Charles Cullen.
How Did Charles Cullen Start His Nursing Career?
Charles Cullen was born on 22 Feb., 1960. By the time he was 18 years old, he was parentless — his father, Edmond, died before Cullen could even walk or talk, and his mother, Florence, died tragically in a car accident when he was in high school, according to The New York Times. Following the death of his mother, Cullen enlisted in the Navy and served on the Woodrow Wilson submarine, but his time in the military was cut short. After relentless hazing and bullying from his shipmates, Cullen attempted suicide and was medically discharged in March of 1984.
After leaving the Navy, Cullen immediately attended nursing school and graduated from Mountainside Hospital School of Nursing in 1987. With a fresh new degree, he landed a job at St. Barnabas Medical Centre in Livingston, NJ, where he would begin his covert killings.
How Did Charles Cullen Commit His Crimes?
Cullen spent four years at St. Barnabas before ultimately being fired in January 1992. Jeanne T. Hackett, who worked alongside Cullen at the medical centre, recalled that he was quiet, secretive about his personal life, and rather impersonal with patients. "It was like he was going through the motions, patting someone on the hand and telling them they'd be O.K.," she told the New York Times.
From St. Barnabas, Cullen started working at Warren Hospital in Phillipsburg, NJ, where he became comfortable with murdering patients. At the hospital, he worked in the cardiac and intensive care units, which often hold patients who are either severely ill or nearing the end of their life. During his shifts, particularly the night shifts (which are often less supervised), Cullen would scope out elderly patients and administer lethal doses of digoxin, a medication used to treat heart conditions like atrial fibrillation and heart failure.
While employed at Warren Hospital, he also went through a divorce from his wife, stalked and broke into a coworker's home, and was suspected of killing at least three patients, though no formal investigation was ever conducted.
How Did Charles Cullen Get Away With Murdering Patients for So Long?
Throughout his nursing career, Cullen worked at nine different hospitals and medical centres without consequence, punishment, or serious suspicion. According to the New York Times report, a lack of accountability from the hospital administrations, as well as a lenient hiring process that merely required employment dates and a job title rather than concrete references, were key factors that allowed Cullen to carry out his murders over the span of 16 years. Unfortunately, many of Cullen's victims were also elderly or critically ill in some way, which led to little speculation and hardly any investigations into their deaths.
How Did Charles Cullen Get Caught?
By the time Cullen took a job at Somerset Medical Centre in Somerville, NJ, in September of 2002, he had been fired multiple times and resigned from at least two of his previous jobs for anything from "poor performance" to "violating medication protocols," as per the New York Times.
At Somerset Medical Centre, patient records were monitored through a computerized system called Cerner. Cerner tracked everything for a patient, whether it was when medication was administered or when a nurse peeked into their chart. It was through Cerner, and a fellow nurse at Somerset named Amy Loughren, that an investigation into Cullen's suspicious behaviour was finally launched.
According to an excerpt from "The Good Nurse" (via The New York Post), Loughren noticed that Cullen was ordering an abnormally large amount of medications, digoxin being one of them. When looking into Cener's database of patients, Loughren was not only able to see Cullen's drug orders, but she could also see his browsing history, which painted a startling picture of his connection to at least four cases of medication errors during his short time at the centre. The database showed that Cullen would "research" patients of other nurses he was not assigned to hours before the patient would experience some kind of medical episode.
The wrench that foiled Cullen's entire operation was the death of Reverend Florian Gall, who was staying at Somerset due to a case of pneumonia. On 28 June, 2003, Gall went into cardiac arrest and died of heart failure. Just hours before his death, Cullen was viewing his chart despite Gall not being his patient, and post-mortem lab tests showed that Gall had toxic digoxin levels in his system. Following an internal investigation from Somerset and information relayed to detectives from Loughren, Cullen's killing spree was finally over.
Where is Charles Cullen Now?
On 12 Dec., 2003, Cullen was arrested on one count of murder and one count of attempted murder, as per The New York Times. At the time of his arrest, Cullen told detectives that he had poisoned 12 to 15 people at Somerset, and at least 20+ more at his many other hospital gigs. By the time of his sentencing in March of 2006, Cullen revealed that the number of his murder victims was actually closer to 40.
For his crimes, Cullen was sentenced to 11 consecutive life sentences without the possibility of parole, per CNN. He is currently serving his sentence at the New Jersey State Prison in Trenton.