Wednesday Season 2: Cast, Predictions
Jenna Ortega Says "Wednesday" Season 2 Will "Lean Into the Horror More," Not Romance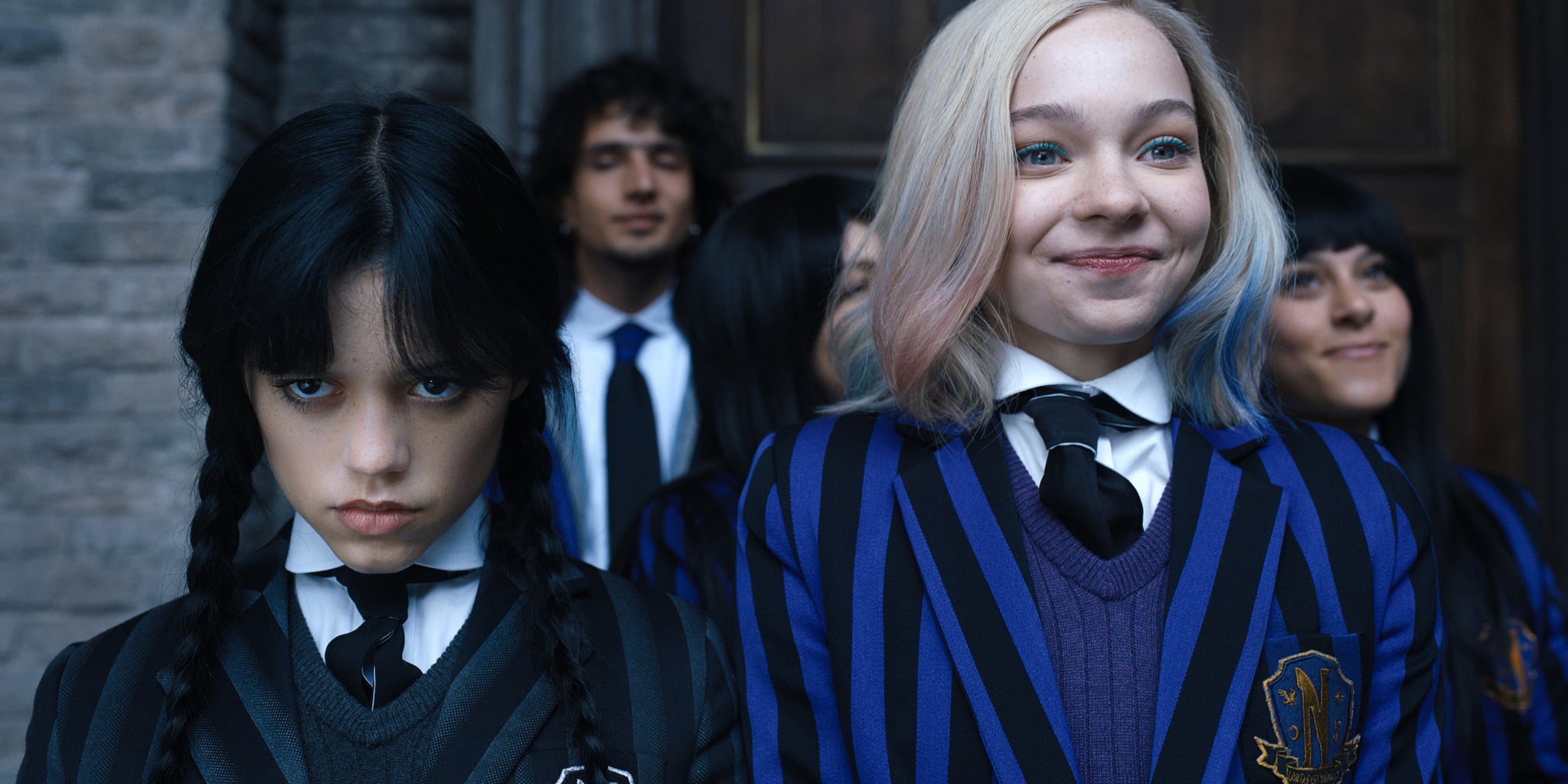 Image Source: Netflix
Jenna Ortega is sharing some major insight into "Wednesday" season two. "It's still coming together, but we've decided we want to lean into the horror more," Ortega, who stars as Wednesday, told Elle Fanning in an article published by Variety on 7 June as part of their "Actors on Actors" series. "We're ditching any romantic love interest, which is really great. We're going to get bolder, more dark."
Netflix announced the show had officially been renewed on 6 Jan., with a short teaser featuring footage of Ortega alongside scenes from the show and clips of fan events. The video also used Lady Gaga's "Bloody Mary" as its soundtrack, a song that became associated with the show on TikTok. "The global phenomenon will return for season two," Netflix said in the clip.
https://twitter.com/wednesdayaddams/status/1611407377227456513
Just a day before, Netflix teased the continuation of the hit Addams Family series — created by Alfred Gough and Miles Millar, based on cartoonist Charles Addams's Addams Family concept — in a tweet that shared a clip of Wednesday (Ortega) from the season finale where she's sitting at her typewriter. She writes "The End" at the end of her novel manuscript before adding a question mark, and Netflix simply captioned the video, "???????"
It seemed pretty obvious that Netflix would indeed renew "Wednesday" since it's been a runaway hit following its November 2022 debut. On 3 Jan., the streamer announced that the series, which had four episodes directed by Tim Burton, was once again the most-watched show on its English-language TV series list. The show also went viral on TikTok after tons of viewers mimicked Ortega's iconic dance, and it earned two 2023 Golden Globe nominations and a SAG Award nod for its leading lady.
Details about "Wednesday" season two are still scarce, but read ahead for everything we do know so far.
"Wednesday" Season 2 Cast
When the show returns, Ortega will, of course, be back as her titular character, and it's possible most of the cast who made it out of season one alive with her will also return to Nevermore Academy — including Emma Myers as Enid Sinclair and Joy Sunday as Bianca Barclay.
However, the fate of Christina Ricci's teacher character, Marilyn Thornhill, who was ultimately defeated by a swarm of bees in season one, remains to be seen. On 22 March, in an interview with Entertainment Tonight, Ricci avoided sharing any season two updates about her role, telling the outlet, "I don't think I'm allowed to say." However, she did say she's down to return to the show, adding, "On my end, the door is open."
It's also unclear if Gwendoline Christie, whose character Principal Larissa Weems died in season one, will return. In a November 2022 interview published with Digital Spy, she left the door open for a season two return, saying, "We haven't seen her put in the ground, have we? I feel like Larissa Weems would not really be prepared to entertain or be dominated by anything as commonplace as death."
"Wednesday" season one also starred Catherine Zeta-Jones as Morticia, Luis Guzmán as Gomez, Isaac Ordonez as Pugsley, Fred Armisen as Uncle Fester, and Victor Dorobantu as Thing, though none have been officially confirmed to reprise their roles in season two. It's also unclear when exactly the Netflix series will return.
What Have the "Wednesday" Cast Said About Season 2?
On 30 Nov., 2022, Ortega shared her wishes for season two in an interview with Entertainment Tonight, telling the outlet of her character, "I kind of want her to be darker. " "I want her to get more in the nitty-gritty of things and not play things so safe, because there are a lot of lines about her saving the school and doing whatever, but for me, her main drive with the monster is of a competitiveness," she added. "Kind of, 'Man, how's this guy doing this?'"
Ortega added, "I think I want it to continue down an antihero stream rather than a typical hero." Well, we're here for whatever she has in mind.