Coach Outlet North South Mini Tote Bag Review With Photos
I Get So Many Compliments on This Coach Outlet Mini Crossbody
As POPSUGAR editors, we independently select and write about stuff we love and think you'll like too. If you buy a product we have recommended, we may receive affiliate commission, which in turn supports our work.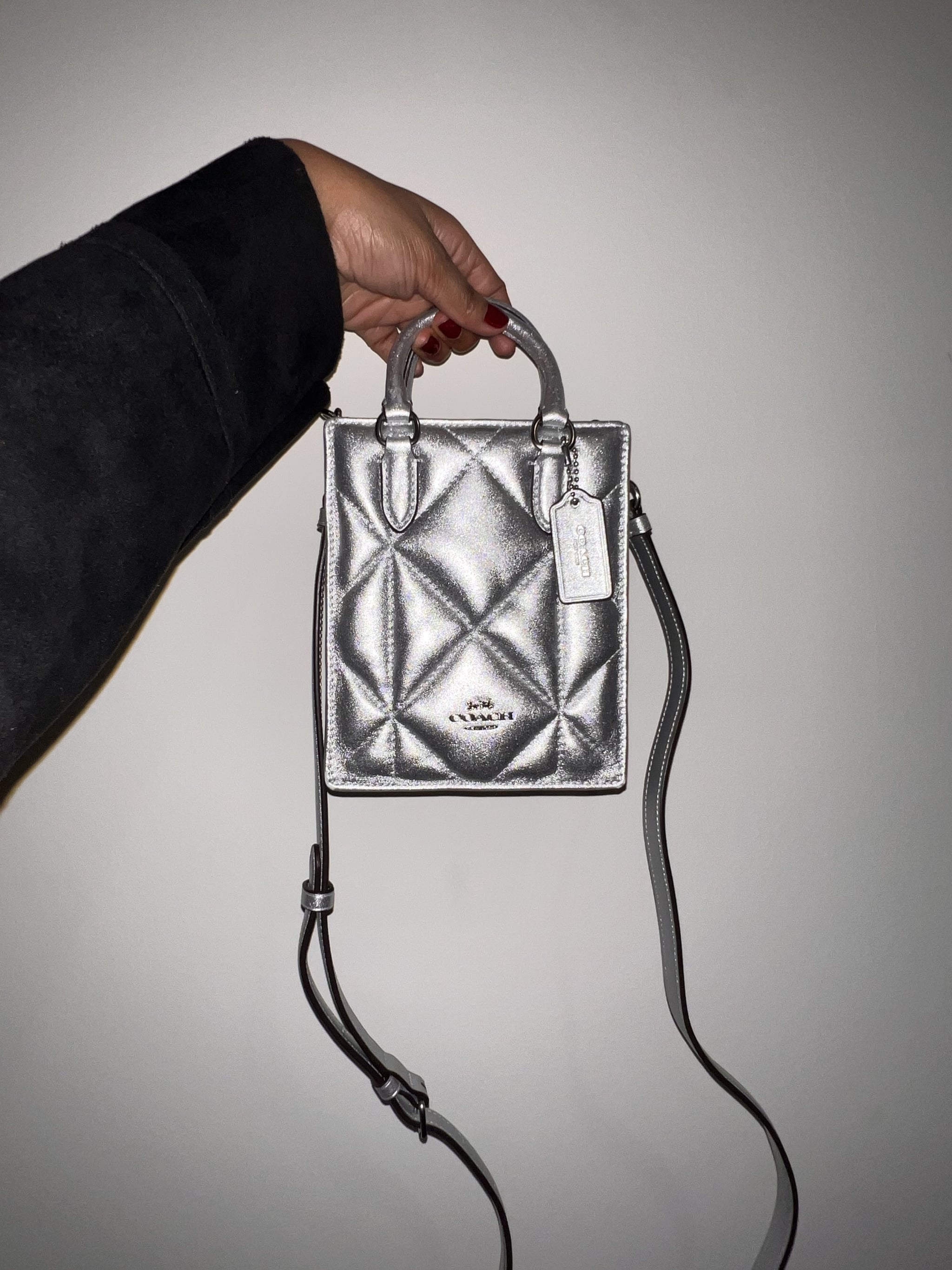 Finding a cute going-out bag is much more difficult than it looks. Besides the fact that it should complement your outfit and vibe, it should also have some semblance of practicality. There are a few essentials that I can't leave my apartment without, and if I do, I'm filled with regret, ruining the mood for the rest of the day. I need a bag small enough to handle my out-on-the-town adventures but big enough to hold all my essentials.
When I came across the North South Mini Tote Bag ($119) from Coach Outlet, I knew it was a unique piece I had to have in my collection, but I was more intrigued by how much it could fit for such a small bag. Plus, I can never resist the convenience of a crossbody bag.
Keep reading to see this bag in action and why it's worth it.
What I Like About the Coach Outlet North South Mini Tote Bag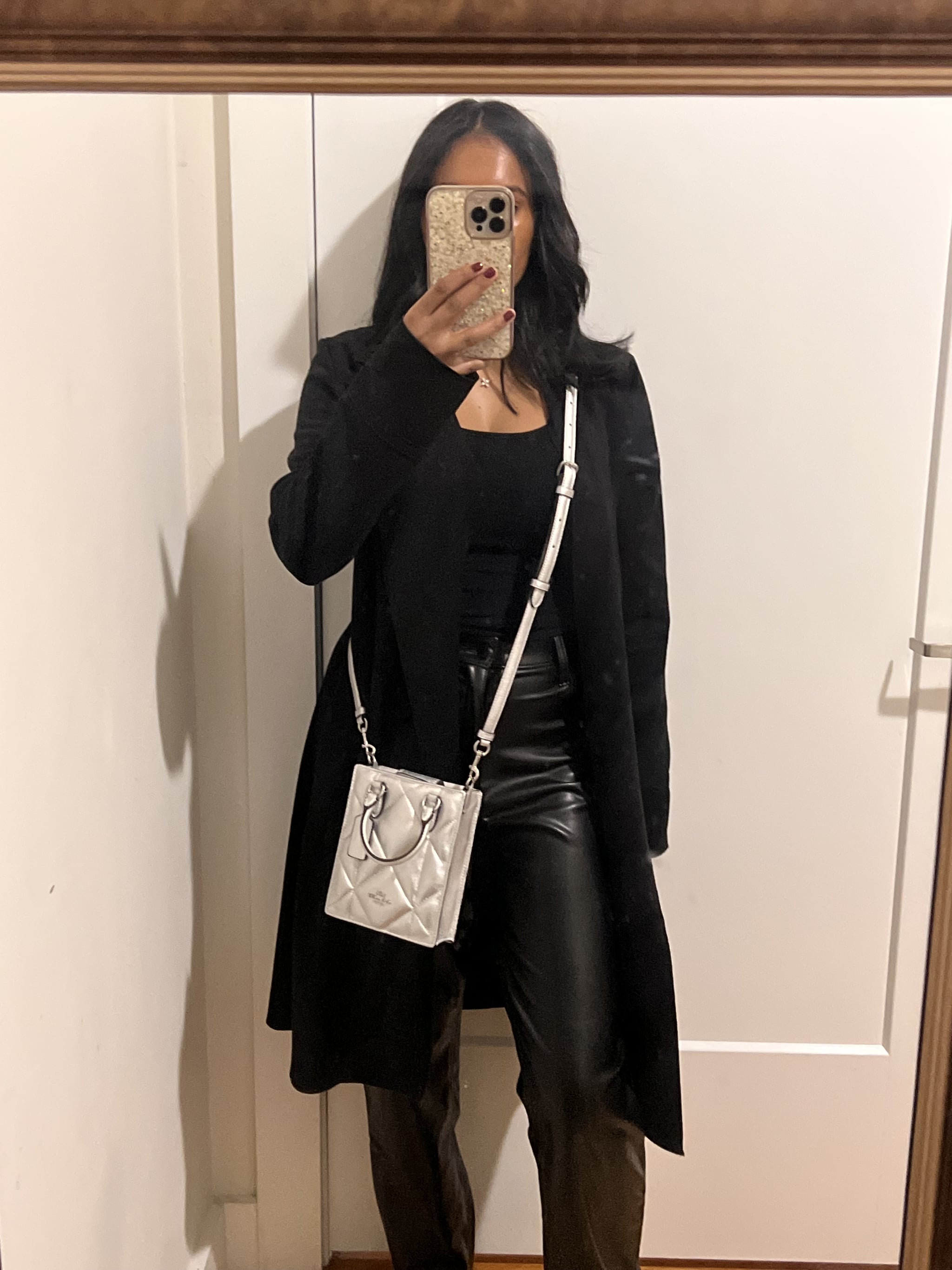 The North South Mini Tote Bag is probably one of the trendiest bags I own, especially considering its shimmering silver metallic finish. I usually lean more toward an understated, quiet-luxury type of style. However, there was something about this bag that made me want to get out of my comfort zone. Its structured silhouette is so modern and fresh, yet the mini tote bag shape is so cute and kitschy done right. I can wear this with an all-black outfit as pictured and have it be the statement-making pop, pair it with an elegant dress for a wedding or event and match the vibe, or style it with something a little more casual, like jeans and a T-shirt. It's a surprisingly versatile piece that I find myself gravitating toward often.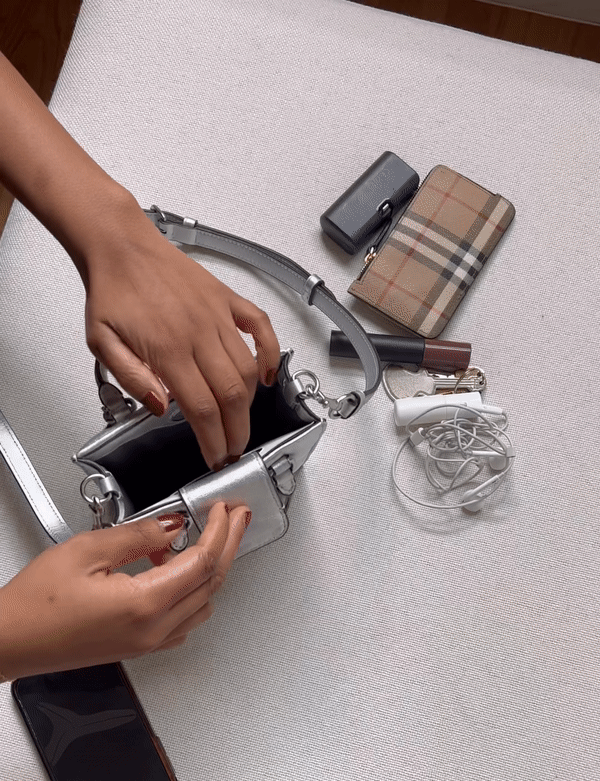 The bag has a structured design that keeps its shape, but that doesn't mean you can't fit your necessities inside. I can store my iPhone 13 Plus, my card holder wallet, a portable charger, my go-to shade of Ctzn Cosmetics Nudiversal Duo Lipstick, a perfume oil, my keys, and a pair of wired headphones all in this bag. I can swap out the portable charger for a pair of AirPods as well. I can also create more room by utilising the credit card slots in the bag, but I can never go out without my whole wallet, just in case I need it. The North South Mini Tote Bag is the ideal size for me to have all my necessities without lugging around a bag that weighs too much or feels like it's always in the way when I'm dancing.
What's Worth Noting About the Coach Outlet North South Mini Tote Bag
Although the North South Mini Tote Bag can fit all my essentials, I recommend strategically placing certain items in a specific way to utilise the space more efficiently. Items that take up more space, like my phone, wallet, and portable charger, go in the bag first. Then, I squeeze in smaller items where they can fit in the gaps. Due to the fact that this bag has a magnetic snap closure rather than a zip closure, I recommend putting smaller items in the bottom so they don't slip out. However, to keep your belongings extra secure if you're wearing it in a crossbody style, make sure it sits in the front where you can see and hold it rather than letting it sit toward the back of your body. It's always a good idea to keep an eye on the bag throughout the night, especially since there's no zipper closure.
Who's the Coach Outlet North South Mini Tote Bag Best For?
The North South Mini Tote Bag is best for those who love to accessorise with trendy pieces that are actually practical, too. This bag is ideal for going out, whether it's spending the day in the city or bar hopping at night. Its convenient crossbody strap lets you keep the bag on your body so your hands are free to hold a drink or explore the world. The North South Mini Tote Bag is perfect for just the essentials.
Additional Details
The North South Mini Tote Bag is made from refined pebble leather featuring two top handles and a detachable adjustable crossbody strap.
It has a magnetic snap closure and two credit card slots on the inside.
Although the silver metallic shade is sold out, this style also comes in black and white.
Dimensions: 5.5" wide, 6.75" tall, 2" depth
Where Is the Coach Outlet North South Mini Tote Bag Available?
The Coach Outlet North South Mini Tote Bag is available on the brand's site.
Rating:

Image Source: POPSUGAR Photography / Anvita Reddy