RuPaul's Drag Race UK A'Whora on Sewing Challenge
A'Whora on That Drag Race Outfit: "This Moment Is All I Could Have Ever Asked For"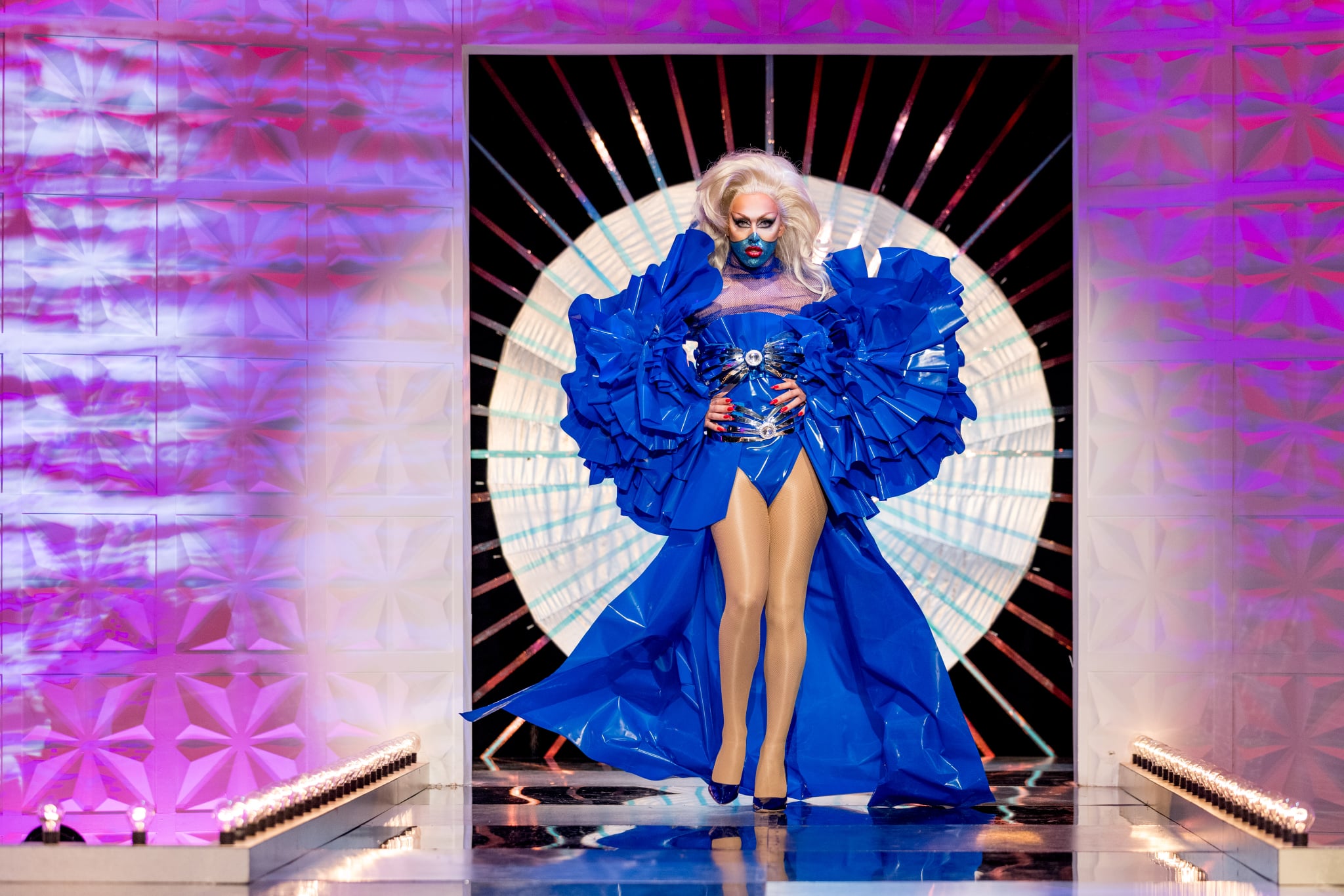 The seventh episode of RuPaul's Drag Race UK aired on 25 Feb., and it featured a sewing challenge that's got everyone talking. The challenge involved the queens making super-shero dresses out of unconventional materials, inspired by the recent lockdown. Nottingham-based queen A'Whora won the challenge with a bright blue dress made out of bin liners, inspired by the NHS — and with that alone, she had my vote.
Having studied a diploma in fashion and womenswear, it came as no surprise that A'Whora would be the winner of this challenge, creating a formfitting body with ruffled shoulders and a glistening belt. She took to Twitter to share her gratitude. She tweeted "thank you everyone for this moment, after I've studied for over 8 years the art of fashion, this moment is all I could have ever asked to see my creativity appreciated and most importantly with a cause that means to much to me and the world!" She also shared the look on Instagram, explaining her creative process and reiterating the fact that her look was inspired by the NHS frontline workers.
Her caption read "this week's challenge was to curate looks using unconventional materials to help conceptualise a super-shero! ✨ with this design challenge I felt a huge amount of pressure to redeem myself after failing the first one, I really wanted to showcase to the judges and to you all what my experience and education has taught me and how my mind works when using design to convey an idea!"
She added that "from the pandemic I wanted to use what we had been through and the stories of many frontline workers to curate a concept around my design, the weight of the world being on their shoulders with the pressure to find a vaccine/cure for the global pandemic. I chose to replicate this through a weighted ruffle design that buried me beneath my shoulders but acted as a design element to convey a visual language message! The blue was the signature colour of our national health service the NHS, and my clap back was my power that could unite and rejoice the world to come together and fight back! I have released a t-shirt design on my site where a percentage will be donated to the NHS frontline."
Image Source: BBC