Shade & Shore V Underwire Bikini Top | Editor Review
I Found the Perfect V-Underwire Bikini at Target for $25
As POPSUGAR editors, we independently select and write about stuff we love and think you'll like too. If you buy a product we have recommended, we may receive affiliate commission, which in turn supports our work.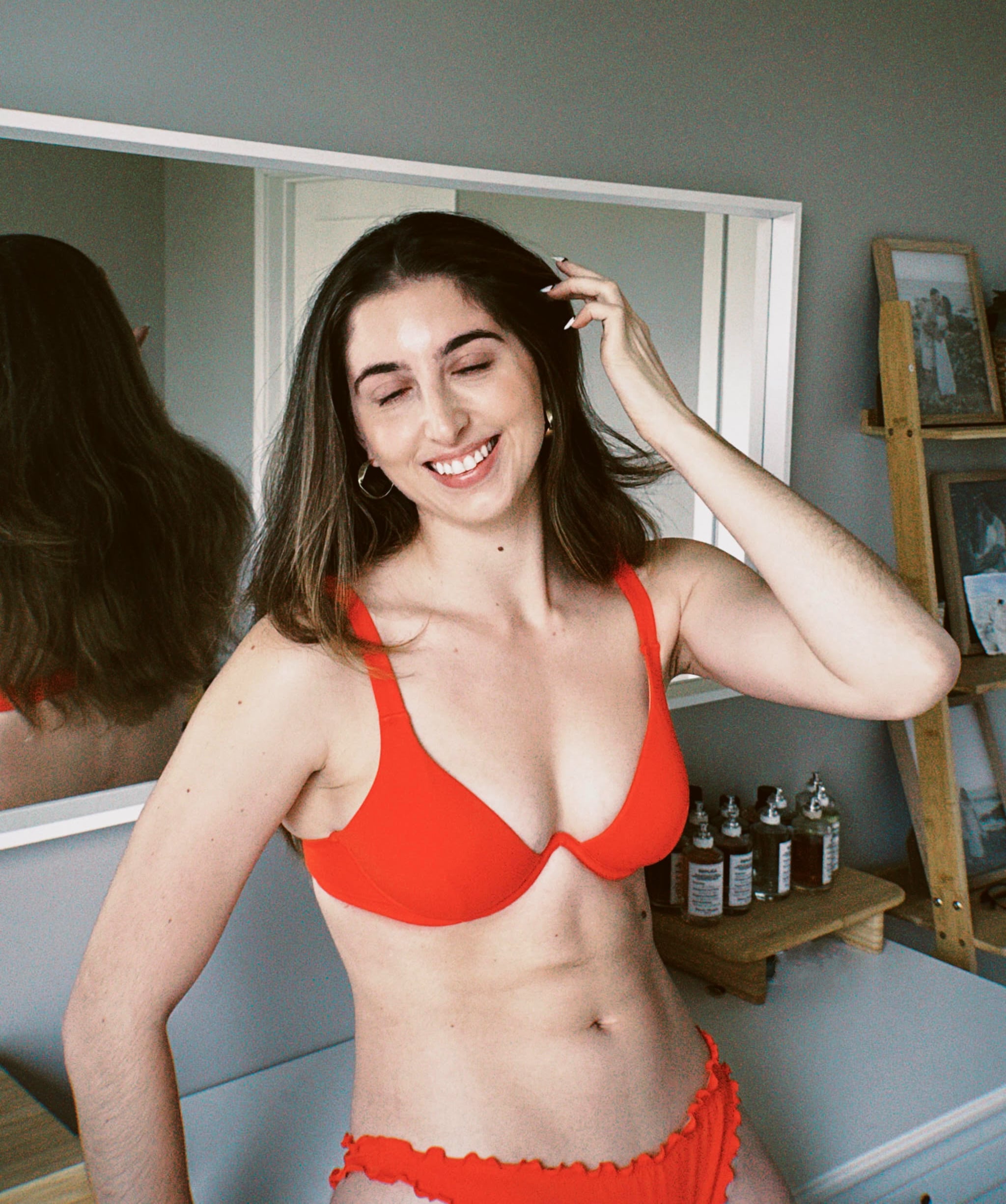 Something to know about me? I've never been great at shopping for upcoming seasons, but I'm determined to improve. That's precisely why I purchased the Shade & Shore Underwire Bikini Top ($25) and the Ruffle High Leg Extra Cheeky Bikini Bottom ($18) last week and made the bold move to slip into it on a chilly day in April. Why? Fair question. For one, I refuse to let all of the best swimsuits sell out, and second, I wanted to make sure I loved it; if not, I told myself I'd swap it out with a different one so when it's finally time to sunbathe or dip in the pool, I'm prepared. Unfortunately, with it only being 48 degrees outside and pouring rain, testing this underwire bikini feels a little bit like torment. Nonetheless, the fire-engine red and size medium swimsuit is seemingly a win, even if I can't take a plunge in it just yet. Ahead, I wax poetic about what I love about it, balanced with its very-few flaws.
What I Love About the Shade & Shore V Underwire Bikini Top
I love understated silhouettes, especially those with a modern twist, and this bikini top perfectly encapsulates that with its V-shaped underwire. I've spotted this style in several new arrivals sections, from mass retailers to high-end labels. They're all unveiling respective versions of the design for summer 2023, some of which cost over $100. I think this one's just as chic, though, and clearly, the price is hard to beat.
I'm surprised to admit that I'm also a big fan of the sizing. I generally find bikini shopping stressful, especially if I'm new to the brand and unsure whether its swimwear runs true to size, small, or large. In this case, though, choosing my size in this bikini top was a breeze because you simply select your bra size. It was refreshing to confidently click 34C rather than nervously settle on "medium." I felt more assured that it would fit, and it does — perfectly.
Something shoppers praise about this swimsuit is its support, which I appreciate, too. I feel fully held in and not like I'm on the verge of a wardrobe malfunction. "I love how supportive it is [for] my bigger boobs!" wrote another impressed shopper. "I am a 36DDD and I got the 38DD and it fits almost perfect! I've had two babies and breastfed both of them so I needed some major support!" Another said: "Definitely recommend if you want to feel held in and supported. It is absolutely beautiful."
What's Worth Noting About the Shade & Shore V Underwire Bikini Top
Clearly, I'm not the only one who started shopping for summer; this bikini is already popular among shoppers. However, it's worth noting that the V-shaped underwire is highly polarizing. Some people found it unbearably uncomfortable. A shopper who gave it a one-star review wrote that it left a "bruise on my sternum." But others weren't uncomfortable in the slightest. "I'm surprised there are a lot of negative reviews," a reviewer who gave it five stars wrote. "I don't find the wire uncomfortable." I agree with the latter; it doesn't dig into my skin. Still, it's obvious that people are divided on the subject.
And while I had no issues with sizing, some people have found it challenging to find their size and have noted that it runs small. That said, you may want to consider sizing up or trying more than one size on in-store if you can. There's also a size guide to reference on the bikini top's product page if you have the patience to whip out the measuring tape.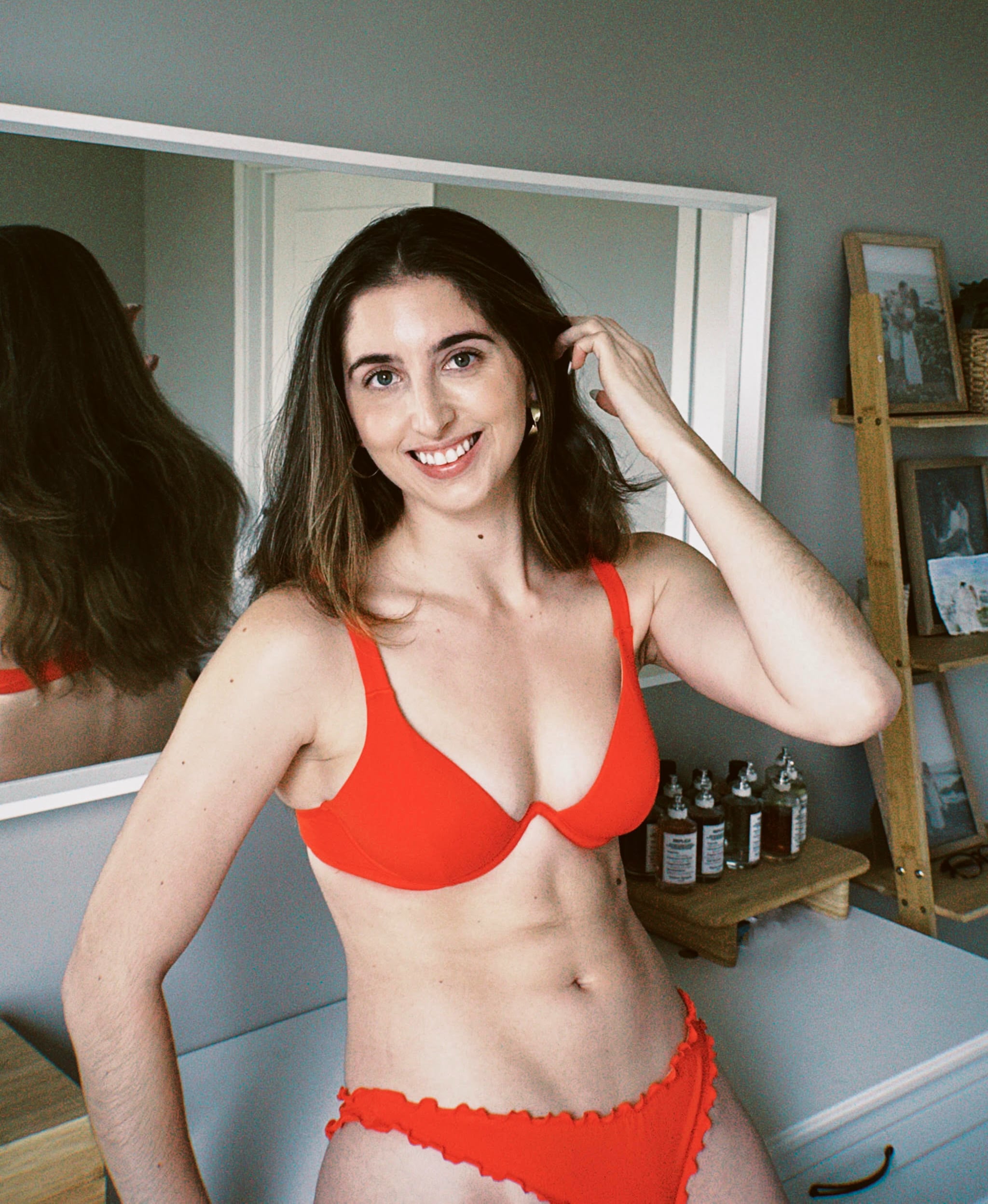 Who Are the Shade & Shore V Underwire Bikini Top for?
This bikini top is best for those looking for a vibrant-coloured bikini that stands out yet is still rather understated in the design. The unique V-shape underwire is popular for summer and is one of the most affordable options on the market. In other words: it's a smart investment for those who want to embrace the trendy style but still have enough money for post-beach drinks.

Additional Details About the Shade & Shore V Underwire Bikini Top
The bikini top comes in sizes 32B to 33DD; the bottoms come in XS-XL.
It comes in black, red, pink, turquoise, and lime green.
Both pieces are made from 80 percent nylon and 20 percent spandex.
The brand doesn't recommending throwing this swimsuit in the wash but rather hand washing, line-drying, or laying the pieces flat to dry.
Image Source: POPSUGAR Photography / Marisa Petrarca