Alina Zagitova World Record Figure Skating at 2018 Olympics
"She Just Black Swanned Us!" 15-Year-Old Skater Alina Zagitova Smashed a World Record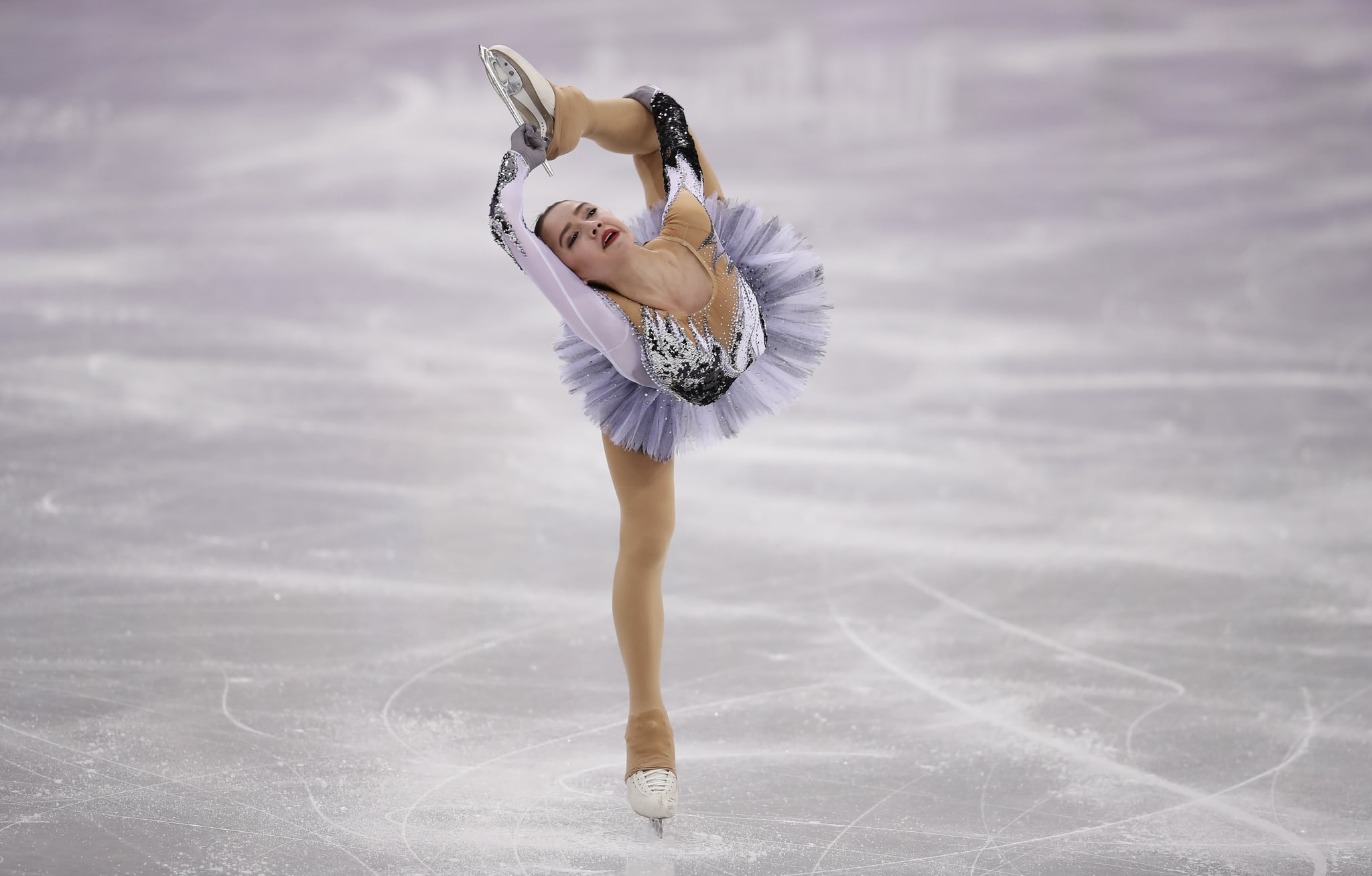 Image Source: Getty / Xin Li
Alina Zagitova is having a really casual time at her first Olympics. The 15-year-old figure skater on Team OAR watched her teammate set a world record for the highest score in a short program, so naturally she went out onto the ice and broke it herself moments later. As one does.
Divine.

There are very few words to describe Alina Zagitova's short program, so let's just watch it. #WinterOlympics https://t.co/KZ4MBNvQzp pic.twitter.com/1QgRsNMdnM

— NBC Olympics (@NBCOlympics) February 21, 2018
A seemingly infinite amount of triple jumps (seven of which were in the last two minutes of her performance), alongside technical perfection and unparalleled grace, scored Alina 82.92 points — the highest technical short program score in Olympics history.
Here's a look at her performance routine from the 2018 European Championships. Try not to scream at your screen (too much).
Twitter has come alive watching all of this go down (seems to be the theme for Pyeongchang 2018). Leslie Jones screaming "She just Black Swanned us!" might be our favorite part.
Zagitova vaults into 1st with a HUGE score of 82.92! #WinterOlympics pic.twitter.com/PqQgPzXnXe

— NBC Olympics (@NBCOlympics) February 21, 2018
Exclusive photo of Alina Zagitova the day she realized she could just put all her jumps in the second half of the program to get INSANE BONUS POINTS pic.twitter.com/3irvpzuq5A

— Chris Schleicher (@cschleichsrun) February 12, 2018
WOW.

Just saw 15 year old Olympic Athlete from Russia Alina Zagitova blow everyone away, including Mirai Nagasu, with 158 points. INCREDIBLE performance!

Here she is walking off the ice.#WinterOlympics pic.twitter.com/tY19JGED3p

— BrooklynDad_Defiant! (@mmpadellan) February 12, 2018
I am 1000% here for Alina Zagitova's flawless ice murder ballet

— god of hammers (@dearmelee) February 12, 2018
Wow!! @NBCOlympics @Olympics pic.twitter.com/YCWF42piHh

— Leslie Jones 🦋 (@Lesdoggg) February 21, 2018
evgenia medvedeva just broke her own record for highest short program score, and then 5 minutes later alina zagitova destroys it .

— lexy (@selftitledjh) February 21, 2018
Alina Zagitova's program was so incredibly beautiful and difficult that I just went back and rewatched it and I still can't believe it's possible for a human to do that

— Charlotte Wilder (@TheWilderThings) February 12, 2018
That was everything 🙀😍 #AlinaZagitova

— Lisa Vanderpump (@LisaVanderpump) February 12, 2018
When you're an American but Alina Zagitova just too good #Olympics2018 pic.twitter.com/Et8SHpHOyQ

— felisha jammel (@fleaskeys) February 12, 2018
💥 15 year oldYmpic Athlete from Russia, Alina Zagitova has achieved a new Short Program Highest Score: 82.92.

#️⃣ #FigureSkating #PyeongChang2018 pic.twitter.com/IfHWRtoYGX

— ISU Figure Skating (@ISU_Figure) February 21, 2018
Alina Zagitova. Wow. A perfect routine by a 15 year old. pic.twitter.com/YKQ3Vno7D4

— a mess™ (@lauren_mangold) February 12, 2018
NBC, on Women's figure skating scores: "130s is good, 140s is great, 150s is Russian". Alina Zagitova and Evgenia Medvedeva are pretty amazing. 🇷🇺

— Alexey Shiklomanov (@ashiklom711) February 12, 2018
Alina Zagitova is an absolute STUNT QUEEN! Is putting all your jumps in the second half an ugly way to arrange a program? Absolutely. Is it a brilliant way to just rack up extra points all over the place? YUP! It's an "I DARE YOU TO CHANGE THE RULES" move and I'm here for it.

— Chris Schleicher (@cschleichsrun) February 12, 2018
Alina Zagitova. The one we've been telling you all season to watch out for has arrived and she's looking right at the gold medal. pic.twitter.com/Efjn4Y9jWQ

— YUZURU HANYU (@taekookstress) February 21, 2018
Alina Zagitova's free skate just now pic.twitter.com/6Rt4M56e8l

— Ira Madison III (@ira) February 12, 2018
Alina Zagitova has all her jumping passes in the second half of her free skate and I think getting off the couch is a physical challenge

— Allyson Chiu (@_allysonchiu) February 12, 2018
Remember when "Hot In Herre" by Nelly was #1?

That same week in 2002, Russian figure skater Alina Zagitova was born.

— Shane Morris (@IamShaneMorris) February 12, 2018
Alina Zagitova: 15 years old and as steely as they come. Destroys the free skate by over 20 points. Cannot wait for her showdown against Medvedeva in the ladies' event #PyeongChang2018

— Nick McCarvel (@NickMcCarvel) February 12, 2018
FIREWORKS pic.twitter.com/LdJKgLJZu1

— NBC Olympics (@NBCOlympics) February 21, 2018
Alina Zagitova and Evgenia Medvedeva are out there looking totally cute together and this added more 10 years in my lifespan and removed all the negativity in my life pic.twitter.com/IkymuHeRb0

— Laryssa🐨🌙 (@evgeniaxmoon) February 12, 2018
At just 15 years old #OAR Alina Zagitova has just blown everyone away 😱

What a performance and a HUGE score 82.92 👏 short program World Record! #PyeongChang2018 #figureskating pic.twitter.com/hOfmACmZNb

— 7Olympics (@7olympics) February 21, 2018