DIY Allergy-Relief Shot
Recipe by Mona Zavosh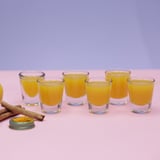 Ingredients
1 lemon
1 cinnamon stick
2-inch piece of ginger, peeled and sliced
1-inch piece of turmeric, peeled and sliced
1200ml filtered water
1 1/2 tablespoons organic raw honey
2 teaspoons organic apple cider vinegar
Directions
Slice your lemon into quarters. Cut pieces of turmeric and ginger, then peel and slice.
Place the lemon, cinnamon stick, ginger, and turmeric into a pot filled with 1200ml filtered water.
Bring the water to a boil, and allow the water to boil for about 45 to 50 minutes. The mixture should be reduced to about 1 to 300ml.
Strain the liquid into a glass measuring cup. Whisk in the honey.
Refrigerate for 30 to 45 minutes. Once the liquid is chilled, whisk in the apple cider vinegar and serve.
Information
Yield

8 Servings

Total Time

1 hour, 59 minutes, 59 seconds