Health and Fitness Skills For Alexa
7 Health and Fitness Commands You Didn't Know You Could Use Alexa For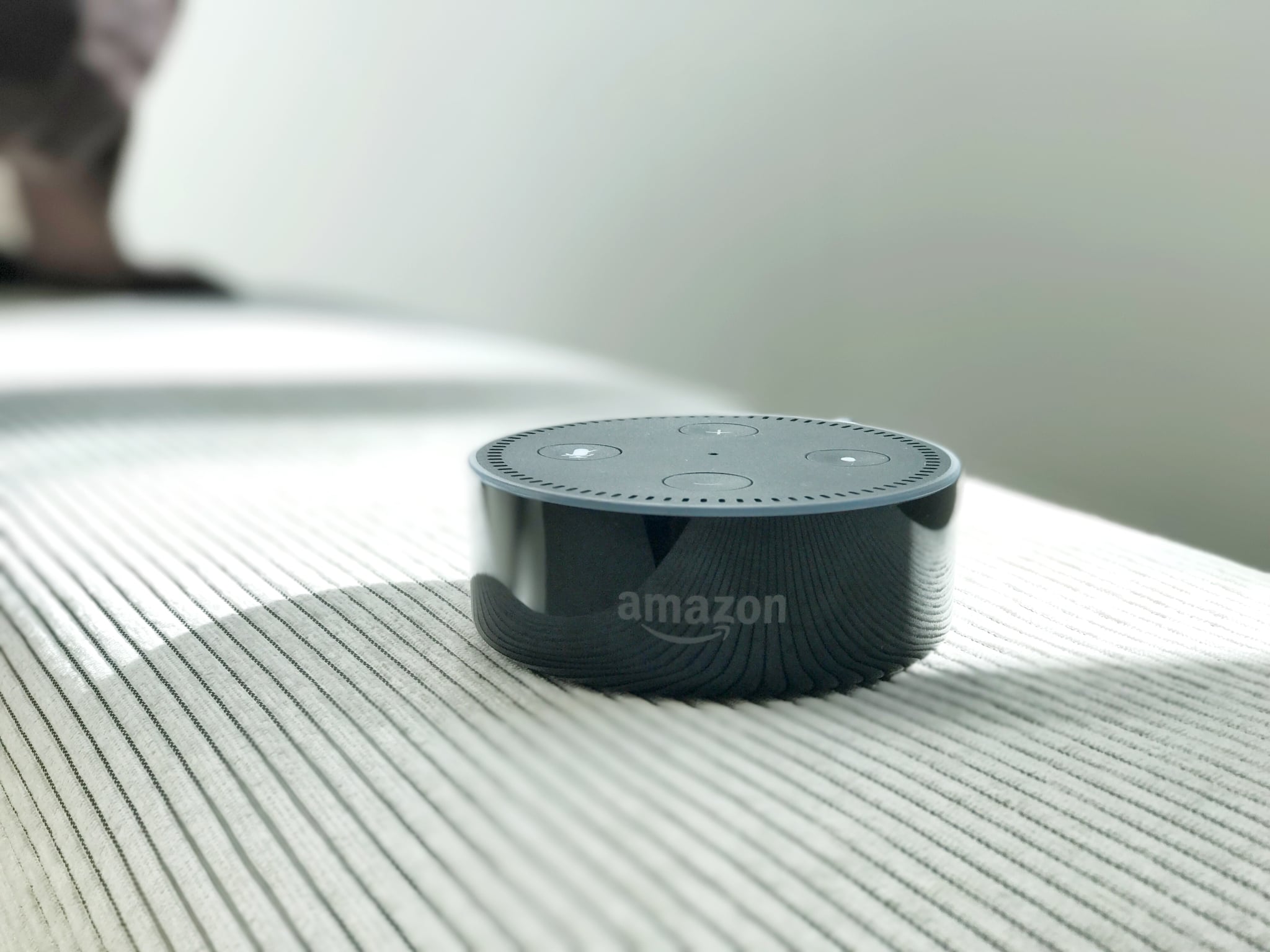 Anyone with an Amazon Echo device is most likely not using it to its full potential. Aside from being a fun companion, Alexa is capable of doing more than you could ever imagine from calling you Ubers and helping you with math to helping you get fit. She can be your fitness coach, meditation guru, and everything in between. See some of her best health and fitness commands below! And remember, you can always jump straight into any of the individual skills.
"Alexa, help me sleep."
Forget counting sheep — Alexa can help you drift off with soothing ambient noises like these below.
Ambient sounds - Rain Sounds
Ambient sounds - Fan Sounds
Ambient sounds - Babbling Brook
Sleep sounds - White Noise
Sleep sounds - Beautiful Dream
"Alexa, let's work out."
Bet you didn't know you had your own personal trainer right at home. Alexa will guide you through quick, doable workouts that you can squeeze into your busy schedule. She'll tell you the name of each move, the number of repetitions, and for how long. If you're unfamiliar with the exercise, say "Help," and Alexa will walk you through it step by step. And the best part? No equipment required.
Five-Minute Workout: This quick core-and-cardio workout starts with a brief warmup and fires up your abs.
Five-Minute Plank Workout: Strengthen your core with this awesome workout that features six sets with short breaks in between. You can even ask Alexa to play the music of your choice to really get you in the zone.
Seven-Minute Workout: In just seven minutes, burn fat, increase your metabolism, and up your energy with scientifically proven exercises.
My Workouts: Alexa can create custom workouts for you based on your fitness levels and goals. Not only do you get to enjoy upbeat music with this one, but My Workouts also keeps track of your weight to show you your progress. You also have the choice of choosing "Generic Workout" if you don't want any personalisation.
Random Workout: Enjoy common exercises that can easily be done at home in between commercial breaks.
"Alexa, help me relax."
Need help unwinding? Alexa will ask you to choose from a few different skills like those below.
Sleep sounds - Thunderstorm Sounds
Sleep sounds - Babbling Brook
Ambient sounds - Ocean Sounds
Ambient sounds - Fireplace Sounds
Ambient sounds - Rain Forest Sounds
"Alexa, open guided meditation."
Check in daily for the meditation of the day, led by a soothing voice that's not Alexa. Expect short exercises like the six-minute "Soften and Relax" meditation, which begins with you lying comfortably on your bed.
"Alexa, ask Fitbit how I'm doing today."
Find out exactly how you're tracking by connecting your Fitbit to your Echo device. Alexa will tell you how many more steps you need to hit your goal, how well you slept, and more.
"Alexa, open BreatheTherapy."
Whenever you're feeling anxious or stressed, or just need to Zen out for a little, ask Alexa to start this breathing exercise. You'll be instructed to breathe for a certain number of counts and to pay attention to the rise and fall of your chest and belly.
"Alexa, open HiFit."
All you need for these guided HIIT workouts is your body. Designed by an experienced fitness coach and trainer, HiFit features 10- to 15-minute workouts for your entire body or single muscle groups, depending on what you're looking for.
To see everything Alexa can do, check out the full list of health and fitness skills she's capable of on Amazon.
Image Source: POPSUGAR Photography / Nicole Yi