BJ Das Choreographs UCLA's Viral Gymnastics Floor Routines
Meet BJ Das: The Superstar Choreographer Behind UCLA Gymnastics's Viral Floor Routines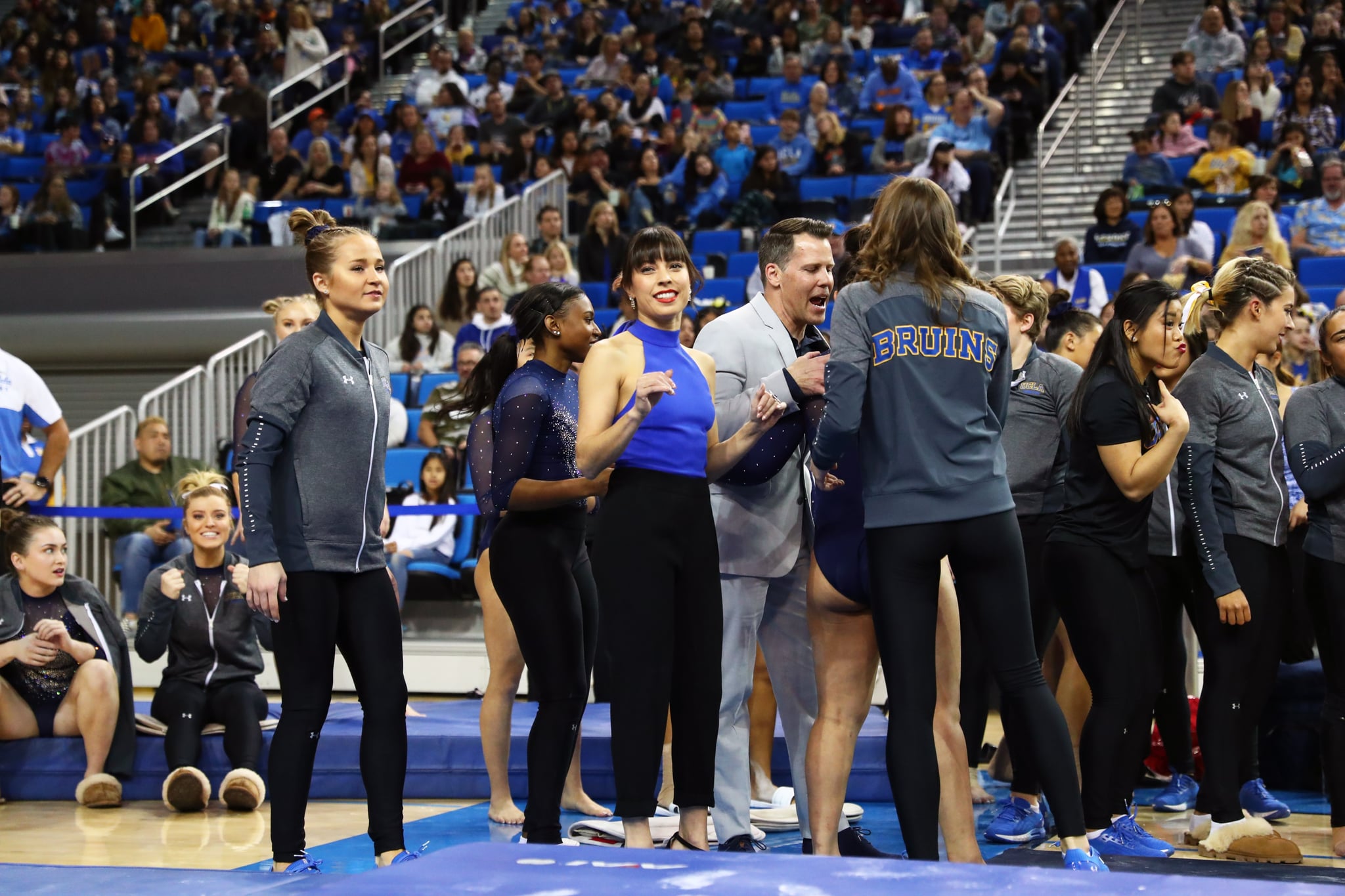 Image Source: Jesus Ramirez / UCLA Athletics
Not all floor routines in NCAA gymnastics go viral, though they should (maybe I'm biased). Many that have garnered massive attention in recent years come from UCLA: Sophina DeJesus, Katelyn Ohashi, Katelyn Ohashi again, Gracie Kramer, Margzetta Frazier, Nia Dennis (times two). Professional dancer and choreographer BJ Das, UCLA's volunteer assistant coach, can take credit for the school's electric, dance-party floor routines since 2020. The process of piecing together the perfect moves, she said, looks different for each gymnast.
It starts with the right music. "The music is a huge part of it for me because that's the starting point of how I can build a theme or a character or a style of dance that they want to incorporate into their routine," Das told POPSUGAR. She'll take the gymnasts' input into account as well and then cut the tracks herself or have a producer mix them.
Next, Das begins the creative process of choreographing the routines. She'll map out moves herself, or she'll schedule a session with the gymnast assigned to a particular routine, play the music, and "just dance around and see what naturally comes out," she explained. Sometimes the choreography even evolves as the season draws near.
In fact, Das said that, due to restrictions amid the COVID-19 pandemic leading up to UCLA's 2021 season, a few of the routines already debuted were finished at the last minute, right before the team's first competition (I told her that Dennis's routine going viral without delay surely proved she's doing something right). Plus, there are still more routine debuts to come. Ultimately, "I want to combine their personalities with the way that they move," she said. And, she relies on the gymnasts to bring their A game. "I expect them to put in a lot of work, and they do, which I'm really grateful for."
Das competed in Division I gymnastics at the University of Washington until a career-ending achilles injury her sophomore year. She always felt like she had a knack for dancing as a gymnast. "On my team, I was the person that liked to make up routines just for fun or just when I would have playdates with friends," Das recalled of her childhood. She also frequently helped other athletes create choreography for their floor and beam routines. Going into college, Das struggled with elbow issues and wasn't cleared to train floor until her sophomore year, the same year she had to leave the sport behind. But, she was in charge of putting together her own floor routine then (her coach specifically encouraged her to).
Das, who grew up watching MTV and Janet Jackson tour DVDs, said she didn't seriously immerse herself in the craft of dance until age 20, and it seemed as if she was playing catch-up when she moved to LA at 23. "I really felt new at it, and I had to work twice as hard to get to where I wanted to be," she said. Since, she's danced on stage with artists like Beyoncé and Usher, and her favourite job — and first big gig — was touring with "Sk8er Boi" singer Avril Lavigne. Her choreography credits include the Emmy Awards and The Masked Singer, and she particularly enjoyed working on a few episodes of the Netflix series GLOW (she also lended her creative vision to a spectacular intro video for UCLA this season).
Being a former gymnast, Das said, helps her compose routines. Her knowledge means she can structure a routine to make room for the tumbling, jumps, leaps, and other skills that are required elements. She spent one season choreographing for the gymnastics team at the University of Utah but noted that her role with UCLA has evolved into something more. She feels at home.
Das has become a mentor. "I like being able to build relationships with people over a longer amount of time," she said. "Compared to what I'm used to in the dance industry, it's nice to have some consistency. I just like the life-coaching aspect of it, and the team environment fits my personality. I hadn't really discovered that before coming to UCLA."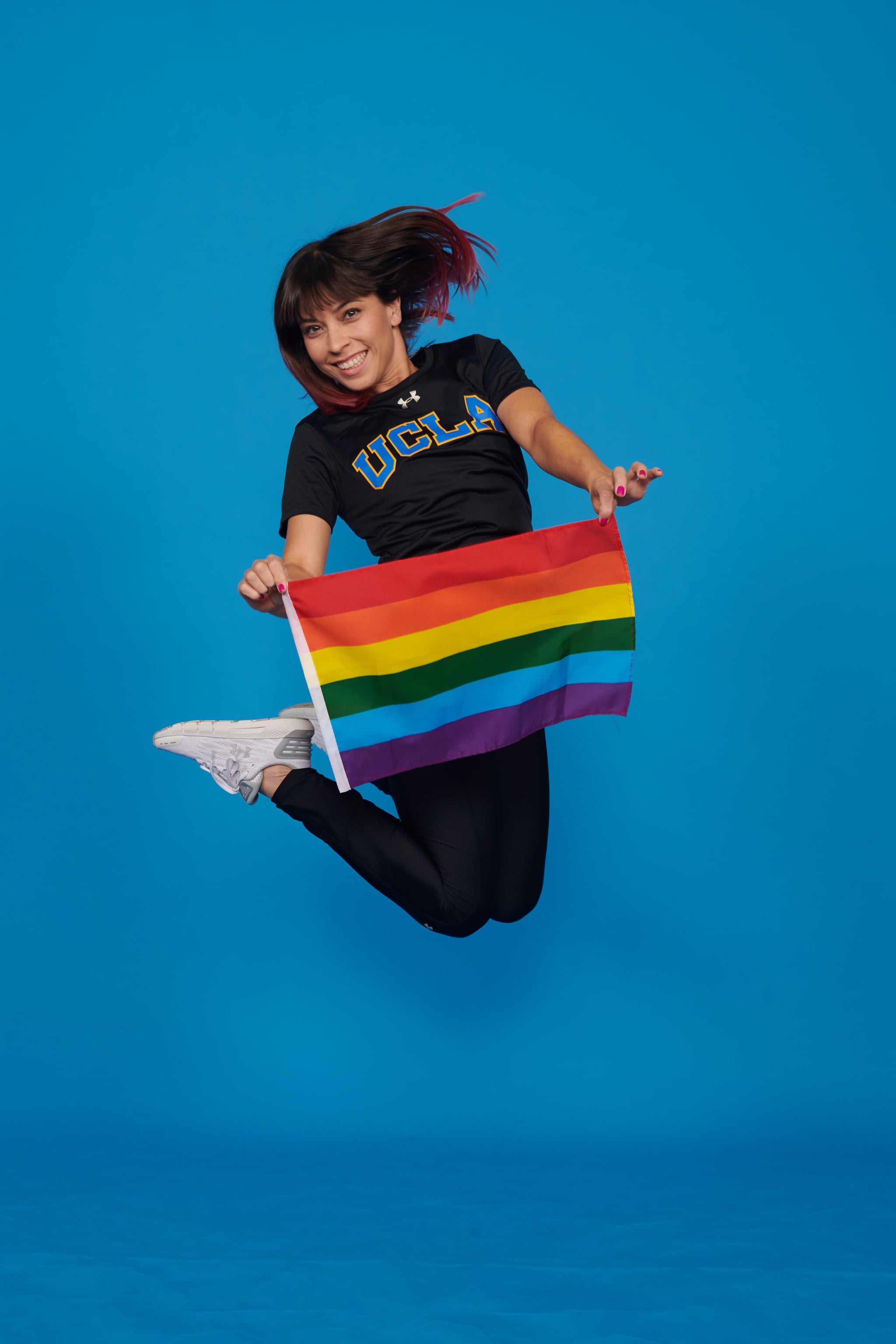 Image Source: Don Liebig / UCLA Photography
While Chris Waller replaced legendary head coach Valorie Kondos Field, otherwise known as "Miss Val," at the end of the 2019 season, Das assumed Kondos Field's responsibilities as routine choreographer. Kondos Field, however, is always there to give Das guidance, especially in regards to working with particular athletes.
It's never Das's goal to have her routines take the internet by storm. Before she joined the staff as a volunteer assistant coach, she recalled watching Ohashi's performances go viral to the point where the former UCLA Bruin transformed into a full-blown celebrity. "I thought it was really cool that she was getting an opportunity to use her voice and go on different shows and share who she is and shed some light on the sport of gymnastics," Das said, adding that she didn't expect to recreate that momentum with routines she worked on herself at UCLA.
Das also agreed that many performances deserve the spotlight because variety, she said, is important. Translation: it's not just the fun routines set to popular songs that should be recognised as truly great. Classical routines — and ones across gymnastics disciplines, too — warrant recognition. "I think gymnastics deserves mainstream attention," Das stated. "I don't know how to accomplish that, but maybe this is a start, or it's opening the door and inviting more people to enjoy the sport."