Asthma and COVID-19 Vaccine: UK Priority Group Details
Everything We Know About the COVID-19 Vaccine Priority Groups For Asthma Sufferers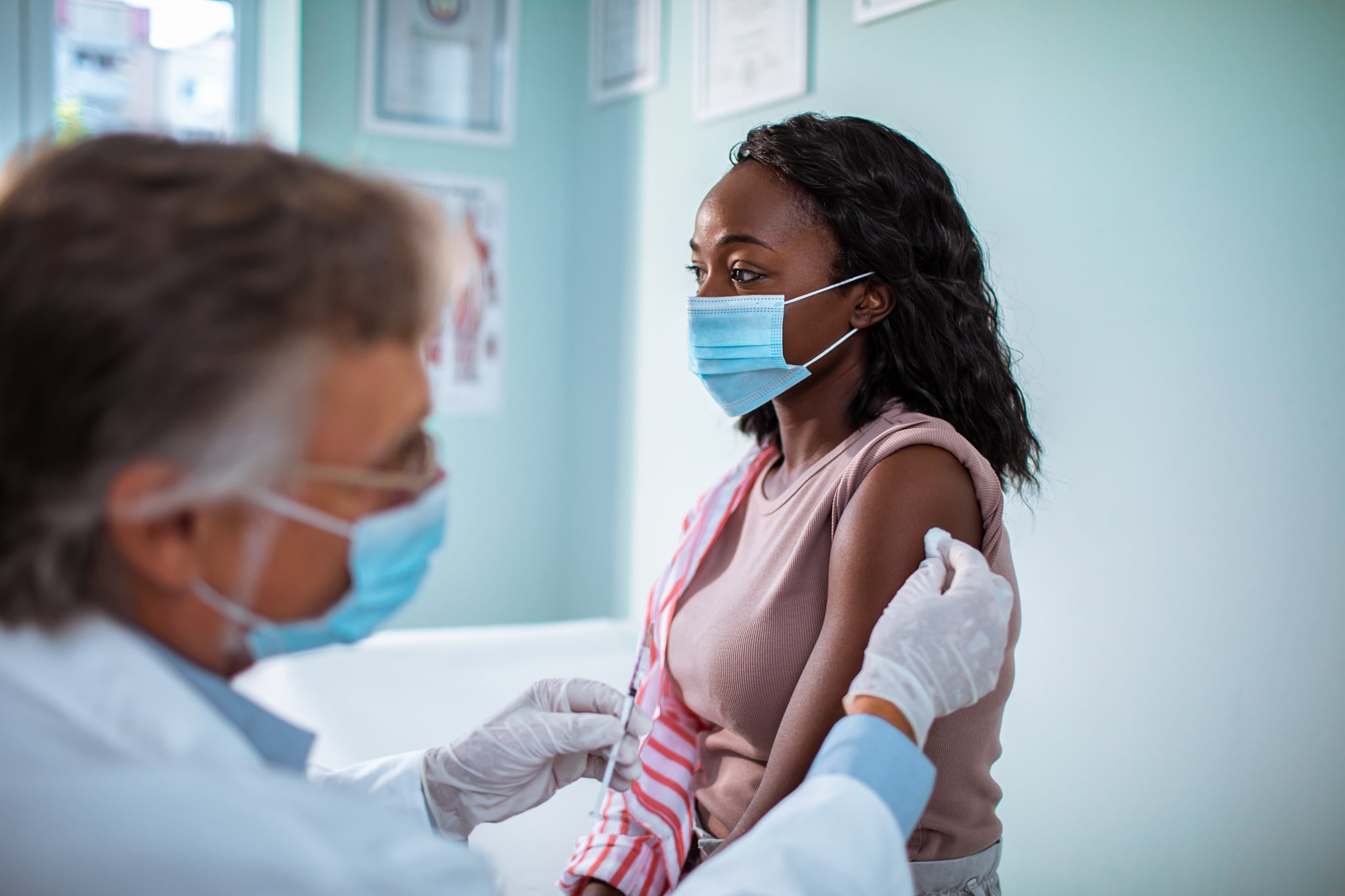 England officially went into its third national lockdown on 5 Jan due to rising COVID-19 cases and an increased strain on the NHS. But it's not all bad news thanks to the successful first rollout of the coronavirus vaccine. In the first week of February, it's been reported that nearly 10 million people in the UK have now received their first dose of the COVID-19 vaccine, which is incredibly positive news. However, for those suffering from asthma, a lung condition that can cause symptoms including coughing, wheezing, breathlessness, and chest tightness, uncertainty may remain as to when you'll be eligible for the COVID-19 vaccine and in which priority group. Here's everything we know so far.
What Are the COVID-19 Vaccine Priority Groups?
Before diving into the specifics, let's recap what the COVID-19 vaccine priority groups are. So far, there are 10 groups (however, these are constantly adapting to the ever-changing nature of the pandemic), starting first with care home residents, those 80 and over, and frontline healthcare and social-care workers.
Priority group four is where those "clinically extremely vulnerable individuals" – those who have been shielding this entire pandemic — qualify. Group six is where those aged 16-64 with "underlying health conditions which put them at high risk of serious disease and mortality" will be offered the vaccine. Finally, group 10 is where the rest of the population will be offered the vaccine, however, there's no announced plan for rolling the vaccine out to the rest of the population. Below are all of the priority vaccination groups, according to GOV.UK
Residents in a care home for older adults and their carers
All those 80 years of age and over and frontline healthcare and social-care workers
All those 75 years of age and over
All those 70 years of age and over and clinically extremely vulnerable individuals
All those 65 years of age and over
All individuals aged 16 years to 64 years with underlying health conditions which put them at higher risk of serious disease and mortality
All those 60 years of age and over
All those 55 years of age and over
All those 50 years of age and over
Rest of the population (priority to be determined)

When Will Asthma Sufferers Get the COVID-19 Vaccine?

Your age and the severity of your condition will determine when you will get the COVID-19 vaccine aligning with the priority groups mentioned above. "If you are under 70 and have been told you are extremely clinically vulnerable and are on the shielding list, then you will be in priority group four," said Dr Andy Whittamore, a practising GP and clinical lead at Asthma UK and The British Lung Foundation. The government set a target to have the first four priority groups vaccinated by mid-February.

With this in mind, asthma sufferers who do not qualify in priority group four will be contacted at a later date for the first dose of their vaccine, though no approximate date has been given yet. "The NHS has advised people to wait until they are called to have the vaccine. If you have asthma, are aged 16-64, but are not on the shielding list, you'll be contacted at a later date by your GP surgery or a vaccination centre. There's no need for you to do anything until you've been contacted," Whittamore told POPSUGAR.

How Can Asthma Sufferers Protect Themselves From COVID-19?

There isn't any evidence to suggest that having asthma makes you more likely to catch COVID-19, but it's still understandable that many people may have anxieties surrounding this. It's advised that the best thing you can do to reduce any asthma symptoms being triggered by the virus is ensuring your condition is as well managed as possible. "If you use a preventer inhaler, use it every day as prescribed, as the preventer medicine builds up over time, dampening down any inflammation in your airways and making them less sensitive and less likely to react to triggers such as viruses that are circulating, especially at this time of year," explained Whittamore. If you use a reliever inhaler, make sure to keep it nearby in case any of your symptoms are triggered.

Don't forget that once you've had your first dose of the vaccine, it's still important to protect yourself and others from getting the virus by following government guidance. Maintaining social distancing, wearing a face covering when appropriate, as well as washing your hands regularly are key to reducing the spread, which is detailed on Asthma UK, along with other tips specific for those with asthma.

What Support Is There For Asthma Sufferers During COVID-19?

If you need further information and advice on asthma and COVID-19, check out the resources on asthma.org.uk, and remember, if you or anyone you know is feeling anxious or depressed and needs support, Samaritans (116 123), SANE (1-800-950-6264), and Mind (0300-123-3393) have resources available.

POPSUGAR aims to give you the most accurate and up-to-date information about the coronavirus, but details and recommendations about this pandemic may have changed since publication. For the latest information on COVID-19, please check out resources from the WHO, the NHS, and GOV.UK.