England Team Win EURO 2022
Lionesses Gatecrash Press Conference With Iconic Football Chant, and It Will Fill You With Pride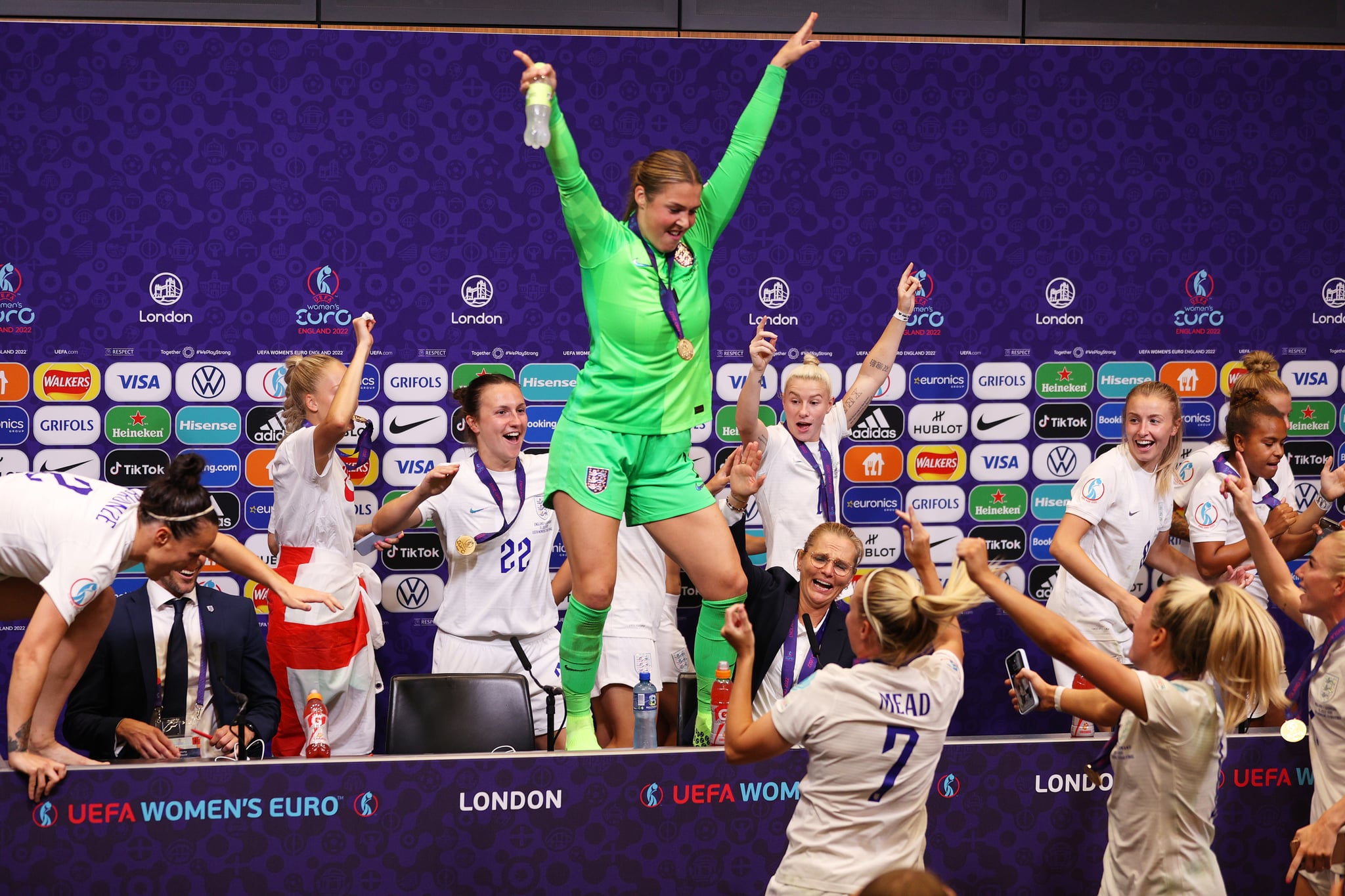 There are three little words that will unite England quicker than any other: it's Coming Home. And on 31 July, the England Women's football team proved it with their epic win at the EURO 2022 final. After lifting the trophy, the entire squad gatecrashed manager Sarina Wiegman's press conference by bursting in on the room of journalists chanting the lyrics to "Three Lions (Football's Coming Home)".
The 1996 song, by The Lightning Seeds, David Baddiel, and Frank Skinner, has become synonymous with national football and sung at every opportunity during big tournaments. Despite the men's football team making the final of the EUROs 2021, they lost to Italy as, once again, England were left disappointed.
Then on 31 July 2022, the lionesses took England one step further. It's been 56 "years of hurt" since England won the World Cup, the last major tournament win, and now the women's team have ended the decades of heartache. The final against Germany was nail-biting. Ella Toone scored in the second half, giving the nation hope. Yet, when Germany's Lina Magull equalised, there were nerves in the air. The lionesses then roared to victory when Chloe Kelly hit the back of the net in extra time, making the whole country proud.
The crowd at Wembley Stadium was warmed up with an incredible performance by Becky Hill and so were in fine voice to celebrate. With record-breaking attendance numbers, fans burst into cheers as the squad ran onto the pitch in sheer elation. Sliding into confetti, singing Neil Diamond's "Sweet Caroline" — another unofficial football anthem — and jumping with joy, the team soaked in every moment.
This was further proved when they gatecrashed their boss's press conference. As Dutch manager Wiegman took to the top table to address the press, the squad ran in singing the epic tune. Surrounding the top table, the team sang at the top of their voices with goalkeeper, Mary Earps, climbing on the table to dance. What a wonderful sight to behold!
Wiegman then told the room: "When I took the job, you hope one thing, but we knew there was quality and such big potential in this country. You hope things will work out. That was one of my personal challenges. My challenge was to bring people together from another country, and it worked out. It's something you dream of and hope for."
The historic win marks a turning point for women's sport. It's hard to believe that women's football was banned for 50 years until 1971. While there might be a lot of catching up to do, there is no stopping us now. Congratulations, Lionesses. We couldn't be prouder!
https://twitter.com/claremcdonnell1/status/1553838251315810305?s=20&t=_blCkF06DQPRHZyd0NR5tg