Free People The Way Home Shorts Review
I Caved and Ordered Free People's Viral Athletic Shorts — and Reader, They're Worth It
As POPSUGAR editors, we independently select and write about stuff we love and think you'll like too. If you buy a product we have recommended, we may receive affiliate commission, which in turn supports our work.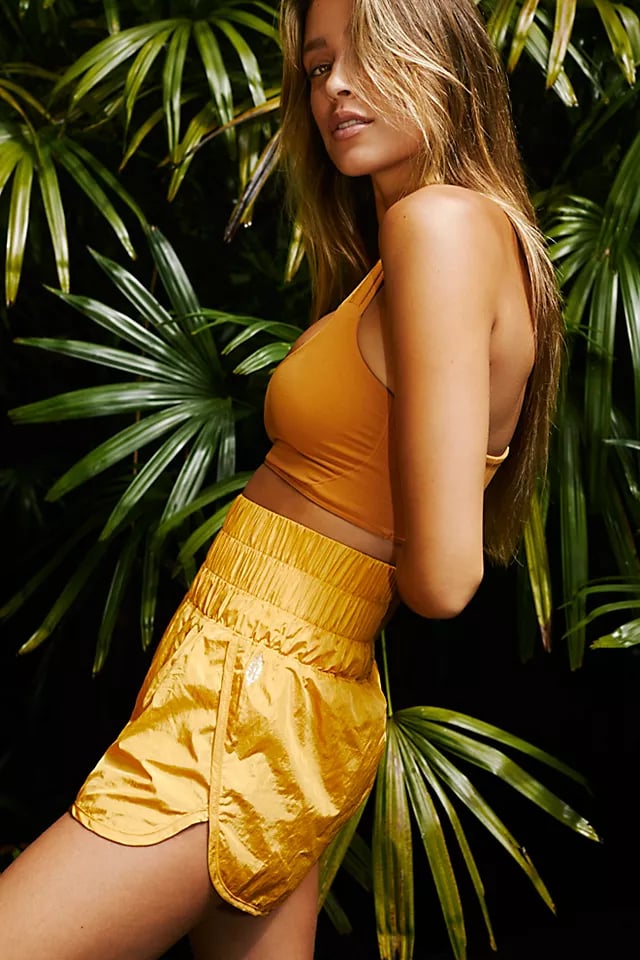 I'm one of those people who struggles to spend money on athletic clothes. Even though I work out every day (sometimes more than once), there's something about spending money on activewear that keeps me from updating my severely-in-need-of-updating fitness wardrobe. A £100 dress that I'll wear once, maybe twice? No problem, here's my debit card. A £10 pair of athletic shorts that I'll wear almost every day? That's another story. Does it make sense? I can't say that it does, but those are the facts. Needless to say, workout apparel really has to catch my eye for me to follow through on a purchase, and recently, a piece did just that. For those who haven't seen these fitness bottoms trending all over the internet, I'm talking about the Free People The Way Home Shorts (£28).
After seeing a few influencers repeatedly promote these shorts, I became intrigued. The thick, supportive waistband gave them a silhouette that was easy to remember and suddenly, I couldn't stop seeing them. It seemed like the internet had come together and collectively decided that these are the workout shorts to own in summer 2021. And so, I caved. For £28, I had to see why these shorts were all the rage. I purchased a pair and have been wearing them for a couple of weeks. To put it succinctly, I can see why these shorts are so popular:
1. They're ridiculously supportive. That noteworthy waistband I mentioned earlier? It's 11.5 centimetres wide. I know because I measured. And it's much more supportive than it looks — the photos just don't do it justice. These shorts really "suck you in" so to speak and help you keep your core engaged while working out.
2. They come in about a million colours. OK, so maybe not a million, exactly. But between the solid colours, colorblock patterns, and prints, there are more than a dozen colorways to choose from. This makes it easy to pick up a pair that will match with the rest of your activewear. I was also pleasantly surprised that the shorts have a bit of a sheen to them, making them just a tad more glamorous, IMHO.
3. They're affordable. As I mentioned, I have a hard time spending money on athletic wear. But these shorts are more than worth the £28 price tag. In all honestly, I'm already considering which colours I want to purchase next! They are superb quality for the price.
4. They're not see through. I feel like this is worth mentioning — you never know what you're going to get when you're shopping for athletic wear online. Thankfully, these shorts have a runners' shorts liner so you don't have to worry about this pesky problem that tends to pop up with workout clothes.
As most of us know, trendy fitness clothes don't always live up to the hype. Awkward sizing and fits, see-through material, rolling elastic — the list goes on. Much to my delight, these shorts from Free People really do meet and even exceed expectations. I know I personally will make a repeat purchase and pick up another colour or two to finally update my fitness wardrobe.