Lululemon Strongfeel Workout Shoe Review
I Put Lululemon's Strength-Training Shoes to the Test
As POPSUGAR editors, we independently select and write about stuff we love and think you'll like too. If you buy a product we have recommended, we may receive affiliate commission, which in turn supports our work.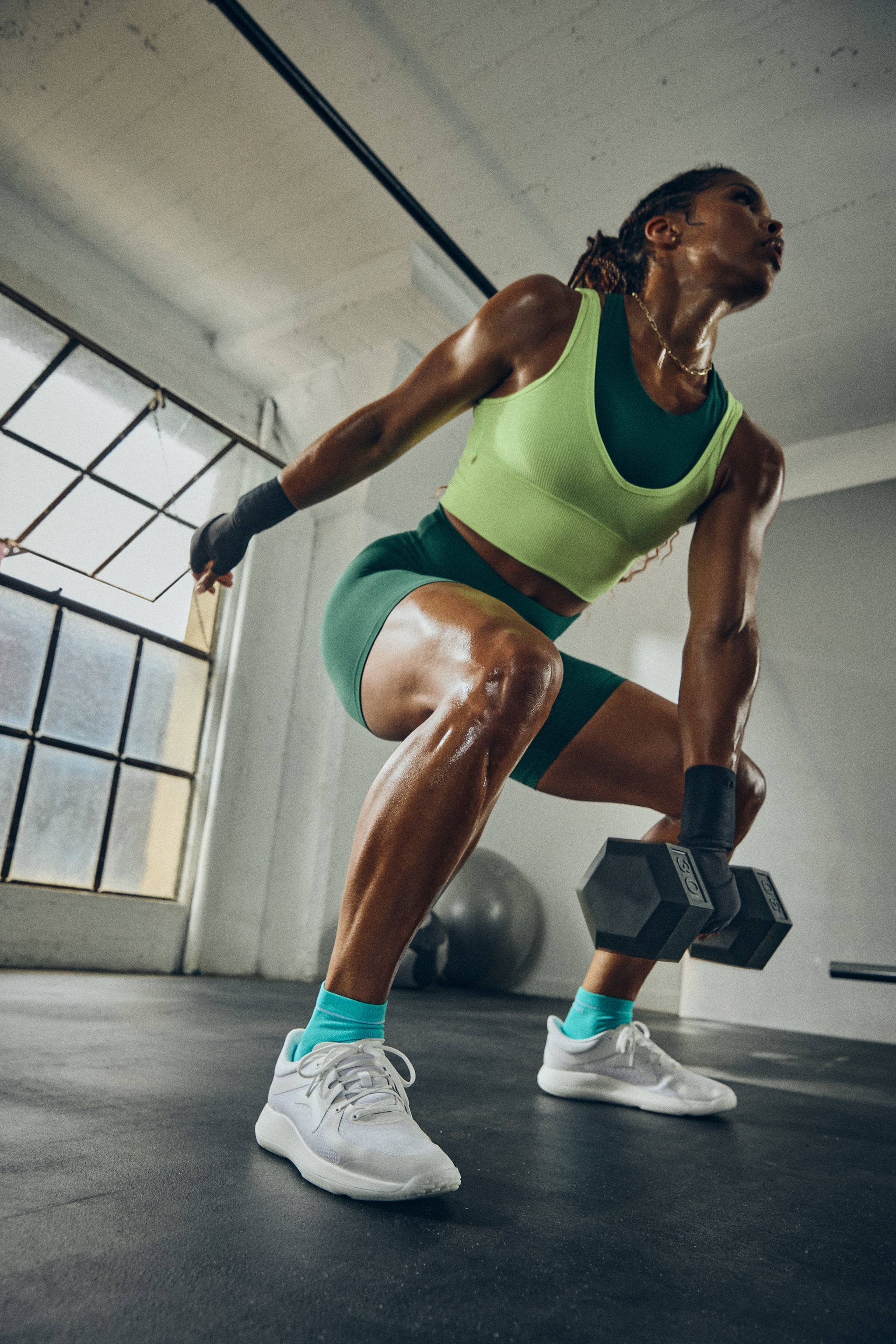 If you've been doing strength-training workouts in a crusty old pair of running shoes, I have some bad news. As great as they are for 5Ks and sprinting workouts, running shoes really aren't the best choice for lifting workouts: Those cushioned soles that give you support while running actually destabilise your body when you do more stationary, load-bearing strength exercises. When it comes to strength training, you actually want shoes that are flatter, giving you a solid base when you're lifting, lunging, and squatting. For example, Lululemon's new Strongfeel training shoes.
Strongfeel is the latest release in Lululemon's line of women's athletic shoes, which started with Blissfeel and continued with Chargefeel. While those shoes were designed for running and cross-training, respectively, Strongfeel is all about strength training. You can tell by the flat sole, which is meant to act as a "stable, powerful platform" by providing "low-profile cushioning and multi-directional traction," according to Lululemon's press release.
Lululemon sent me a pair of Strongfeel shoes to try out and I laced them up for a week of dumbbell strength-training workouts. Here's how it went.
What I Like About Lululemon's Strongfeel Training Shoes
For starters, Strongfeel shoes are super comfortable. I'm usually between sizes nine and 10 and went with a 9.5, as I have with Lululemon's other shoes. I found these to run a bit bigger than the other two models. Like Lululemon's other shoes, Strongfeel are designed specifically to fit women's feet rather than designed for men and then adapted for women. (The latter, unfortunately, is how many athletic shoes are made.) For that reason, I expected them to feel a bit narrow and tight, which I experienced with Blissfeel running shoes, but Strongfeel felt looser overall. That's good for my feet, which are sensitive to pinching and overly-snug fits.
I tried Strongfeel with three dumbbell strength-training workouts, which included moves like squats, lunges, overhead presses, and glute bridges. The soles shoes felt stable and supportive through the lower-body moves, and the soles provided traction when I was doing moves like lunges, which sometimes cause me to slip in other shoes. The combination of the lightweight upper part of the shoe with the flat, stable sole worked really well during my workouts, and I pretty much forgot I was wearing the shoes by the end of my last set.
Performance aside, I also really like the look of Strongfeel. There are six different colorways and I got the Lemon Sorbet/Light Ivory/Maldives Green option, which looked really clean with my workout sets. The design and overall structure of the shoe was really minimal and sleek while staying comfortable and supportive during my workouts.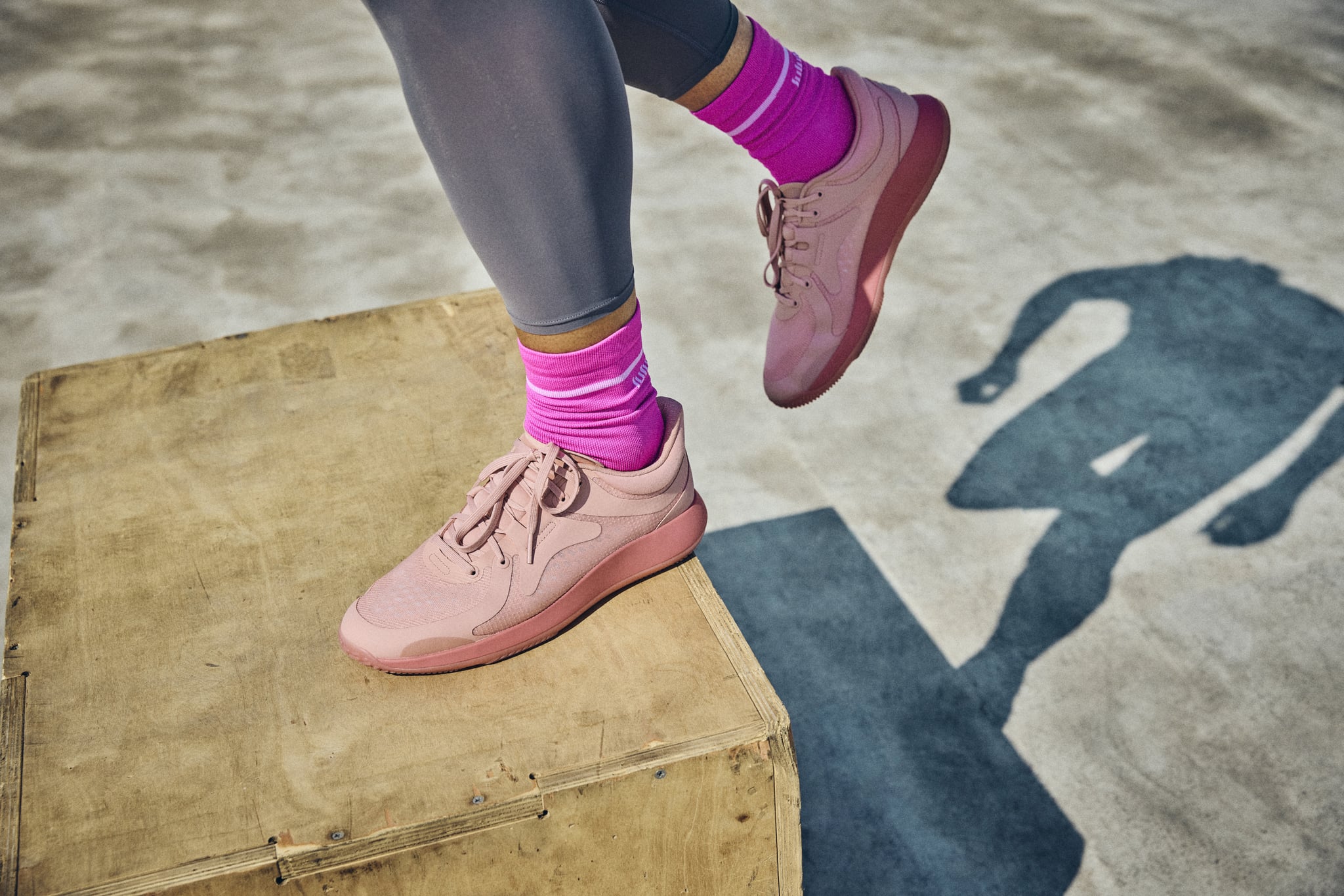 What's Worth Noting About Lululemon's Strongfeel Training Shoes
Strongfeel aren't the most versatile workout shoes, so if you're looking for a do-it-all training shoe, this isn't the one for you. (In that case, the Chargefeel may actually be a better choice.) I say this because of the flat sole and minimal cushioning in the bottom of the shoe, which are advantages when you're doing lifting and strength-training workouts, but won't give you a ton of cushion and bounce if you're running, walking, or doing an intense plyometric workout. According to the Lululemon website, the shoe can handle "jumping, cutting, and lifting," but it wouldn't be my first choice for a workout with a lot of repetitive pounding. Another thing to note: Strongfeel has a slightly elevated heel, but it doesn't have a big heel-to-toe drop like some specialty weightlifting shoes do. It should still give you plenty of stability and support, though.
Who Lululemon's Strongfeel Training Shoes Are Best For
Lululemon's Strongfeel training shoes are a great choice if you do strength training and/or weightlifting a few times a week and want a cute, supportive shoe that's designed for that specific modality.
Are Lululemon's Strongfeel Training Shoes Worth the Splurge?
Lululemon's Strongfeel training shoes aren't cheap, but I think they're worth the splurge if you strength-train consistently and want a cute pair of shoes that are stable enough to support you through heavy squats and lunges.
Where Are Lululemon's Strongfeel Training Shoes Available?
You can buy Lululemon's Strongfeel training shoes (£118) on shop.lululemon.com.
Rating