Naomi Ogbeta on Training For the Olympic Trials in Lockdown
Naomi Ogbeta on How Pilates Helped Hone Her Skills as a World Champion Triple Jumper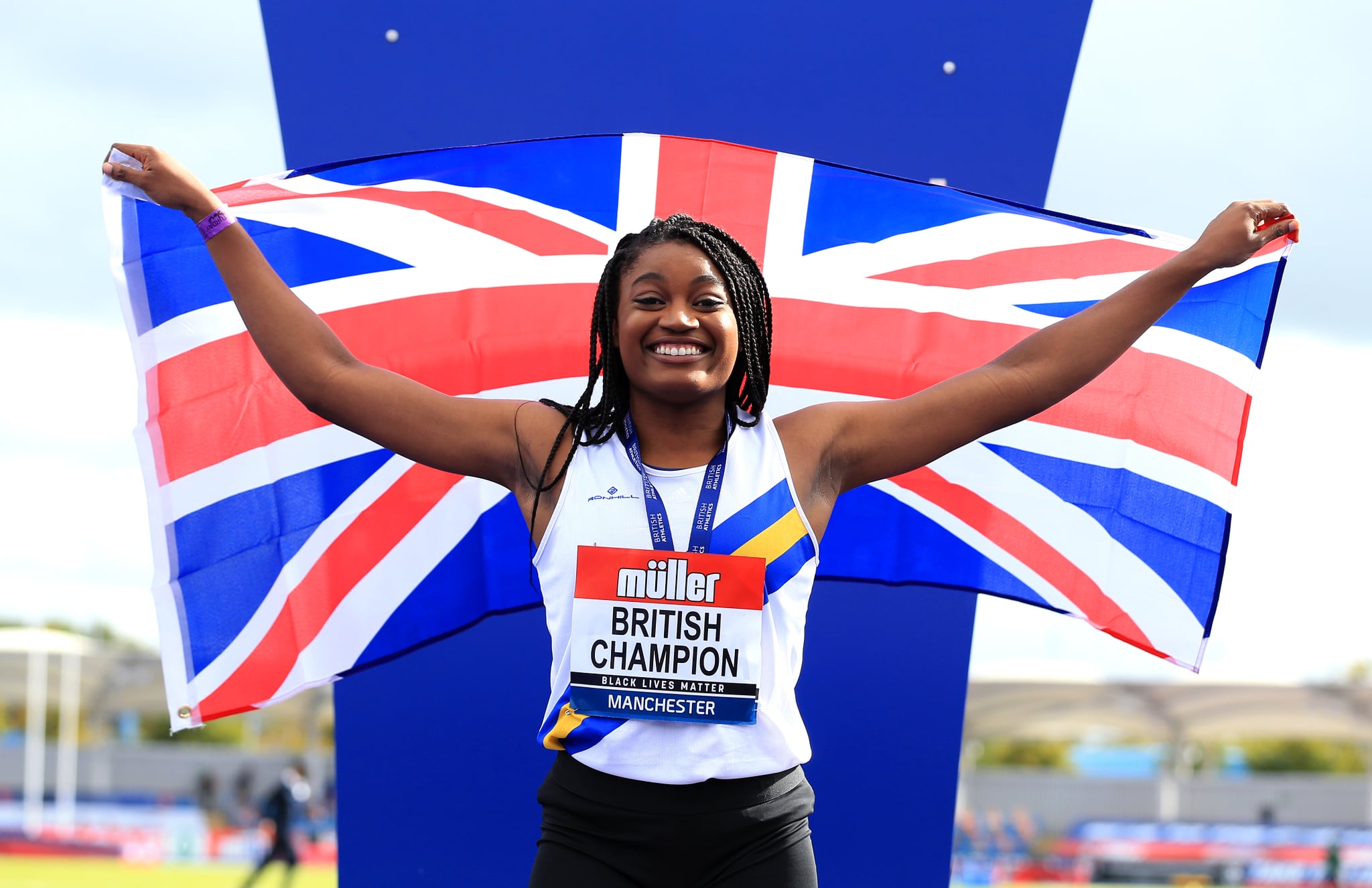 It goes without saying that the past year has looked extremely different for everyone. It was the year everything changed, where routines went out the window, and we all had to rethink how we do the things we do. For Naomi Ogbeta, as for many of us, it was a year of uncertainty. With the 2020 Tokyo Olympics postponed to 2021, the triple jump Olympic hopeful found herself out of her usual training schedule and lacking direction.
When COVID-19 shut down the world, her schedule disappeared overnight, and she admits the first lockdown wreaked havoc on her tightly planned regimen of four-to-six sessions a week. Ogbeta told POPSUGAR that pre-COVID, her training schedule was busy but fun. Nights were spent at the track or in the gym, listening to music with her training group — and there was always a competition on the horizon to keep pushing toward. "Now, I show up to the empty track," she says. "It's almost eerily quiet. I do gym sessions on my own in an empty gym, then I do everything I can at home to keep the same level of fitness."
When we asked Ogbeta how she's managed to keep herself motivated and also care for her mental health through yet another lockdown, her answer was refreshingly honest: "I started doing therapy." She said that seeing a sports psychologist in particular has helped her hone in on her goals, which is particularly important ahead of the Tokyo Olympic trials, set to take place in June 2021.
Seeing a sports psychologist in particular has helped her hone in on her goals, which is particularly important ahead of the Tokyo Olympic trials.
"One of the things my sports psychologist told me was, instead of focusing on goals about competitions, like 'I want to get to the Olympics', 'I want to jump at this competition', he said to forget about all these small goals and [ask myself] 'what's your big goal?'" For Ogbeta, that's breaking a world record.
So, on the suggestion of her sports psychologist, she's put that goal on her fridge and set it as her phone wallpaper — and every day when she sees it is reminded of what she's working toward. "So, no matter what is happening in life, I still know what my goal is." Through the pandemic, Ogbeta also explained that having a nighttime routine diversifying her training has helped: specifically, taking it off the track and becoming a Blok London ambassador, joining the fitness company that embraced at-home training classes like Pilates and yoga when their studios closed.
POPSUGAR: If COVID-19 had never happened, what would training look like for you right now, in the lead up to the Tokyo Olympics?
Naomi Ogbeta: Well, for one, I do a lot of training on my own now, and I'm so used to training in groups. So in a way, it's been really hard, but the [effects of the] pandemic have actually been positive for me. Before the pandemic, I didn't have the same motivation I do now. That's what made me want to do more outside of just training at the track, like Blok, and get as fit as I can. Without [the pandemic], I don't think I would have had the same level of motivation. So it's been, in a weird way, a blessing. In a really weird way.
Right now, I have four track sessions a week and three gym sessions [a week]. Then I do three live classes and on-demand every day for morning yoga. It's a lot, but I'm so used to having a busy schedule. Now that I got sponsorship from Adidas and I'm a full-time athlete, it's meant I now have a lot of time to train.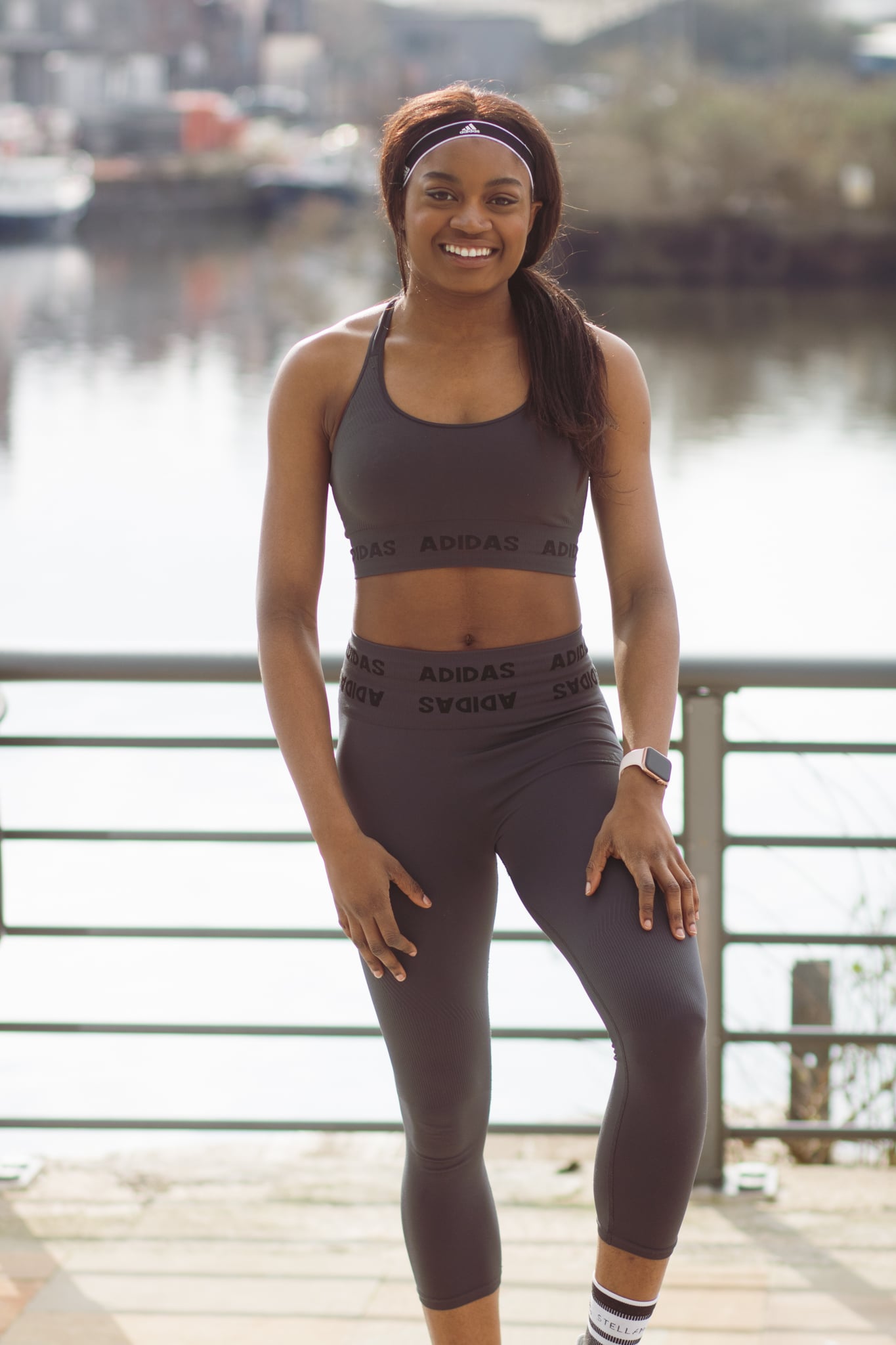 Image Source: Blok London
PS: What inspired you to join Blok London and start doing Pilates and yoga classes?
NO: I went to a diamond league, which is one of the biggest professional competitions you can do in athletics. I got a last-minute invite — I came in sixth out of seven — and there, I looked at the other competitors. Some of them are the best in the world and world-record holders, so I was just like, "what have they got that I don't? How come I can't beat them?" So, I just went on one of their Instagrams and started stalking. They posted a picture doing yoga, so I just Googled "yoga Manchester" and Blok London came up. Then I started — literally, the same week I joined the class. I started off doing yoga, Pilates, and core strength. I was just so motivated.
Then, once we got into COVID restrictions and Blok had to close in-person classes, I quickly made the switch to online. In the first lockdown, I didn't do any training at all. I was just lying in bed because I didn't know what to do. But this time I was like, OK, I've got a routine, I can stick to this.
PS: Why is cross-training important for triple jump?
NO: The cross-training just helps even more. I've always done gym and track sessions, but this is the first time I can really say I've tried yoga and Pilates, and it has definitely made a huge difference for me. I'll be interested to see when I compete, whether there's a difference in my performance. I think there will be a huge difference.
Mentally as well, I was struggling a lot with that first lockdown, so doing things like yin yoga, which is 75 minutes or so of just stretching and mindfulness — it really helps my mental health. Now when I'm on that start line ready to jump, I don't have that fear like I'm so scared, there's going to be people watching, I can actually focus a lot better. So yeah, it's had lots of benefits mentally and physically.
PS: What changes have you noticed in how your body feels and moves since starting to do Pilates and yoga regularly?
NO: Triple jump involves so much movement. Everything is about movement and making the movement as big as possible — also, a lot of core strength is needed. As soon I started doing Pilates, probably a month in, when I was doing the jump phase, I could hold myself in the air for so much longer than before. It feels easier — every single thing I did felt easier.
"As soon I started doing Pilates . . . I could hold myself in the air for so much longer than before. It feels easier — every single thing I did felt easier."
Now that it's probably been over six months I've been doing it, every element of my triple jump has improved. So I think it just gave me strength in a lot of areas because I didn't realise all the different body parts I used when I was jumping. Not only does it help me with recovery, doing all these horrible hip stretches, I think it also just helps with strength in my arms, core, legs — everywhere.
PS: You mentioned your nighttime routine has been important for your success. What does it entail?
NO: I now wear glasses before I go to bed that block out blue lights from phones, then I'll do yoga before bed as well, drink a chamomile tea, I'll maybe read a bit of a book. It's like anything to sort of wind down. I also will journal. Having a nighttime routine really helps me.
PS: How do you get yourself ready and in the zone to work out?
NO: I struggle so much with training on my own. That was one of my biggest fears when the restrictions happened because I love in-person classes where you can bounce off everybody else's energy. But what I really liked about doing the training with Blok was [doing it via] Zoom and having everybody there. I always put it on, so it's not just the trainer, so I can see everyone.
That way you can see like 40 people all trying like me in their living rooms or their bedrooms — that gives me that extra boost. Also, sometimes I'll try and take a little break, and the trainer will be like "Naomi, come on." There's no hiding, even though it's on Zoom. But music definitely helps as well. They do have good playlists as well.
PS: Do you feel that training during the pandemic has helped keep your spirits up through lockdown?
NO: Yeah, definitely. I've been really fortunate that the government classes me as elite. I don't really think it's fair because I feel so sorry for everybody. I think everybody should be able to do sport, but I'm really grateful that I'm able to still have access to the track and go to the gym. So, it does give me that sense of normality because with that first lockdown, like I said, I just didn't know what to do with myself. Had I had Blok then, at least I would have had something just to give me that push.