Air Fryer Chocolate Chip Cookies TikTok Video
These Air-Fried Chocolate Chip Cookies Look Beyond Chewy, and We Need to Try Them ASAP
Whether it's crispy bacon or a low-carb dinner, we love a good air fryer recipe. The countertop convention oven has become the ultimate food game-changer and kitchen necessity recently, and while air-frying french fries is one of our easiest go-to snacks, we're pretty thrilled about the idea of — wait for it — air-fried chocolate chip cookies. Yes, you read that right: air. fried. chocolate. chip. cookies.
TikToker My Nguyen (@myhealthydish) recently partnered with Bob's Red Mill to create the recipe and the results look so warm and chewy. The recipe calls for essentially all the same ingredients as oven-baked chocolate chip cookies — baking flour, sugar, eggs, butter, you get the idea — but shaves off a few minutes in the baking department. We know the best part about baking cookies is the lingering aroma, but if it means we can enjoy our cookies faster, we're all in! Take a look at the recipe below and try it out the next time you're craving something sweet.
Air Fryer Chocolate Chip Cookies
My Nguyen via TikTok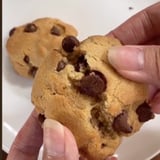 Ingredients
2 1/4 cup baking flour
1 teaspoon baking soda
1 teaspoon salt
3/4 cup brown sugar
3/4 cup sugar
2 sticks melted butter
1 teaspoon vanilla extract
2 eggs
2 cups chocolate chips
Directions
In a large bowl, combine baking flour, baking soda, and salt. Mix together.
In a medium bowl, combine all other ingredients including brown sugar, sugar, melted butter, eggs, and vanilla extract. Mix together then pour into the large bowl with dry ingredients. Mix until incorporated. Add chocolate chips and mix.
Heat air fryer to 325°F. Roll dough into small balls and place four at a time into air fryer. Cook for 10 minutes.
Repeat the last step until you run out of dough!
Information
Category

Desserts

Prep Time

5 minutes

Cook Time

10 minutes

Total Time

14 minutes, 59 seconds