Chocolate Almond Rolls Recipe
These Chocolate Almond Rolls Use Trader Joe's Almond Cocoa Spread and Big Chocolate Chunks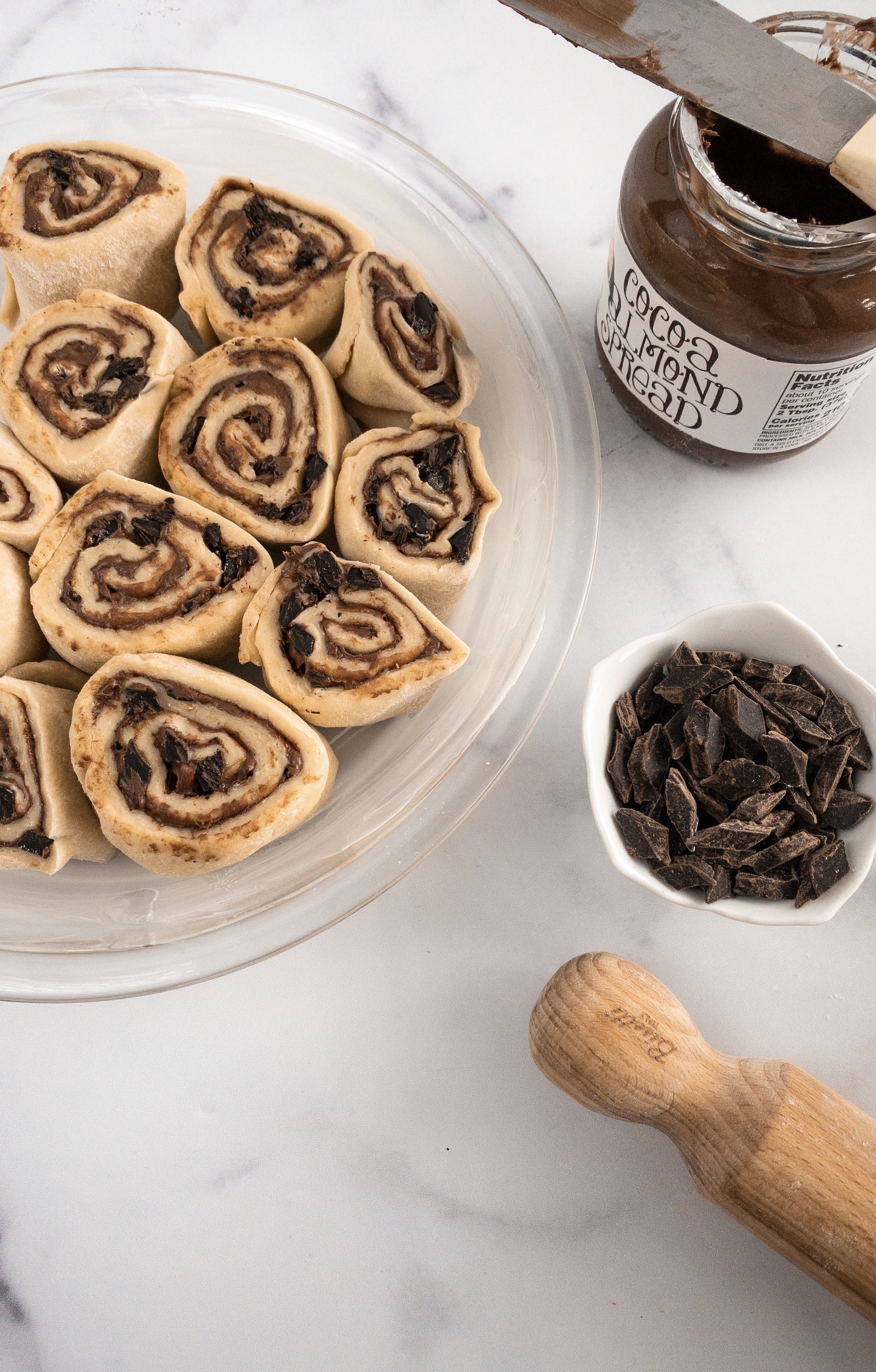 I'm a sucker for a fresh pastry any day of the week, any time of the day, so when I saw spotted this almond cocoa spread at Trader Joe's, I knew exactly what I wanted to do with it. I immediately thought: chocolate almond rolls! The almond cocoa spread is a must-have on your grocery list and once you try it, I promise you'll want to smear it on everything. This spread can be used on toast, waffles, pancakes, or just scooped onto a strawberry for an elegant dessert in seconds. But I knew I wanted to bake with it, and it really didn't disappoint. These rolls are so warm, soft, and gooey with a burst of nutty chocolate flavour in each bite.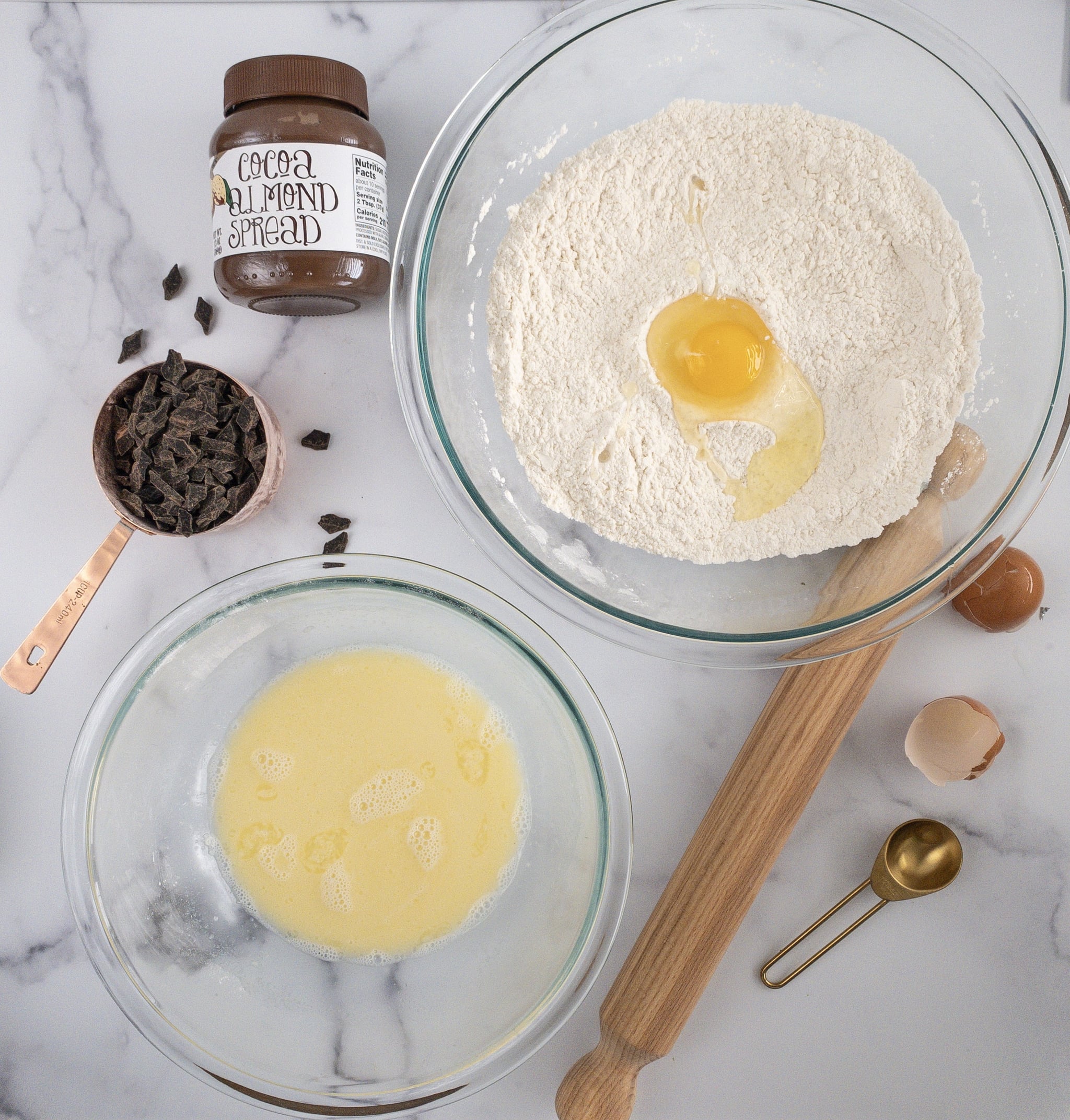 When making these rolls, make sure to combine all of your dry ingredients in a large bowl and wet ingredients in a separate bowl. You want to ensure that the flour, yeast, salt, and sugar are mixed evenly to remove any clumps before combining with wet ingredients. When melting your butter, make sure to microwave in small increments so that you don't boil your wet ingredients (you want them to be warm not scolding hot). If you have one available to you, you may want to use a stand mixer to combine wet and dry ingredients to form your dough. If you don't have a stand mixer, no problem at all. I used my hands to combine everything — it just takes a bit longer and is a tad messier.
Once your dough is formed, you're going to knead it on a flat surface for about 3-4 minutes. Make sure to flour your countertop or cutting board to avoid it sticking. Once done kneading, you'll need to let it rest in a covered greased bowl for about 10 minutes. I used the original large bowl I mixed the dry ingredients in and sprayed it with nonstick cooking spray. Letting your dough sit will allow the yeast to kick into action and help your dough rise. When you roll out your dough, I recommend staying in the 3/4-1 inch think range, as making your dough too thin will make it difficult to roll and cut into pieces. Using a flat sandwich spreader or a palette knife, disperse your cocoa almond spread evenly and sprinkle with chocolate chunks.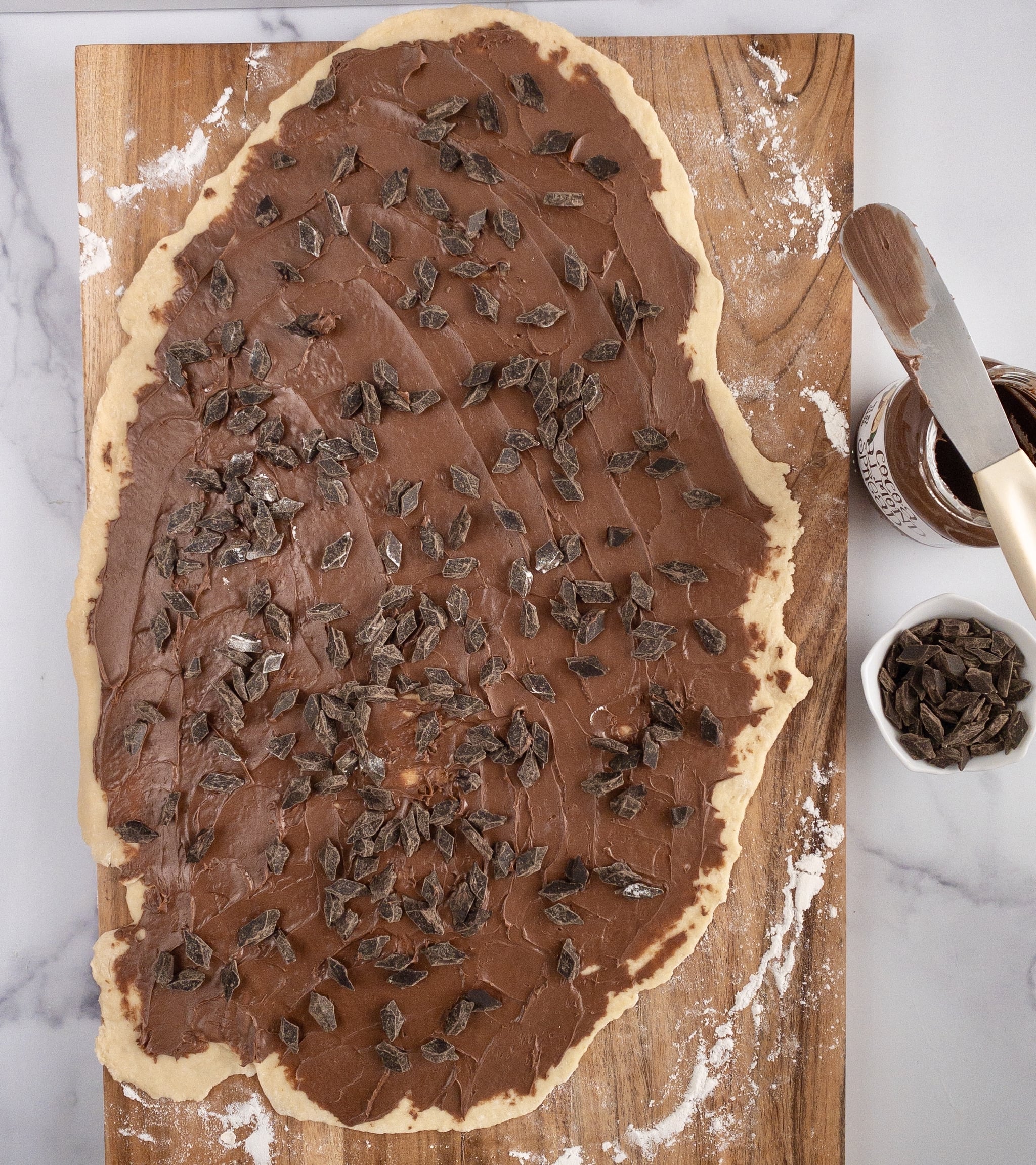 Roll your pastry dough into a log horizontally and cut pieces into about 1 1/2-2 inches thick pinwheels. Grease your baking dish and place your rolls side by side into your dish. You'll want to make sure to use a baking dish that fits all of your rolls nice and snug. Cover and allow the rolls to sit and rise once more before baking.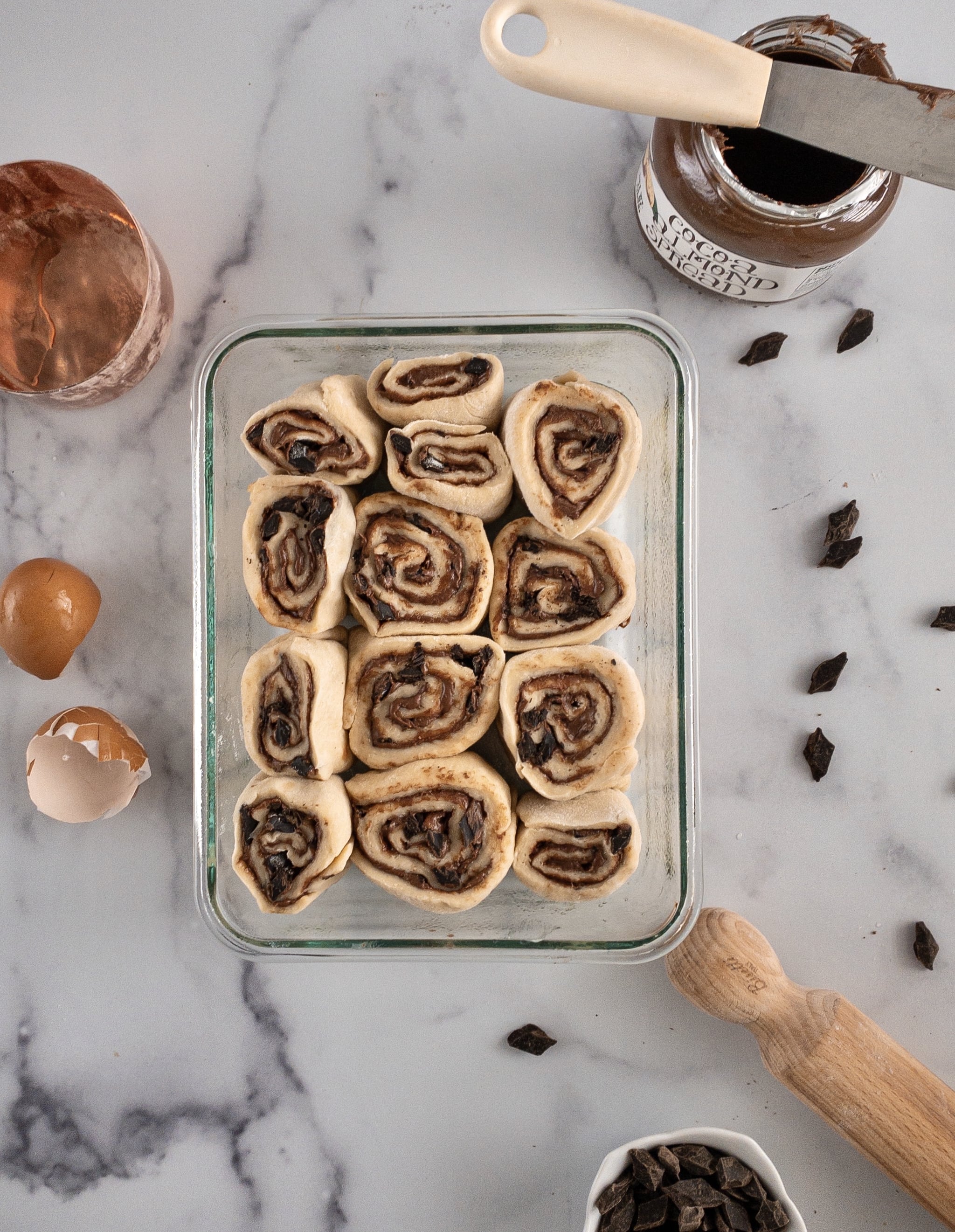 These bake in about 25 minutes and come out of the oven with a golden brown tint and a warm, gooey centre. The nutty chocolate aroma will attract everyone to the kitchen to rip off a roll for themselves. You can also take it a step further and whip up a simple glaze using confectioners sugar, but the rolls are just as delicious without it. Enjoy these fresh out of the oven or pop one in the microwave for about 15-20 seconds to reheat. Make sure to store them in an airtight container right on your countertop and they will last about 3-4 days.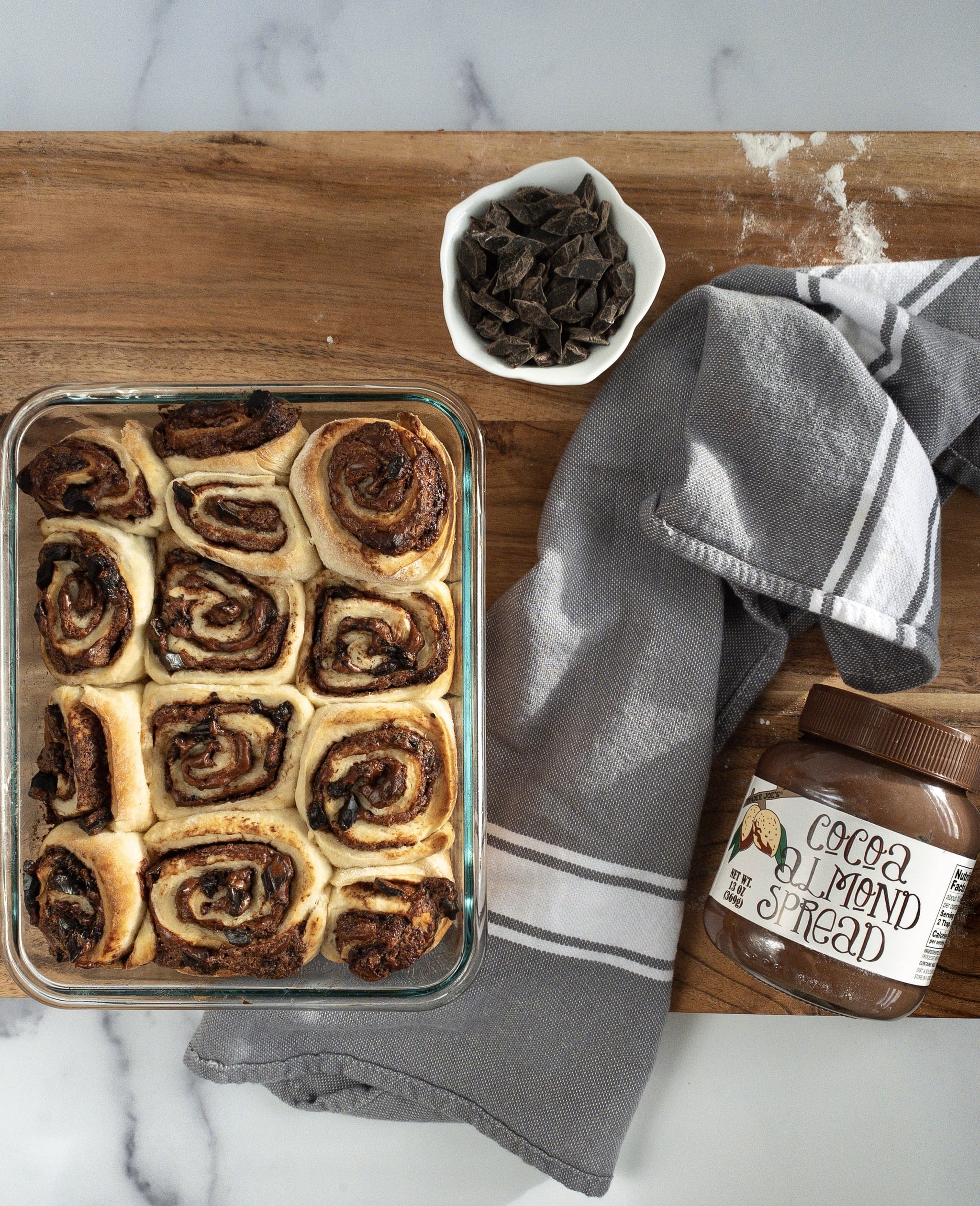 Chocolate Almond Rolls
Original Recipe by Taylor Celentano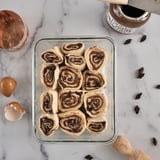 Ingredients
For the Dough:
2 3/4 cup all-purpose flour
1/4 cup organic cane sugar
1 teaspoon salt
1 packet of instant yeast
1/2 cup unsweetened vanilla almond milk
1/4 cup water
3 tablespoons unsalted butter (melted)
1 egg
For the Filling:
Trader Joe's almond cocoa spread
1 cup chocolate chunks (or chocolate chips)
Directions
Mix your dry ingredients together (flour, sugar, salt, and yeast). Using a fork, make sure to break up any clumps and mix evenly.
In a separate bowl, mix your almond milk, water, and 3 tablespoons of melted butter.
Add your egg to your dry ingredient bowl and then pour in the rest of your wet ingredients. Mix well until it forms a perfect dough consistency.
Knead dough on your (floured) countertop for about 3-4 minutes, then place in a greased bowl and let sit covered with a piece of foil or plastic wrap for about 10 minutes.
Roll your dough out on a floured surface until it stretches to about 3/4 inch thick – you don't want to roll it out too thin.
Spread your almond cocoa butter to the edges of the dough evenly, and sprinkle on your chocolate chunks.
Roll your dough horizontally across until it forms a long log shape and then cut the log every 1 1/2-2 inches creating pinwheel pieces.
Once you have all of your rolls cut, place them into a (greased) glass baking dish, cover, and let sit for about 60 minutes (let your buns rise).
Bake at 375 for 25 minutes. Let cool for about 10-15 minutes, then pull apart and enjoy warm!
Information
Category

Desserts, Pastries

Yield

12-14 rolls

Prep Time

25 minutes

Cook Time

25 minutes

Total Time

49 minutes, 59 seconds